Ecuador: Amnesty granted to 268 rights defenders and protesters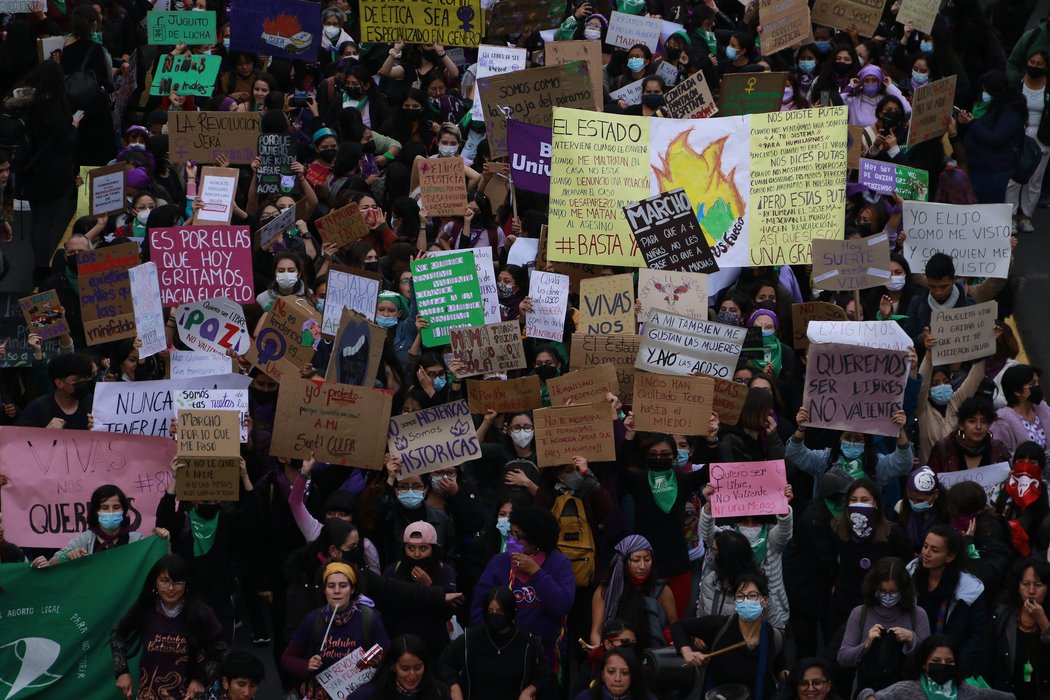 Association
Con 99 votos, el #PlenoLegislativo concede amnistías a 268 ciudadanos que fueron judicializados por ejercer el derecho propio y derechos colectivos reconocidos en la Constitución e instrumentos internacionales. pic.twitter.com/g1V7kWekHh

— Asamblea Nacional (@AsambleaEcuador) March 10, 2022
On 11th March 2022, the National Assembly approved a bill granting amnesty to 268 people who faced prosecution for their defence of land, Indigenous and environmental rights, and for their involvement in 2019 protests. The bill was approved by the plenary of the National Assembly with 99 favourable votes out of the 125 parliamentarians in attendance.
Among those benefitted by the amnesty, 153 are land defenders, 43 are environmental activists, 12 are Indigenous leaders criminalised for administering Indigenous justice and 60 others were more generally facing charges related to their involvement in the October 2019 demonstrations. Several defenders, such as Gabriela Fraga, Nancy Simba, Ángel Punina, Javier Ramírez and Jovita Curipoma, were cleared of charges related to resistance against extractive industries. Civil society groups also highlighted the case of Víctor Guaillas, a water defender who had been detained on charges of 'sabotage' in 2019, for whom amnesty came too late. Guaillas was one of the 62 people murdered in November 2021 amid a riot in a Guayaquil prison.
Ecuador's Human Rights Alliance (DDHH) called the move a "historical precedent against the criminalisation and prosecution of rights defenders." In a statement, the coalition said that this amnesty "means vindicating the right to truth and justice for those who exercise the right to defend human rights" in a context of recurrent criminalisation of these actors.
🆘Declaraciones del Presidente @LassoGuillermo contra el Presidente @CONAIE_Ecuador constituyen un incumplimiento de su deber de respetar y garantizar un entorno seguro para la labor de defensores/as de DDHH,derechos colectivos y de la naturaleza.@CIDH

👉https://t.co/Ii0v9R5iFq pic.twitter.com/6EHu5xF5fS

— Alianza de Organizaciones por los Derechos Humanos (@DDHH_Alianza) December 22, 2021
In a separate but related development, in December 2021 President Guillermo Lasso had made stigmatising statements about social movements and Leonidas Iza, the president of the Indigenous confederation Confederación de Nacionalidades Indígenas (CONAIE). Iza and former CONAIE president Jaime Vargas were among those facing prosecution related to October 2019 protests, and were both granted amnesty in March 2022.
On 21st December 2021, during a weekly broadcast programme in which he discusses government initiatives, Lasso called Iza "an anarchist" and "a violent man," and claimed that the Indigenous leader "hates democracy." The President accused the CONAIE leader of incentivising violence during the October 2019 protests. Lasso also said his government would use all the power of the state to jail "those who want to anarchise this country, disrupt public services, and deepen an economic crisis that has already been affected by the pandemic."
On 22nd December 2021, the DDHH issued a statement expressing solidarity with the Indigenous movement and Leonidas Iza. The coalition said that Guillermo Lasso's "violent and contemptuous discourse stigmatises the work carried out by social and political leaders, social and Indigenous movements, and makes unfounded and reckless attacks against Leonidas Iza."
Lasso repeated his statements in a programme aired on 4th January 2022, calling Iza "an enemy of Ecuadorean democracy."
Court decision to protect Indigenous peoples' rights
Exciting news!
On Friday, the Constitutional (Supreme) Court of Ecuador, the country's most powerful court, recognized, for the first time, the right of Indigenous communities to have the final decision on oil, mining and other extractive projects affect their lands.

— SREnvironment (@SREnvironment) February 5, 2022
On 27th January 2022, Ecuador's Constitutional Court confirmed the violation "of the rights to prior consultation, to nature, water, a healthy environment, culture and territory, as well as comprehensive reparation measures", regarding the A'i Cofán Indigenous people of the Sinangoe community in relation to mining concessions that affected their ancestral territory without their free, prior and informed consent. In their ruling, the country's highest court reaffirmed the state's obligations in consultation processes on plans and projects that affect Indigenous peoples' rights and interests.
Indigenous communities and organisations have led the international campaign "Who Should Decide?". Just days before this court ruling, they delivered more than 365,000 signatures to the Constitutional Court asking the Court to protect the right of Indigenous peoples to decide on the future of their ancestral territories.
International group Amazon Frontlines said that the Constitutional Court ruling recognises "for the first time, the right of Indigenous communities to have the final decision over oil, mining and other extractive projects that affect their lands." The organisation also evaluated that Ecuador "now has one of the most powerful legal precedents in the world on the internationally recognised right of Indigenous peoples to Free, Prior and Informed Consent."
Peaceful Assembly
Excessive force used in Women's Day marches
En este momento se realiza la marcha en conmemoración del día internacional de la #mujer en el centro histórico de #Quito #8Marzo2022 #8M 👧🏽👩🏻👩🏽‍🦱👵🏽 No pedimos ni más ni menos queremos #Equidad #Sororidad #mujeres #Ecuador #Noticias pic.twitter.com/8nV5KCwLKU

— maría josé hidalgo (@majohidalgoleon) March 9, 2022
On 8th March 2022, hundreds of women joined demonstrations commemorating International Women's Day, calling on the authorities to protect and guarantee women's rights. Among the key demands of this year's marches, feminist movements advocated for the sanctioning of a law passed by Congress in February 2022 that would guarantee access to abortion for rape victims.
According to Human Rights Watch (HRW), Ecuadorean police responded to peaceful demonstrations in Quito and Guayaquil with excessive force, including with indiscriminate use of teargas and pepper spray. Viviana Erazo, a journalist with digital media outlet Wambra, was covering a protest in Quito when a police officer reportedly cornered and struck her with a club. Erazo told HRW she was then hit with pepper spray as she attempted to move away.
On 15th March 2022, President Lasso partially vetoed the abortion law and sent it back to Congress, which has 30 days to consider his proposed amendments. In his veto, the president said that medical professionals should be allowed to make "conscientious objections" to performing the procedure. The president also called for a unified time frame in which victims of sexual assault are able to seek abortions. As previously reported on the CIVICUS Monitor, the termination of pregnancy in cases of rape had already been decriminalised since April 2021 by a ruling of the Constitutional Court. What remains pending is legislation establishing legal requirements for the implementation of this right.
Legislation on the use of force under debate
El presidente de Ecuador, Guillermo Lasso, presentará mañana martes al Parlamento un proyecto de ley que regulará el uso progresivo de la fuerza y ofrecerá defensa jurídica a policías investigados tras el incremento de la delincuencia en el último año. https://t.co/1Z21HfR81M

— EFE Noticias (@EFEnoticias) January 25, 2022
On 25th January 2022, Ecuador's government presented draft legislation on security and the use of force, the 'Organic Law on Integral Security and Strengthening of the Public Force'. The law would regulate the progressive use of force by law enforcement and establish legal mechanisms for their protection.
The initiative was met with some concern from human rights groups, who called on lawmakers to limit the use of force by security forces – in particular by the Armed Forces. Sylvia Bonilla, representative of the DDHH coalition, said that the roles of police and the Armed Forces should be differentiated, with the latter only taking part in activities such as humanitarian work and control of strategic extractive sectors when a state of exception is in place.
On 16th February 2022, a discussion of the bill in the Commission on Sovereignty and Integral Security focused on the use of force in the policing of demonstrations. Among the topics of debate were the use of lethal weapons in violent protests and the possibility of using technology such as drones in the policing of protests.
Expression
Debate on bill to replace Organic Communications Law
#Ecuador: "Una nueva propuesta de ley para la libertad de prensa, opinión y expresión se está debatiendo en la Asamblea Nacional. ¿Cuáles son los principales elementos de este proyecto? ¿Dónde queda el componente digital?" via @derechosdigital https://t.co/m5qsJQZhLT

— IFEX ALC (@IFEXALC) February 28, 2022
In January 2022, the National Assembly of Ecuador began discussions on the draft for a new communications law, the 'Organic Law for the Guarantee, Promotion and Protection of Freedom of the Press, Opinion, Expression and Communication'. The legislation would replace the 2013 Organic Communications Law, which in the past was used to silence and harass media outlets and journalists. As previously reported on the Monitor, several separate initiatives aiming to replace the current law had been tabled by different proponents. A National Assembly Commission worked on a unified bill harmonising aspects of the different projects.
The bill proposed by the International Relations and Human Mobility Commission includes provisions on freedom of expression on the internet, net neutrality and online censorship, protection of journalists, and other issues. According to the current text, an autonomous Communications Council would be established to guarantee communication rights, training, research, and protection of journalists. But according to analysis by civil society group Derechos Digitales, the protection of communication professionals is a fundamental issue that is treated ambiguously in the bill. The current text lacks detail on what actions such a Council would take to ensure the protection of journalists.
Following the draft's first debate, the Commission continued to receive inputs from multiple stakeholders and on 24th March 2022 it presented a report to the National Assembly in preparation for a second debate.