Bangladesh: Government ramps up persecution, smear campaign against activists while attacks on the opposition persist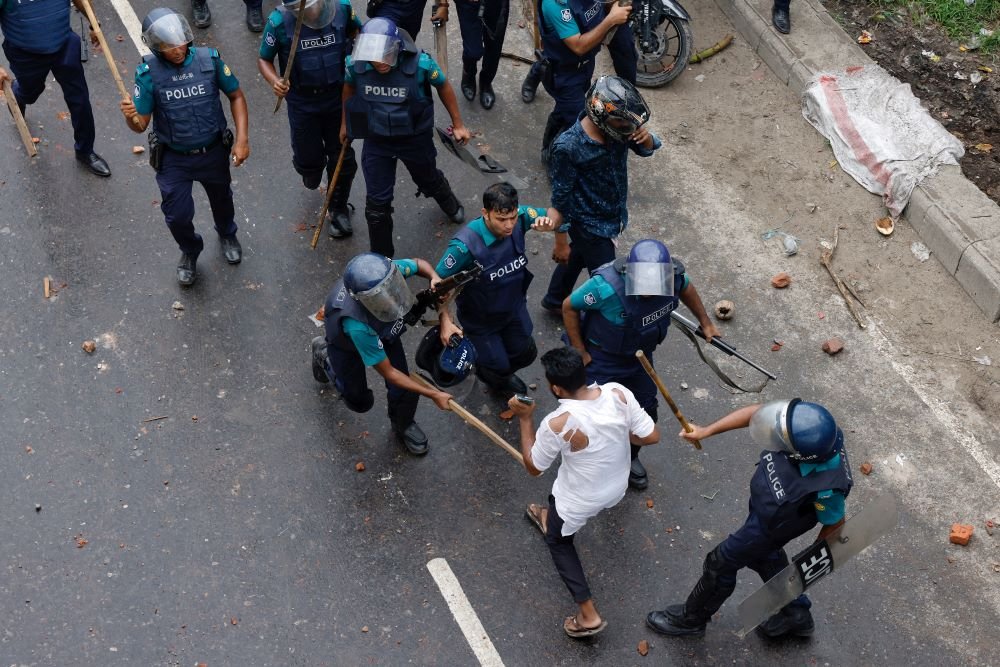 Bangladesh is rated 'repressed' by the CIVICUS Monitor. Among ongoing concerns are judicial harassment, threats and attacks on human rights defenders and journalists. Further, the draconian Digital Security Act (DSA) has been used against individuals who criticise people in power on social media. The police have also disrupted and used excessive force against protesters and there have been allegations of torture, ill-treatment and enforced disappearances by the security forces.
Ahead of elections - scheduled for January 2024 - there has been an escalating crackdown on the opposition, activists and dissenting voices. In July 2023, 14 members of the US Congress wrote to the US ambassador to the United Nations expressing concerns over reports of a violent crackdown by the Bangladesh government on opposition parties and other dissidents ahead of the elections. They also sought the immediate suspension of Bangladesh's membership in the UN Human Rights Council until an "impartial and transparent" investigation into the government's alleged crimes against political opponents and others, including journalists, is completed. Human rights bodies in the US have also called for increased pressure, including additional sanctions, to ensure free and fair elections in Bangladesh.
Previously, in June 2023, six members of the European Parliament wrote a letter to Josep Borrell, the European Union's foreign policy chief, requesting him to play a role in ensuring free, fair and neutral elections in Bangladesh.
On 4th August 2023, the spokesperson for the UN High Commissioner for Human Rights urged all political parties, their supporters and the security forces to "ensure a peaceful, inclusive and safe environment enabling a free and fair ballot." He called on the authorities to ensure "all those canvassing ahead of next year's ballot are assured a safe and peaceful environment that respects and promotes political plurality and the expression of diverse views, in full respect for fundamental rights and freedoms."
In recent months, human rights defenders have continued to be targeted including through the judicial harassment of human right organisation Odhikar, the killing of a labour activist and a smear campaign against a human rights defender in exile as well as harassment against an academic. Human rights groups have continued to raise concerns about disappearances. Efforts to silence journalists have persisted, while the opposition have been targeted with arrests and criminalisation as well as excessive force around their protests.
Association
Report finds most human rights defenders feel unsafe
A report released in July 2023 on the situation of activists in Bangladesh found that at least 65 percent of surveyed human rights defenders said that the ruling Awami League party, law enforcement and intelligence services have obstructed their work.
The report entitled "Who Defends the Defenders?" was produced in collaboration between the Centre for Governance Studies and 50 human rights defenders in the region. It ultimately found that the overwhelming majority (86 percent) of human rights activists face myriad challenges, with 62 percent claiming the overall environment of their work is "very unsafe" or "unsafe." Additionally, 42.3 percent noted that threats, intimidation and persecution came from sources connected to the state, including law enforcement, state intelligence agencies and government officials.
This intimidation resulted in 28.6 percent of respondents scaling down their work as a result, while 10.7 percent felt compelled to leave their areas. Further, many of these threats went unreported by victims (36 percent) due to a lack of trust in the legal system (20.5 percent), fear of retribution (20.5 percent) or the absence of proper investigations (17.8 percent).
Ongoing persecution of human rights organisation Odhikar
A #Dhaka tribunal today rescheduled to September 14 the delivery of the judgment against two officials of rights body Odhikar in a case filed under the ICT Act...#Bangladesh #ICTCase #CrimeNews https://t.co/n9Jth6No34

— The Daily Star (@dailystarnews) September 7, 2023
Human rights group Odhikar has faced criminalisation and harassment for over ten years. After publishing a fact-finding report on extrajudicial killings in Bangladesh, as previously documented, in 2022 the authorities declined to renew the organisation's registration that had been pending since 2015.
Further, two of Odhikar's leaders, human rights defenders Secretary Adilur Rahman Khan and Director ASM Nasiruddin Elan, are also facing trial on allegations of violating Section 57 of the 2006 Information and Communication Technology (ICT) Act. The allegations stemmed from the fact-finding report issued by Odhikar in 2013 which highlighted the deaths of 61 persons under security forces' armed operations on 5th and 6th May 2013 in Dhaka.
Following years of stalling, the government accelerated hearings in their case this year. Khan and Elan have appeared for all scheduled hearings at the Cyber Tribunal, sometimes being forced to stand in cages. According to UN experts, the trial has been marred by violations of due process. The judgment in the case has been fixed for 14th September 2023.
In addition to this legal process, Odhikar is reportedly facing public smear campaigns at both organisational and personal levels through print and electronic media.
UN experts on 11th July called on Bangladesh to end all acts of harassment against representatives of the human rights organisation Odhikar and ensure respect for due process. The experts said: "This case is emblematic of the use of criminal proceedings to silence human rights defenders and organisations, such as Odhikar and its representatives, who have documented enforced disappearances and extrajudicial killings and cooperated with UN human rights mechanisms in this context."
On 10th August 2023, 21 human rights groups including CIVICUS called on the authorities to drop the politically-motivated charges.
Labour activist and union organiser killed
The @SolidarityCntr joins the U.S. and international labor movements in condemning the brutal murder of Shahidul Islam, a worker leader who was killed as a result of his #laborrights activism in Gazipur, #Bangladesh. https://t.co/OCQI2Eha2Z

— Solidarity Center (@SolidarityCntr) June 27, 2023
Shahidul Islam, a union organiser who dedicated his life to seeking justice for garment factory workers in Bangladesh, was killed.
According to Human Rights Watch (HRW), Islam, who was president of the Bangladesh Garment and Industrial Workers Federation (BGIWF) Gazipur district committee, was beaten to death on 25th June 2023, after he visited a factory in Gazipur to secure unpaid wages for the factory's workers.
The First Information Report recorded by the police said that Islam went to Prince Jacquard Sweater Ltd on 25th June to urge management to provide workers with two months of unpaid wages and a bonus for the Eid holiday. The report states that after Islam announced that workers would go to the local Directorate of Inspection of Factories and Establishments office to demand their wages, a gang of men pulled him and three other organisers outside the factory and began beating him. According to the report, the attackers berated him for demanding wages as they kicked and punched him until he was unconscious. Islam was taken to a nearby hospital, where he was declared dead later that night.
Kalpona Akter, the president of the BGIWF, said that Islam had been a target of threats and assaults in the past due to his work.
HRW called for an independent and transparent investigation into the murder. Claudio Francavilla, senior EU advocate at HRW, said: "A labour leader's murder is a disturbing setback for workers' freedoms to organise and to seek the support of union leaders to solve labor disputes."
Although six people are being investigated for the attack, it is believed the mastermind behind the killing has yet to be hauled up.
Harassment of human rights defender for his social media posts
Academic and human rights defender Maidul Islam is facing harassment for his social media posts. According to Front Line Defenders he received a show cause letter from the Chittagong University concerning his Facebook posts on the civil and political situation ahead of the upcoming elections. The show cause letter was based on a request sent to the Vice Chancellor by the Chittagong University Teachers' Association (CUTA).
Maidul Islam is an Associate Professor at the Department of Sociology, University of Chittagong (CU), Bangladesh. Currently, the human rights defender is on study leave in the US. He is also an advocate for academic freedom and civil and political rights on social media and the issues of discrimination, social justice and human rights violations.
Prior to this he was targeted by the student wing of the ruling party, the Bangladesh Chhatra League (BCL), that triggered an online smear campaign against the human rights defender.
Smear campaign against human rights defender
Pro-government media outlets and pro-ruling party NGO leaders have mobilised a smear campaign against Hong Kong based exiled human rights defender Mohammad Ashrafuzzaman for speaking as a panelist at the US Congressional briefing hosted by the Tom Lantos Human Rights Commission on 15th August 2023.
The speakers at the briefing had raised concerns about the repressive environment in Bangladesh ahead of the elections and called on the US government to use policy tools, including additional sanctions, to ensure free and fair elections.
The Ministry of Foreign Affairs of Bangladesh subsequently issued a statement accusing the representatives of human rights organisations – Asian Legal Resource Centre and Asian Human Rights Commission, Robert F. Kennedy Human Rights, and Human Rights Watch of "deliberate attempt to propagate misinformation to mislead friends of Bangladesh" and "to offer unsubstantiated information".
Ashrafuzzaman was accused by a pro-government outlet of being "a CIA covert agent" and "part of a larger scheme to manipulate political landscapes in Asia".
UN concerned about harassment and smear campaign against Nobel laureate
Muhammad Yunus: Leaders urge Bangladesh to end attacks on Nobel laureate https://t.co/0d6jRamSP1

— BBC News (World) (@BBCWorld) September 1, 2023
On 5th September 2023, the UN said that they were very concerned by the continued intimidation and harassment of human rights advocates and civil society leaders through legal proceedings in Bangladesh, including Nobel laureate Mohammad Yunus, known for his work on poverty alleviation through the Grameen Bank.
Yunus has faced harassment and intimidation for almost a decade. He currently faces two trials that carry potential prison sentences - one on charges of violating labour laws, the second for alleged corruption. His lawyer says these cases are baseless and influenced by the government.
Many believe Yunus' attempt to create a political party in 2007 with the apparent support of the military-backed caretaker government angered Bangladesh's prime minister Sheikh Hasina.
The UN said: "While Yunus will have the opportunity to defend himself in court, we are concerned that smear campaigns against him, often emanating from the highest levels of government, risk undermining his right to a fair trial and due process in line with international standards."
Rights groups call for an end to enforced disappearances
On 29th August 2023, civil society organisations issued a joint statement over the continued commission of enforced disappearances in Bangladesh and the denial of access to justice for the victims. The groups stated that the "government uses enforced disappearances as a tool to suppress political movements and silence dissenting voices, creating a climate of fear in the country".
According to the statement, government agencies have continued to use enforced disappearance on members of opposition parties and dissidents for the past decade and a half. Citing statistics from Odhikar, from January to June 2023, at least 16 persons were subjected to enforced disappearance. Among them, 15 individuals later resurfaced alive, while information regarding one victim could not be ascertained. Most of the disappeared persons are known to be opposition party activists and dissidents who have participated in anti-government protests. Among the disappeared victims, some were released after being kept incommunicado in undisclosed facilities and many were handed over to the police and/or produced before a court after being implicated in cases of terrorism or arson.
Family members of the victims of enforced disappearances have also been subjected to intimidation and harassment by members of law enforcement and intelligence agencies.
The groups called on Bangladesh to ratify the International Convention for the Protection of All Persons from Enforced Disappearance, recognise the competence of the UN Committee on Enforced Disappearances, and adopt national legislation criminalising enforced disappearances.
Targeting of the opposition
Arrests and attacks on the opposition have escalated in the lead up to the 2024 elections, as previously documented.
According to media reports on 19th June 2023, at least 6,100 unnamed people and 912 leaders, activists and supporters of the main opposition Bangladesh Nationalist Party (BNP) were prosecuted in 17 cases in 12 districts, including in Dhaka and Chattogram, following an attack and violence on the party's road-march programmes by ruling Awami League supporters and police.
On 30th July 2023, the Dhaka Metropolitan Police filed at least 13 cases against several hundred leaders and activists of the BNP following a pre-scheduled sit-in programme of the party in the capital Dhaka. While BNP faced obstruction of their programme, supporters of the ruling Awami League paraded down the streets with sticks, iron rods and hockey sticks unchallenged.
On 21st August 2023, police said they had arrested 18 BNP leaders and activists and members of its associate bodies, including six missing leaders of the Jatiyatabadi Chhatra Dal - the student wing of the BNP - for planning to carry out violence and anti-government activities. On the same day, police reportedly filed two cases against about 1,000 leaders and activists of the BNP and its affiliated bodies for clashes between the police and BNP activists in Habiganj during the party's road march.
At least 15 BNP leaders and activists were injured, including two with gunshot wounds, in an attack allegedly carried out by Awami League men in Cumilla on 27th August.
On 3rd September 2023, a Dhaka metropolitan magistrate court charged eight people, including BNP secretary general Mirza Fakhrul Islam Alamgir, with vandalising and setting a dustcart on fire in 2012. Another Dhaka metropolitan magistrate's court framed charges against 60 BNP leaders and activists, including organising secretary Shama Obaed and BNP chairperson Khaleda Zia's special assistant Shamsur Rahman Shimul Biswas in a violence case filed with the Bdda police station in 2015.
Police accused of abusing Rohingya refugees
An investigation by the human rights NGO Fortify Rights has revealed that Rohingya people living in refugee camps in the Bangladeshi city of Cox's Bazar are being arbitrarily detained, beaten and tortured by members of the Armed Police Battalion - a specialised combat unit of the Bangladesh police force.
"Bangladesh police beat Rohingya refugees from Myanmar with batons and choked and used other torture methods against them to extort payments, sometimes amounting to the equivalent of thousands of US dollars," the group said on 10th August 2023.
The APB has been responsible for maintaining security in the refugee camps since July 2020. The force has since faced repeated accusations of human rights abuses against the Rohingya.
Matthew Smith, chief executive officer of Fortify Rights, said police are "using Rohingya refugees like human ATMs by inflicting severe physical and mental pain to demand corrupt payments."
Expression
Efforts to silence the media and journalists
Bangladesh authorities have increasingly attempted to silence the media through arbitrary detention, legal harassment and censorship, according to a joint submission to the United Nations by the Committee to Protect Journalists (CPJ), Robert F. Kennedy Human Rights and the Asian Legal Resource Centre. The submission, sent for the 44th session of the Universal Periodic Review Working Group scheduled for November 2023, documents impunity in cases of killings and abductions of journalists and violence against members of the press in custody. It also highlights instances of arbitrary detention, harassment and violence against family members of critical exiled journalists.
CPJ urges Bangladeshi authorities to lift shutdown on 2 social media platforms https://t.co/p8bjjtKqFE via @CPJAsia

— MUKTADIR rashid ROMEO (@muktadirnewage) July 13, 2023
In June 2023, two social media outlets were shut down by the authorities. According to CPJ, on 25th June 2023, the Chittagong district administration in southeast Bangladesh sealed the offices of the privately owned social media-based platforms CplusTV and C Vision and confiscated their equipment. The two outlets stand accused of "illegally operating without licences." It is believed that the local authorities acted under the direct orders of Bangladesh's Ministry of Information and Broadcasting and that the outlets were being selectively targeted ahead of the national election due to their coverage of politics and human rights in Chittagong.
On 27th July 2023, at least three journalists covering events outside the opposition BNP office in Dhaka were harassed and obstructed by law enforcement officials. On the same day, at least six journalists came under attack from pro-government student activists from the Chhatra League when they went to Sher-e-Bangla Medical College in Barishal to cover the alleged torture of a female student.
On 23th Augus 2023t, the Dhaka magistrate's denied journalist Rozina Islam access to her passport, stopping her from attending a Global Investigative Journalism Conference (GIJC ) in Sweden.
#Bangladesh: RSF joins a coalition of organisations to call on the 🇧🇩government to immediately put an end to the harassment inflicted on @rtvonline journalist Adhora Yeasmean for her report on an extremist religious organisation.👉https://t.co/TLCIImuFtJ pic.twitter.com/TpyJFMpfKb

— RSF (@RSF_inter) August 30, 2023
On 30th August 2023, 19 press freedom and human rights organisations called on the government to immediately end the harassment and intimidation of journalist Adhora Yeasmean, who faces an investigation under the draconian Digital Security Act (DSA) for her 29th April video report for RTV on the alleged crimes of the religious organisation, Rajarbagh Darbar Sharif. The organisation's members have also conducted unlawful surveillance of Yeasmean since mid-July, continually following her and threatening to file additional complaints against her and her family members in retaliation for her reporting.
Mother arrested after son criticises government online
Anisha Siddika, a 58-year-old woman, was detained on 23rd August 2023 over her son's Facebook post criticising the trial and conviction of an opposition politician by Bangladesh's controversial International Crimes Tribunal (ICT).
Siddika's son, who is pursuing his doctorate in the US, posted his thoughts on the Bangladesh government's role in the 2013 war crimes trial of a prominent preacher and leader - Delwar Hossain Sayedee - in the Jamaat-e-Islami party, a major Islamist political party in the country, and the enforced disappearances of a key defence witness. Sayedee died in prison in August.
According to Amnesty International, Anisha Siddika was arrested on 20th August 2023 under Section 15(3) ('sabotage') and Section 25(D) ('penalty for attempt') of the draconian Special Powers Act 1974. The FIR states that the investigation found that Anisha has "colluded" with the other defendants to carry out "various harmful acts with the intention of causing deliberate sabotage against the government" to protest the arrests of leaders of Jamaat. On 23rd August, a metropolitan magistrates' court in Khulna City denied her bail.
University student still in pre-trial detention for a webinar
Sign our URGENT ACTION and demand the government of Bangladesh to release Khadija immediately. #freeKhadija #HumanityForBangladesh #UngagDissent https://t.co/mmfThBOubD pic.twitter.com/uerY63VEFF

— Amnesty International South Asia, Regional Office (@amnestysasia) August 28, 2023
University student Khadijatul Kubra has spent a year in pre-trial detention under the draconian Digital Security Act (DSA).
According to Amnesty International, Khadijatul Kubra was a 17-year-old student of political science at Jagannath University in Dhaka, Bangladesh. She had hosted a webinar on campus politics for the social media page called "Humanity for Bangladesh" in November 2020. Almost two years later, on 27th August 2022, Khadijatul Kubra was arrested under the DSA and the next day was sent to Kashimpur Jail in Dhaka. Police officers had seen a recording of the webinar on YouTube uploaded by one of the guest speakers – formerly a Bangladeshi army official now based in Canada who had made comments perceived to be critical of the Bangladeshi authorities.
Since then, Khadija's bail applications have been rejected several times. On 10th July 2023, the Appellate Division of the Supreme Court adjourned her bail hearing for four months, stating she should be able to take responsibility for the views expressed on her talk show.
New law to replace draconian Digital Security Act seen as repressive
In August 2023, Law minister Anisul Huq announced that the government would replace the draconian Digital Security Act (DSA) - used to systematically criminalise online expression - with the Cyber Security Act (CSA). The minister said that many of the clauses of this act, which were not bailable before will be bailable now.
However, human rights activists and opposition political leaders in Bangladesh have expressed concerns over the country's draft Cyber Security Act, saying it is as repressive as the existing controversial DSA that it is set to replace.
Amnesty International stated that the draft law retains all but one of the offences contained in the DSA verbatim and the only notable changes in the CSA were related to sentencing.
Similarly, a letter from the UN Special Rapporteur on Freedom of Expression to the government states that the draft Act contains vague and overly broad provisions which criminalise a large variety of legitimate forms of expression. The punishments remain disproportionately harsh under the draft Act, and law enforcement agencies and the telecommunications regulatory authority enjoy extensive, unfettered power under the draft Act. That could create serious risks to human rights in the absence of adequate judicial oversight.
The cabinet gave the approval to the draft Cyber Security Act on 28th August without any consultations with stakeholders.
Peaceful Assembly
Since early 2023, thousands of supporters of Bangladesh's main opposition, the Bangladesh Nationalist Party (BNP), rallied across Bangladeshi cities to demand Prime Minister Sheikh Hasina's resignation and the formation of a caretaker government to conduct general elections. These protests have been met with restrictions, arrests and excessive force, as previously documented.
Excessive use of force around opposition sit-in protest
Police in Dhaka fired tear gas Saturday to disperse supporters of Bangladesh's opposition party who were holding sit-in protests at all the entry points to the capital to demand the resignation of Prime Minister Sheikh Hasina. (AP) pic.twitter.com/XsrINQ21Uu

— Voice of America (@VOANews) July 29, 2023
The opposition BNP held a sit-in protest on 28th and 29th July 2023 at various points in the capital Dhaka, which was largely peaceful prior to the police attacking them.
According to Human Rights Watch, in the days leading up to a major demonstration the authorities arrested over 800 leaders and activists of the BNP in what appeared to be a systematic effort to target and detain political opponents.
The police said that they had not granted BNP permission for the protest and blockaded entrances to Dhaka. Media reported that the authorities were checking phones and interrogating anyone entering the city.
There were multiple reports of excessive force documented by human rights groups, including police indiscriminately firing rubber bullets, tear gas and water cannon, and beating opposition party supporters with batons.
A journalist at the Matuail protest site told Amnesty International that the police fired rubber bullets and tear gas at the protesters, even though they were only chanting slogans and sitting on the ground. A video posted to Twitter and geolocated to Dholaikhal Road shows police officers beating protesters with long, baton-like sticks. In the video, protesters were clearly running away from the police. The protesters have no visible weapons and do not pose any apparent threat to the police officers. In another portion of the same video, protesters can be seen lying on the ground while police officers continue to beat them.
Amnesty International also shared evidence by an eyewitness journalist of people in civilian clothing - believed to be ruling party supporters - brandishing weapons like hammers, sticks and clubs at the protests. The evidence includes footage of these individuals beating up protesters 'side by side' with police personnel or branding batons and sticks at protesters.
In one incident recorded on video, Gayeshwar Chandra Roy, a member of the BNP's National Executive Committee, who was leading a peaceful sit-in protest in Dhaka was severely beaten and arrested by individuals wearing police vests. In another incident, a video showed alleged ruling party activists attacking opposition supporters in front of Notre Dame college
According to the BNP, 600 supporters were injured by police rubber bullets and attacks by the ruling party. According to the police, at least 32 officers were also injured after opposition protesters threw stones and attacked police vehicles.
Police open fire on opposition road march in Habiganj
On 20th August 2023, over 300 BNP leaders and activists were injured during the party's road march in Habiganj. Police and witnesses said the Habiganj district BNP organised the march as part of the central programme demanding the unconditional release and advanced treatment of the party's chairperson Khaleda Zia.
According to reports, the BNP leaders and activists hurled brick chips targeting police while law enforcers opened fire, wounding several hundred BNP leaders and activists. The incident continued for about two hours. BNP claimed most of their leaders and activists suffered bullet wounds. Police detained at least eight BNP leaders and activists during the incident.
Civic Space Developments
Tags
protest disruption,
women,
refugees and migrants,
intimidation,
harassment,
attack on journalist,
HRD killing,
negative court ruling,
excessive force,
criminal defamation,
labour rights,
enforced disappearance,
public vilification,
torture/ill-treatment,
restrictive law,
time,place restrictions,
protestor(s) detained,
Back to civic space developments