Bangladeshi government brutally cracks down on opposition rallies as well as journalists and dissidents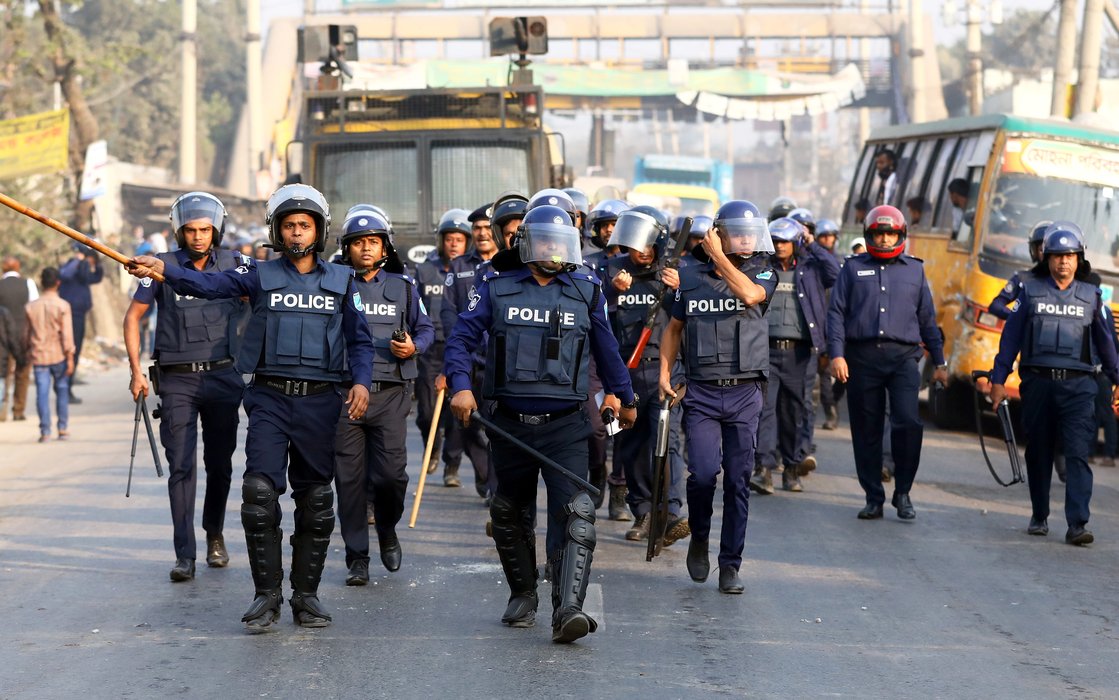 Bangladesh's civic space rating by the CIVICUS Monitor remains 'repressed'. Among the ongoing concerns include the judicial harassment, threats and attacks on human rights defenders and journalists, including those in exile. Further, the draconian Digital Security Act (DSA) – a law that contains overbroad and vague provisions granting the authorities extensive powers to police the online space – continues to be used against individuals who criticise people in power on social media. The police have also disrupted and used excessive force against protesters and there have been allegations of torture, ill-treatment, and enforced disappearances by the security forces, including the Rapid Action Battalion (RAB), an elite anti-terrorism unit.
On 17th August 2022, the former UN High Commissioner for Human Rights, Michelle Bachelet, visited Bangladesh and noted how successive UN human rights reports have documented a narrowing civic space, increased surveillance, intimidation and reprisals. Further, laws and policies over-regulating NGOs and broadly restricting the freedom of expression have made it difficult for them to function effectively.
She also stated that various UN human rights mechanisms – including the UN Committee Against Torture, have been raising concerns for several years about allegations of enforced disappearances, extrajudicial killing, torture – much of which has been attributed to the Rapid Action Battalion – and the lack of accountability for such violations.
Since August 2022, there have been systematic efforts to disrupt gatherings and protests by the opposition Bangladesh Nationalist Party (BNP) with police using excessive force and, in some instances, firearms. Thousands have also been arbitrarily arrested. There have been ongoing cases of enforced disappearances and intimidation of their families as the government vilified the UN working group on enforced disappearances. The de-registration of human rights group Odhikar was upheld by the government, families of journalists abroad faced harassment and the government attempted to silence social media critics.
Peaceful Assembly
Systematic crackdown and disruption of opposition party rallies and events
Bangladesh's Brutal Crackdown on Political Opposition https://t.co/uKz0JUNNh6

— Human Rights Watch (@hrw) December 9, 2022
On 23rd August 2022, the main opposition Bangladesh Nationalist Party (BNP) and its front organisations launched countrywide protests against the recent hike in fuel and commodity prices and mismanagement in the energy sector. Police and ruling Awami League supporters reportedly attacked or obstructed BNP rallies in various districts.
In Jamalpur, leaders of the ruling Awami League and their activists from the Bangladesh Chhatra League and Juba League allegedly attacked the protest rally. Seven BNP leaders and activists were injured. In Patuakhali, the district BNP unit also held a protest, When the activists tried to march forward with a procession at Sadar Road, the police allegedly attacked them saying the BNP did not have permission to hold a protest rally.
According to a report, between 22nd and 31st August, 52 programmes by the BNP were attacked and the houses of BNP leaders and activists were attacked in 18 places.
On 1st September 2022, at least one BNP youth activist was shot to death and dozens of others, including pedestrians and students, were injured in police action in Narayanganj during the party's anniversary programmes.BNP activists and supporters came under similar attacks in at least six other districts, including Manikganj and Netrakona, where, the opposition leadership alleged, scores of people were injured in police actions.
On 21st September 2022, at least 50 people were injured in an attack by police on BNP leaders and activists in Munshiganj's Muktarpur for holding a party rally protesting the price hike in fuel, daily essentials and the killing of three opposition leaders in Bhola and Narayanganj. Opposition activist Shahidul Islam Shaon sustained serious bullet wounds in his head and died on 22nd September. The police however claim the injuries were from brickbats, not bullets.
Restrictions and mass arrests of opposition leaders and activists around rally
As protests in #Bangladesh continue, the govt is accused of cracking down on dissent. We talked to families who say security forces abducted their relatives, and to the Foreign Minister who refutes allegations of human rights abuses. Our story @NehaSharma_BBC. @aamirpeerzadaa pic.twitter.com/PHTFk8dXju

— Rajini Vaidyanathan (@BBCRajiniV) December 10, 2022
In early December 2022, Sheikh Hasina's government launched a repressive campaign against the opposition Bangladesh Nationalist party (BNP) ahead of a mass rally that was scheduled for 10th December. The BNP has accused Hasina's ruling Awami League of corruption, human rights abuses and the imposition of crippling fuel price rises.
Bangladesh is expected to hold national elections in 2023. The protest is part of the opposition's demand for a non-political, neutral caretaker government before the election. Hasina, however, has refused and announced the next general election would take place in January 2024.
On 6th December 2022, a ruling party leader publicly threatened to kill opposition activists if they joined the mass protest in Dhaka on 10th December. On 7th December, thousands of BNP activists were standing in front of the party headquarters when police opened fire with live ammunition, pellets, rubber bullets and tear gas. The activists retaliated by throwing bricks and stones at the police, witnesses reported. At least one person was killed and 60 people were wounded.
AL men beat up a youth in Nilkhet after he refused to let them check his phone pic.twitter.com/xzHvjoExZy

— The Business Standard (@tbsnewsdotnet) December 10, 2022
On 9th December, law enforcement agencies set up checkpoints at the entrances to the capital. There were allegations that the police were harassing commuters and were seen taking people's mobile phones and checking their photos and messages. There were also reports that pro-government activists from the Bangladesh Chhatra League (BCL) were also checking mobile phones at the Nilkhet entry point, assaulting BNP members and handing them over to the police.
It was also reported that mobile network operators had been instructed to suspend their high-speed mobile internet services in the capital's Golapbagh area where the BNP was planning to hold its rally. The sources concerned said a government agency asked the mobile network operators to downgrade their 4G service to 2G from 9:30am to 8:00 pm. The BNP rally was scheduled to commence at 11:00 am there.
According to reports on 9th December, more than 6,000 people, including BNP leaders, activists and their family members, were arrested in separate operations across the country between 1st and 9th December 2022.
The BNP alleges that its leaders are being framed in fake cases in an attempt to stop the protest going ahead. In the early hours of 9th December, the BNP's general secretary, Mirza Fakhrul Islam Alamgir, and the BNP former minister Mirza Abbas were taken from their homes by police.
On 13th December, a Dhaka court rejected bail petitions of Mirza Fakhrul Islam Alamgir and Mirza Abbas. The court also rejected the bail petitions of 222 other BNP leaders and activists in the case. They include Abdus Salam, Khairul Kabir Khokon, Shahid Uddin Chowdhury Annie, Fazlul Haque Milon and Selim Reza Habib.
Concerns around the disruption of protests and attacks on protesters were raised by the US embassy, the United Nations country office in Bangladesh and by the UN Special Rapporteur on Freedom of Peaceful Assembly and Association.
Association
Ongoing cases of enforced disappearances and intimidation of families
Human rights groups have systematically reported on enforced disappearances in Bangladesh by Bangladeshi law enforcement agencies, particularly the Rapid Action Battalion (RAB) and the Detective Branch of police, who are responsible for the commission of the majority of enforced disappearance in the country. Most of the victims of enforced disappearance have been identified as leaders and activists of opposition parties and dissidents.
Exclusive: Survivors blows the lid off of a secret prison known as the "House of Mirrors" which is operated by the DGFI, Bangladesh's notorious military intelligence agency https://t.co/2J4vf6T7zm

— Netra News (@NetraNews) August 14, 2022
On 14th August 2022, Netra news – which is blocked in Bangladesh – published a whistleblower report revealing that Bangladesh officials were allegedly holding and torturing victims of enforced disappearance at a secret detention site called Aynaghar (house of mirrors).
The authorities have also targeted families of victims of enforced disappearances with threats and intimidation. According to New Age Bangladesh, in September 2022, National Security Intelligence (NSI) officials visited families of disappearance victims for what they said was to collect information on disappeared persons. Afroza Islam Akhi, co-founder of Mayer Daak, working as a platform for the families of disappeared people, said that a plainclothes NSI person visited their house in the capital's Shahinbagh and inquired about her disappeared brother Shajedul Islam Sumon. They also went to the house of Adbul Kader Bhuiyan Masum at Shahinbagh. Both Shajedul and Masum were picked up in December 2013 allegedly by the Rapid Action Battalion which, however, denies the allegation.
Minara Begum, sister of Asaduzzaman Rana, who was also disappeared in 2013 in Dhaka, said that an NSI man had visited her house recently and inquired about her disappeared brother.
On 5th December 2022, the Daily Star reported that police had taken a 71-year-old man to a police station in the capital, allegedly at gunpoint. Jamsher Ali, father of a victim of enforced disappearance, said he was released from Mirpur Police Station after three hours of interrogation.
Mohammad Nur Khan, executive director of human rights group Ain o Salish Kendra, said that "such visits by an intelligence agency would naturally frighten the family members further and deepen their mistrust". He went on to note that the police and other agencies in the past had visited houses of victims and collected information as far as possible, but no formal investigation was carried out in the cases to identify the perpetrators.
The Asian Human Rights Commission has documented 623 cases of short- and long-term disappearances between January 2009 and June 2022. 153 individuals still remain disappeared while 84 were later found dead, 383 have resurfaced and no updates have been found in three cases.
Vilification of UN working group on enforced disappearances
Human rights group The Asian Human Rights Commission (AHRC) raised concerns in October 2022 about a smear campaign by pro-government media and allies of the government against UN independent experts, especially the Working Group on Enforced or Involuntary Disappearances (WGEID), for their consistent attention on the issue of enforced disappearances in Bangladesh.
The AHRC stated that an Indian media outlet in its online edition challenged the credibility of the WGEID regarding a list of 76 victims of enforced disappearances, referring to the cases of two victims. The outlet claimed that at least two cases on the list - Rajkumar Meghen and Keithellakpam Nabachandra – concerned individuals who had not disappeared but were part of the United National Liberation Front (UNLF) - a separatist insurgent group active in the state of Manipur in Northeast India. They said that the UN was over-reliant on "biased NGOs known for faking cases of human rights violations."
However, AHRC stated that there were credible reports that the two were held incommunicado in a 'secret detention' facility without disclosing their whereabouts to the families.
De-registration of human rights group Odhikar upheld by the government
🇧🇩#Bangladesh: We are appalled by the decision to de-register prominent human rights organisation @odhikar_bd. We urge the government to reconsider the decision and refrain from further reprisals against critical voices in the country.
▶️https://t.co/SaUdF2lQY5 pic.twitter.com/h7Y0ZhRABa

— CIVICUS (@CIVICUSalliance) September 7, 2022
On 1st September 2022, the Prime Minister's office upheld the order issued on 5th June by the NGO Affairs Bureau, a body responsible for regulating non-governmental organisations (NGOs) under the Prime Minister of Bangladesh, to decline the registration renewal request of leading human rights group Odhikar following an appeal hearing on 3rd August 2022.
A request for renewal of the organisation's registration had been pending since 2015. On 5th June, the NGO Affairs Bureau rejected Odhikar's application for the renewal, triggering local and international condemnation. The rights group had applied for a 10-year extension.
Odhikar was founded in 1994 by a group of human rights activists and the organisation's work includes documentation of human rights violations and enforced disappearances as well as engagement with international human rights mechanisms.
The crackdown on Odhikar is happening on multiple fronts including smear campaigns and surveillance. This has escalated following US sanctions imposed against the notorious Rapid Action Battalion (RAB) for its abuses. Two of Odhikar's leaders, Secretary Adilur Rahman Khan and Director ASM Nasiruddin Elan, are facing allegations of violating Section 57 of the 2006 Information and Communication Technology (ICT) Act for "publishing in electronic forms fake, obscene, prurient materials or materials defamatory to state of religion or an individual.' The allegations stemmed from a fact-finding report issued by Odhikar in 2013 about extrajudicial killings by Bangladesh authorities, which highlighted the deaths of 61 persons under security forces' armed operation on 5th and 6th May 2013 in Dhaka.
Expression
Families of journalists abroad face harassment
#Bangladesh: Authorities must immediately and unconditionally release Nur Alam Chowdhury Pervez and Abdul Muktadir Manu and cease harassing family members of journalists who report from abroad.https://t.co/HvupxmMWr3

— CPJ Asia (@CPJAsia) September 20, 2022
On 20th September 2022, the Committee to Protect Journalists reported that Bangladesh authorities had harassed family members of journalists who report from abroad.
On 13th September, officers with the detective branch of the Bangladesh police, in the Noakhali town of the southeast Chittagong division, arrested Nur Alam Chowdhury Pervez, brother of Shamsul Alam Liton, editor of the privately owned United Kingdom-based Weekly Surma newspaper. The police accused Liton of spreading anti-government propaganda on social media platforms and allege that Pervez conspired with Liton to create "confusion and agitation" among the public.
Separately, on 9th September, police in Moulvibazar town in the northeast Sylhet division arrested Abdul Muktadir Manu, brother of Abdur Rab Bhuttow, a special correspondent for The Weekly Surma and head of the privately owned digital news platform London Bangla Channel.
Beh Lih Yi, CPJ's Asia program coordinator said: "The Bangladesh government's targeting of family members of critical journalists is an egregious form of retaliation that must not go unnoticed by its diplomatic partners and the international community".
This is not a new pattern. Previously, as documented, Bangladesh authorities detained Nusrat Shahrin Raka, sister of the U.S.-based Bangladeshi journalist Kanak Sarwar, from October 2021 to March 2022, and have repeatedly harassed the mother of Khalil, who is based in Sweden as the editor-in-chief of the Netra News website.
Government attempts to silence social media critics
There have also been reports that the Bangladeshi authorities have continued efforts to silence social media critics.
On 4th November 2022, Netra News reported a takedown attempt involving the YouTube channel of Pinaki Bhattacharya. Pinaki is a doctor and social media activist who was forced to leave Bangladesh in 2018 and is now living in France, having received refugee status. A year ago he started up a YouTube channel which has in recent months become very popular, with each daily video getting on average 500,000 views, and having in total 69 million views.
On 26th October, YouTube contacted Pinaki and informed him that it had received a takedown request from a website called Bangla News Bank. This website claimed that one of its own videos titled "How has Hasina endangered the sovereignty of Bangladesh" posted on its site in February 2018 had been illegally posted by Pinaki on his YouTube Channel. In line with the DMCA 2008, YouTube automatically removed the video from Pinaki's channel.
The following day, Pinaki received another takedown notice relating to another video, "Mommy got trapped" which he had posted on 22nd April 2022 concerning the prime minister's difficulties in deciding whether to back China or the USA. This was also removed.
Netra News reported in early December 2022 that two journalists have reported that Bangladeshi authorities have requested Twitter to remove some of their tweets. The first is Zulkarnain Saer Khan. For many years a businessman in Hungary, Saer became a whistle-blower to assist Al Jazeera to uncover corruption at the centre of the Bangladesh state in its award winning documentary, All the Prime Minister's Men. He now works as a journalist for Al Jazeera and posts regularly on social media.
On 15th November, he received an email which stated: "In the interest of transparency, we are writing to inform you that Twitter has received a request from Bangladeshi Law Enforcement regarding your Twitter account, @ZulkarnainSaer, that claims the following content violates law(s) of Bangladesh." The particular tweet was, ironically, complaining about how "government agents of Bangladesh" were making malicious reports to Facebook that were successfully resulting in his social media account being taken down.
The second journalist whose tweets have been subject to government takedown requests is Muktadir Rashid, a senior journalist working at The New Age. Twitter sent four emails stating that the Bangladesh Telecommunication Regulatory Commission had claimed that four tweets should be removed. One spoke positively about political cartoons and how New Age's cartoonist was "promoting democracy" through his work and showed a picture of a cartoon about the country's energy minister. Another seemed to query an India Today article which was highly critical of the opposition Bangladesh Nationalist Party.
Updated version of draft regulation could further restrict online freedoms
As previously documented the proposed Bangladesh Telecommunication Regulatory Commission (BTRC) Regulation for Digital, Social Media and OTT Platforms has raised serious concerns among an international coalition of organisations. According to the coalition, the draft law threatens freedom of expression and the right to privacy; undermines encryption; and weakens online safety. If enforced, the regulations will have a serious impact on human rights and put journalists, dissidents, activists and vulnerable communities, in particular, at greater risk.
In response, BTRC revised its draft but instead of seeking further consultation submitted it directly to the court. This new "final draft" remains alarming. Not only does it continue to give the government the power to order social media companies to remove material on the same broad and vague categories as set out in the earlier draft, but section 12 now gives the BTRC an additional legal power to issue a notice to any person, whether they live inside or outside Bangladesh (and using any form of communiction) requiring them to remove within 24 hours certain prohibited content including material that is considered to be: Offensive, false or threatening and insulting or humiliating to a person; Unlawful under Bangladesh law; Patently false and untrue; and is written or published in any form with the intent to mislead or harass a person, entity or agency for financial gain or to cause any injury to any person.
The BTRC could send notices to people who posts content it considers to be: Any kind of propaganda or campaign against the Liberation War of Bangladesh, the spirit of the Liberation War, the Father of the Nation, the national anthem or the national flag; known to be propaganda or false and posted with an intention to affect the image or reputation of the country, or to spread confusion.