Bangladesh: Crackdown on the opposition and critical journalists escalates as elections loom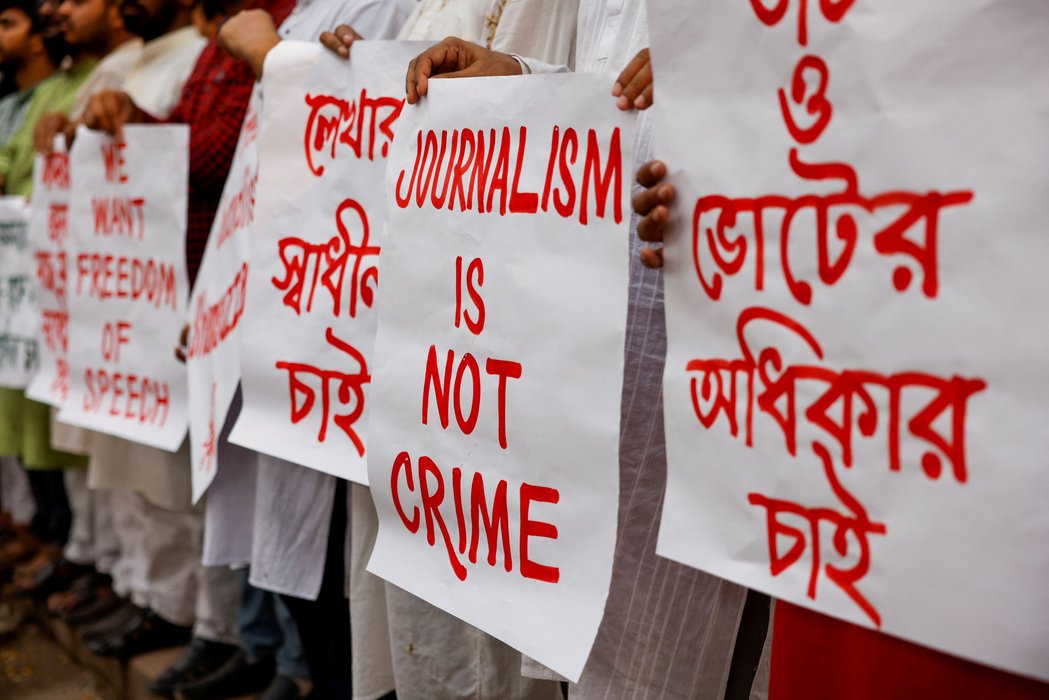 Bangladesh's civic space rating by the CIVICUS Monitor remained 'repressed' in the latest report published in March 2023. Among the ongoing concerns were judicial harassment, threats and attacks on human rights defenders and journalists. Further, the draconian Digital Security Act (DSA) continues to be used against individuals who criticise people in power on social media. The police have also disrupted and used excessive force against protesters and there have been allegations of torture, ill-treatment and enforced disappearances by the security forces.
In January 2023, the Human Rights Watch annual report noted increasing attacks against political opposition members ahead of Bangladesh's 2023 parliamentary elections scheduled for January 2024. According to the opposition Bangladesh Nationalist Party, at least 20,000 cases have been filed against its supporters, in many cases with the accused unnamed. Law enforcement officers have used these open cases as warrants to raid the homes of political opposition members in what appears to be overt political harassment and intimidation.
In response to the repression against the opposition, the US announced a new visa policy in May 2023 to support Bangladesh's goal of holding free, fair and peaceful national elections. Under this policy, the US will be able to 'restrict the issuance of visas for any Bangladeshi individual, believed to be responsible for, or complicit in, undermining the democratic election process in Bangladesh. This includes current and former Bangladeshi officials, members of pro-government and opposition political parties, and members of law enforcement, the judiciary, and security services.'
Since January 2023, the authorities have continued to use the draconian Digital Security Act (DSA) against critics. Journalists have continued to face reprisals including arrest, prosecution, torture and intimidation of their families while critical media outlets have been shut down, vilified and attacked. There have been restrictions and crackdown on opposition protests and the judicial harassment of human rights group Odhikar has persisted.
Expression
Ongoing abuse of the Digital Security Act to silence dissent
The draconian Digital Security Act (DSA) – a law that contains overbroad and vague provisions granting the authorities extensive powers to police the online space – continues to be used against online critics and journalists.
In March 2023, UN Human Rights Chief Volker Türk called on Bangladesh to suspend immediately its application of the DSA which has been "used across Bangladesh to arrest, harass and intimidate journalists and human rights defenders, and to muzzle critical voices online".
Türk called on the authorities to impose an immediate moratorium on its use and to reform comprehensively its overly broad and ill-defined provisions to bring them in line with the requirements of international human rights law. The High Commissioner called for the creation of an independent judicial panel to review all pending cases brought under the DSA with a view to those accused being released.
On 29th May 2023, the United Nations' Special Rapporteur on Extreme Poverty and Human Rights, Olivier De Schutter expressed grave concerns over the misuse of the DSA and urged the Bangladeshi authorities to suspend the law. In his end of mission statement after the official country visit to Bangladesh he said the DSA "has been used to suppress independent thought and voices including on the internet. Human rights defenders, students, activists, journalists, opposition politicians and academics have been harassed, detained and, in some cases, allegedly tortured during custody – resulting in death."
The gravity of the abuse of the DSA is reflected in the latest acknowledgement by Bangladesh's Law Minister Anisul Huq. On 5th June 2023, responding to a question in the parliament, Huq disclosed that 7001 cases were registered under the DSA between 11th October 2018 and 31st January 2023.
Journalists face reprisals for undertaking their work
Bangladesh ranks 163 in the World Press Freedom Index published in May 2023 by Reporters Without Borders (RSF), falling behind all the countries of South Asia. Press freedom remains at risk for multiple reasons including the continued arbitrary detention of journalists, physical attacks, judicial harassment as well as trumped-up cases against media outlets.
In May 2023, eight human rights groups including CIVICUS highlighted the increasing attacks on journalists. Fifty-six journalists had reportedly been targeted by the government and its supporters in the first three months of 2023. Journalists in Bangladesh are at risk of arrest under the draconian Digital Security Act (DSA) and have been subjected to harassment, surveillance and physical attacks by government supporters.
As of early May 2023, at least 339 DSA cases had been filed against journalists since its inception in 2018, according to a tracker operated by the Dhaka-based think tank Centre for Governance Studies. Newsrooms are further being driven towards self-censorship, with government authorities demanding news articles being removed from their websites, as the Digital Security Act allows the Government to order the removal and blocking of any information or data on the internet it deems necessary.
Authorities open investigation into exiled journalist Abdur Rab Bhuttow
#Bangladesh: CPJ is monitoring the ongoing harassment of UK-based exiled journalist Abdur Rab Bhuttow and his family members, who reside in Bangladesh.https://t.co/RwLbxkpBX5

— CPJ Asia (@CPJAsia) April 3, 2023
On 11th January 2023, the Chawkbazar police station in Bangladesh's southern Chattogram district opened a Digital Security Act investigation into UK-based Bangladeshi journalist Abdur Rab Bhuttow and the privately owned digital news platform London Bangla Channel, where Bhuttow serves as editor.
Police filed the first information report opening the investigation following a complaint by businessman Masud Rana, who alleged Bhuttow had defamed Hasan Mahmud, Bangladesh's information and broadcasting minister and joint general secretary of the ruling Awami League party.
According to the Committee to Protect Journalists (CPJ), in a video, Bhuttow alleged that Mahmud had purchased a residential property in the United Arab Emirates using laundered money. The complaint accuses Bhuttow and London Bangla Channel of violating five sections of the DSA. Each of the first four offences can carry a prison sentence of three to ten years, and a fine of 300,000 to 1,000,000 taka (USD 2,849 to 9,496).
Previously, in August 2022, the London Bangla Channel broadcast interviews about the enforced disappearances of former lieutenant colonel of the Bangladesh Army, Md. Hasinur Rahman, on two occasions, in 2011 and in 2018, and his subsequent incommunicado detention in secretly operated detention facilities. In the interview the retired military officer confirmed the locations of the secret detention facilities operated by the security forces in Bangladesh.
As previously documented, in September 2022, Bangladesh authorities arrested Abdul Muktadir Manu, Bhuttow's brother and a member of a local administrative unit with the opposition Bangladesh Nationalist Party. Bhuttow told CPJ that he believed authorities arrested his brother in retaliation for his journalism. Since his brother's arrest, Bhuttow has received threatening calls and text messages from anonymous numbers, warning him to stop his reporting or face further investigations in Bangladesh.
Journalist Raghunath Kha tortured in police custody
Raghunath Kha, a Satkhira district correspondent of privately owned television channel Deepto TV, is known for his reporting on landless people of the area. On 23rd January 2023, plain clothed police arrested Kha and two other people while he was returning home from an assignment. The Debhata police of Satkhira district implicated him in two cases: an attempted bomb blast case under the Explosive Substances Act-1908 and an extortion and sabotage case registered under the Special Powers Act-1974.
The police allegedly tortured Kha severely, electrocuted him and threatened to kill him and as a result he was unable to stand properly when he was produced before the Court on the following day, a source told the Committee to Protect Journalists (CPJ) in an interview. The Chief Judicial Magistrates' Court of Satkhira ordered Kha be detained in prison.
Kha was granted bail on 29th January and released from the prison on the same evening. After having been released from the jail Kha described how the police tortured him in custody.
UN experts urge government to end judicial harassment of Rozina Islam
UN experts today urged the Bangladesh government to drop the charges against investigative journalist Rozina Islam and end the practice of protracted prosecution of journalists and human rights defenders.#Bangladesh #UnitedNations https://t.co/hAnL0eHJgT

— The Daily Star (@dailystarnews) February 22, 2023
On 22nd February 2023, UN experts urged the government to drop the charges against investigative journalist Rozina Islam who is facing charges for her reporting.
In 2021, Rozina Islam, a journalist employed by Bangladesh's largest daily newspaper, Prothom Alo, reported on alleged corruption and mismanagement in the health sector and irregularities in the procurement of emergency medical supplies in response to the COVID-19 pandemic. On 17th May 2021, Rozina went to the Bangladesh Ministry of Health and Family Welfare to meet with senior officials. While there she was detained and accused of having used her cell phone without permission to photograph documents related to government negotiations on the purchase of COVID-19 vaccines. She was later charged under the Official Secrets Act and the Penal Code.
On 3rd July 2022, the Dhaka Metropolitan Police submitted its final report to the court stating that no substantial evidence had been found to support the allegations against Rozina Islam. Seven months later, following a petition by the Ministry of Health in January 2023, the same court ordered the police to carry out further investigations.
"We are seriously concerned that the criminal charges and the prolongation of the investigation against Ms. Islam appear to be in direct retaliation for her investigative reporting," said the experts.
On 6th April, when the police were due to present the reinvestigation report, they requested additional time, and the court postponed the hearing to 21st May. On 21st May, the court postponed the hearing to 25th June, again because the police were not ready to present the report.
Retaliation against family of exiled journalist Zulkarnain Saer Khan for his reporting
#Bangladesh: Authorities must conduct an immediate and impartial investigation into the recent attack on Mahinur Khan, the brother of exiled journalist Zulkarnain Saer Khan (@ZulkarnainSaer), and ensure the safety of Zulkarnain Saer Khan's family.https://t.co/jqgWjkqQSW

— CPJ Asia (@CPJAsia) March 24, 2023
🇧🇩Amnesty international calls for the immediate release of @ProthomAlo journalist Shamsuzzaman Shams who is currently detained under Bangladesh's draconian Digital Security Act. #FreeShams #RepealDSAhttps://t.co/CE8hZHqzYV pic.twitter.com/sjd7DlLVS8

— Amnesty International South Asia, Regional Office (@amnestysasia) March 31, 2023
On 29th March 2023, plain-clothed men claiming to be members of the Criminal Investigation Department (CID) of the police picked-up journalist Shamsuzzaman Shams from his residence at Savar in Dhaka. A ruling party student wing - Bangladesh Chhatra League (BCL) - leader had registered a case under the Digital Security Act (DSA) against Shams on that day.
Journalist Shamsuzzaman Shams, a correspondent for the Prothom Alo from Savar of Dhaka, had written a story highlighting the struggles of low-income people including day labourers and street-vendors. The Prothom Alo published the story on 26th March 2023 - Independence Day in Bangladesh - which went viral on Facebook.
On the same day, a pro-ruling party lawyer registered another case with the Ramna police of Dhaka about the same report. The complainant accused Matiur Rahman, editor of the Prothom Alo, Shamsuzzaman Shams, an unnamed assistant camera operator and a few unnamed people of violating the DSA. On 30th March, the Chief Metropolitan Magistrates' (CMM) Court of Dhaka rejected the bail petition filed by Shams' lawyer. Shams was detained in the Dhaka Central Jail and Kashimpur High Security Prison for six days' detention until he was released on bail on the evening of 3rd April.
Matiur Rahman, the editor of the Prothom Alo, secured anticipatory bail on 2nd April 2023 for six weeks from a High Court Bench. On 3rd May, he obtained bail valid till 16th August 2023 from the Metropolitan Sessions Court of Dhaka in the same case filed with the Ramna police.
Media outlets shut down, vilified and attacked
In February 2023, Dainik Dinkal, the newspaper of Bangladesh's main opposition party, was forced to close after its printing licence was cancelled in what the outlet's managing editor, Shamsur Rahman Shimul Biswas, said were invalid grounds.
Dainik Dinkal suspended operations on 20th February, after the Bangladesh Press Council, a quasi-judicial, government-funded body headed by a former High Court judge, rejected its appeal against a government shutdown order.
The district administration in the capital, Dhaka, accused Dainik Dinkal of violating local law on grounds that its publisher was a convicted criminal, but the publisher named in the order resigned the post in 2016.
The newspaper had filed documentation before the Press Council's ruling that Tarique Rahman, acting chair of the opposition Bangladesh Nationalist Party (BNP), was no longer Dainik Dinkal's publisher. Rahman has been convicted of several criminal and money laundering charges, and lives overseas.
In April 2023, Prothom Alo, Bangladesh's largest daily, came under attack following the article on the cost of living by journalist Shamsuzzaman Shams (see above).
With reference to the article, on 10th April, Bangladesh prime minister Sheikh Hasina called Prothom Alo "an enemy of the Awami League, democracy, and the people of Bangladesh," while speaking in Parliament,. Hours after the Prime Minister's statement, a group of individuals barged into Prothom Alo's office in the capital city of Dhaka, issued threats and vandalised its logo in the reception by writing 'boycott' over it.
Yamini Mishra, regional director for South Asia at Amnesty International, said: "Penalising a media outlet, publisher or journalist solely for being critical of the government or the policies it promotes is a restriction of the right to freedom of expression that can never be justified. The attacks on Prothom Alo, which has the largest daily circulation, come close on the heels of the closure of Daily Dinkal, the only newspaper belonging to the main opposition party, last month."
Peaceful Assembly
In February 2023, it was reported that four UN Special Rapporteurs, along with the UN Working Group on Arbitrary Detention, had jointly written to the Bangladesh government asking it to respond to their concerns about the use of excessive force and arbitrary arrests by law enforcement officials in their policing of demonstrations held by the opposition Bangladesh Nationalist Party (BNP) between July and December 2022. In the letter dated 27th December 2022, the UN highlighted the use of tear gas, live ammunition and birdshot, resulting in injuries of several protesters and the death of at least five individuals.
Restrictions and crackdown on opposition protests
Over the last six months protests were called by the opposition around various issues. There were continued reports of excessive force against protesters by the security forces as well as attacks from ruling party activists.
#Bangladesh Nationalist Party (BNP) hold another mass walk protest in #Dhaka city on Sunday, Jan 30, 2023. Millions of activist come out on the street, walk silently protesting against the highly increased Prices of Daily Commodities & Settle Polltime NonParty Caretaker Govt. pic.twitter.com/BLvFyhANAQ

— Mahmudul Khan (Apel) (@apel6697) January 30, 2023
In January 2023, thousands of supporters of Bangladesh's main opposition the Bangladesh Nationalist Party (BNP) rallied across Bangladeshi cities to demand Prime Minister Sheikh Hasina's resignation and the formation of a caretaker government to conduct general elections. Several people were injured in the central city of Faridpur when supporters of the governing Awami League attacked protesters while brandishing sticks and hurling Molotov cocktails.
On 1st April 2023, around 50 BNP activists were injured and many were arrested as police and ruling Awami League activists attacked the party's sit-in programmes in several places across the country In Rajshahi, a police baton-charge during a sit-in protest left at least 10 BNP activists injured, and in Khulna 12 others were injured. In Natore, three youth BNP activists sustained gunshot wounds, and at least 20 people were injured. Police resorted to firing blank shots to bring the situation under control.
In May 2023, police fired tear gas and arrested members of the BNP who took to Dhaka's streets to protest as their leader, former Prime Minister Khaleda Zia, went on trial on new charges of alleged corruption. About 100 activists with Zia's Bangladesh Nationalist Party were injured.
Brutal police attack on #BNP's protest program in #Dhaka.#BDPoliceBrutality #Bangladesh #FreeDemocracy pic.twitter.com/ReBRb0djXn

— Basherkella - বাঁশেরকেল্লা (@basherkella) May 23, 2023
On 20th May 2023, BNP party supporters gathered in the Science Lab area to demonstrate against what they said was the government's misuse of the courts to suppress the opposition. Police dispersed the protesters, firing tear gas shells and picked up about 25 leaders and activists, including central executive committee member Shaikh Rabiul Alam. According to news reports, videos from the scene showed police shooting rounds of tear gas at the protesters.
Meanwhile in Rajshahi, police stopped a planned BNP rally at a park that was to be followed by a march to the Sonadighi intersection. Officers also allegedly locked the party's office.
On 6th June 2023, Ganatantra Mancha, a coalition of six political parties - Jatiya Samajtanrik Dal, JSD, Nagarik Oikya, Revolutionary Workers Party of Bangladesh, Ganosamhati Andolan, Bhashai Onusari Parishad and Rastra Sankar Andolan - said that the ruling party Awami League was creating obstacles for its march towards Dinajpur. It was reported that Awami League activists attacked them at Mokamtala and wounded at least three activists of the Mancha. They alleged that the government and ruling party activists had also prevented them from holding their prescheduled rally at Sirajganj Shaheed Minar. The march was to press 14 demands including the resignation of the Awami League government.
Dozens of people were reported injured in violence between supporters of the main opposition Bangladesh Nationalist Party and the ruling Awami League as the BNP staged protests in several cities against electricity cuts amid a nationwide heat wave.https://t.co/EY7ftNVi7z

— BenarNews (@BenarNews) June 8, 2023
On 8th June 2023, dozens of people were reported injured as the BNP staged protests in several cities against electricity cuts amid a nationwide heat wave. BNP leaders and activists faced attacks in at least 10 districts including Dhaka, Pabna, Patuakhali, Bogura, Mymensingh, Faridpur and Jhenaidah while attempting sit-ins outside the offices of electricity providers.
Police attack journalists and lawyers at Supreme Court
#Bangladesh: Authorities must conduct a thorough and impartial investigation into the police attacks on at least nine journalists covering recent elections held by the Supreme Court Bar Association and hold the perpetrators accountable.https://t.co/dkKa1uAiza

— CPJ Asia (@CPJAsia) March 29, 2023
The police beat journalists at the Supreme Court premises during a protest by pro-opposition lawyers against the electoral fraud around the Supreme Court Bar Association (SCBA) election. At least 10 journalists and over a dozen lawyers were injured during the incident on 15th March 2023.
The injured journalists were identified as: Javed Akhtar, a senior ATN News reporter; Jannatul Ferdous Tanvi, a senior reporter at Independent TV; Nur Mohammad, journalist of Ajker Potrika; Kabir Hossain, journalist of Kalbela; Mehedi Hassan Dalim, journalist of The Dhaka Post; Fazluk Haque Mridha, senior journalist of Jago News; Ibrahim Hossain, cameraperson of Boishaki Television; Suvra Kanti Das, senior photojournalist of Prothom Alo; Abdullah Al Maruf of Manab Zamin; and Humayun Kabir, cameraperson of ATN Bangla.
The Committee for the Protection of Journalists (CPJ) expressed concerns over the attack on the journalists and demanded a thorough and impartial investigation.
The injured journalists and witnesses reportedly claimed that the police attacked journalists when they were taking photos and videos of police action on the protesting lawyers. Over a dozen pro-opposition lawyers were also injured.
Rohingya in Bangladesh protest after UN aid cut
On 9th June 2023, Rohingya at the refugee camp held a protest demanding to be repatriated to Myanmar so that they can leave the squalid camps they have lived in since fleeing the brutal military crackdown in 2017.
More than a million Rohingya have been crammed into the camps in southeastern Bangladesh, the world's largest refugee settlement. Most fled the crackdown by Myanmar's military in 2017, although some have been there for longer.
On 1st June 2023, the World Food Programme cut their monthly food supplies. In March, the rations had also been cut due to a reduction in global aid for the refugees.
During the demonstrations across the sprawling camps, the mainly Muslim refugees, young and old, waved placards and chanted slogans. "No more refugee life. No verification. No scrutiny. No interview. We want quick repatriation through UNHCR data card. We want to go back to our motherland," the placards read.
Attempts to begin repatriation in 2018 and 2019 failed as the refugees, fearing persecution, refused to go back. There has been a pilot scheme aimed at encouraging voluntary repatriation but Tom Andrews, UN special rapporteur on the human rights situation in Myanmar, called for it to be suspended as the Rohingya face serious risks to their lives.
Association
Ongoing judicial harassment of human rights group Odhikar
Human rights group Odhikar continues to face judicial harassment. As previously documented, in 2022 the authorities declined to renew the organisation's registration that had been pending since 2015.
Odhikar was founded in 1994 by a group of human rights activists and the organisation's work includes documentation of human rights violations and enforced disappearances as well as engagement with international human rights mechanisms.
Two of Odhikar's leaders, human rights defenders Secretary Adilur Rahman Khan and Director ASM Nasiruddin Elan, are also facing trial on allegations of violating Section 57 of the 2006 Information and Communication Technology (ICT) Act for "publishing in electronic forms fake, obscene, prurient materials or materials defamatory to state of religion or an individual." The allegations stemmed from a fact-finding report issued by Odhikar in 2013 about extrajudicial killings by Bangladesh authorities, which highlighted the deaths of 61 persons under security forces' armed operation on 5th and 6th May 2013 in Dhaka.
On 15th May 2023, the Cyber Tribunal of Dhaka granted the prosecution's request for 'further investigation' into the case in an unprecedented move, while the examination of witnesses had been completed during the trial. Three international observers who were present were ordered to leave the court. On 1st June, the prosecution failed to submit a supplementary charge sheet on the basis of the 'further investigation'.