Thailand: Relentless prosecutions for lese-majesté as National Assembly blocks winning party from forming government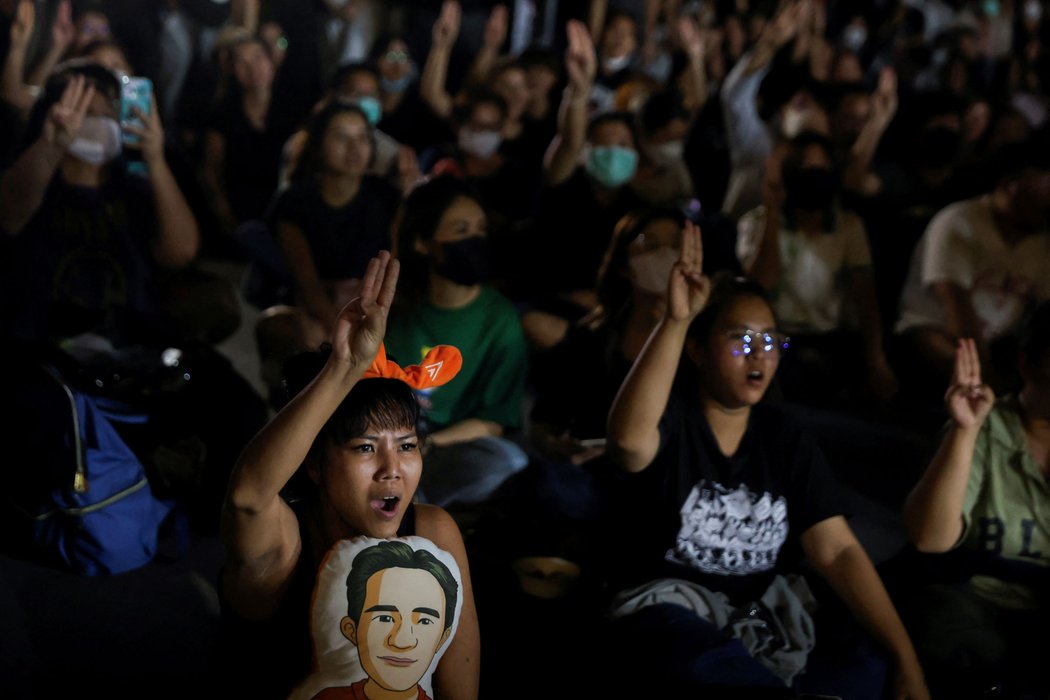 Civic space in Thailand is rated as 'repressed' by the CIVICUS Monitor. Civil society has documented a range of violations by the government, including the use of lese-majesté (royal defamation) and other restrictive laws against activists and journalists. There has also been a crackdown on peaceful protests, arrests and criminalisation of protesters, and the use of excessive force by the police.
The Move Forward Party led by Pita Limjaroenrat finished first in the 14th May 2023 elections and afterward assembled an eight-party coalition that together had won 312 seats. However, he has been blocked from taking power in the National Assembly due to strong opposition in the Senate, whose members are overwhelmingly conservative and include military-appointed senators. Election rules rewritten after the military coup in 2014 requires Pita to have majority support from parliament to become prime minister.
Further, in July 2023, the Thai Constitutional Court decided to suspend Pita Limjaroenrat from parliament on politically motivated charges. The Election Commission of Thailand alleges that Pita violated electoral rules and was unqualified to run for election because he held shares in the iTV media company, even though the company has not broadcast for 15 years and was removed from listing on the Stock Exchange of Thailand in 2014.
At the time of writing, Thailand's populist Pheu Thai Party, the runner-up in the elections, announced it is forming an alliance with the conservative Bhumjaithai Party and is open to other parties joining to form a government.
In recent months, scores of individuals including activists and children have been charged or convicted for royal defamation and given harsh sentences for their speeches and social posts critical of the monarchy. A Lao refugee was shot dead in Thailand, while foreign news coverage around the Thai elections was blocked. Labour right activists were charged over a Labour Day march, while nine protesters were arrested for a protest outside a police station. The human rights commission found that a police crackdown on anti-APEC protests in November 2022 violated rights.
Expression
Article 112 of the penal code criminalises royal defamation - commonly known as the lèse-majesté law - for any criticism of the King or the royal family and carries a punishment of up to 15 years' imprisonment.
According to Thai Lawyers for Human Rights (TLHR), between July 2020 and June 2023 at least 252 individuals have been charged with lèse-majesté offences. Arrests, detentions and prosecutions have mainly targeted pro-democratic activists and protesters who exercise their right to freedom of expression.
16-year-old charged for Facebook posts
On 17th May 2023, police charged a 16-year-old girl with defaming the monarchy for two messages she allegedly posted on Facebook two years ago.
Police charged the girl in the northern province of Phitsanulok with violating the lese-majesté law and the Computer Crime Act, according to a statement from Thai Lawyers for Human Rights (TLHR), a legal advocacy group. It said that police originally summoned her in 2021 when she was 14 years old, which appears to make her the youngest person in Thailand to face the charge.
A report was filed against her by Nangnoi Assawakittikorn, a former member of a royalist group. She was previously summoned as a witness by the police on 4th June 2021 and was questioned about her post. TLHR noted that no psychologist or prosecutor was present when she was being questioned, although it is a requirement under the Juvenile and Family Court and Procedure Act. She was not charged at the time.
Student activist charged for criticising monarchy released on bail
TLHR receives a report that, earlier today, the Central Juvenile and Family Court dismissed Samran Rat police's request to extend Yok's detention and the indictment period.

Consequently, Yok will be released from Baan Pranee later today after having been detained for 51 days. pic.twitter.com/3pWoec83ry

— TLHR / ศูนย์ทนายความเพื่อสิทธิมนุษยชน (@TLHR2014) May 18, 2023
A 15-year-old student activist detained for allegedly defaming the monarchy in March 2023 was released on bail on 18th May 2023 after spending 50 days in detention.
In March 2023, the police arrested Thanalop "Yok" Phalanchai in Bangkok and accused her of committing lèse-majesté offences for criticising the monarchy during a rally in October 2022 in front of the Bangkok City Hall. At the rally, protesters called for the release of political detainees and for the abolition of royal defamation prosecutions. Thanalop was held in pretrial detention at the Justice Ministry's Ban Pranee Juvenile Vocational Training Center for Girls in Nakhon Pathom province.
Police from the Samran Rat station had gone to the Central Juvenile and Family Court to seek additional detention while they investigate the case further, but the court rejected the request. It said the police already had enough material to support their investigation.
The case of Yok has been the most high-profile one among the 19 children under the age of 18 charged with lese-majeste under Section 112 of the Criminal Code. She is the only one to have been detained for such a long period.
Jailed for Facebook comments around the health of the King
On 24th May 2023, it was reported that the Criminal Court had found Patihan (family name suppressed) guilty of royal defamation over comments on a Facebook post by Somsak Jeamteerasakul regarding rumours about the health of King Rama X.
Thai Lawyers for Human Rights reported that Patihan was apprehended in December 2021 at his residence on an arrest warrant issued by the Criminal Court after he had been summoned twice before but failed to appear. However, he insisted that after checking the CCTV footage, no police officers had come to his house.
In February 2022, a prosecution was initiated under the royal defamation law (Section 112) and the Computer Crimes Act alleging that his comments insulted the king and showed malicious intent. He was sentenced to three years in prison, but as he pleaded guilty his sentence was halved to one year and six months.
Student jailed for Tik Tok video
On 13th June 2023, a graduate student from Chiang Mai University was sentenced by the Kamphaeng Phet Provincial Court to three years in jail under the royal defamation law for posting a TikTok video clip lip-syncing to the song 'King in Fairy Tales'. The sentence was reduced to one year and six months after she pleaded guilty.
"Thida" (pseudonym) had been charged under the royal defamation law and the Computer Crimes Act in November 2022. The prosecution indicted her on 29th November 2022 and said that when the public watched the video it led to a misunderstanding that King Rama X's behaviour was inappropriate.
Jailed for three years for social media posts criticising the monarchy
A 28-year-old man was sentenced to six years in prison on 14th June 2023 for criticising the monarchy. The sentence was halved to three years due to his guilty plea, and he was later granted bail to allow an appeal.
Thai Lawyers for Human Rights reported that on 12th June 2023, the Taling Chan Criminal Court delivered a verdict in the case of Prasong "Dong" Khotsongkhram who was charged under the royal defamation law and Computer Crimes Acts for his shares and posts on Facebook between May and June 2021.
Jailed for three years for questioning value of the monarchy on social media
On 19th June 2023, the Ratchada Criminal Court sentenced 'Teepakorn' to three years in jail for raising questions about the value of the monarchy. He did this in postings on YouTube in October 2020 and was charged under Section 112 of the Criminal Code, and Section 14 (3) of the Computer Crimes Act.
Sentenced for speech at rally defaming the king
On 27th June 2023, the Thonburi Criminal Court Appointment sentenced two activists to two years and eight months in jail for defaming the king. "Justin" Chookiat Saengwong and "Tee" Wanwalee Thammasatya were charged for speaking at the rally around the King Taksin Monument in the centre of Wong Wian Yai on 6th December 2020.
Woman sentenced to 18 months' jail for social media post insulting the King
A woman was sentenced to one year and six months in prison on 29th June 2023 after she was found guilty by the Criminal Court of lèse-majesté and violating the Computer Crimes Act.
Warunee Weerasak was accused of posting a "doctored" image on social media on 21st June 2022 of an event at the Temple of the Emerald Buddha, at which His Majesty the King was performing a ceremony to change the costume on the Emerald Buddha statue.
The court ruled that the defendant's tampering with the image of the Royal event had subjected the monarchy to disgrace, insult and ridicule. The court also said that her conduct was inappropriate and disrespectful to the Emerald Buddha statue, which is revered by many Thai people.
Warunee was given three years in prison on the lèse-majesté charge, but the sentence was commuted to 18 months because of her guilty plea.
Teen jailed for mocking king by wearing a crop top outfit
The Central Juvenile and Family Court on Thursday (20 July) found activist Noppasin Treelayapewat guilty of royal defamation for wearing a crop top to a mock fashion show during a protest in October 2020, when he was 16 years old.https://t.co/XtofRkxBya pic.twitter.com/ID2GOFeGV0

— Prachatai English (@prachatai_en) July 22, 2023
On 20th July 2023, a Thai court sentenced a teenager to a 12-month jail term, suspended for two years, for royal defamation over a "crop top" outfit he wore to a protest three years ago.
Napasit joined a pro-democracy protest in 2020 wearing a black crop top, a seeming reference to pictures that appeared in some European media several years earlier apparently showing the king wearing a similar article of clothing. The 19-year-old also had a message painted on his body deemed a "mockery to the king", said a statement from Thai Lawyers for Human Rights (TLHR).
Napasit was initially sentenced to three years in jail, "but as the defendant committed the crime when he was a minor aged 16, it was reduced by half to one year and six months ... And due to useful testimony the defendant gave, the sentence was reduced to 12 months," TLHR said.
The other case is that of Chookiat and Wanwalee, revolving around the speeches at the 6th December 2020 protest. The duo were sentenced to imprisonment of two years and eight months each.
Activist charged with royal defamation over protest speech
An activist has been charged with royal defamation over a speech given during a protest on 14 July, which took place following attempts to disqualify Move Forward Party leader Pita Limjaroenrat and block his bid to become the next Prime Minister.https://t.co/x9oQgDg1DC pic.twitter.com/43u75hXlRs

— Prachatai English (@prachatai_en) August 7, 2023
An activist has been charged with royal defamation over a speech given during a protest on 14th July at the Bangkok Art and Culture Centre (BACC).
Activist Tanruthai Thanrut reported to Pathumwan Police Station on 7th August after a royal defamation charge was filed against her by Anon Klinkaew, leader of the ultra-royalist group People's Centre to Protect the Monarchy.
The protest was called after Move Forward leader Pita lost the first round of voting in parliament on 13th July 2023. Activists gathered in the courtyard in front of the BACC and gave speeches. They handed out flyers calling for the abolition of the Senate, while a large piece of cloth was laid out for people to write messages, many of which condemned the Senate's actions for disrespecting the people and disregarding election results by not approving a Prime Minister candidate nominated by the winning party.
Thai Lawyers for Human Rights (TLHR) said that the complaint against Tanruthai was filed because she gave a speech saying that no institution is above the people and demanded that the Senate and House of Representatives respect the result of the election.
Tanruthai said that she had been harassed after the complaint against her was filed. People have tried to dox her on social media, while others made comments attacking her. Someone also called her mother and told her that Tanruthai could be going to jail.
Association
Lao refugee shot dead in Thailand
On the killing of #Laos political activist Bounsuan Kitiyano, 10 NGOs (incl. @hrw) have recommendations for #Thai and #Lao PDR governments to investigate, hold those accountable, stop trans-national repression. #WhatsHappeninginThailand #JusticeforJackhttps://t.co/gE77k5dx7l pic.twitter.com/FMqeozFmOh

— Phil Robertson (@Reaproy) May 29, 2023
On 17th May 2023, political activist Bounsuan Kitiyano's body was found with three gunshot wounds in the forest in Si Mueang Mai district, Ubon Ratchathani province in northeastern Thailand, bordering Laos.
According to Human Rights Watch, the initial police investigation indicated that he was shot while riding alone on his motorcycle through the forest.
Bounsuan, 56, was a former member of the Free Laos group and was recognised as a refugee by the United Nations Office of the High Commissioner for Refugees (UNHCR). He was involved in several protests in front of the Lao Embassy in Bangkok calling for respect for human rights and fundamental freedoms.
This is not the first case of an activist targeted in Thailand. As previously documented, Od Sayavong, a leading Lao human rights and democracy activist living in Bangkok, Thailand, has been missing since August 2019. In October 2019, the United Nations Working Group on Enforced or Involuntary Disappearances and three UN special rapporteurs issued a joint statement expressing concerns regarding Sayavong's case.
Activists file lawsuit against use of Pegasus spyware
In June 2023, it was reported that two prominent Thai activists had filed a lawsuit accusing the government of using the internationally notorious Pegasus spyware to infiltrate their mobile devices during a period of political unrest almost three years ago.
Law reform advocate Yingcheep Atchanont and human rights lawyer Arnon Nampa accuse nine state agencies in the administration of Prime Minister Prayuth Chan-ocha of unlawfully violating their privacy by spying on their smartphones using the spyware produced by the Israeli-based cybersecurity company NSO Group.
They requested an immediate court injunction barring the use of Pegasus against them and other citizens, and for the court to order the government to release the data on its use of Pegasus. They also demanded compensation of 2.5 million baht (USD 72,000) each.
As previously documented, at least 30 activists and lawyers were hacked with Pegasus in 2020 and 2021. In November, human rights groups filed a lawsuit against the NSO Group for violating the rights, including privacy, of eight people whose phones were infected by Pegasus. This is the first lawsuit that the company is facing in Southeast Asia.
Foreign news coverage of Thai election blocked on TrueVisions
In June 2023, it was reported that a major satellite and cable TV provider appeared to have blocked the broadcasts about the Thai election of several overseas news agencies.
The BBC's interview with Move Forward Party leader Pita Limjaroenrat appeared to have been taken off the air by TrueVisions, which is owned by one of the largest conglomerates in Thailand. The broadcast was replaced with a blank screen with the message "Program will resume shortly," without providing further details.
The interview with Pita, whose party placed first in the 14th May election, could later be accessed on the BBC's English and Thai online editions. TrueVisions did not offer any reason for blocking the interview.
Multiple journalists and news producers told Prachatai English that the BBC, CNN, Al Jazeera, NHK and ABC Australia have also had their election-related news segments blocked in recent days, with the broadcasts replaced by the message "Program will resume shortly."
Peaceful Assembly
Labour right activists charged over Labour Day march
Three labour right activists have been charged with violation of the Public Assembly Act and the Sound Amplifier Act for the 1 May Labour Day march from the Ratchaprasong intersection to the Bangkok Art and Culture Centre (BACC).https://t.co/YmJJDOy5La pic.twitter.com/oRFC2jTamN

— Prachatai English (@prachatai_en) May 17, 2023
Three labour right activists have been charged with violating the Public Assembly Act and the Sound Amplifier Act for the 1st May 2023 Labour Day march from the Ratchaprasong intersection to the Bangkok Art and Culture Centre (BACC).
Chatchai Pumpuang and Prim Maneechot from the labour rights network Workers' Union, and Surat Kiri from the migrant worker group Bright Future reported to Pathumwan Police Station on 15th May 2023 after they were summoned to hear charges of holding a public assembly without notifying the authorities and using a sound amplifier without permission.
The three activists agreed that Surat would reach a settlement and pay a fine of 2,100 Baht (USD 60) for the charges against him to be withdrawn. Meanwhile, Chatchai and Prim will fight their charges in court.
Migrant workers who joined the march were also harassed by the police. Chatchai said that he was told by several migrant workers that they had received calls from the police in Bangkok's Bang Bon district. He speculated that the workers were harassed after some media outlets reported that migrant workers were joining the Labour Day march and used nationalist rhetoric to incite a bias against migrants.
Nine arrested after police station protest
The 9 activists arrested on Monday night during a protest at Samranrat Police Station to demand the release of detained 15-year-old activist Thanalop Phalanchai has been granted bail. #ม็อบ10พฤษภา66 #saveหยก

(Photo by Ginger Cat) pic.twitter.com/M3TBv36tjn

— Prachatai English (@prachatai_en) May 12, 2023
Nine people were arrested after a protest outside a Bangkok police station on 11th May 2023 where a group had gathered in support of a 15-year old girl who has been held for more than 40 days on a royal defamation charge.
The seven men and two women arrested included Tantawan "Tawan" Tuatulanon and Orawan "Bam" Phuphong. The protesters began gathering at the Samran Rat police station in Phra Nakhon district at about 4pm. They wanted to talk to those in charge after learning that officers from the station were preparing to press an additional charge against the detained teenager.
After the demonstrators had waited for two hours, they splashed and sprayed red paint on the walls and steps of the station, police vehicles and a poster of the national police chief. They also threw coloured smoke flares up the steps in front of the police station.
About 50 crowd control policemen were deployed to control the situation. Officers with riot shields assembled. The activists tried to push through the police barrier but were pushed out, and the glass door of the police station was broken during the clash. Nine people were taken away and held at three different police stations. They were subsequently granted bail.
Human rights commission says police crackdown on anti-APEC protests violated rights
The police crackdown on protesters during the APEC summit has violated human rights, according to the Office of the National Human Rights Commission (NHRC).

The NHRC stated that the protest was peaceful and the protesters were unarmed.#Thailand pic.twitter.com/lBH0XgMVY5

— Thai Enquirer (@ThaiEnquirer) June 2, 2023
On 7th June 2023, the National Human Rights Commission (NHRC) said that the crackdown on the 18th November 2022 protest march against the Asia-Pacific Economic Cooperation (APEC) summit in Bangkok was a violation of press freedom and the right to peaceful assembly, as several protesters and members of the press were injured.
As previously documented, Thai police used violent tactics to disperse peaceful protesters, including firing rubber bullets and beating people with batons at the demonstration. Police shot Phayu Bunsophon, from the Dao Din democracy group, in the right eye with a rubber bullet, permanently blinding him. The police shot a member of the group Assembly of the Poor in the stomach at close range with a rubber bullet as he was lying on the ground after a police officer kicked him in the groin. At least 33 people were injured and 25 protesters were taken into police custody.
The NHRC ruled that, because the majority of the protesters were not violent and protest leaders were reprimanding protesters who threw objects at the police, the protest is considered to have been a peaceful assembly. It also found that the crowd control police used batons and rubber bullets against the protesters without warning and fired indiscriminately, injuring protesters and bystanders, and that the police threw glass bottles and pieces of wood at protesters.
The NHRC also ruled that, by pushing protesters or punching and kicking them, the police were using excessive force to arrest protesters, most of whom were not resisting, while those who resisted were unarmed. The police also violated press freedom by assaulting and injuring members of the press during their operation, as well as trying to prevent coverage of the protest. The NHRC said that by doing so, they went against the state's duty to provide safety for members of the press.
Court acquits protesters accused of blocking royal motorcade
In June 2023, a court acquitted five activists accused of obstructing the Queen's motorcade at a protest in 2020.
Thai Lawyers for Human Rights, which represented two of the activists, said a court in the capital Bangkok acquitted the defendants on all the charges, ruling the protesters were not aware of the incoming royal convoy.
As previously documented, on 1st April 2021, prosecutors indicted the five pro-democracy activists on charges of attempting to harm the Queen during a street demonstration in October 2020, in which some protesters shouted slogans critical of the monarchy. The five – veteran activist Ekachai Hongkangwan, Mahidol University student Bunkueanun Paothong, Suranart Paenprasert and two unidentified co-defendants - pleaded not guilty in a Bangkok criminal court of violating section 110 of the criminal code, which says that whoever attempts an act of violence against the Queen or the royal heir faces 16-20 years' imprisonment.