Protesters continue to face prosecution and excessive force while activists criminalised for royal defamation in Thailand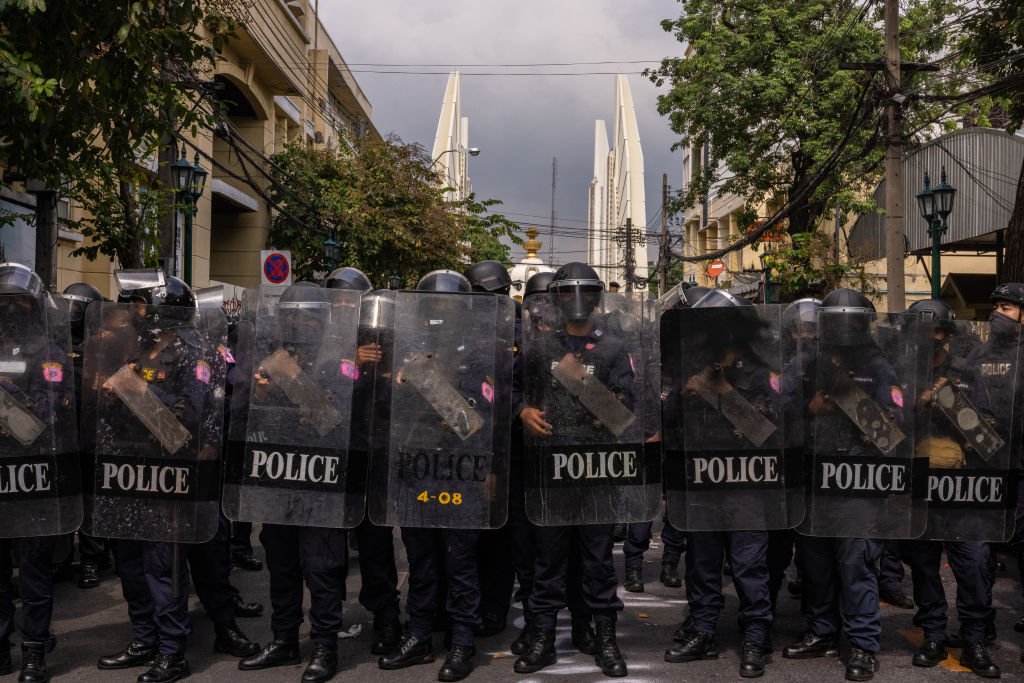 Civic space in Thailand is rated as 'repressed' by the CIVICUS Monitor. Civil society has documented a range of violations by the government in recent years, including the use of criminal defamation, lese-majesté (royal defamation), and other restrictive laws against activists and journalists as well as harassment, physical attacks and allegations of enforced disappearances of activists. There has also been a crackdown on peaceful protests, arrests and criminalisation of protesters, and the use of excessive force by the police.
In August 2022, the constitutional court suspended Prime Minister Prayuth Chan-ocha from official duties, after deciding to hear a petition seeking a review of his legally mandated eight-year term limit. The petition was filed by the main opposition party, which argued that Prayuth's time spent as head of a military government after he staged a coup when he was Thailand's army chief in 2014 should count towards his constitutionally stipulated eight-year term.
However, on 30th September 2022, the constitutional court ruled that Prayuth had not yet reached the limit of his term. It said that the prime ministerial term must be counted from when the constitution was promulgated.
The court case was the latest challenge to have been faced by Prayuth, who has also survived multiple no-confidence votes as well as the pro-democracy protests that called for an end to his government and reforms to the monarchy.
On 24th August 2022, Thailand adopted a Bill on the Prevention and Suppression of Torture and Enforced Disappearance. While the law has limitations, it is seen as a very positive development in Thailand's efforts to prevent and provide redress for torture, ill-treatment and enforced disappearances.
Since August 2022, there have been ongoing concerns around prosecutions under the now lifted Emergency Decree, prosecutions of child protesters, electronic surveillance of activists and excessive force used against protesters and journalists around the APEC summit. There are also concerns around the judicial harassment of woman rights defender Nada Chaiyajit, Uyghurs languishing in detention and ongoing prosecutions for royal defamation.
Peaceful Assembly
NGOs call on government to drop all ongoing prosecutions under the Emergency Decree
🇹🇭#Thailand: CIVICUS and 20+ organisations are appalled by the ongoing prosecution of individuals under the #EmergencyDecree on #COVID19. The government must cease all violations against those exercising their fundamental freedoms.

Joint statement: https://t.co/o10B0LN1lb pic.twitter.com/DAnX6uzqbg

— CIVICUS (@CIVICUSalliance) November 10, 2022
On 8th November 2022, civil society groups raised serious concerns regarding the ongoing impact of the implementation of the Emergency Decree on Public Administration in Emergency Situation B.E. 2548 ("Emergency Decree") in response to the COVID-19 pandemic in Thailand. The groups said they were troubled by reports of the continuing prosecution of individuals charged under the Emergency Decree, despite the end of the declaration of the "emergency situation" in all areas of Thailand as well as the effect of regulations, announcements and orders issued thereunder.
Purportedly to combat the pandemic, Thailand had been operating under a state of emergency since 26th March 2020, with the executive government having extended the declaration of emergency 19 times since then. During this period, a series of regulations containing several Emergency Decree measures have been periodically announced pursuant to Emergency Decree powers. These include several vague and overbroad restrictions on the rights to freedom of movement, expression, peaceful assembly and public participation.
Based on information from Thai Lawyers for Human Rights (TLHR), from May 2020 to September 2022, at least 1,468 individuals in 661 cases have been charged with and/or prosecuted under the Emergency Decree in incidents arising out of public protests. Criminal proceedings under the Emergency Decree make up the highest number of individuals and cases with respect to political trials in the past two years, followed by lèse-majesté cases under Section 112 of the Criminal Code.
574 cases, or 86 percent of all Emergency Decree cases, are still ongoing despite the fact that the spread of COVID-19—the purported reason for declaring a state of emergency in the first place—is now under control, and the use of the Emergency Decree has formally ended.
The groups called on the authorities to immediately drop all charges, cease investigation of these cases, issue non-prosecution orders, withdraw cases or their appeals before the court, desist from appealing the acquittals, including on the basis that the underlying conduct is no longer illegal, and refrain from bringing further charges against individuals facing prosecution for alleged violation of the Emergency Decree. Additionally, the Thai authorities should consider quashing the convictions of individuals under the Emergency Decree.
Child protesters continue to face charges
Human rights group Amnesty International has called on the authorities to drop charges against child protesters after they took part in mass demonstrations between 2020 and 2022.
Amnesty International has been closely monitoring and documenting the impact of the ongoing, years-long crackdown on child protesters, which has included intimidation, surveillance and criminalisation of their activities.The organisation has recorded instances of Thai police and other government officials following and monitoring dozens of child protesters, pressuring their family members and school authorities to discourage them from joining protests, and directly threatening to file charges against them and their parents.
Since 2020, an estimated 283 protesters under the age of 18 have been charged with a range of offences, the majority under an Emergency Decree Act passed during the pandemic that has since been repealed. Others face charges of royal defamation, sedition and the dissemination of what authorities deem to be "false" information. Nearly 200 of these cases are still active.
Electronic surveillance of Thai activists affecting physical and mental health
On 30th November, the Southeast Asia Globe reported how Thai activists who are facing charges for speaking up or participating in protests have been forced to wear Electronic Monitoring (EM) devices at all times. There are at least 17 activists wearing EM devices across the country.
One of the activists is Kiattichai 'Big' Tangpornphan, who was accused of royal defamation in 2021. Police strapped a 300g ankle bracelet with a GPS, 3G/4G, and radio frequency (RF) linked to his home. Although Kiattichai's trial is yet to begin, he is under constant surveillance. The EM has not only affected his freedom of movement, it has also, and most severely, affected his physical and mental health.
According to the report, the left side of Kiattichai's ankle has become an open wound and has become infected. But the court has so far rejected four official requests to remove the EM device for medical reasons. Further, many of the activists forced to wear the devices are unable to work jobs at night and struggle to provide for their families. This can cause severe psychological pain across the family unit.
Excessive force used against protesters, journalists around APEC summit
Anti-APEC Demonstrators demand accountability for violent protest dispersal #Thailand #news #ThailandUpdate https://t.co/fMIPL9kuxl

— Thailand Digest - News from the Land of Smiles (@thailanddigest) November 29, 2022
Human rights groups and journalists are demanding for accountability around the use of excessive force to disperse anti-APEC demonstrations in November.
At a demonstration against the Asia-Pacific Economic Cooperation (APEC) summit in Bangkok on 18th November 2022, Thai police used violent tactics to disperse peaceful protesters, including firing rubber bullets and beating people with batons. Dozens were injured.
According to Human Rights Watch, about 200 marchers from the Citizens Stop Apec 2022 coalition – a loose network of democracy, environmental, livelihood and grassroots groups – tried to march to the Queen Sirikit National Convention Centre, the site of the two-day summit.
After 9 a.m., when they were approximately seven kilometres away, the marchers were blocked by police barricades and tried to push through them. Riot police then charged and used batons to beat the demonstrators, kicked and punched those already in police custody, and fired rubber bullets from close range.
HRW reported that police shot Phayu Bunsophon, from the Dao Din democracy group, in the right eye with a rubber bullet, permanently blinding him. The police shot a member of the group Assembly of the Poor in the stomach at close range with a rubber bullet as he was lying on the ground after a police officer kicked him in the groin.
According to reports, at least 33 people were injured and 25 protesters were taken into police custody.
Thai Lawyers for Human Rights (TLHR) reported that the 25 arrested protesters were charged with participating in a gathering of 10 or more people and causing a breach of public peace by an act of violence or by threatening violence, and not dispersing when ordered to do so by an official. They were also charged with not complying with an officer's order given under the Public Assembly Act. Activists and protesters have filed a complaint against crowd control police for the violent dispersal.
#ม็อบ18พฤศจิกา65
ทั้งตัวไม่มีแผลยกเว้นตาขาว หาหมอตา ปลอดภัยดี หยุดงาน 1 อาทิตย์
ขอบคุณทุกคน ทั้งโทร ไลน์ แชท ขอโทษที่ยังไม่ได้ตอบ วุ่นวายมาก ❤️

Thx all for reaching out about eye injury from today assignment. Had my eye checked by eye docytor, wasn't severe, 1 week off. Xoxo ❤️ pic.twitter.com/g3lwsmpSnS

— Chalinee Thirasupa (@jane_chalinee) November 18, 2022
Riot police also attacked journalists at the scene. Police hit Sutthipath Kanittakul of The Matter, who wore a media armband issued by the Thai Journalists' Association, with a baton and kicked him in the head as he was broadcasting scenes from the crowd dispersal. Riot police punched and kicked Waranyu Khongsathittum of The Isaan Record, then arrested him. Riot police threw a glass bottle at a group of photographers, which hit Chalinee Thirasupa, a freelance photojournalist, in the right eye, injuring her.
Prachatai English reporter Yiamyut Sutthichaya sustained a minor injury to his finger after being hit by a shield while filming the clash. Another photographer from the right-wing news channel Top News was also hit by shields and batons while photographing the operation. He sustained minor bruises and his glasses were broken.
On 22nd November, The Matter news outlet filed a fresh court challenge aimed at reining in the police's documented aggression against members of the press around the anti-APEC protests . It asks the Civil Court to summon police commanders to explain themselves over the violence against journalists and photographers.
HRW called on the Thai government to "stop violently cracking down on demonstrations, and investigate and appropriately prosecute those responsible for abuses, regardless of their position or rank".
Association
Judicial harassment against woman rights defender Nada Chaiyajit
🇹🇭#Thailand: Nada Chaiyajit is facing reprisals for supporting a transgender woman allegedly victim of sexual harassment
📣We calls for the respect of her rights to due process and fair trial and for an end to the harassment against her
👉https://t.co/u0S4jQKGn8 pic.twitter.com/SdEkgpKYBe

— The Observatory (@OBS_defenders) September 21, 2022
On 21st September 2022, The Observatory for the Protection of Human Rights Defenders reported about the judicial harassment against Nada Chaiyajit, a human rights defender and human rights campaign advisor at the Manushya Foundation, a member organisation of FIDH in Thailand.
Nada has been active on LGBTQI+ issues and corporate accountability for the past 15 years, and is also the Sexual Orientation, Gender Identity and Expression, Sex Characteristics (SOGIESC) advisor for the Thai Business and Human Rights Network, on whose behalf she has submitted complaints to the National Human Rights Commission of Thailand (NHRCT) and government agencies related to gender discrimination and sexual harassment in the workplace.
On 10th September 2022, Nada Chaiyajit received a court summons ordering her to appear at the Bangkok Criminal Court for a preliminary hearing during which she would be informed of potential charges against her. This summons followed a complaint filed under Articles 326 ("defamation"), 328 ("libel"), and 91 ("multiple distinct offences") of Thailand's Criminal Code, by Santsith Naothaworn, a politician and elected Bangkok councillor from the Move Forward Party (MFP). The complaint by Santsith stems from several social media posts published by Nada Chaiyajit in May 2022, in which Nada alleged that he had sexually harassed a transgender woman who was employed at his company. In the posts, Nada Chaiyajit claimed that the transgender woman was repeatedly subjected to several acts of harassment by the politician before she was eventually laid off.
In addition to speaking out for her on social media, Nada Chaiyajit supported the transgender woman with submitting a complaint to the human rights commnission. Following an investigation, the party suspended Santsith's participation in the party's events and banned him for one year from carrying any additional political portfolios as a member of the Bangkok Metropolitan Council. Santsith was also placed on probation.
Pegasus victims sue Israeli spyware company
In November 2022, Access Now supported a civil lawsuit filed in Thailand against Israeli spyware company NSO Group for violating the rights, including privacy, of eight people whose phones were infected by Pegasus.
As previously documented, a joint report by the Thai NGO iLaw, Digital Reach, and The Citizen Lab in July 2022 found the use of Pegasus spyware on the phones of dozens of Thai activists, including many who have repeatedly faced arrest, harassment and physical attacks by Thai authorities. Other targeted persons include academics and human rights defenders who have publicly criticised the Thai government.
Dhevy Sivaprakasam, Asia-Pacific Policy Counsel at Access Now, said: "Companies that peddle their products to actors seeking to invade the privacy of people, target them for harassment and threaten their security must be stopped."
Uyghurs languishing in detention fear forcible return
Almost a decade after fleeing China, more than 50 Uyghurs are languishing in Thai detention facilities, living in constant fear of being sent back. According to a report by France24 on 28th October 2022, the group of Uyghurs, arrested in 2013 and 2014, are currently being held in immigration centres. Neither their precise location nor their exact number are clear.
China has been accused of grave human rights abuses in Xinjiang against the Uyghurs. A damning UN report released in August detailed violations including torture and forced labour and "large-scale" arbitrary detention in what Beijing calls vocational training centres.
In June 2022, human rights groups urged Thailand not to send back to China any of the Uyghurs it has been holding captive for the past eight years, fearing a repeat of 2015, when the government forcibly returned more than 100 Uyghurs to China. More than a dozen groups, led by the People's Empowerment Foundation, handed the Foreign Affairs Committee of parliament's lower house a petition asking for its help to spare the detained Uyghurs a forced return.
Court charges four ex-park officials in Karen activist's murder
On 6th September, a court formally charged and released on bail a former senior park ranger and three subordinates suspected of killing an ethnic Karen activist eight years ago.
Former chief ranger Chaiwat Limlikitaksorn and his former staffers at Kaeng Krachan National Park pleaded not guilty to five charges in connection with the 2014 disappearance and death of Porlajee Rakchongcharoen (also known as Billy), a member of the Karen tribal community
As previously documented, in April 2014, Limlikitaksorn and his staff arrested Billy for alleged illegal possession of a wild bee honeycomb and six bottles of honey. Park officers claimed they released Billy after questioning him briefly and had no information regarding his whereabouts. There is no record of Billy's release from custody.
In September 2019 the Department of Special Investigation (DSI) held a press conference to announce that the bones of Billy had been recovered.
Expression
Ongoing prosecutions for royal defamation
Activist jailed for 2 years after court finds she insulted the monarchy by dressing like Thai queen
Jatuporn "New" Saeoueng, 25, wore a pink dress at a protest in Bangkok in 2020, but she denied the charge, saying she had just worn a traditional dress.https://t.co/vZ0nHSYLrj

— The Asian Feminist (@theasianfmnst) September 13, 2022
On 13th September 2022, an activist was jailed for two years after a court found she had insulted the monarchy by dressing like the Thai queen.
Jatuporn 'New' Saeoueng, 25, wore a formal pink silk dress at a political demonstration in Bangkok in 2020 where she walked a red carpet accompanied by an attendant who held an umbrella over her head. The king's wife, Queen Suthida, often wears formal silk fashions for public events. Thai royals also often have attendants hovering over them with parasols at ceremonies and other events. She denied the royal insult charge, saying she had just worn a traditional dress.
On 19th October 2022, "Pakpinya", a 31-year-old former librarian in Bangkok was sentenced by the Narathiwat Provincial Court to nine years in prison on charges of royal defamation and violation of the Computer Crimes Act for sharing six Facebook posts about the use of violence to disperse pro-democracy protesters and the public being prohibited from using the Royal Garden.
A 23-year-old man was sentenced to three years in prison on 9th November on royal defamation charges for criticising the monarchy in a post made in a Facebook group in October 2020. Sutthithep (last name withheld), 23, was charged with royal defamation and violation of the Computer Crimes Act for a post he made on a public Facebook group called "Free People" on 14th October 2020. According to Thai Lawyers for Human Rights (TLHR), the post said that "If insulting royalty or criticising royalty sends me to hell, then fine. I'll go to hell," followed by a message criticising the monarchy.
"Petch" sentenced to 2 yrs imprisonment without suspension for violating Section 112 (Lèse-majesté). Although his speech at #WongwianYai on 6/12/20 did not indicate any specific name of the King. Section 112 protects the institution of the monarchy, Central Juvenile Court rules. pic.twitter.com/1Shevw1QAB

— TLHR / ศูนย์ทนายความเพื่อสิทธิมนุษยชน (@TLHR2014) November 22, 2022
Thai Lawyers for Human Rights (TLHR) reported that on 22nd November, "Petch" Thanakorn (last name withheld), a 19 year old LGBTQI+ activist, was sentenced for violating Section 112 (lèse-majesté) for giving a speech that allegedly defamed the royal family on 6th December 2020. He was 17 years old at the time.
According to TLHR, the court denied trial observation requests from human rights groups. The Central Juvenile and Family Court convicted him and sentenced him to two years in jail. However, pursuant to Section 142 of the Juvenile and Family Court and Procedure Act B.E. 2553, the court ordered him to enter a Juvenile Practice and Training Centre instead of serving a jail sentence. Thanakorn was later granted bail, as the case is on appeal. Thanakorn was also prosecuted for another lèse-majesté case on which the Nonthaburi Juvenile and Family court will deliver its verdict on 22nd December 2022.
Section 112 criminalises royal defamation - commonly known as the lese majeste law for any criticism of the king or the royal family and carries a punishment of up to 15 years' imprisonment.
Since November 2020, at least 210 protesters have been charged with lèse-majesté offences, after a three-year period where the law wasn't enforced at all. Arrests, detentions and prosecutions have mainly targeted pro-democratic activists and protesters who exercise their right to freedom of expression.