Thailand: Activists prosecuted for royal defamation, face travel restrictions while child protesters targeted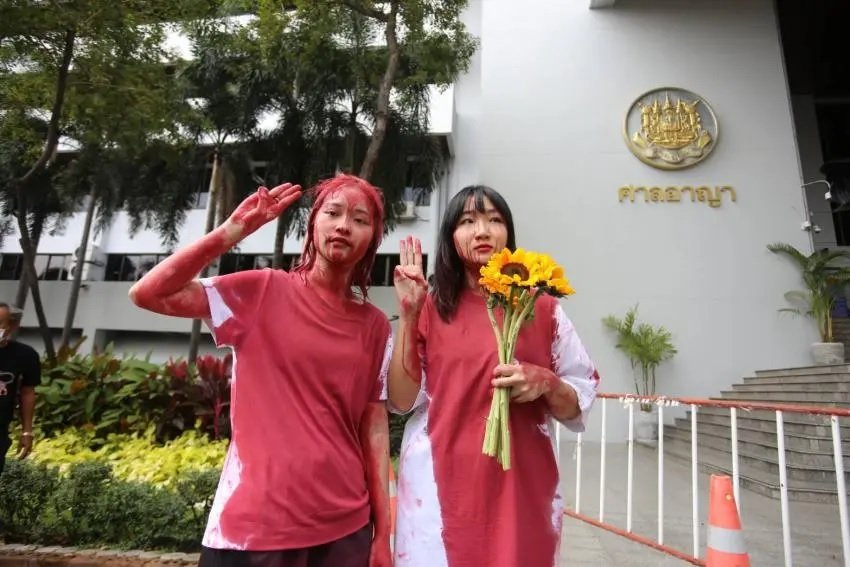 Civic space in Thailand remains rated as 'repressed' by the CIVICUS Monitor. Civil society has documented a range of violations by the government, including the use of lese-majesté (royal defamation) and other restrictive laws against activists and journalists. There has also been a crackdown on peaceful protests, arrests and criminalisation of protesters, and the use of excessive force by the police. There continues to be concerns over a draft law to regulate non-profit groups, which could be used to muzzle civil society.
In March 2023, the king dissolved parliament, paving the way for a general election on 14th May 2023. Prime Minister Prayuth Chan-ocha's new conservative, royalist United Thai Nation party faces a strong challenge from the Pheu Thai party, led by exiled former PM Thaksin Shinawatra's daughter Paetongtarn.
On 6th April 2023, civil society groups said that the elections would be held under political, constitutional and legal frameworks that "make a free and fair process nearly impossible". The electoral process takes place within the framework of a 2017 constitution written by a commission appointed by the junta. It entrenches military power at the expense of civilian rule, including by reserving for the junta the appointment of members of Thailand's Senate, Election Commission, Administrative Court and Constitutional Court. The 500-seat lower house of Thailand's parliament is elected, but the 250-member Senate was appointed by the junta and is largely loyal to Prime Minister Gen. Prayut Chan-ocha, the leader of the 2014 coup.
In addition to the parliament's structural flaws, the political atmosphere continues to severely restrict human rights and since July 2020 over 1,800 pro-democracy activists, opposition supporters and critics of the government have been charged.
In recent months, the authorities have continued to arrest and prosecute activists and critics for royal defamation (lèse-majesté) and other restrictive laws. Activists went on hunger strike to call for reforms and the release of political activists, while the court refused to grant permission for an activist to travel for a UN meeting in Geneva. Activists are suing the government over the use of Pegasus spyware, while three Myanmar opposition activists were forcibly returned. A new report has highlighted how child protesters have been targeted for taking part in demonstrations.
Expression
Authorities continue to arrest and prosecute individuals for lese-majesté
Article 112 of the penal code criminalises royal defamation - commonly known as the lèse-majesté law - for any criticism of the King or the royal family and carries a punishment of up to 15 years' imprisonment.
According to Thai Lawyers for Human Rights (TLHR), between November 2020 and February 2023 at least 233 protesters have been charged with lèse-majesté offences. Arrests, detentions and prosecutions have mainly targeted pro-democratic activists and protesters who exercise their right to freedom of expression.
Chiang Rai Court sentenced "Bass" Mongkhon Thirakot to 28 years in prison, reduced from 42, for 27 seditious and lese majeste FB posts, said Thai Lawyers for Human Rights Group Thurs.
Bail application is pending.
(TLHR pic.)#Thailand #KE #112Article #ยกเลิก112 pic.twitter.com/WiwPQe8Pp8

— Khaosod English (@KhaosodEnglish) January 26, 2023
On 26th January 2023, a Chiang Rai court sentenced a man to 28 years in prison for insulting the monarchy. The court in the northern city of Chiang Rai found the online clothing vendor and activist Mongkol Tirakote guilty in two separate royal defamation cases. Mongkol's lawyer said his client intended to lodge an appeal. The court granted the activist bail of 300,000 baht (USD 9,100) while his case is on appeal. Mongkol also faces a third royal defamation charge over online posts from 2022. Human Rights Watch senior researcher Sunai Phasuk said the 28-year sentence was the second-highest term handed down in a royal defamation case.
"Thai man jailed for defaming monarchy by selling calendars with rubber ducks on them"https://t.co/2irVlHgCGs

— LearningPoint (he/him/it/they/she/ze/her) (@learning_pt) March 10, 2023
On 8th March 2023, Narathorn Chotmankongsin, aged 26, was jailed for two years for selling calendars which featured satirical comments, and rubber ducks in royal regalia, which prosecutors said defamed the monarchy. Bangkok police arrested Narathorn at his home in December 2020, and charged him with committing lese-majesté for selling the calendars via the pro-democracy Ratsadon Facebook page. The rubber duck has been a symbol of pro-democracy protesters in Thailand. Activists widely used the symbol in demonstrations where they called for a democratic transition - a movement which also includes demands for reforms to the monarchy.
On 28th March 2023, the authorities detained a 15-year-old activist and put her in pre-trial detention at the Baan Pranee Children and Juvenile Training Centre for Girls in Nakhon Pathom Province for lèse-majesté. She had joined a peaceful protest on 14th October 2022 where she called for the removal of the lèse-majesté law.
Ethnic Karen activist sentenced to 12 years' jail for Facebook posts
⚠️ Chiangmai Court sentenced Karen Protester Pornchai Wimonsuppawong to 12 years in prison for 4 Facebook posts. He was found guilty of royal defamation, sedition, and Computer Crime Act.
🔗 https://t.co/6BC7Fewznl pic.twitter.com/Lg1sQIfg02

— Manushya Foundation (@ManushyaFdn) March 13, 2023
On 13th March 2023, a Chiangmai Provincial Court sentenced Pornchai Wimonsuppawong, a member of the Karen ethnic group, to 12 years in prison for four Facebook posts which were found to be in violation of royal defamation (Article 112), sedition (Article 116) and the Computer Crime Act.
According to the Manushya Foundation it was alleged that his posts, which were published from October through November 2020, had accused the King of not being neutral and engaging in political activities. One of them invited people to join a pro-democracy demonstration.
In March 2021, Pornchai was arrested at his home in Nonthaburi by around 10 plainclothes police officers following an arrest warrant issued by the Chiangmai Court. He was consequently detained and granted bail. Because Pornchai was indicted on two different cases of royal defamation, one by the Chiangmai Court and another by the Yala Court, he had to travel frequently for court hearings, shouldering the financial burden and losing income from taking time off work.
Since the pro-democracy protests broke out in 2020, Pornchai has been vocal online on the issues of ethnic minorities in Thailand.
Activists go on hunger strike to call for reforms and release of activists
Activists Tantawan Tuatulanon and Orawan Phuphong announced today (11 March) that they have ended their hunger strike and are currently recovering at Thammasat University Hospital. #ตะวันแบม

Read more: https://t.co/DsFoZSOJbB pic.twitter.com/oEo2iPDabS

— Prachatai English (@prachatai_en) March 11, 2023
Two pro-democracy activists arrested for criticising the monarchy, Orawan Phuphong, aged 23, and Tantawan Tuatulanon, aged 21, have been detained since 16th January 2023, after appearing in court to revoke their own bail. The authorities had charged them with various criminal offences, including lese-majesté, for conducting public opinion surveys about royal motorcades
They revoked their bail to demand the release on bail of other political activists. Some had multiple requests for bail rejected. Other demands include the adoption of judicial and legal reforms, including revocation of laws on lese-majesté and sedition.
On 18th January 2023 they began a hunger strike – refusing food and water – in Bangkok's Central Women's Correctional Institution to protest what they considered to be unjust pretrial detention of critics of the monarchy. On 20th January, the two activists collapsed and the authorities transferred them to the Corrections Department Hospital.
After seven weeks, the two activists said they were ending their hunger strike so that they could restore their health and continue their unfinished fight for political and judicial reforms. At least 13 political prisoners were given bail during their hunger strike.
Association
Court refuses permission for activist to travel for UN meeting
#Thailand: Criminal Court bars woman human rights defender Pimsiri Petchnamrob from travelling to Geneva to participate in @UN_HRC session https://t.co/MGSMQONeGx @MaryLawlorhrds #HRC52 #WhatsHappeningInThailand

— AG (@ag_fidh) March 10, 2023
On 9th March 2023, the Criminal Court denied a request by activist Pimsiri Petchnamrob to review its previous decision not to grant her permission to leave Thailand in order to attend meetings at the UN Human Rights Council in Geneva. As part of her bail condition in a lèse-majesté case, Pimsiri is prohibited from leaving the country without first obtaining permission from the court. This is the third time the Court has denied her request to leave the country to attend human rights meetings in Geneva.
Pimsiri is a human rights defender and a consultant to ARTICLE 19, an international human rights organisation that works to defend and promote the right to freedom of expression worldwide. On 29th November 2020, she attended a demonstration in front of the 11th Infantry Battalion and gave a speech about a UN special rapporteur's opinion on Section 112 (lèse-majesté).
On 25th November 2021, Pimsiri was charged and indicted on a total of ten charges, such as Sections 112 (lèse-majesté), 116 (sedition), 215 (illegal assembly) and 216 (failure to disperse illegal assembly) of the Criminal Code. She was also charged with violation of the Emergency Decree and the Public Assembly Act. On the same day of the indictment, she was released on bail subject to two bail conditions: not to engage in activities that damage the monarchy institution and not to leave the country without the court's approval.
Activists to sue government over Pegasus spyware
In February 2023, it was reported that activists in Thailand were suing the government for using spyware technology to monitor dissidents, the first such case in the country that 'they hope will help raise awareness and better protect citizens who are subject to increasing surveillance'.
Legal non-profit iLaw said it is preparing a lawsuit against the Thai government for its alleged use of Israeli firm NSO Group's Pegasus spyware to hack into the mobile phones of at least 30 activists and lawyers in 2020 and 2021. It is the first such case against state surveillance in the nation's Administrative Court, which tries cases involving government agencies or officials.
Previously, in November, human rights groups filed a lawsuit against the NSO Group for violating the rights, including privacy, of eight people whose phones were infected by Pegasus. This is the first lawsuit that the company is facing in Southeast Asia.
Three Myanmar opposition activists forcibly returned
Human Rights Watch reported that Thai immigration officials had forcibly returned three Myanmar opposition activists to Myanmar, putting them at grave risk of persecution and other abuses.
On 1st April 2023, the Thai authorities had arrested the three members of the opposition group Lion Battalion Commando Column in the border town of Mae Sot in Tak province on illegal entry charges. On 4th April, Thai immigration officials handed them over to a junta-aligned Border Guard Force in Myawaddy township in Karen State, Myanmar. Myanmar media reported that the Border Guard Force troops shot and wounded the men when they tried to escape.
According to HRW, the Thai government has increasingly collaborated with Myanmar's junta and aligned forces to harass, arrest and forcibly return asylum seekers, including members of opposition groups who have fled to Thailand since the February 2021 military coup.
Peaceful Assembly
Child protesters targeted for taking part in demonstrations
Today, @amnesty launched our research report "We are reclaiming our future" (ขอทวงคืนอนาคตของพวกเรา) which examines the human rights situation for children taking part in peaceful protests in Thailand.

The report is available in both Thai & English here: https://t.co/jtFzbb8WQ7 pic.twitter.com/k4dHpKw6Ki

— Chanatip Tati (@ChanatipTati) February 8, 2023
In February 2023, Amnesty International published a report highlighting how child protesters have been arrested, prosecuted, surveilled and intimidated for taking part in protests.
Amnesty International's new report, "We are Reclaiming Our Future," found that to date, nearly 300 children under the age of 18 have faced criminal charges, with some at risk of years in prison after being accused of sedition or insulting the monarchy. The majority were accused of violating rules around mass public gatherings set out in a pandemic-related Emergency Decree that has since been lifted.
Amnesty International documented a variety of tactics used to suppress the right to protest. Authorities routinely monitored or surveilled pro-democracy child protesters; directly intimidated children from ethnic minority groups for taking part in public assemblies; and asked unnecessary and invasive questions during background checks.
In some cases, authorities misused official powers under the Child Protection Act to wrongly prevent children from taking part in protests. Amnesty International also documented authorities putting pressure on parents to discourage or prevent children from participating in protests.