Laos activist Od Sayavong still missing six months on, while critics continue to be silenced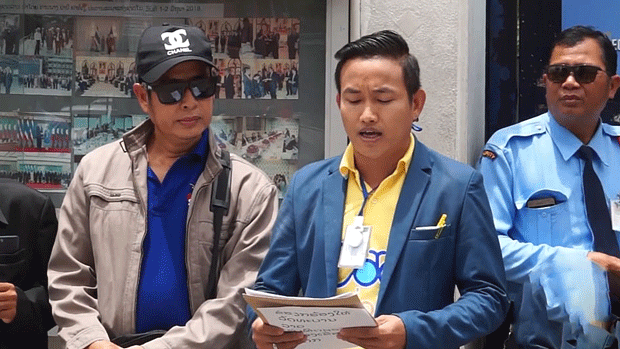 Lao authorities are believed to have been involved in the enforced disappearance of activist Od Sayavong and Phetphouthon Philachane in 2019. Government critic Houayheuang Xayabouly has been convicted for criticising the authority's slow response to floods. Villagers in Luang Namtha are resisting a land development project while there has been no progress around the case of disappeared human rights defender Sombath Somphone seven years on. In November 2019, seven were arrested for planning a rally.
In January 2020, Laos' human rights record was reviewed at the UN Human Rights Council. The government received numerous recommendations related to civic space including to:
- Undertake full, independent investigations into all unresolved cases of alleged enforced disappearances, including that of Mr. Sombath Somphone (New Zealand);
- Enhance freedom of expression, lifting restrictions for independent media and providing a safe environment for the work of journalists and human rights defenders (Italy);
- End the arbitrary arrests of individuals for exercising their right to freedom of opinion and expression, including of those who peacefully criticise the government, speak out about negative impacts of infrastructure or investment projects or expose instances of corruption (Germany);
- Amend Decree 238 and its associated amendments to align it with Laos' international human rights obligations and commitments, including by eliminating the following: burdensome registration requirements; arbitrary curtailment of activities and finances of associations; criminalisation of unregistered associations and the government's harassment of their members; and the ability to arbitrarily dissolve non-profit associations, without the right of appeal (United States of America).
The government is due to report back during the June 2020 session of the Human Rights Council on the recommendations it will support.
Association
Lao human rights defender feared disappeared after calling out government in Thailand
There has been no news about a prominent Lao activist nearly six months since he was believed to have been forcibly disappeared. Od Sayavong, a Lao refugee residing in Thailand and a prominent critic of the Lao government, took part in a protest on 16th June 2019, calling for democracy and human rights in Laos and for an international inquiry regarding the disappearance of human rights activist Sombath Somphone who was forcibly disappeared seven years ago.
Od is affiliated with the "Free Lao" group, a loose network of Lao migrant workers and activists in exile based in Bangkok and neighbouring provinces who peacefully advocate for human rights and democracy in Laos. Od and other group members have occasionally held peaceful protests outside the Lao embassy and the United Nations headquarters in Bangkok. Be he dissapeared, members of "Free Lao" said that they have been put under surveillance and intimidated by Thai and Lao authorities.
According to a report by Human Rights Watch (HRW) on 7th September 2019, Od was last seen on 26th August 2019 in the Bueng Kum district. This was verified by Od's colleagues, one saying: "At around 6:00 p.m., he sent me a text message telling me to cook rice for dinner, and that he would buy some other food on his way home, as he didn't want to eat the food left in the refrigerator… We waited for him until 11:00 p.m., and then till midnight, but he never showed up".
Another friend of Od tried to reach him by phone several times, but Od did not answer the calls. Od's colleagues are convinced that his involvement with politics is the probable cause for his disappearance. He had recently posted a video clip online calling out the Lao government during the ASEAN summit in Thailand in September 2019.
UN human rights experts have expressed serious concerns about the disappearance of a prominent Lao human rights defender. UN special rapporteur on extreme poverty and human rights, Philip Alston, who had met with Od and other Lao human rights defenders prior to his visit to Laos in 2019 said:
"If an enforced disappearance occurred in part as a reprisal for Od's engagement with the U.N. system, it would be a violation of his human rights, requiring immediate action. Everyone should have unhindered access to and communication with the U.N. in the field of human rights."
Michel Forst, UN special rapporteur on human rights defenders, echoing Alston's message, has called on Thai authorities to provide information on Od's case. David Kaye, the UN expert on freedom of expression, has likewise condemned Laos' action, saying Od's disappearance is "extremely worrying and could have a chilling effect on the exercise of the right to freedom of expression".
Laos critic feared disappeared
Yet another missing activist in #Laos? Where is Phetphouthon Philachane? If the #LPDR government has detained him, they must publicly reveal where he is being held, on what charge, and let his relatives visit. No enforced disappearances in #Lao PDR! @hrw https://t.co/V361eLN4B9 pic.twitter.com/b9p3pSuvsK

— Phil Robertson (@Reaproy) December 11, 2019
On 9th December 2019, Phetphouthon Philachane, a Lao migrant worker living in Thailand, was reported to have disappeared after returning to Laos in November 2019. Philachane had been involved in a pro-democracy protest at the Lao embassy in Bangkok, leading his colleagues to suspect that "he will not come back, because he would already have contacted his friends if there was nothing wrong".
Radio Free Asia reports that Philachane contacted a close friend via Facebook Messenger on 14th November, which was the last message anyone had from him.
Villagers resist land development project
Residents of seven villages in Luang Namtha province are resisting a 7,000-hectare land concession granted to a Thai company that would force them to relocate.
Amata Corporation, a Thai company specialising in industrial estates, is planning to conduct an 18-month feasibility study for a project near the Lao-Chinese border. Radio Free Asia (RFA) reported in January 2020 that the company has yet to publicise the project's details, including estimates on the number of affected communities and the amount of compensation.
"The majority of the villagers do not need the industrial zone to be built on top of their villages and rice paddies," one resident said. Another resident confided to RFA that those who oppose the project will most likely be threatened. Amata Corporation has responded to these sentiments, saying "the study is done, the majority of the villagers have not resettled. We have prepared the concession contract and submitted it to the government in September, so it is up to [them]."
The CIVICUS Monitor has previously documented that Laos' repressive climate for civic freedoms makes it difficult for local villagers to air grievances over projects such as this. Moreover, companies typically pass the responsibility of approving these projects to corruption laden ministries and agencies.
Seven years since disappearance of HRD Sombath Somphone
Various groups urge the Lao and Thai governments to investigate enforced disappearances, and demand Vientiane to finally reveal the whereabouts of Lao civil society leader Sombath Somphone and ensure justice for him and his family https://t.co/GrV9XDIHIH @article19org @ASEANMP

— IFEX (@IFEX) December 25, 2019
15th December 2019 was the seventh anniversary of the enforced disappearance of human rights defender Sombath Somphone. As previously documented, Sombath disappeared after being stopped at a police checkpoint on a busy street in the capital, Vientiane. CCTV footage shows unknown individuals forcing him into another vehicle in the presence of police officers. His whereabouts remain unknown and there has been no credible investigation into his enforced disappearance. Before his abduction, Sombath had challenged massive land deals negotiated by the government that had left thousands of rural Lao villagers homeless with little paid in compensation.
Ng Shui Meng, the wife of Sombath, speaking at a press conference, revealed that the Lao authorities have made no headway in the case in years. She said:
"After seven years, there has been no progress in the investigation of Sombath, absolutely nothing. The Lao authorities have not provided any help or any information."
Shui Meng called upon the Lao people abroad and members of the international community to help and support her ongoing search for answers. Meanwhile a total of 88 rights groups released a joint statement saying that an independent body should be established to investigate forced disappearances.
Expression
Woman convicted after condemning government's slow response to floods
Houayheuang Xayabouly is an activist in #Laos arrested for criticizing her government's slow response to severe floods on Facebook. Govt-controlled media now reports she's "confessed" to the crime of defaming the country. She should be released immediately https://t.co/WLN2ZaSj0I pic.twitter.com/EsfZB5k6Y5

— Richard Pearshouse (@RPearshouse) September 20, 2019
On 17th September 2019, Houayheuang Xayabouly, also known as Mouay, was arrested on defamation charges after condemning on Facebook the slow response of authorities in Laos' flooded southern Champassak and Salavan provinces. Mouay was held at the Champassak provincial jail pending trial.
State-run Vientiane Times reported on Mouay's case, saying she has "confessed to illegal activity and having connections with 'bad elements' both in the country and abroad." Lt. Col. Phaijit Xayadeth, deputy commander of Champassak Police Department, justified Mouay's arrest, saying "anyone who defames the Lao PDR by twisting policy of the Party and Government, publishing bad news, or creating disorder by speaking, writing, publishing pictures or documents, creating film or video, or using electronic media will be fined between five million and 20 million kip (USD 567-2270) and jailed for one to five years".
In November 2019, it was reported that she had been sentenced to five years' imprisonment
Mouay has repeatedly used Facebook to criticise the Lao government, from instances of corruption, to the mishandling of the Xe-Pian Xe Namnoy dam collapse in Attapeu Province . The International Federation of Human Rights (FIDH) and Lao Movement for Human Rights (LMHR) reveals that in both circumstances, "police summoned Mouay and asked her to stop her online criticism of the government".
As documented in a joint submission by CIVICUS, FORUM-ASIA and Manushya Foundation to the Human Rights Council in July 2019, an array of restrictive laws and government decrees continues to exist that serves to restrict civic freedoms and criminalise any expression perceived as critical of the government.
Further, the government continues to exercise pervasive control over civil society, which faces severe restrictions as a result. Extensive surveillance, reprisals and the criminalisation and enforced disappearance of human rights defenders have created an environment in which it is all but impossible to speak out.
Peaceful Assembly
Seven arrested for planning rally
According to Human Rights Watch, on 12th November 2019, Lao authorities arrested at least seven activists in the loose network of the unregistered pro-democracy group Lao National Unity and accused them of planning to participate in a rally in Vientiane that had been scheduled for 11th November 2019. The Lao Movement for Human Rights said that the organizers canceled the event because many participants were put under state surveillance and could not safely travel from other provinces to the capital.
Those known to have been arrested are: Sounthone Fasongsay, Khamkone Phanthavong, Boungnone Phanthavong, Chiengsone Phanthavong, Kiettisack Hakmisouk, Santinoi Thepkaysone, and Santinoi's wife, whose name was not disclosed. Lao government officials have not provided any information about their current whereabouts, raising concerns about enforced disappearances.
The actual number of people being detained might be much higher. Dozens of people who planned to participate in the rally have been reported missing and their families have not yet located them.