Crackdown on Thai activists continues as new restrictive NGO law proposed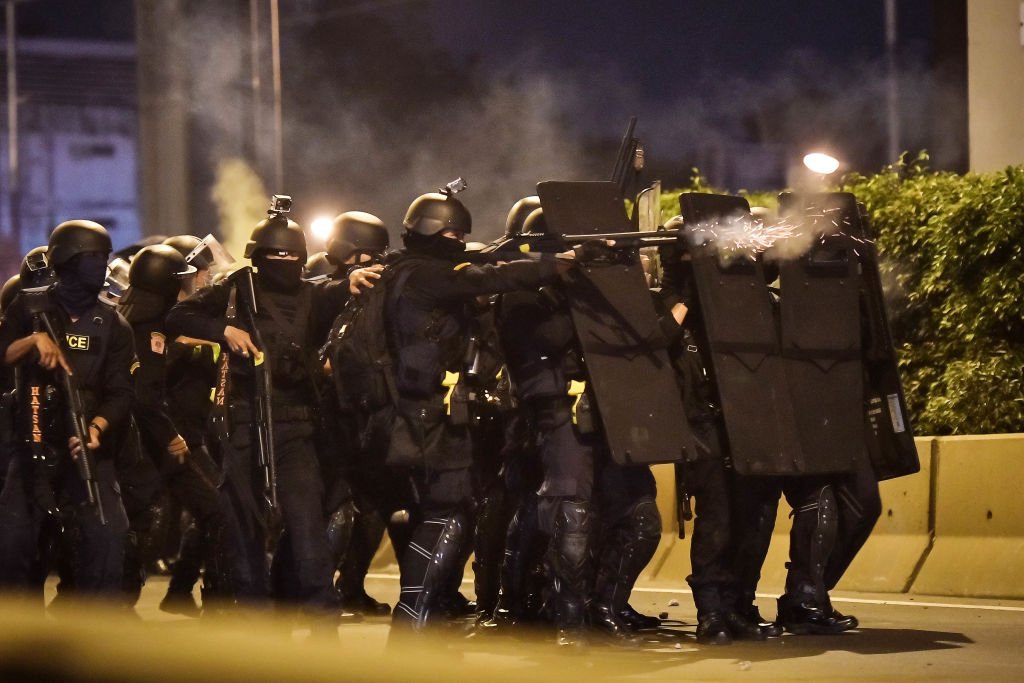 The civic space rating for Thailand remains as "repressed" in the latest report by the CIVICUS Monitor issued in December 2020
In 2020, the Thai government escalated its repression of basic rights in the face of a growing, youth-led democracy movement demanding political and constitutional reforms, the resignation of the government of Prime Minister Gen. Prayuth Chan-ocha, curbs to the king's powers and an end to harassment by the authorities The government responded by cracking down on protest leaders, charging them with illegal assembly, violating COVID-19 related restrictions, and sedition.
After a string of massive demonstrations in September and October 2020, the protests went into a slight hiatus, as the government began a counteroffensive against the movement, wielding the lese majeste law against key protest leaders.
Since the beginning of 2021, scores of activists have been charged for lese majeste, sedition and other violations, including seven leading pro-democracy protesters who have been denied bail. A restrictive new NGO law has been proposed that could be used to muzzle civil society groups and non-governmental organisations. The security forces have used rubber bullets, tears gas and water cannon to disperse protests which resumed in February 2021, while the authorities are increasingly invoking the lese majeste laws to restrict public discourse on the monarchy.
According to Amnesty International in early March 2021, more than 380 protesters including 13 children face criminal charges while 61 people face charges for defamatory comments about the monarchy.
Association
Pro-democracy protest leaders charged and denied bail
4 Thai pro-democracy leaders detained under royal defamation law https://t.co/NikHIK8Q1t

— ABS-CBN News (@ABSCBNNews) February 11, 2021
On 9th February 2021, the authorities indicted activists Arnon Nampha, Parit Chiwarak, Somyot Pruksakasemsuk, and Patiwat Saraiyaem for violating penal code article 112 on lese majeste (insulting the monarchy) charges for their onstage speeches during a September 2020 political rally. Each accused faces up to 15 years in prison if convicted.
The activists were also charged with sedition under penal code article 116, which carries a penalty of up to seven years in prison. The four have pleaded not guilty to the charges. The Bangkok Criminal Court also denied bail requests and ordered the activists into pretrial detention. The order could condemn them to detention for years until their trial is concluded. According to The Observatory for the Protection of Human Rights Defenders, they had been denied bail six times prior to this.
Factbox: Criminal cases mount against Thailand's protest leaders https://t.co/RxEF1JgCnK

— DWatch News Eastern Asia (@dwatchnews_asia) March 8, 2021
On 8th March 2021, three more activists - Panusaya "Rung" Sithijirawattanakul, Panupong "Mike" Jadnok and Jatupat "Pai" Boonpattararaksa - were denied bail on lese majeste charges in connection with a demonstration in Bangkok in September 2020. The activists were also charged with sedition under article 116, which carries a maximum 7-year sentence. The court ordered Jatupat and Panupong to the Bangkok Remand Prison, and Panusya to the Central Women's Correctional Institution.
Brad Adams, the Asia Human Rights Watch director said: "There is a growing pattern of Thai activists charged with lese majeste being sent to long periods of pretrial detention. Courts should uphold the right to the presumption of innocence and ensure all fair trial procedures are observed."
The Observatory noted with concern that between 24th November 2020 and th9 March 2021, 65 people, including many human rights defenders, were charged under Article 112 of the Thai Criminal Code.
15 other activists were also charged on 8th March 2021 for their involvement in the pro-democracy protests, including with sedition or organising illegal gatherings, but were then granted bail. The trials of the 22 began on 15th March.
Legal group raises concerns about disbarment proceedings against activist
In a joint letter on 1st February 2021, Lawyers for Lawyers and the International Commission of Jurists (ICJ) expressed concerns about the disbarment proceedings against lawyer and human rights defender Anon Nampha, and urged the Lawyers Council of Thailand to dismiss the complaint motion.
Anon Nampha, one of the Thai pro-democracy leaders, is facing charges for his involvement in protests in 2020. On 7th August 2020, a complaint was filed against him with the Lawyers Council of Thailand by Aphiwat Khanthong, Assistant Minister in the Office of the Prime Minister, who claimed to be acting in his capacity as a private attorney. Aphiwat Khanthong alleged that Anon Nampha violated the Lawyers Council of Thailand's disciplinary rules, as his behaviour would "incite, intend to cause unrest, distort information and insult on the monarchy".
In the joint letter, Lawyers for Lawyers and ICJ expressed concern that the disbarment proceedings would unduly interfere with Mr Nampha's work as a lawyer, including his representation of clients, and serve to impair the exercise of his human rights, including the right to freedom of expression.
Women who played a key role in organising and leading peaceful pro-democracy protests in 2020 in Thailand faced frequent human rights violations aimed at delegitimising their work and credibility and discouraging them from participating in the demonstrations, says a new report released by the Observatory for the Protection of Human Rights Defenders (an FIDH-OMCT partnership).
Activists charged over protest near queen's motorcade
5 Thai Pro-Democracy Protesters Charged with Threatening Queen: https://t.co/fnLNdImlB8 pic.twitter.com/4gopiTazjP

— BenarNews (@BenarNews) March 31, 2021
On 1st April 2021, prosecutors indicted five pro-democracy activists on charges of attempting to harm the queen during a street demonstration in October 2020, in which some protesters shouted slogans critical of the monarchy.
The five – veteran activist Ekachai Hongkangwan, Mahidol University student Bunkueanun Paothong, Suranart Paenprasert and two unidentified co-defendants - pleaded not guilty in a Bangkok criminal court to violating section 110 of the criminal code, which says that whoever attempts an act of violence against the queen or the royal heir faces 16-20 years' imprisonment. All five deny any wrongdoing. After their indictment, they were released on bail.
Queen Suthida, the wife of King Maha Vajiralongkorn, was not in any evident danger in the incident, which occurred when a limousine carrying the queen passed through a small crowd of protesters mixed with supporters of the royal family.
Restrictive NGO law proposed by authorities
Human rights groups including CIVICUS have raised concerns about a draft law to regulate non-profit groups which would strike a severe blow to human rights in Thailand. The bill is the latest effort by the Thai government to pass repressive legislation to muzzle civil society groups and non-governmental organisations (NGOs).
The "Draft Act on the Operations of Not-for-Profit Organisations" contains provisions that would have a deeply damaging impact on those joining together to advocate for human rights in the country, in violation of their right to freedom of association and other rights. The Thai government provided a perfunctory and inadequate consultation process for the bill.
According to the Draft Act (in Section 3), the government would have wide discretion as to which organisations will be exempted from the application of the law. The Draft Act (in Section 4) also uses an overbroad definition of not-for-profit organisations (NPO), which has left it open to abusive and arbitrary application by the authorities.
By making the registration of an NPO mandatory (in Section 5) and rendering any unregistered group illegal, the Draft Act would violate the right to freedom of association and severely impede the work of groups that defend and promote human rights. Notably, under the proposed law (in Section 10), anyone found to belong to an unregistered association that operates within Thailand could be jailed for up to five years, fined up to 100,000 THB (approx. USD 3,200), or both. This would effectively criminalise people solely for their peaceful exercise of the right to freedom of association.
The Draft Act (in Section 6) places discriminatory restrictions on organisations that receive foreign funding. Authorities have the sole discretion to determine which activities may be carried out using funds from foreign or international sources, leaving ample room for abuse.
The Draft Act not only confers power on the authorities to closely scrutinise organisations. It also contains provisions to subject NPOs' offices and members to invasive surveillance and searches without judicial oversight. The Draft Act (in Section 6) allows the authorities to enter civil society organisations' offices and make copies of their electronic communications traffic data without prior notice or a court warrant. This is a serious threat to the right to privacy and to freely express the ideas and opinions of its members. Without prior notice or a valid warrant, this arbitrary power clearly violates domestic and international standards on due process of law.
The Draft Act is currently under consideration by Thailand's Office of the Council of State. On 26th March 2021, three UN Special Rapporteurs (on the rights to freedom of peaceful assembly and of association; the promotion and protection of the right to freedom of opinion and expression; and on the situation of human rights defenders) sent a communication to the Royal Thai Government raising their concerns about the Draft Act.
Peaceful assembly
Security forces fire rubber bullets and tear gas at protesters
1st known case of police firing "rubber bullets" at demonstrators since this wave of protests began in 2020 #ม็อบ28กุมภา #WhatsHappeningInThailand #Thailand #KE https://t.co/ApUZDNVeZk

— Khaosod English (@KhaosodEnglish) March 1, 2021
On 28th February 2021, an estimated 2,000 pro-democracy demonstrators marched from the major Bangkok intersection Victory Monument to a military barracks on Vibhavadi Rangsit Road housing the prime minister's residence. Some Thai protesters marched wearing hard hats and carrying red flags.
Authorities had placed dozens of containers along the road in front of the entire length of the compound of the army barracks in an attempt to block the protesters.Razor wire was also placed to prevent pedestrians from using the bridge in front of the barracks. Two companies of about 200 anti-riot police were reportedly deployed, while two more companies were reportedly on standby.
The Thai police then shot rubber bullets and used water cannon and tear gas against the protesters while in response protesters threw bottles and other objects at the police. After a brief stand-off, the demonstrators moved back to the area outside Veterans General Hospital near the barracks. Erawan Emergency Services said 16 people were injured.
A sizeable contingent of Myanmar nationals also joined the rally, voicing support for democracy. Prayuth was targeted, in part because he met in Bangkok with the new foreign minister appointed by Myanmar's military rulers following the coup in February 2021.
Protesters defy ban on gatherings to march in capital
Thailand: Hundreds protest lese majeste law in Bangkok - DW (English) - https://t.co/i9IXfCdOpg #Protest #Resist

— The Revolution Will Not Be Monetised (@WeResistNews) March 7, 2021
On 6th March 2021, hundreds of protesters gathered in Bangkok to draw attention to the draconian royal defamation or lese majeste law and to demand that authorities release some protest leaders from jail.
Ahead of the protests, Thai police warned protesters that they risked being arrested following an order overnight that banned public gatherings in the capital and surrounding provinces.
The protest was largely peaceful and was organised by a coalition of several protest groups. The groups are calling for the resignation of the Prime Minister and his government, the constitution to be made more democratic, and for the monarchy to be made more accountable.
Protesters marched to Bangkok's criminal court, where some protesters piled up garbage and set it on fire beneath a portrait of the king. Others wielded posters of prominent activists currently locked up under the lese majeste law. They chanted the names of human rights lawyer Anon Nampha and student leader Parit Chiwarak and called for the release of former civil servant Anchan, who was jailed in January for more than 43 years for insulting the monarchy.
More than 3,000 police were stationed ahead of the protest — one of several across the city. Several dozen protesters were reportedly arrested.
Scores arrested during protest against lese majeste law
On 20th March 2021, scores of people were injured and arrested in the Thai capital, Bangkok after police used water cannon, tear gas and rubber bullets to break up a rally by pro-democracy protesters calling for the release of detained activists, constitutional changes and reform of the nation's monarchy.
The organisers of the rally had said they planned to have demonstrators throw paper planes with messages over the palace walls. The demonstrators, who numbered close to 1,000, managed to break through a barrier made of shipping containers outside the ceremonial palace stacked two high.
Police behind the containers responded first with warnings and then by shooting water cannon and rubber bullets. Police drove the crowd back and, while skirmishes continued, the crowds appeared to eventually disperse.
The city's emergency medical service Erawan reported 33 people, including 13 police officers, were injured by rubber bullets, rocks and tear gas. At least two reporters were hit by rubber bullets. Thai Lawyers for Human Rights, a watchdog, reported 32 detained. Among those arrested were seven unaccompanied minors. They faced six charges, which include breaking the Emergency Decree's ban on mass gatherings, causing public disturbance and resisting arrests, police said.
The rally was called by Redem, a faction of a broader protest movement that started last year with three core demands: the resignation of the prime minister Prayuth Chan-ocha and his government; the constitution to be amended to make it more democratic; and the monarchy to be reformed to make it more accountable. Redem, which stands for Restart Democracy, claims to have no leaders and holds online voting to decide on rally dates and activities.
Women pro-democracy activists criminalised and harassed
#Thailand ✊ Many of these women have been protecting and promoting fundamental human rights and freedoms through peaceful means.
👉Yet, some trolls mocked them online. See one such reaction below 🔴 #WomensRights pic.twitter.com/u3z7MK8MBp

— FIDH (@fidh_en) February 3, 2021
On 3rd February 2021, the Observatory for the Protection of Human Rights Defenders (an FIDH-OMCT partnership) released a report on how women who played a key role in organising and leading peaceful pro-democracy protests in 2020 in Thailand face frequent human rights violations aimed at delegitimising their work and credibility and discouraging them from participating in the demonstrations
The report, titled "Standing tall - Women human rights defenders at the forefront of Thailand's pro-democracy protests says that women human rights defenders, including youth under the age of 18, were systematically targeted by both state and non-state actors for their participation in the nationwide protests. Thai authorities actively engaged in repeated attacks against them through the use of repressive laws and decrees that do not conform to international standards.
Authorities also subjected WHRDs and their family members to frequent harassment, intimidation and surveillance, including by visiting their residences and educational institutions to intimidate them or gather information on their activities. Other abuses were gender-specific: WHRDs reported attacks by state actors, which mostly took the form of verbal abuse and harassment directly aimed at them simply because of their gender and/or their gender expression. This often overlapped with their experience of online attacks and harassment by non-state actors.
Expression
Woman jailed for criticising monarchy
A 43-year prison sentence given to a woman by a Thai court for insulting the monarchy could be seen as a "warning shot" to protesters demanding reform in the kingdom, according to analysts. https://t.co/DzHrc6UtWH

— CNN (@CNN) January 20, 2021
On 19th January 2021, a woman was jailed for 43 years for criticising the royal family, the country's harshest ever sentence for insulting the monarchy.
According to Amnesty International, Anchan Preelert, a food seller and former civil servant, faced 29 counts of "insulting the monarchy", or lèse majesté, under Article 112 of Thailand's Criminal Code and provisions of the Computer Crime Act. She was arrested in January 2015 and detained for nearly four years until November 2018, when she was released on bail. Anchan was initially detained incommunicado in a military camp for five days before her transfer to a detention facility and repeatedly denied bail.
The court convicted Anchan for allegedly sharing and uploading clips on social media of an online talk show alleged to have made defamatory comments about the monarchy. Anchan pleaded guilty to the charges and received a consecutive three-year sentence for each of the 29 lèse majesté offences, or 87 years - the harshest conviction under Article 112 to date. The sentence was reduced by half to 43 and a half years owing to Anchan's guilty plea.
UN and civil society raise concerns around renewed use of lese majeste charges
On 8th February 2021, UN human rights experts voiced concerns at Thailand's increasingly severe use of lèse majesté laws to curtail criticism of the monarchy. "We are profoundly disturbed by the reported rise in the number of lèse majesté prosecutions since late 2020 and the harsher prison sentences," they said.
On 4th March, ARTICLE 19 published a briefing "Breaking the Silence: Thailand's renewed use of lèse-majesté charges" which examines the history and recent use of Section 112 of Thailand's Criminal Code. It shows that since November 2020, the authorities have deployed the law in response to ongoing pro-democracy protests taking place across Thailand.
Between 24th November 2020 and 20th February 2021, the Thai police have opened investigations into at least 59 individuals in relation to complaints under Section 112. Most of those under investigation are Thai nationals in their twenties or thirties who have played a key role in the youth-led protest movement.
Recent lèse majesté convictions in long-dormant cases also suggest an increased interest by the government in using Section 112 to suppress public discourse concerning the monarchy. In addition to the charges brought by the Thai government against activists, the Ministry of Digital Economy and Society (DES) sought to pressure social media platforms to aid in suppressing content critical of the monarchy. The Thai government asked Facebook, Twitter, YouTube and several other sites to remove nearly 10,000 posts that the government alleges violate Section 112.