Ecuador: two journalists killed in Manabí within a month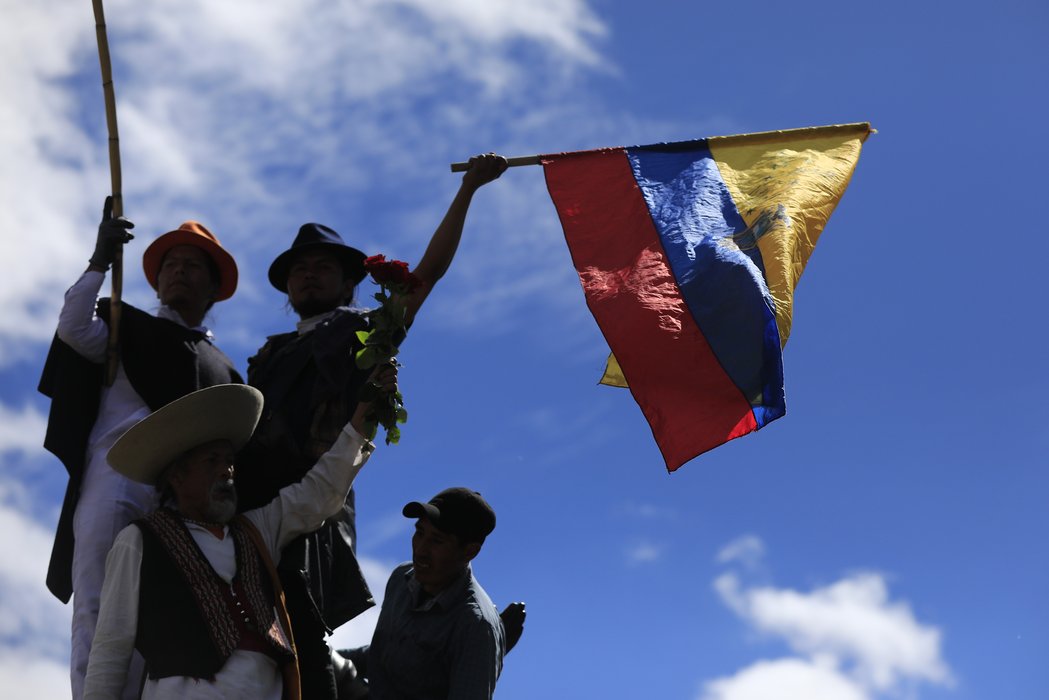 Association
Human rights defenders threatened
Exigimos a @LassoGuillermo @DEFENSORIAEC @DDHH_Ec que garanticen la seguridad de personas defensoras de #DDHH en #Ecuador e investiguen amenazas de muerte en contra de @lmespinosav! (@afrontlines)

Firma y comparte la petición #DefensorxsEnPeligro
👉https://t.co/nwnaFx4OBw pic.twitter.com/wErpBjQrgT

— AFrontlines_ES (@AFrontlines_ES) August 10, 2022
Indigenous rights defender Lina María Espinosa has received several death threats related to her work in 2022, human rights organisation Amnesty International warned in August 2022. On 7th July 2022, for instance, Espinosa received an anonymous phone call in which a man told her that he had been surprised not to see her at a meeting between the government and the Indigenous movement and added, "we already have your wreath of flowers ready."
Lina María Espinosa is a Colombian lawyer and human rights defender who has been based in Ecuador for around 15 years. She works with Amazon Frontlines and is a member of the Alianza de Derechos Humanos Ecuador (Human Rights Alliance Ecuador - Alianza DDHH); throughout her career she has worked on investigations, litigation and advocacy related to Indigenous people's rights. She is among the advocates facing criminalisation after filing a lawsuit in favour of Indigenous peoples affected by the April 2020 oil spill in the Ecuadorean Amazon. Amnesty International expressed concern about Espinosa's security situation and urged authorities to investigate the threats against her.
Stigmatisation of defenders
La FIDH y sus organizaciones en #Ecuador urgen a que se ponga un alto a la violencia y a la criminalización 1/5 pic.twitter.com/sPE6reTM5M

— FIDH (@fidh_es) June 23, 2022
On 28th July 2022, the International Federation for Human Rights (FIDH) issued a statement expressing concern about the increase in media pieces associating human rights defenders with violent and criminal groups. The FIDH said these discourses seek to construct a harmful narrative of "internal enemies." In particular, the statement referred to pieces such as opinion columns published in the media Primicias, which associated environmental groups with organised crime for their opposition to mining projects. The same outlet has published other articles associating Indigenous guards with "urban guerrillas." The FIDH warned against this type of discourse and recalled that media outlets have the responsibility to avoid disseminating messages that generate hatred, discrimination and stigmatisation toward human rights defenders.
On a similar note, a few weeks earlier the Confederación de Nacionalidades Indígenas de Ecuador (Confederation of Indigenous Nationalities of Ecuador – CONAIE) had rejected statements by president Guillermo Lasso alleging that Indigenous protests were financed by narcotrafficking. The organisation said this narrative was part of an attempt to criminalise protests.
Peaceful Assembly
Indigenous-led National Strike ends; criminal case against leader dismissed
Incluso el Relator @UNIndepJudges manifiestó su preocupación ante la criminalización y judicialización a Leonidas Iza, presidente de la @CONAIE_Ecuador por parte del Gobierno ecuatoriano .@DEFENSORIAEC @FiscaliaEcuador @CJudicaturaEc @LassoGuillermo 👇https://t.co/2RaVEjRaS8

— Alianza de Organizaciones por los Derechos Humanos (@DDHH_Alianza) July 4, 2022
After 18 days of protests, CONAIE announced an end to the National Strike led by Indigenous protesters against the government's socio-economic policies. The organisation reached an agreement with the government on lowering the price of fuel, restrictions on mining projects and the declaration of a public health emergency to deal with medical supply shortages, among other demands. CONAIE and the government also agreed to a technical dialogue on other pending issues.
Throughout the National Strike, the coalition Alianza DDHH registered 127 cases of human rights violations, including 9 people killed amid protests and other 318 injured. There were at least 199 cases of protesters detained.
While the strike was suspended, CONAIE leader Leonidas Iza continued to face charges for "paralysation of public services" for his role in the protests. The leader was detained on 14th June 2022 and released with precautionary measures in early July 2022. On 26th September 2022, the case against Iza was nullified by a court in Cotopaxi and the precautionary measures against him were removed. According to CONAIE's lawyer, due process had been violated in the proceedings, starting with the leader's detention.
Expression
Two journalists killed in Manabí
⚫️ El pasado 24 de julio, el periodista Mike Cabrera, quien realizaba transmisiones en la fanpage Nexo Digital, fue asesinado.

🔴Mientras que el 10 de agosto, Gerardo Delgado de Ola Manta TV también fue asesinado con disparos cuando se dirigía a una cobertura en Manta. pic.twitter.com/DfJUXDs8hk

— Fundación Periodistas Sin Cadenas (@SinCadenasECU) August 12, 2022
On 24th July 2022, 33-year-old journalist Mike Cabrera was murdered in Portoviejo, Manabí province. Two individuals on a motorcycle shot him six times while he was on the street chatting to friends. Cabrera managed the page Nexo Digital on social networks, where he published reports on local issues. He had previously worked with news outlet Últimas Noticias and as a news presenter on tv channel Televisión Manabita.
On 10th August 2022, two gunmen shot and killed 39-year-old journalist Gerardo Delgado Olmedo while he was stopped in his car at a traffic light on the outskirts of Manta, Manabí province. News outlet Infobae reported that shortly before the shooting Delgado had received a call about a possible suicide—a report that turned out to be false—and was on his way to investigate. His daughter was in the car but was not injured. According to the Committee to Protect Journalists (CPJ), the police detained two suspected shooters, one of whom claimed to have been paid $2,000 for killing Delgado. Delgado was the founder of the Facebook news page Ola Manta TV, where he published information on crime, issues with public service provision and other local news. He was also a pre-candidate to city council with political party Revolución Ciudadana.
Attacks and harassment of journalists
🛑#ALERTA | #Fundamedios exige el cese del acoso judicial al @DiariodeRio. Vinicio Chávez, funcionario de la Prefectura de #Chimborazo, denunció al periodista Danilo Villarroel @danyv_tv por daño moral. Es la cuarta denuncia penal al medio.

▶️ https://t.co/0lUOMVWCxa pic.twitter.com/r7NzNDZTc9

— FUNDAMEDIOS (@FUNDAMEDIOS) August 25, 2022
In July 2022, journalist Danilo Villarroel, of media outlet El Diario de Riobamba Digital, was notified about a complaint against him for "moral damage." The complaint was filed by Vinicio Chávez García, director of the Provincial Board of the Chimborazo Prefecture and former president of the Chimborazo Sports Federation. Chávez García alleges that his honour was damaged by a publication of El Diario de Riobamba Digital in June 2022 on the management of sporting functions in the province. According to Fundamedios, this was the fourth criminal complaint against El Diario de Riobamba Digital by people associated with the provincial government.
Separately, on 31st August 2022 lawmaker Fernando Villavicencio, president of the Oversight Commission of the National Assembly, used stigmatising language to refer to news media, and claimed that some outlets were "ideologically and economically" supported by allies of former president Rafael Correa. Villavicencio's remarks were made during a press conference in which he claimed that news reports associating him with a corruption scandal were false and part of an attempt to remove him from the Commission.
On 15th September 2022, the home of journalist Jairo Delgado with Sucuá Online was attacked with an explosive device. He denounced that the police had failed to investigate the attack. In a similar but separate incident, on 19th September 2022 two explosive devices were activated on the door and near a window of a journalist's home in Guayaquil. Newspaper Expreso warned about the attack on their reporter, expressing support for its journalists in the face of threats and rejecting any form of intimidation against the newspaper. The news outlet said it would not publicise the attacked reporter's name while it awaited investigation into the incident.
Reforms to the Organic Law of Communication
"En el siguiente documento, se presentan las Consideraciones de @Observacom al texto aprobado por la Asamblea Nacional de #Ecuador 🇪🇨 , por el que se disponen modificaciones a la Ley Orgánica de Comunicación": https://t.co/iAFyJznUJp

— IFEX ALC (@IFEXALC) August 16, 2022
On 21st July 2022, Ecuador's National Assembly approved reforms to the Organic Law of Communication which would have significantly modified the current legislation on the matter. The reforms stemmed from a minority report, adopted after the opposition formed a new majority and rejected a report that included reforms proposed by the Guillermo Lassogovernment. The approved changes were immediately rejected by the government, and president Lasso later vowed to veto part of the bill.
The reforms were heavily criticised by sectors of civil society, including press freedom group Fundamedios, the National Journalists' Federation (FENAPE) and the Inter American Press Association. Fundamedios advocated for a full veto of the reform bill, saying it would pose a "serious setback" for the right to freedom of expression and communication. Critics said the bill would open the door to the criminalisation of expression and would also enable the State to qualify news reports as false or accurate.
However, the bill was supported by the Coordination of Community, Popular and Educational Media of Ecuador (CORAPE) as well as by CONAIE, which highlighted aspects of the bill which addressed the redistribution of frequencies, the sustainability of community and public media, and the principle of interculturalism and citizen participation in communication.
On 24th August 2022, president Lasso vetoed 17 articles of the reform bill, saying they were unconstitutional. The challenged articles referred to issues such as prior censorship, the right to reply and the dissemination of false information. On 3rd October 2022, the Constitutional Court accepted the president's objections on 12 of the bill's articles. Fundamedios issued a statement endorsing the Constitutional Court's ruling, saying it was of "fundamental importance" because it established a legal frame of reference that lawmakers should observe in legislation affecting freedom of expression and press freedom in Ecuador.
Attacks on media and journalists during the National Strike
In July 2022, the International Federation of Journalists (IFJ) published data on attacks on journalists reported during the National Strike between 13th and 30th June 2022. The organisation received 83 alerts which included attacks affecting 139 journalists and media outlets.These incidents contained varying degrees of violence, in the context of the use of force to disperse demonstrations as well as of frustration from protesters regarding the government's response to the strike. IFJ said these tensions affected the exercise of journalistic work.
Similarly, Fundamedios said it had recorded 62 incidents of aggression against the press amid the National Strike. Journalists and camera operators were the groups most affected by these attacks. Demonstrators were involved in 39 incidents recorded, and state agents were involved in 14 incidents. In some cases, the aggressor was recorded as "unknown." Most cases referred to physical attacks, but there were also cases of threats, equipment theft, detentions, internet restrictions and restrictions on access to information, among others. The province of Pichincha suffered the majority of incidents recorded.