Widespread anti-government protests across Cuba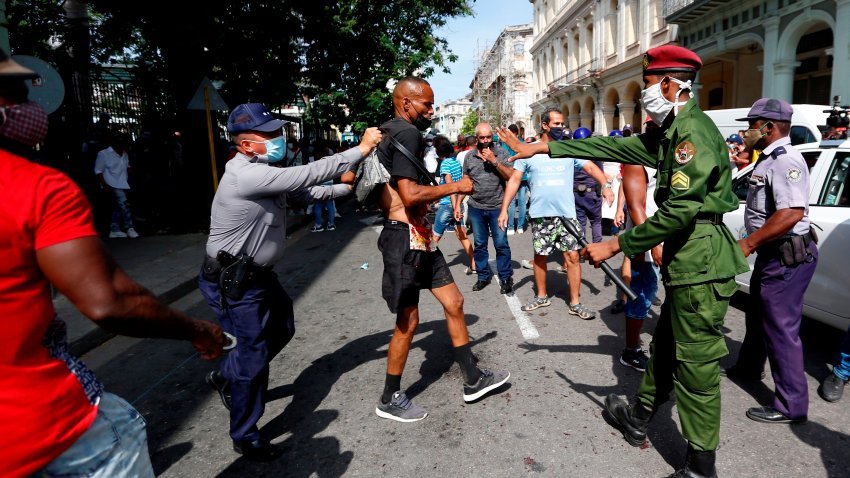 Peaceful Assembly
Massive protests in #Cuba are a desperate cry to @DiazCanelB's government, which does not listen. Instead of repressing the courageous people protesting, his government has the obligation to address their social and human rights demands pic.twitter.com/C2i39xck6P

— Erika Guevara-Rosas (@ErikaGuevaraR) July 13, 2021
On 11th July 2021, thousands of people joined spontaneous anti-government protests in at least 20 cities across Cuba. News outlets reported that these were the largest demonstrations seen in the country in decades. As reported by El País, the protests began in the morning in San Antonio de los Baños, a town to the southwest of Havana, against long power outages and to demand COVID-19 vaccination. They soon spread to other cities. Chanting "Freedom!" and "We are not afraid," thousands marched through Cuban streets to demand change, expressing general discontent with the country's socio-economic situation, the health crisis and the lack of civil and political rights.
In response, in an address on television and radio, Cuban President Miguel Díaz-Canel called on government supporters to take to the streets to stand up to the protesters, who he claimed were "mercenaries" and "sellouts to the U.S. government". Throughout the day, counter-protesters also marched in pro-government demonstrations.
The Inter-American Commission on Human Rights reported that during the anti-government demonstrations they received alarming reports of internet blackouts, arbitrary arrests, attacks on protesters and excessive use of force. Associated Press photographer Ramón Espinosa was attacked by police while covering the protests. Journalist Camila Acosta, a correspondent for Spanish outlet ABC, was among those detained. At least one protester, Diubis Laurencio Tejeda, was confirmed dead in clashes between demonstrators and police in the Arroyo Naranjo municipality.
According to Amnesty International, there have also been allegations of at least 136 missing persons, most of whom are activists and journalists. Erika Guevara-Rosas, Americas director at the organisation, said:
"Instead of repressing the population, the Cuban authorities have an obligation to protect their right to demonstrate peacefully. President Miguel Díaz-Canel's inflammatory rhetoric of 'war' and confrontation creates an atmosphere of violence against those who demand accountability and the free enjoyment of their human rights."
Reports on Cuba
Civil society organisation Observatorio Cubano de Conflictos (Cuban Conflict Observatory) published their report on peaceful assembly in May 2021. As recorded by the organisation, there were about seven daily protests in Cuba - with 231 public demonstrations registered throughout the month. 145 (67%) of these protests demanded political and civil rights, and the remaining 86 (37%) were linked to demands for economic, social and cultural rights. Despite practices such as house arrest of protest leaders and the interruption of their internet access, protests increased by 13% compared to the previous month.
Association
Ayer 7 de julio se presentó una nueva denuncia sobre el caso de Maykel Castillo en Naciones Unidas y en la CIDH. pic.twitter.com/3dLPELa7e5

— Movimiento San Isidro (@Mov_sanisidro) July 9, 2021
On 18th May 2021, authorities detained rapper and activist Maykel Castillo, known as "El Osorbo", under charges of "resistance" and "contempt". Castillo co-produced the song "Patria y Vida" ("Homeland and Life"), a local hit criticising the Cuban regime, which inspired a popular slogan among dissidents. On 18th June 2021, civil society organisations PEN America and CADAL, the Center for the Opening and Development of Latin America, demanded Castillo's immediate release, saying family and friends were unaware of the artist's health condition one month after his detention. On 8th July 2021, human rights group Prisoners Defenders sent a communication on Castillo's case to the United Nations Working Group on Arbitrary Detention and the Inter-American Commission on Human Rights (IACHR).
In a related development, on 31st May 2021, authorities released activist and artist Luis Manuel Otero Alcántara after he had spent nearly four weeks isolated in a hospital in Havana. As previously reported on the CIVICUS Monitor, Otero Alcántara had been on hunger strike since April 2021 when authorities raided his house and he was transferred to a hospital in early May. During this period at the hospital, the activist was held without communication with family and friends. Little information was provided by authorities on his health and condition. Otero Alcántara is a leader of the San Isidro Movement, of which Maykel Castillo and several other artists are members.
Separately, on 21st June 2021 LGBTQI+ activist and director of Alianza Afro-Cubana, Raul Soublett, received a police summons. As reported previously, Soublett had already received a summons from the Ministry of Interior in February 2021, when he reportedly self-harmed following pressure from security agents.
Expression
Cuban authorities must immediately release journalist Lázaro Yuri Valle Roca, drop any charges against him, and allow the press to report freely.https://t.co/N4amFsv4J9

— Committee to Protect Journalists (@pressfreedom) June 23, 2021
On 15th June 2021, police officers arrested journalist Lázaro Yuri Valle Roca when he presented himself at a police station in Havana after receiving a police summons related to a 2020 contempt investigation. Valle covers social and political affairs in Cuba on his YouTube channel, Delibera, which has about 7,600 subscribers. According to the Committee to Protect Journalists (CPJ), the day before his arrest he had published a video reporting on pro-democracy leaflets being thrown off a building in Havana. Civil society organisations of the coalition Voces del Sur expressed concern about the reporter's integrity, saying Valle was being held without access to his family and that there were reports he was on a hunger strike and facing alleged ill-treatment in detention. News outlets reported that in July 2021 the Attorney General's Office confirmed Valle's pre-trial detention over alleged "contempt and enemy propaganda".
On 17th June 2021, State security detained Diario de Cuba journalist Jorge Enrique Rodríguez Camejo while covering the trial of six persons accused of sexually abusing a child. The reporter is part of the Instituto de Artivismo Hannah Arendt (Hannah Arendt Artivism Institute - INSTAR), whose members denounced his arrest. He was held for 24 hours and then released. The journalist had been previously detained when filming a police crackdown on anti-racism protesters in 2020.
In a separate incident on the same day, State security agents interrogated and fined independent journalist Yoel Suárez. According to Suárez's family, an agent and a group of police officers initially attempted to take the journalist to a police station without a summons. The officers later returned with an official document and Suárez was taken in for questioning. He was then fined and allegedly threatened. As reported by news outlet ADN Noticias, harassment against Suárez intensified after he published an article on 4th June 2021 on how police patrols are used to intimidate and abuse dissidents in Cuba. The IACHR recently granted precautionary measures to the journalist and his family in April 2021, following threats, harassment, intimidation and detentions by State agents.
Civic Space Developments
Tags
protest,
internet restriction,
journalist detained,
protestor(s) detained,
protest disruption,
intimidation,
HRD detained,
excessive force,
public vilification,
enforced disappearance,
killing of protestors,
torture/ill-treatment,
non state actors,
LGBTI,
women,
release of HRDs,
attack on journalist,
Back to civic space developments