Vietnam: Human Rights Council membership and dialogues fail to stem repression against activists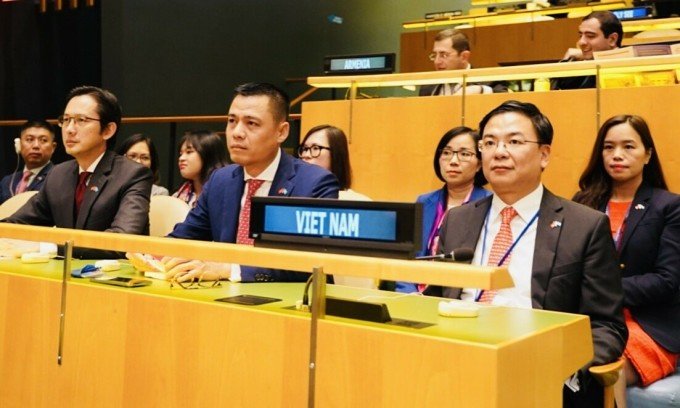 The state of civic space in Vietnam is still rated 'closed' by the CIVICUS Monitor. Among ongoing concerns documented are the use of restrictive laws to criminalise activists and journalists, restrictions on movement, surveillance, and allegations of torture and ill-treatment.
It has been eight months since Vietnam was elected to the UN Human Rights Council despite opposition from civil society groups. Ahead of its election, the government made pledges to "continue the efforts devoted to better enjoyment of human rights and fundamental freedoms" in the country. Yet, the state of civic freedoms has not improved, with human rights defenders and critics continuing to face various forms of repression.
In April 2023, the authorities held a human rights dialogue with Australia. According to an outcome statement, it covered a range of topics relating to civil, political, economic, social and cultural rights in both countries. These included but were not limited to protection of freedoms, legal reform, rights of diverse groups and cooperation on human rights in multilateral institutions.
Another human rights dialogue was held with the European Union (EU) in Hanoi on 9th June 2023. It was reported that the two delegations exchanged views and concerns on the rule of law and access to justice, the promotion of economic, social and cultural rights and the protection of persons in vulnerable situations. They also committed to work for the further improvement of the enjoyment of civil and political rights. Particular emphasis was made by the EU on freedom of expression and association.
Despite this, in recent months the authorities have continued to arrest and convict a number of activists and journalists for conducting "propaganda against the state". Tax evasion laws continue to be weaponised against environmental activists. The authorities have barred an activist from travelling and also allegedly abducted an activist in exile in Thailand. Police also crushed a protest against a drainage project in Dak Lak province.
Association
UN Working Group finds detention of Do Nam Trung to be arbitrary
Vietnam should immediately release human rights activist Do Nam Trung and drop charges against him.

He previously spent 14 months in prison after advocating for democracy and human rights. He now faces up to 12 years on propaganda charges. https://t.co/Ol8GnRjp8c pic.twitter.com/r9pY6Nxegi

— Human Rights Watch (@hrw) December 15, 2021
On 3rd March 2023, the UN Working Group on Arbitrary Detention (WGAD) issued Opinion No. 86/2022 concerning the case of activist Do Nam Trung. The WGAD found Trung's detention to be arbitrary and requested the government to take the steps necessary to remedy the situation.
As previously documented, a court in Vietnam on 16th December 2021 handed down a 10-year prison term to Do Nam Trung, a human rights activist accused of criticising the government on social media. He was convicted in a trial lasting just under four hours in the People's Court of Nam Dinh City in northern Vietnam. He had been charged with "spreading materials against the State" under Article 117 of Vietnam's Penal Code.
Trung had taken part in several social movements and had spoken out against official corruption on his Facebook page. He had also posted criticism of the build-operate-transfer highways that Vietnam has adopted in recent years, sparking rare protests over toll collections described by many motorists as unfair.
Land rights activist convicted
Land rights activist Truong Van Dung, accused of giving interviews to foreign media and storing illegally printed books, was sentenced to six years in prison for "conducting anti-state propaganda." https://t.co/yUtCO0xPvp

— Radio Free Asia (@RadioFreeAsia) March 29, 2023
On 28th March 2023, a court in Hanoi sentenced land rights activist Truong Van Dung to six years in prison. According to Human Rights Watch, police in Hanoi arrested him in May 2022 on charges of "conducting propaganda against the state" under Article 88 of the 1999 Penal Code.
After his arrest, Truong Van Dung was held incommunicado for more than nine months. He was allowed to meet with his lawyer for the first time in March 2023. His family has not been allowed to see him.
Truong Van Dung, 65, first became active in land rights advocacy in the 2000s, campaigning against forced confiscation of his own house and has since campaigned actively on behalf of victims of land appropriation by the authorities. He is a founding member of Hoi Bau bi Tuong Than (Association of Gourd and Squash Mutual Assistance) to provide financial and spiritual support for political prisoners, land rights petitioners, and their families.
Activist jailed for 8 years for spreading anti-state propaganda
A court in Vietnam's Ho Chi Minh City on Friday sentenced war veteran and democracy activist Tran Van Bang to eight years in prison and three years probation for Facebook posts that were deemed to be anti-state propaganda.https://t.co/gvgKGQ9KlB

— Radio Free Asia (@RadioFreeAsia) May 14, 2023
On 12th May 2023, a court in Ho Chi Minh City sentenced activist Tran Van Bang to eight years in prison and three years of probation after his release. Ho Chi Minh City police arrested him on 1st March 2022, and charged him for criticising the government under article 117 of the penal code ("distributing anti-State propaganda").
According to The Vietnamese, Tran Bang was indicted for using three Facebook accounts "to publish 39 articles that contained propaganda, distortions, defamatory content to slander the people's administration, spread misinformation, and sow confusion among the people." The indictment also stated that Bang "also possessed four books containing propaganda against the State".
According to HRW, in the last decade Tran Van Bang (also known as Tran Bang), 62, has been participating in anti-China protests. In November 2015, during a protest against a visit to Vietnam by Chinese President Xi Jinping, security agents assaulted and injured Tran Van Bang. He also participated in pro-environment and human rights protests and openly opposed Vietnam's repressive 2018 cybersecurity law.
Activist Bui Tuan Lam jailed for five years for criticising the government online
A court in the central Vietnamese city of Danang sentenced activist Bui Tuan Lam – known as "Onion Bae" – to five years and six months in prison Thursday, along with four years of probation, one of his lawyers told RFA.https://t.co/HJo8sDMAWu

— Radio Free Asia (@RadioFreeAsia) May 26, 2023
On 25th May 2023, a court in Da Nang sentenced Bui Tuan Lam to five years and six months in prison and four years of probation after his release. He was charged with conducting "propaganda against the state" for his online criticism of the government under article 117(1) of the penal code.
As previously documented, the former activist - also known as "Onion Leaf Bae" - who ran a beef noodle stall, was arrested for a parody video where imitated a famous Turkish chef Salt Bae who served an expensive cut of meat to a Vietnamese government official in London. He was arrested and indicted on 7th September 2022
According to The Vietnamese, Lam's family members were blocked from entering the courtroom and had to wait outside. The police later arrested his wife, Le Thanh Lam, and his two younger brothers, Bui Quang Khiem and Bui Quang Minh, and held them for the entire day.
According to HRW, over the past decade, Bui Tuan Lam has publicly advocated democracy for Vietnam. He has participated in many anti-China and pro-environment protests over the years. He also participated in a No-U humanitarian group to provide assistance to impoverished people in remote areas and victims of natural disasters in Vietnam.
UN finds detention of climate activist Dang Dinh Bach to be arbitrary
Last week @EUDelegationVN & 🇻🇳 met to discuss human rights.

That same day, wrongly imprisoned #environmentaldefender Dang Dinh Bach began a hunger strike to protest his innocence.

It's time @EU_Commission & member states called for the immediate release of detained activists. pic.twitter.com/hHpAgw5bIR

— Global Witness (@Global_Witness) June 16, 2023
On 26th May, the UN Working Group on Arbitrary Detention found the deprivation of liberty of prominent environmental lawyer, Dang Dinh Bach to be arbitrary and in contravention of articles of the Universal Declaration of Human Rights and articles of the International Covenant on Civil and Political Rights – and requested that the government to take the steps necessary to remedy the situation without delay.
Bach has dedicated his life to improving the health and well-being of marginalised communities throughout Vietnam and has worked tirelessly to limit pollutants such as plastic, asbestos and coal.
He is serving a five-year prison sentence in Vietnam on trumped-up tax evasion charges. He declared that on 24th June 2023 - the two-year anniversary of his arrest - he will go on a hunger strike to the death in defence of his innocence.
In solidarity with him, civil society groups launched a relay hunger strike from 24th May through 24th June to raise awareness about this extreme injustice and call for his release. The groups including CIVICUS have called on the global community to stand in solidarity with Bach through peaceful protest and call for his release, as well as for an end to retaliation against government and civil society actors in Vietnam and around the world pushing for human rights and environmental justice.
Environmental activist quietly released
On 12th May, climate activist Nguy Thi Khanh was quietly released from prison, five months earlier than scheduled. No reason was given for Khanh's release, which has not been formally announced or discussed in local media.
Khanh, the founder of the Green Innovation and Development Centre (GreenID) and one of Vietnam's most highly regarded environmental advocates, was sentenced to two years in prison on charges of tax evasion in June 2022. Her sentence was later reduced to 21 months, meaning she got out five months early.
Andrea Giorgetta, FIDH's Asia director welcomed the decision to release Khanh, saying she should not have spent time in jail "for a ludicrous prosecution on tax evasion charges."
Another environmental activist facing tax evasion charges
🇻🇳 #vietnam ICJ and 64 other human rights orgs submitted an open letter today to former President @BarackObama 🇺🇸, requesting his assistance in calling for the unconditional release of Obama Foundation scholar Hoang Thi Minh Hong from jail. #FreeHoang 👇https://t.co/XckhXdqysG

— ICJ - Asia and the Pacific (@ICJ_Asia) June 20, 2023
Police arrested environmental activist Hoang Thi Minh Hong on 1st June 2023. She is the founder of the Centre of Hands-on Action and Networking for Growth and Environment (CHANGE), an organisation that advocates for action on climate change, the environment, and wildlife protection. CHANGE was a leading organisation in the campaign to stop the construction and financing of new coal-fired power plants in Vietnam. It was forced to shut down in October 2022 after facing government harassment.
Hoang is being held incommunicado and has been denied access to a lawyer. The government is preparing to prosecute her on a false charge of tax evasion.
Hoang is the fifth prominent environmental human rights defender arrested in Vietnam for alleged tax evasion in the last two years. Others include Nguy Thi Khanh, the founder of the non-profit Green Innovation and Development Centre; Dang Dinh Bach, director of Law and Policy at the Sustainability Development Research Centre (sentenced to five years jail); Mai Phan Loi, founder and leader of the Centre for Media in Educating Community (MEC) and Bach Hùng Duong, former director of the MEC (sentenced to four years, and two years and six months respectively).
Human Rights Watch accused Vietnam of using its "vague and flawed tax law to target environmentalists and climate change activists with politically motivated prosecutions. Leading environmental activist Hoang Thi Minh Hong is the latest victim in this accelerating crackdown."
The office of the UN High Commissioner for Human Rights said it was "deeply troubled" by the detention and that the "chilling effect of such cases brought under tax laws is palpable among civil society in Viet Nam, and risks stifling debate on issues of importance to society as a whole".
Scholar Nguyen Quang A barred from leaving country
On 2nd May, scholar Nguyen Quang was barred from leaving the country from Hanoi's Noi Bai International Airport. He had planned to catch a flight to Thailand, and continue onward to the European Union, where he had planned to tour several countries. But he was stopped by police and prevented from boarding the plane.
According to Front Line Defenders, he is a human rights defender and a prominent member of Vietnamese civil society. In 2007, he co-founded the Institute of Development Studies (IDS), an independent, non-profit think-tank, since closed, that frequently questioned the government's policies.
Anti-corruption campaigner jailed for eight years
Vietnamese authorities should drop all charges and immediately release the anti-corruption campaigner Dang Dang Phuoc. Stop prosecuting activists now. https://t.co/lDXLsuwlbi pic.twitter.com/PhSoCXTfqI

— Human Rights Watch (@hrw) June 5, 2023
On 6th June 2023, a court in Dak Lak province sentenced anti-corruption campaigner and music teacher Dang Dang Phuoc to eight years in prison and four years of probation after his release.
The Dak Lak provincial police arrested him in September 2022 and charged him with conducting propaganda against the state under article 117 of the penal code.
According to HRW, Dang Dang Phuoc has often commented on social, political and environmental issues, and supported the cause of the poor and powerless, including land rights petitioners and Montagnard minority groups. He wrote: "I defend righteousness and the powerless. I do not care about fame and wealth." For this reason, he stated that he "raises his voice to help reduce social injustice."
During the past decade, Dang Dang Phuoc has campaigned against corruption and the abuse of power at the grassroots level. He has advocated for better protection for civil and political rights, including freedom of speech, expression, association, assembly and religion. He openly opposed Vietnam's repressive 2018 cybersecurity law.
Report highlights weaponisation of tax law to prosecute activists
On 21st April, Project 88 published a report entitled: "Weaponizing the law to prosecute the Vietnam Four" which documents in granular detail evidence of political interference in the criminal prosecution of leading climate activists - Dang Dinh Bach, Nguy Thi Khanh, Mai Phan Loi and Bach Hung Duong - for tax evasion, as well as the multiple ways in which their rights were violated.
It also highlights how the activists' efforts to organise non-profits into powerful advocacy coalitions and promote a civil society movement brought them into conflict with a one-party state that, since General Secretary of the Communist Party of Vietnam Nguyen Phu Trong came to power in 2016, has enacted a spate of legal and extralegal measures designed to limit the autonomy and impact of civil society organisations.
Project 88 reviewed close to 90 court verdicts of individuals who were convicted of tax evasion between 2017-2022. It then compared the criminal procedures and sentences applied to these individuals with those applied to the four activists. On almost every indicator, Project 88 found serious irregularities.
Expression
Journalist convicted for spreading anti-state propaganda
#Vietnam: Independent journalist Nguyen Lan Thang sentenced to six years in prison on charges of "anti-state propaganda" https://t.co/JYrmylqrJe

— AG (@ag_fidh) April 12, 2023
On 12th April, the Hanoi People's Court convicted Nguyen Lan Thang on charges of "making, storing, spreading information, materials, items for the purpose of opposing the State of Socialist Republic of Vietnam" under article 117 of the Criminal Code, sentencing him to six years of imprisonment and two years of probation. The charges are based on allegations that he posted videos on Facebook and YouTube which were said to "oppose" the Vietnamese Communist Party.
Journalist Nguyen Lan Thang participated in environmental and anti-China protests, voiced support for other jailed activists and wrote blogs about Vietnam's sociopolitical issues, according to his social media accounts. He was arrested on 5th July 2022 and was reportedly held in incommunicado detention for more than seven months and barred from meeting with his family members and counsel. He was only permitted to meet his lawyer on 16th February 2023.
According to the International Commission of Jurists (ICJ), Nguyen Lan Thang's prosecution was based on spurious charges in retaliation for exercising his right to freedom of expression and his legitimate work as a journalist. The ICJ also said that his conviction also violated international standards governing the right to a fair trial.
Vietnamese in exile allegedly abducted by security agents
Journalist Duong Van Thai arrested in Vietnam after disappearing in Thailandhttps://t.co/Cu1wb9FeT7

— Committee to Protect Journalists (@pressfreedom) April 18, 2023
Vietnamese blogger Duong Van Thai was allegedly abducted by Vietnamese security agents while living in exile in Thailand. Thai was reported missing on 13th April 2023, and was last seen on camera when he left his home.
According to The Vietnamese, the 41-year-old political dissident fled Vietnam in 2018, fearing his criticisms of the Communist Party and government leaders on social media could draw the authorities' attention and persecution. He was granted refugee status by the UN High Commissioner for Refugees (UNHCR) office in Bangkok.
On 16th April, three days after Duong Van Thai was reported missing, Vietnamese state-run media quoted information from the Ha Tinh Provincial Police that they had found a man named Duong Van Thai who "illegally crossed the border to enter Vietnam" from Laos on 14th April. Col. Nguyen Hong Phong, director of Ha Tinh Police, said they had detained the man to "further investigate in accordance with the law."
The allegedly forced repatriation of Duong Van Thai has exacerbated the situation of similar Vietnamese political dissidents living in exile in Thailand. His reported abduction, which Hanoi's secret agents may have carried out, also sparked concerns about the practice of transnational repression targeting foreign-based Vietnamese dissidents and regime critics.
Government orders media to scrap all content about prominent writer's death
In April 2023, the authorities ordered media outlets to remove news coverage about the death of literary critic and poet Dang Tien, and not to publish further reports about him because he was a member of a literary organisation the government claimed was anti-communist.
According to Radio Free Asia, Dang Tien, best known for his books "Universe of Poetry" and "Poems, Poetics, Prosody, and Profiles," died in France at age 83 on 17th April 2023. After starting his career as a book reviewer while still a college student in Saigon, now called Ho Chi Minh City, in 1960, he left Vietnam for Paris in 1966 and taught Vietnamese literature at the University of Paris from 1969 to 2005.
Tien was a member of the Independent Literature Association's Advocacy Committee, or ILAAC, which was established in 2014 and has 60 members. Members say it is often harassed by authorities, and state media have reported that it is an illegal organisation set up by hostile forces to oppose the Communist Party and the Vietnamese government.
UN finds detention of blogger Nguyen Tuong to be arbitrary
Jailed Vietnamese RFA blogger Nguyen Tuong Thuy has been moved to a new detention center following reports of harsh conditions at the prison where he was previously held.https://t.co/oTVPT3gRAV

— Radio Free Asia (@RadioFreeAsia) April 15, 2021
On 18th May 2023, the UN Working Group on Arbitrary Detention (WGAD) issued Opinion No. 16/2023 concerning the case of blogger Nguyen Tuong Thuy. The WGAD found Thuy's detention to be arbitrary and called upon the government to take urgent action to ensure his immediate and unconditional release.
As previously documented, on 5th January 2021, a Vietnam court convicted and sentenced three members of the Independent Journalists Association of Vietnam (IJAVN) under Article 117 of Vietnam's Penal Code, including Thuy.
Thuy was sentenced to 11 years in prison for writing articles online criticising Vietnam's one-party communist government. Thuy, a former vice president of the IJAVN, had blogged on civil rights and freedom of speech issues for RFA's Vietnamese Service for six years, and visited the United States in 2014 to testify before the House of Representatives on media freedom problems in Vietnam.
Peaceful Assembly
Police crush protest against drainage project in Dak Lak province
Members of the Ede ethnic minority stage an environmental protest in central Vietnam's Dak Lak province. They're protesting a planned drainage system that they fear will pollute a nearby lake. pic.twitter.com/S0moP9AomH

— Radio Free Asia (@RadioFreeAsia) April 24, 2023
On 25th April 2023, police - armed with batons and shields - dispersed dozens of members of the Ede ethnic group who were attempting to block a drainage project they fear will discharge wastewater into a lake they depend on.
According to Radio Free Asia, three villagers were hospitalised and 12 were arrested. "They hit us, injuring seven people of whom three had to be hospitalised due to the injuries on their heads, mouths, ears and shoulders," said a protester who requested anonymity for security reasons.
The protester who spoke with RFA said that the police shoved down a woman who was two months' pregnant and broke the shoulder of another protester who passed out shortly afterwards. Police also knocked down a man and kicked his head repeatedly until his ears and mouth began to bleed. Those who were arrested were all released after signing a paper pledging that they would not return to the protest on threat of prison.
Ea M'ta lake in the southern province of Dak Lak will be the endpoint of a rainwater drainage system project proposed by the province's Cu Kuin district. Residents living nearby fear that in addition to rainwater, the project could also divert wastewater into the lake, which could harm the environment and flood surrounding areas.
Though a local government task force reviewed the project and said that no major damage to the ecosystem or to water resources would result from it, the protesters do not trust the review.
New report highlights repression of peaceful demonstrations over three decades
#Vietnam: Check out the latest @fidh_en @vchr2016 report "A History of Violence" - the most comprehensive account to date of more than three decades of protests movements and the patterns of repression they faced https://t.co/OoJybk79SL pic.twitter.com/si3s9kr45j

— AG (@ag_fidh) June 20, 2023
A new report released on 20th June 2023 by FIDH and the Vietnam Committee on Human Rights (VCHR) documents the systematic repression of the right to freedom of assembly in Vietnam. The report, titled "A History of Violence - Repression of the right to freedom of assembly in Vietnam," provides the most comprehensive account to date of more than three decades of protest movements in Vietnam and the patterns of repression they have faced.
Government actions to repress protests have included: unnecessary and/or disproportionate use of force, arrest, detention, prosecution, and other forms of attacks and harassment against protest leaders, participants and sympathisers.
Overwhelmingly peaceful protests in Vietnam have traditionally covered a wide range of issues, from demonstrations for religious freedom to land rights and relations with China. Other salient issues, such as the protection of the environment, worker rights, or protests against restrictive legislation, have also been among other common triggers of protests in Vietnam.
The report stated that in the absence of national legislation on peaceful assembly, a number of Vietnam's highly restrictive decrees and regulations, such as Decree 38 and Circulars 9 and 13, have provided the legal tools of repression of those who have exercised, or sought to exercise, the right to freedom of peaceful assembly. Most importantly, numerous "national security" provisions of the Criminal Code have been frequently used to arrest, detain, prosecute and imprison demonstrators and civil society members involved in activities related to public assemblies.
Individuals who were arbitrarily arrested, detained and prosecuted in connection with their involvement in peaceful assemblies have often faced further abuses, including: denial of the right to a fair trial; disproportionate prison sentences; poor detention conditions; denial of medical care, ill-treatment and torture in custody; constant police surveillance; and judicial harassment. In some cases, poor detention conditions and ill-treatment have been fatal.
Civic Space Developments
Tags
women,
protest disruption,
minority groups,
release of HRDs,
harassment,
travel ban,
HRD detained,
negative court ruling,
excessive force,
criminal defamation,
enforced disappearance,
torture/ill-treatment,
restrictive law,
censorship,
journalist detained,
protestor(s) detained,
HRD prosecuted,
environmental rights,
Back to civic space developments