Civil society urges the UN to reject Vietnam's bid for the Human Rights Council as it continues to arrest and jail activists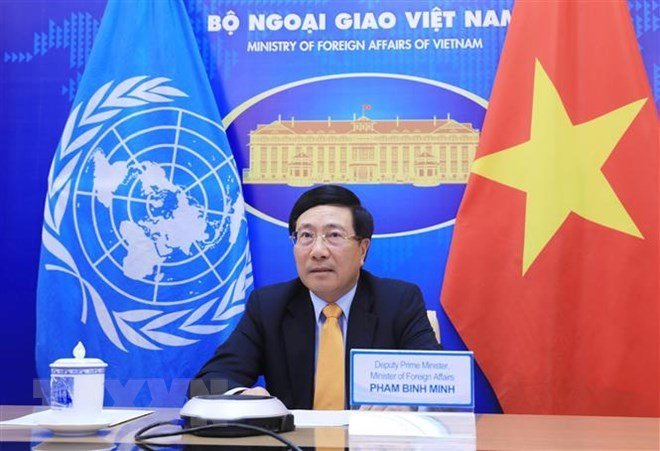 The state of civic space in Vietnam is rated 'closed' by the CIVICUS Monitor. In recent months the authorities have jailed activists for their activism, including a prominent environmental activist on tax evasion charges, a minority rights activist for his reporting, and a blogger. Human rights defender Pham Doan Trang lost her appeal against a nine-year jail sentence. Other activists have been charged with anti-state propaganda for their online activism. A new decree orders technology firms to store user data onshore which could be used to further criminalise online dissent.
Despite this, the government is seeking membership of the UN Human Rights Council for the term 2023-2025.
On 13th September 2022, a coalition of human rights and civil society organisations sent a joint open letter to the permanent member states of the United Nations General Assembly (UNGA), requesting them to refrain from voting in favour of Vietnam's candidacy for membership in the Human Rights Council (HRC). The groups' said Vietnam is a serious and persistent violator of human rights, has not lived up to its past pledges and commitments, has a poor track record of cooperation with the HRC, and should not be elected to the Council. More than 50 Goldman environmental prize laureates from 41 countries have also written to the UN Human Rights Council raising concerns over Vietnam's human rights record. 
Association
Minority rights activist jailed for four years
52-year-old Y Wo Nie from the Ede ethnic minority was a deacon of the Evangelical Church of Vietnam.https://t.co/QpeF7IpI1u

— Radio Free Asia (@RadioFreeAsia) August 10, 2022
On 20th May 2022, Radio Free Asia (RFA) reported that Y Wo Nie, an ethnic Ede Montagnard minority rights activist was sentenced to four years in prison for writing and disseminating three reports about human rights violations in Vietnam.
According to The 88 Project, the court also claimed he was invited to meet representatives of the U.S. Embassy in Vietnam, participated in several online workshops related to human rights and freedom of religion and also published on WhatsApp content, articles and pictures that "distort and libel the policies and the images of both local and national authorities in order to provoke and threaten national security and social safety".
A court in Cu Kuin district, Dak Lak province, sentenced Y Wo Nie on the charge of "abusing the rights to freedom and democracy" under Article 331 of Vietnam's Penal Code. Human Rights groups have criticised the provision as providing authorities widespread latitude to crack down on any criticism of the government.
Government uses tax evasion charges to jail environmental activist 
Climate leaders are essential in creating a vibrant future in which people and the planet can thrive, yet 2018 #GoldmanPrize winner #NguyThiKhanh remains imprisoned in Vietnam. https://t.co/znEBrwtZ75

— Goldman Prize (@goldmanprize) September 19, 2022
On 18th June 2022, a high-profile environmentalist and anti-coal campaigner in Vietnam was jailed for two years on tax evasion charges.
As previously documented, in January 2022, Nguy Thi Khanh, the founder of the non-profit Green Innovation and Development Centre was arrested on tax evasion charges. Khanh, who won the Goldman Prize in 2018, has campaigned for Vietnam to adopt greener energy strategies, putting her at odds with the country's ambitions to boost its coal production. In October 2019, she had joined 12 Vietnamese NGOs in signing the "Hanoi Statement", which called on the government to stop funding coal-fired power stations and to conduct a democratic consultation with the Vietnamese people. Her office and home were searched in January 2022 and documents and devices were confiscated.
Khanh was charged with tax evasion under Article 200 of Vietnam's 2015 Criminal Code and convicted for failing to pay a 10% tax on her Goldman Prize money, which is equivalent to an amount of VND 456 million (around USD 19,000).
She is the fourth activist to be arrested this year on charges of tax evasion. On 24th January 2022, Dang Dinh Bach, director of Law and Policy at the Sustainability Development Research Centre, was sentenced to five years in prison. On 11th January 2022, Mai Phan Loi, founder and leader of the Centre for Media in Educating Community (MEC) and Bach Hùng Duong, former director of the MEC, were sentenced to four years and two years and six months respectively. It is believed that their arrests were prompted by their work to promote civil society engagement in monitoring the EU-Vietnam Free Trade Agreement (EVFTA) which came into force in 2021.
The Observatory for the Protection of Human Rights Defenders, a partnership of the International Federation for Human Rights (FIDH) and the World Organisation Against Torture (OMCT) expressed its "concern about the Vietnamese authorities' use of legal harassment, especially the use of tax-related charges against environmental activists, as a strategy to criminalise them".
Wife of political prisoner denied permission to attend conference
Bui Thi Kim Phuong, the wife of prisoner of conscience Nguyen Bac Truyen, was banned from leaving the country by the Vietnamese government to prevent her speaking in the U.S. about her husband's situation and the issue of religious persecution in the country.
Nguyen Bac Truyen was arrested in July 2017 under the charge of "subversion" and was sentenced to 11 years in prison during a trial in Hanoi in April 2018. He is an independent Hoa Hao Buddhist and a human rights activist. When he was arrested, many organisations believed the arrest to be politically motivated and a case of religious persecution.
On 29th June 2022, RFA reported that Bui Thi Kim Phuong was not given permission to attend the 2022 International Religious Freedom Summit in Washington D.C. She had submitted a request to the Ministry of Public Security and the Immigration Department, but did not receive a response. She has been banned from leaving the country since 2019 when she was blocked at at the airport for "security, social order and safety reasons."
Human rights defender and journalist loses her appeal
🇻🇳📫 Appellate Court Upholds Journalist Pham Doan Trang's Nine-Year Imprisonment. Doan Trang refused to plead guilty at the appeals trial. https://t.co/F23g8lZcdV

— The Vietnamese Magazine (@thevnmesemag) August 25, 2022
On 25th August 2022, award-winning Vietnamese journalist Pham Doan Trang lost her appeal against a nine-year jail sentence.
As previously documented, human rights defender Pham Doan Trang was sentenced to nine years in prison by The People's Court of Hanoi on 14th December 2021. She was arrested in Ho Chi Minh City on 7th October 2020 and charged under Article 88 of the 1999 Criminal Code which criminalises "making, storing, distributing or disseminating information, documents and items against the Socialist Republic of Viet Nam."
The indictment in Pham Doan Trang's case includes as evidence several of her published works on environmental and human rights issues, as well as two interviews she gave to Radio Free Asia and the British Broadcasting Corporation (BBC).
Pham Doan Trang is among the leading voices and best-known independent writers in Vietnamese civil society and recognised internationally for her human rights advocacy. She is the author of thousands of articles, blog entries, Facebook posts and numerous books about politics, social justice and human rights.
Expression
Prominent rights activist arrested over 'propaganda' 
#Vietnam arrests prominent rights #activist over 'propaganda' | Mizzima Myanmar News and Insight https://t.co/PSpaeHogK6 pic.twitter.com/0pUuhwu1GG

— Mizzima News (@MizzimaNews) July 6, 2022
On 5th July 2022, the authorities arrested a prominent human rights activist accusing him of distributing anti-state propaganda.
Nguyen Lan Thang is popularly known for his activism in civil society development and civil rights in Vietnam. Thang is also a blogger and photographer who frequently participated in anti-China protests which took place in Hanoi and Ho Chi Minh City following Beijing's aggressive activities in the South China Sea.
The 46-year-old was arrested at his home in Hanoi "for making, hoarding, disseminating and spreading propaganda against the state of the Socialist Republic of Vietnam under article 117 of the 2015 Penal Code", the capital's police said in an official statement. Officers did not provide any other details, stating that the case was currently under investigation
In response Phil Robertson, deputy Asia director of Human Rights Watch, said that "Vietnam's outrageous and unacceptable crackdown on freedom of expression has just snared another victim who will invariably face a kangaroo court trial and years in prison for speaking his mind."
Noodle vendor arrested over parody video and social media posts
Outrageous & unacceptable arrest of Bùi Tuấn Lâm under bogus "propaganda against state" charge in #Vietnam. @hrw speaks to @VOATiengViet. https://t.co/KySvyIuHiD

— Phil Robertson (@Reaproy) September 9, 2022
A former activist who runs a beef noodle stall and is known for imitating a famous Turkish chef who served an expensive cut of meat to a Vietnamese government official in London, was arrested and indicted on 7th September 2022 in Danang on a charge of creating and disseminating materials against the one-party communist state.
According to RFA, Bui Tuan Lam, also known as "Onion Leaf Bae," was charged for violating Article 117 of the country's Penal Code. Police who investigated Bui said he regularly used social networks to post stories, videos and livestreams with contents "distorting the guidelines and policies of the party and state and promoting activities against the party and state of Vietnam." Some of the posted content insulted Vietnamese leaders and the prestige and honour of organisations and individuals, police said.
Arrest and convictions of individuals for online activism
Several individuals have also been arrested or convicted for 'anti-state propaganda' under Article 117 of Vietnam's 2015 Penal Code in recent months due to their online activism:
On 13th July 2022, a court in Ha Tinh Province sentenced Nguyen Duc Hung, a local blogger and user of social media, to five and a half years in prison and two years of probation under Article 117. According to The Vietnamese, between 2016 and 2021, Hung created several social media accounts to publish information that was "distorted" and "contained anti-State propaganda." Hung was also accused of calling other people to join private groups on social media, which were created to "defy the State." Nguyen Duc Hung was known for his activism on social media, where he regularly raised his voice regarding the government's human rights violations.
On 8th September 2002, police in Dak Lak Province arrested music teacher Dang Dang Phuoc. According to The Vietnamese, Phuoc's last post on his social media was about the recent arrest of Bui Tuan Lam, the noodle vendor (see above). Phuoc, 59, worked at Dak Lak Provincial Musical College. He was also an online commentator who frequently shared his critical opinions of Vietnam's human rights violations, corruption and social injustice. His personal Facebook account has more than 6,000 followers.
According to The 88 Project, Phan Son Tung, a YouTuber with hundreds of thousands of subscribers, was arrested on 8th September 2022 and charged with spreading "anti-state propaganda." One of his channels has more than 80,000 subscribers. Tung recently called for the formation of a new political party.
Blogger sentenced to five years in jail
Le Anh Hung, a Vietnamese blogger held for three years in a mental hospital while awaiting trial for criticizing Vietnam's one-party communist state, has been sent back to detention on the orders of the Hanoi Police Investigation Agency, RFA has learned. https://t.co/kTW8q7wYiH

— Radio Free Asia (@RadioFreeAsia) May 18, 2022
On 30th August 2022, independent journalist and blogger Le Anh Hung was sentenced to five years in prison after spending more than four years in a psychiatric hospital and on remand. The blogger was tried on the charge of "abusing democratic freedoms to infringe upon the interests of the state, organisations and individuals," under Article 331 of the Criminal Code.
According to Radio Free Asia, the family of the political dissident say it took a week for them to find out the outcome of his trial. The Hanoi police investigator also told his mother that, after subtracting more than four years in a detention centre and a psychiatric hospital he will probably be released in 2023. His family has been systematically denied the right to visit him for the past three years.
As previously documented, on 5th July 2018, Hung was arrested after he published an open letter which criticised the government's new policy on economic zones. In April 2019, the investigating agency sent Hung to the Central Institute of Forensic Psychiatry forcing him to be treated for an alleged mental illness. During that time his family say he was drugged and abused.
Hung wrote about politics and was a regular contributor to the Voice of America website. He is a member of two civic organisations that are not recognised by the Vietnamese government: The Independent Journalists' Association of Vietnam and the Brotherhood for Democracy. The two organisations have been suppressed in the past few years and dozens of members have been sent to prison with lengthy sentences.
New decree orders tech firms to store user data onshore
On 15th August 2022, a new decree was issued by the government that will further tighten cybersecurity rules and its control over local internet users by ordering technology firms to store users' data in Vietnam and to set up local offices.
The new regulations, which are expected to take effect on 1st October 2022, will apply to social media platforms currently operating in Vietnam, such as Facebook, Google's YouTube, TikTok, and telecommunications operators.
According to the new rules, data belonging to and created by users in Vietnam, including account names, credit card information, email and IP addresses, service use time, most recent logins and registered phone numbers, must be stored within Vietnam. The decree added that data about local users' relationships, including their friends and groups they interact with online, must also be stored domestically.
Meanwhile, the authorities can request to have data access for investigation purposes and demand that the tech companies remove content deemed to violate the government's guidelines. Foreign tech companies are required to set up local data storage and representative offices within 12 months after receiving instructions from the Ministry of Public Security (MPS) and will have to store the data onshore for a minimum period of 24 months.
Such moves will further restrict online expression. As previously documented, the authorities use an online censorship and content filtering system to silence government critics. Any account that operates on a social media platform in Vietnam and has more than 10,000 followers must provide contact information to authorities. Only registered accounts will be allowed to livestream. A cybersecurity law passed in July 2018 gives sweeping powers to the Vietnamese authorities, allowing them to force technology companies to hand over potentially vast amounts of data, including personal information, and to censor users' posts.
Peaceful Assembly
Seven charged for a protest over the destruction of a local road.
Authorities in Vietnam's Nghe An province have officially charged seven people in connection with a protest over the destruction of a local road.
According to Radio Free Asia, Ha Thi Hien, Tran Thi Nien and Bui Van Canh were charged on 22nd July 2022 with "resisting against officers on official duty," while Tran Thi Hoa, Bach Thi Hoa, Ha Thi Thoa and Ha Van Hanh were accused of "disturbing public order". The charges carry a maximum sentence of seven years in prison.
On 13th July 2022, hundreds of riot police were mobilised to Binh Thuan parish in Nghe An's Nghi Thuan commune to halt a demonstration near the destruction site of an old public road that connects the parish to an area highway. The road, which had been in use for more than 100 years, is located on land the government granted to a private company for a planned industrial zone.
According to the news report, police tried to disperse the protesters with smoke grenades but they fought back. Ten people were arrested in the clash, during which officials said protesters had used bricks, stones, bottles, sticks and petrol bombs and injured five police officers.
The seven had remained in custody for two weeks before their families were notified of the charges against them. They are being held at a temporary detention facility during the investigation of their case.The police said that none of those arrested had requested access to a defence lawyer.