Activists face repression around and following the Vietnam Communist Party congress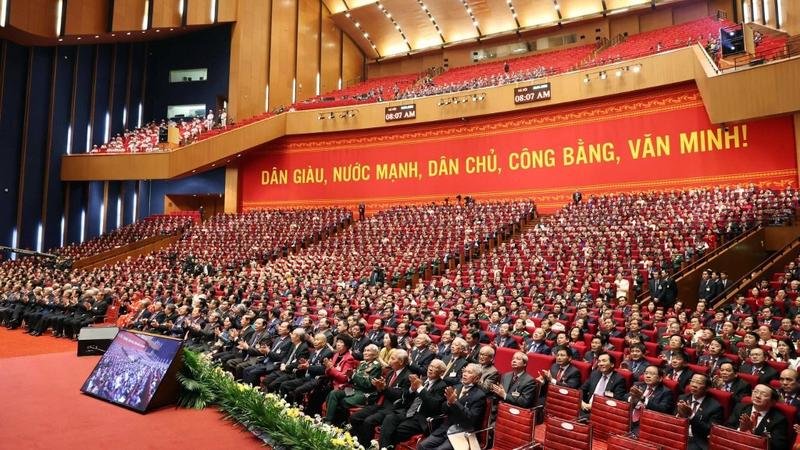 The 13th National Congress of the Communist Party of Vietnam (CPV) concluded on 2nd February 2021 in Hanoi. Leading up to the meeting, Vietnamese citizens were prohibited from discussing candidates for the top four positions of party secretary, prime minister, president, and chairman of the National Assembly, all of which were designated "top secret" under a decision signed by Prime Minister Nguyen Xuan Phuc in December 2020.
Nguyen Phu Trong was re-elected for an unprecedented third term as the CPV General Secretary, The general secretary's tenure is limited to two consecutive terms. He was granted an exception to party rules which say people over the age of 65 should retire.
According to rights groups, the Communist Party presided over an intensified crackdown on dissent ahead of the congress, including the arrest and harassment of activists and longer jail terms.
In January 2021, the UN human rights office (OHCHR) voiced concerns over the use of "vaguely defined laws" in Vietnam to arbitrarily detain an increasing number of journalists, bloggers, commentators and rights defenders, amidst what appears to be part of an "increasing clampdown" on the freedom of expression in the country. In the same month, the European parliament slammed Vietnam in a resolution over the government crackdown and highlighted the link between human rights and the bloc's trade deal with Vietnam. Despite this the crackdown has continued.
In the last few months, the authorities have arrested and prosecuted activists and journalists for online comments critical of the government, with some given long jail sentences. Activists have also held hunger strikes in prison protesting against prison conditions or their convictions. There has also been a report that a group with ties to the Vietnamese government has been involved in hacking attacks targeting activists and an NGO.
Expression
Poet and writer Tran Duc Thach sentenced to 12 years jail
Vietnamese dissident writer Tran Duc Thach is sent back to prison to serve his full 12-year term after a court in Hanoi rejects his appeal of his sentence.https://t.co/Hg0AC8czRo

— Radio Free Asia (@RadioFreeAsia) March 24, 2021
On 17th December 2020, Vietnamese writer and activist Tran Duc Thach was convicted on charges of subversion under Article 109 of the country's criminal code and was sentenced to 12 years in prison and three years' probation. Tach, a co-founder of Vietnam's online Brotherhood for Democracy, was arrested in April 2020 for Facebook posts criticising corruption in government and human rights abuses in the country.
The Brotherhood for Democracy - a loose association of activists and human rights defenders formerly imprisoned for their political beliefs - is not recognised by the Vietnamese government and many of its members have been imprisoned since its founding in 2013.
During the trial, provincial prosecutors claimed that Thach's activism and writings "threatened social stability, encroached upon national independence and socialism, reduced people's trust in the political institution of the state of Vietnam, and infringed upon national security and social safety and order."
James Tager, deputy director of free expression research and policy at PEN America said: "This is a shocking and shameful outcome in a case that never should have been brought to trial in the first place. Thach should be celebrated for his civic engagement and advocacy, not subjected to mistreatment and imprisonment".
His sentence was upheld by the courts on 24th March 2021.
Three jailed for running Facebook group
In December 2020, authorities sentenced three administrators of a Facebook political discussion group to lengthy prison sentences. The court in Ho Chi Minh City convicted the three of "abusing democratic freedom rights to infringe upon the benefits of other individuals and/or organisations" under Article 331 of the Vietnam 2015 Penal Code, a vaguely worded law often used to lock up bloggers and other peaceful critics.
Nguyen Dang Thuong was sentenced to 18 months, Huynh Anh Khoa to 15 months and Tran Trong Khai received 12 months' imprisonment. The group had a following of 46,000 Facebook users prior to the page being shut down.
Independent journalists convicted and sentenced
🇻🇳 #Vietnam: Repression continues as 3 journalists from the Independent Journalists Association of Vietnam (IJAVN) were convicted today after a half day trial - Pham Chi Dung (15 years), Nguyen Tuong Thuy (11 years) and Le Huu Minh Tuan (11 years). https://t.co/I5XIFixJdT pic.twitter.com/rkpOuxTpKd

— CIVICUS Monitor (@CIVICUSMonitor) January 5, 2021
On 5th January 2021, a Vietnam court convicted and sentenced three members of the Independent Journalists Association of Vietnam (IJAVN). They were charged for "making, storing, and disseminating documents and materials for anti-state purposes" under Article 117 of Vietnam's Penal Code.
Vietnamese blogger Nguyen Tuong Thuy was sentenced to 11 years in prison for writing articles online criticising Vietnam's one-party communist government. Thuy, a former vice president of the IJAVN, had blogged on civil rights and freedom of speech issues for RFA's Vietnamese Service for six years, and visited the United States in 2014 to testify before the House of Representatives on media freedom problems in Vietnam. Sentenced with Thuy, Pham Chi Dung was given a 15-year prison term, while Le Huu Minh Tuan was jailed for 11 years.
As previously documented, the Independent Journalists Association of Vietnam (IJAVN) is the last independent journalist organisation in the country. It was established in 2014 and promotes the right to free speech, freedom of the press and freedom of association. These arrests and convictions were part of a plan to demolish the IJAVN and take full control of the press ahead of the National Congress.
Environmental activist jailed for seven years for Facebook posts
#Vietnam: Facebook user Dinh Thi Thu Thuy sentenced to seven years in prison on charges of anti-state propaganda for ridiculing the country's leaders https://t.co/3CfJvt6cXP

— AG (@ag_fidh) January 22, 2021
On 20th January 2021, the authorities put Dinh Thi Thu Thuy on trial for articles and Facebook posts critical of the party and government. She had been arrested in April 2020 and charged with "conducting propaganda against the state" under article 117 of Vietnam's penal code. After a summary trial, a court in Hau Giang convicted and sentenced her to seven years in prison after a four-hour trial.
Thuy spent the duration of her pre-trial detention incommunicado and was only able to meet her lawyers for the first time eight months after her arrest. The evidence against Thuy amounted to just five Facebook posts which together had received just 130 Likes and 50 Shares. The court concluded that the posts "satirised, ridiculed and offended" the party leadership.
Thuy, an aquaculture expert and advocate for freedom of expression and environmental rights, turned to Facebook to express her views on political issues in 2016 after the Formosa environmental disaster, in which toxic waste from a factory polluted more than 200 kilometres of the coastline. She used the platform to discuss issues deemed sensitive in Vietnam, including proposed laws on special economic zones and cybersecurity, as well as environmental issues in her hometown of Hau Giang.
Journalists detained for highlighting corruption
Vietnamese journalists Phan Bui Bao Thy and Le Anh Dung are charged by police with "abusing press freedoms" for posting articles criticizing provincial officials for corruption.https://t.co/Al47aRCa4X

— Radio Free Asia (@RadioFreeAsia) February 17, 2021
On 10th February 2021, two journalists were detained in central Vietnam's Quang Tri province on charges of "abusing press freedoms" for posting articles online criticising provincial leaders.
Phan Bui Bao Thy, 56, bureau chief of the online magazine Age and Education, and an associate, Le Anh Dung, 50, were taken into custody after articles appeared on Facebook pages the two men operated accusing provincial officials of corruption. One article posted in August on Thy's Facebook page accused Le Quang Than—deputy chairman of Quang Tri's Huong Hoa district, and a member of the Huong Hoa Communist Party Committee—of falsifying his educational credentials.
Police in Vietnam's northern Ninh Binh province this week arrested a 61-year-old man who used Facebook to post articles on human rights and corruption and who had recently declared his intention to run in the National Assembly.
Facebook user arrested for critical posts
On 9th March 2021, Tran Quoc Khanh was detained on accusations of defaming the government and distorting its policies.  The Provincial Public Security website said he would be held in pre-trial detention for four months. If convicted, he faces up to 12 years in prison.
Khanh, who has more than 4,700 friends following his account, used the social media site to post about human rights abuses, allegations of corruption by state officials and Vietnam's territorial dispute with China over the South China Sea.
The Ninh Binh Provincial Security and Investigation Agency alleged that between 2018 and 2020, Khanh used Facebook to post and broadcast "information distorting [and] defaming" Vietnam and "opposing the state."
Association
Human rights defenders stage hunger strike 
Vietnamese political prisoner and former RFA videographer Nguyen Van Hoa and two other prisoners at the An Diem detention camp end hunger strikes, saying that most of their demands for better treatment by prison authorities have been met.https://t.co/LVLrLt3V9t

— Radio Free Asia (@RadioFreeAsia) December 7, 2020
In December 2020, it was reported that a blogger jailed after filming protests over a toxic spill has gone on a hunger strike over unjust treatment in Vietnam's An Diem prison, alongside two other political prisoners.
Nguyen Van Hoa, 25, a blogger and contributor to Radio Free Asia (RFA) Vietnam Service, was protesting prison conditions with human rights defender Nguyen Bac Truyen and blogger and activist Pham Van Diep. In a call to his home, Truyen said he began his hunger strike in November 2020 and would continue until prison conditions and treatment improved, his wife, Bui Thi Kim Phuong, told VOA Vietnamese.
He said the reasons for the hunger strike were unjust treatment by the prison officials including the lack of access to medical care and confiscation of letters from prisoners to their families without explanation.
According to the 88 Project, they ended the hunger strike after eight days after their demands were approved by the prison administration, though it is unclear exactly what those demands were.
In a separate case, imprisoned blogger Tran Huynh Duy Thuc went on a hunger strike on 23rd November 2020. According to the 88 Project, Thuc's family reported that they were able to visit him in prison. He told them he had been on a hunger strike for seven days, that he had lost 3.5kg, his blood pressure had been dropping and he was feeling very weak and tired. On 14th January, he was hospitalised after reaching the 50-day mark of his hunger strike.
Thuc has been trying to get the High Court to review his request to have his sentence reduced based on changes in the 2015 Criminal Code. Thuc was charged with "preparing to commit a crime," which in the new Criminal Code only carries a maximum sentence of five years, not 16. He went on a hunger strike in October 2020 to request a review, but to no avail.
Civil society groups have documented the torture and ill-treatment of human rights defenders while locked up in Vietnam's secretive network of prisons and detention centres. This includes prolonged periods of incommunicado detention and solitary confinement; the infliction of severe physical pain and suffering; and the withholding of medical treatment. Further, some human rights defenders face prison transfers without advance warning to them or their families, a deliberate practice that aims to further isolate them hundreds of kilometres from their homes and support networks.
Activist tortured at Xuan Loc prison
On 23rd March 2021, Amnesty International reported that activists Nguyen Van Duc Do, who is currently serving an 11-year sentence at Xuan Loc prison in Dong Nai, was facing torture and other ill-treatment.
According to the human rights group he has been kept in solitary confinement since May 2020, after he complained to authorities of the harsh living conditions in the prison. At the time of his initial placement in solitary confinement, prison authorities chained both his legs for 10 consecutive days. During this period, prison guards are reported to have fed him food mixed with human excrement and dirty water, which made him sick with food poisoning. He is also understood to have suffered injuries to his legs, which were cut and became swollen and infected from the shackles.
Nguyen Van Duc Do was arrested on 6th November 2016 for his alleged membership of the "Coalition of Self-Determination for Vietnamese People" after he allegedly participated in protests following the Formosa environmental disaster. He was charged under Article 79 of the 1999 Penal Code for "carrying out activities aimed at overthrowing the people's administration". On 5th October 2018, the People's Court of Ho Chi Minh City convicted him.
Activists targeted by hacking group
On 24th February 2021, Amnesty International released a report that Ocean Lotus, a group with ties to the Vietnamese government, has been involved in hacking attacks targeting activists and an NGO. The suspected attacks took place between 2018 and November 2020. They targeted two prominent Vietnamese human rights defenders, one of whom lives in Germany, and a Vietnamese NGO based in the Philippines.
According to the cyber security company Volexity, Ocean Lotus was identified as a Vietnam-based hacking group in 2015. The group is suspected of staging sophisticated, widespread digital surveillance and attack campaigns since 2013.
Blogger and pro-democracy activist Bui Thanh Hieu was targeted with spyware at least four times between February 2018 and December 2019, the report revealed. He left Vietnam and has lived in Germany since 2013. It said another blogger based in Vietnam, who was not named due to fears for their safety, was targeted three times last year. Further, a Philippines-based nongovernmental organisation, the Vietnamese Overseas Initiative for Conscience Empowerment, or VOICE, was targeted by hackers in April 2020, the report said.
Amnesty International said that these latest attacks by Ocean Lotus highlight the repression faced by Vietnamese activists at home and abroad for standing up for human rights. The hacking group has been repeatedly identified by cyber security firms as targeting Vietnamese political dissidents, foreign governments and companies.