Russia: Thousands arrested, fined, charged in nationwide pro-opposition protests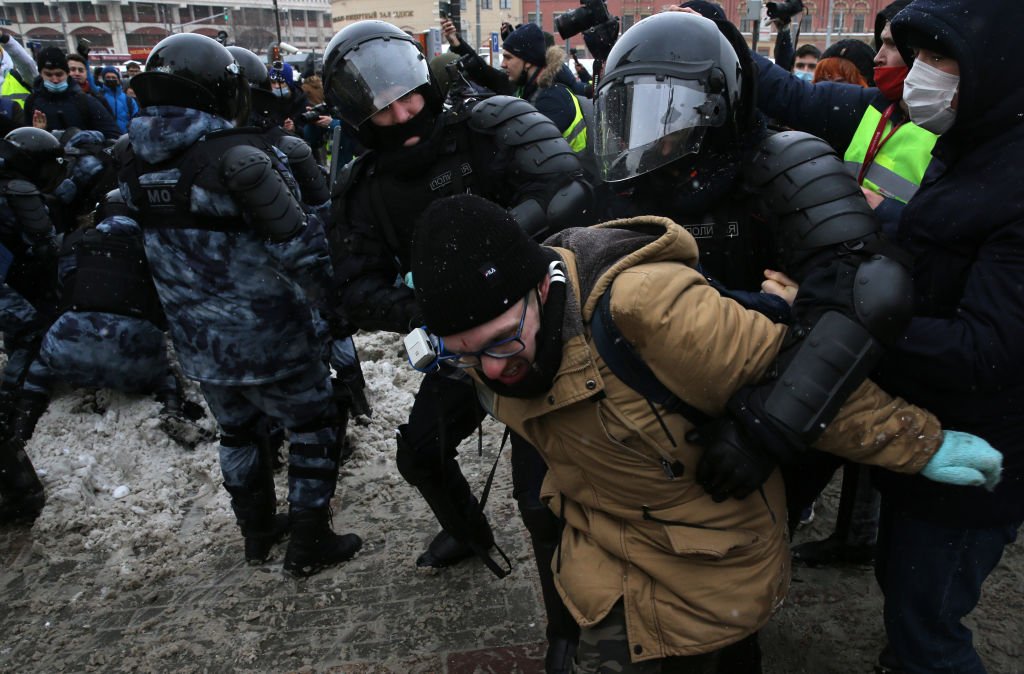 Navalny. Protests. January 23rd.
A picture is worth a thousand words.
Protesters across Russia demand release of Alexey Navalny (Photo by reuters)#NavalnyProtests #Russia #Russland #Navalny #SaintPetersbourg #RussiaProtests pic.twitter.com/2EJICQoAhF

— INFO-LIVE (@infolivecom) January 23, 2021
Peaceful Assembly
Thousands arrested, fined, charged in protests supporting Alexey Navalny
On 17th January 2021, the leader of the Russian opposition, Alexei Navalny, returned to Moscow after spending several months in a hospital in Germany, where he was flown for treatment after he was poisoned in August 2020. Immediately upon arrival Navalny was detained at the airport by law enforcement, while several of his supporters were detained for a short time or were prevented from reaching the airport. Later, his supporters, including colleagues from the Anti-Corruption Foundation, announced solidarity protests.
On 23rd January 2021, solidarity protests took place in over 110 localities in the country, with over 5,000 people being arrested in the days that followed. In the following week, on 31st January 2021, new protests took place in several large cities in the country. Several incidents were reported, including in St. Petersburg, where a policeman took the service weapon from his holster and threatened the protesters, while in a different case a woman was hit by a law enforcement officer and was taken to hospital in a serious condition. Journalists also reported that police and law enforcement used force against protesters.
Over 5,000 people were detained on that day alone, and more than 40 criminal cases were initiated against the protesters. About 50 journalists were also temporarily detained (for a few hours or a few days). Media reports also indicated that the number of those detained exceeded the capacity of the police stations.
In response to the protests, the press secretary for the President, Dmitry Peskov, announced that the protesters must bear the most severe consequences of the law, alleging that many provocateurs and hooligans were observed during the 31st January protests.
BREAKING: A court in Russia sentenced opposition leader Alexey Navalny to prison.

The Putin critic was arrested after recovering from a poisoning he blames on the Kremlin. Police have arrested 6,000+ people protesting for his release since Sunday. pic.twitter.com/6OttlK15r4

— AJ+ (@ajplus) February 2, 2021
On 2nd February2021, a court hearing was held for Alexei Navalny, in the so-called "Yves Rocher" case, where he and his brother, Oleg Navalny, are accused of fraud. The hearing was to determine the Federal Penitentiary Service's (FSIN) request to replace Alexey Navalny's suspended sentence with a custodial one after his alleged violation of the conditions of the probationary period, by not returning from Germany after rehabilitation. Later that evening, Navalny was sentenced to three and a half years in prison, although he will spend two years and eight months, taking into account his house arrest.
Immediately after the sentence was issued, Navalny's supporters gathered in Moscow and St. Petersburg where at least 1,114 people were detained. Security agents also used force against peaceful protesters, including beatings and electrocution. Many were denied the right to a phone call, water, food and medicine, and lawyers found it very difficult to reach their clients as the police used COVID-19 restrictions as an excuse to deny them access. On 3rd February 2021, Novaya Gazeta reported that several detained people were fined or kept in the cold, on buses, and brutalised by law enforcement for several days due to lack of space in temporary detention centres. Some of the detainees were taken to places of detention near Moscow due to overcrowding, and others recalled how they were tortured.
Following Navalny's sentencing, several Western leaders announced that they would impose personal sanctions on several Russian officials. They called for his immediate release from prison and an end to the use of violence against peaceful protesters.
'Braving subfreezing temperatures, about 150 people attended the December 5 march through the city center.' Day 148 of the protests in Russia's Khabarovsk. Pretty amazing they are still going despite these temperatures. https://t.co/ySk9sUU3LD

— AnObserver (@WatchingEurasia) December 6, 2020
Habarovsk residents continue with sustained protests in 2020
Since 11th July 2020, local activists andresidents of Habarsovsk city gathered in front of the government building of the Khabarovsk Territory to protest against the arrest of regional governor Sergei Furgal who was detained and sent to court, accused of involvement in a homicide in the early 2000s. The solidarity protests spread to other localities in the country.
OVD-Info reported that several people who published video, audio or written materials about the protests in Khabarovsk were sanctioned by law enforcement. Among them were bloggers, journalists or activists and ordinary citizens who were participating in the protests. Cases of violence by security agents against peaceful protesters were reported on some days. On 12th October 2020, riot police used force against peaceful protesters after they set up tents in the central square next to the administration building. The security forces beat people with rubber sticks and used electric shockers on them. Several demonstrators required medical attention, and about thirty people were detained. OVD-Info also reported that several protesters were fined. On the last weekend of the year, several dozen people came out to protest again. The Russian edition of Forbes reported that for the entire duration of the protests in the Khabarovsk Territory, 322 fines worth more than 3.5 million rubles ($47,000) were issued, while 95 decisions on administrative arrests and 41 decisions on compulsory work were made
New law bans foreign financing of demonstrations and rallies
On 30thDecember 2020, a law banning the funding of rallies and demonstrations anonymously or from abroad by foreign agents was published after it was signed by President Vladimir Putin. The law introduces constraints to the holding of public events by foreign states, organisations, citizens and stateless persons, NGOs included in the register of foreign agents, Russians citizens under 16 years old, anonymous donors and legal entities. Also, unregistered public associations, natural persons-foreign agents will not be able to finance mass actions. In addition, the law obliges the organisers of protests to report on the expenditure of funds collected for the rally if the number of participants exceeds 500 people.
Last month in #Russia, there were "at least 50 incidents of journalists obstructed in the field... Several journalists were detained in 17 major cities throughout Russia while reporting on the recent protests."

Read @CFWIJ's full January 2021 report 👉 https://t.co/dkziKaWa6b https://t.co/erwWxdAYUG

— Human Rights House Foundation (@HRHFoundation) February 4, 2021
Expression
Dozens of journalists arrested while covering protests
At the rallies on 23rd January 2021, fifty two journalists were arrested, six others experienced cases of violence, while others were sentenced to detention from two to ten days.
During the protest in Moscow, on 2ndFebruary,journalists from The Bell and Vostochnye Stories were detained in the evening despite showing press cards and editorial assignments. Separately, a correspondent of "Our North" was interrogated for more than an hour in the Ostankino district department about work, wages and political views, while Journalist, Fyodor Khudokormov, was attacked by a riot police officer while hosting a live broadcast, filming how the security forces beat people, even though he showed his press card.
Reporters Without Borders also documented several cases of violence against media representatives or restriction of journalists' activities during protests. In a public statement they called on the Russian authorities to stop the persecution of the media and also demanded the sanctioning of those guilty of applying force against journalists.
YouTube and Facebook risk fines for refusing to delete prohibited information
On 18th December 2020, the State Duma Committee on Legislation approved amendments to the draft law on fines for providers and owners of Internet resources, in case they fail to restrict access to prohibited content and refuse to delete it by order of the Federal Service for Supervision of Communications, Information Technology and Mass Media (Roskomnadzor). Interfax reported that if a provider repeatedly violates the requirement, they will be liable to an administrative fine of between 100 - 200 thousand rubles ($1 – 3) for citizens; and 500 - 800 thousand rubles ($7-11) for officials. Senators also approved a law on retaliatory sanctions for censoring Russian media on foreign Internet platforms with claims that a large number of Internet resources registered outside the Russian Federation: YouTube, Twitter and Facebook were violating legal standards.
Russian Journalist Irina slavina set herself on #Fire on Friday in front of Russia's local branch of its interior Ministry in Nizhny Novgorod after a search on her apartment by Russia's police
Irina slavina quoted "I ask you to blame Russian Federation for my death". pic.twitter.com/wVa0ovBWYM

— LA 7 HOLA Olushola (@TrulyLA7) October 3, 2020
Russian journalist burns herself in protest against Russian authorities
On 2nd October 2020, Irina Slavina, a journalist from the Russian city of Nizhny Novgorod, committed suicide by burning herself in front of the headquarters of the local office of the Ministry of Internal Affairs in protest against the intimidation she had been subjected to in recent years. In her farewell message published on a social network, Slavina wrote that the Russian Federation must be held responsible for her death. Slavina was the editor-in-chief of the independent publication KozaPress.
The day before, her home was searched and all her equipment confiscated in a case related to the running of an "undesirable organisation", which was initiated against the Nizhny Novgorod businessman and Pastafarian Mikhail Iosilevich.
Over the past two years, Slavina has been fined a total of 155.000 RUR ($ 2,081) for news, Facebook posts and taking part in actions in memory of Nemtsov. Her colleagues considered her death a civil act designed to draw attention to the situation of freedom of speech in Russia.
Association
The Ministry of Justice updated the register of foreign agents
The Ministry of Justice updated the register of media outlets playing the role of foreign agents after the Federation Council approved on 25th December 2020, the law on natural persons-foreign agents. As reported by Fontanka.ru, the law requires the media to indicate in their materials whether a particular person or organisation is a foreign agent. It also provides for up to five years' imprisonment for individuals and foreign agents who are accused of collecting data related to national security issues. Citizens, media workers and members of unregistered political associations will also face criminal liability if they violate the requirements of the law on the activities of foreign agents. Five people were added to the register three days after the law was passed. Among them were Russian and Soviet human rights activist and leader of the Movement for Human Rights Lev Ponomarev, journalist Denis Kamalyagin, his colleagues from Radio Liberty (on the list of foreign agents since 2017) Lyudmila Savitskaya and Sergei Markelov, as well as activist Daria Apakhonchich.
Public Chamber presents report on civil society
At the final press conference on 23rd December 2020, the Public Chamber of the Russian Federation presented the results of activities for 2020 that influenced the development of Russian civil society. The Public Chamber identified the six most significant topics for civil society for 2020: public discussion and adoption of amendments to the Constitution of the Russian Federation, the Year of Memory and Glory, the All-Russian action of mutual assistance "We are Together", children as a national priority, unprecedented measures to support socially-oriented NGOs, and adjustment of national projects by the Government of Russia in dialogue with civil society.
EPDE publishes report on the effect of new laws on future elections
On 18th November 2020 the European Platform for Democratic Election (EPDE) posted an analysis of new legal initiatives that will affect future elections. According to EPDE, Russia proposed a set of amendments which expand the definition and application of the concept of 'foreign agents' in the Russian Federation, and which are intended to discredit specific prospective candidates. According to the new amendments, anyone who in the previous two years has worked for a 'foreign agent' organisation or who has received funding or other resources from an organisation or person registered as a 'foreign agent' has to mention it on the lists used for collecting signatures. In addition, a warning label stating their 'foreign agent' status has to be printed on all their campaign materials, covering at least fifteen percent of the material's surface. The designation is also printed on ballots next to the name of the candidate. Meanwhile, the amendments also expand the range of citizens who can be labeled as a 'foreign agent' to include anyone who carries out 'political activity' with the help of funding, material resources or 'organisational-methodical assistance' from a foreign actor.
Civic Space Developments
Tags
harassment,
funding restriction,
bureaucratic restriction,
protest disruption,
HRD detained,
public vilification,
intimidation,
torture/ill-treatment,
excessive force,
censorship,
attack on journalist,
negative court ruling,
protest,
internet restriction,
political interference,
restrictive law,
journalist detained,
protestor(s) detained,
HRD prosecuted,
Back to civic space developments