Indigenous groups' rights violated in loss of land and livelihood to oil spill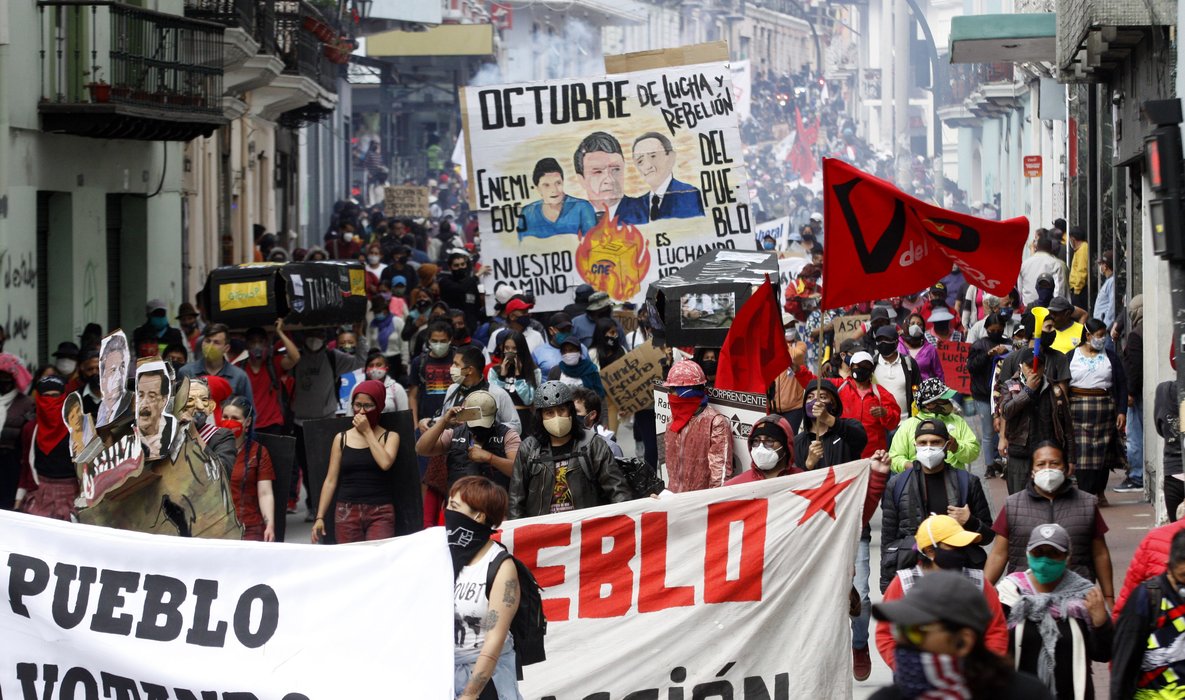 Association
Unjustified detention of Kichwa people
🔴#SOSDerrameAmazonía

Indígenas de Amazonía denuncian acoso al presentar queja por derrame de crudo, @EFEnoticias entrevistó a Carlos Jipa, presidente de la FCUNAE sobre el tema.

👉https://t.co/YchkMc7rZc

Verdad, justicia y #Reparación

— INREDH (@inredh1) October 2, 2020
On 29th September 2020, police detained a group of Indigenous Kichwa people for three hours. The group had attempted to file a complaint with the Judiciary Council regarding the effects of an April 2020 oil spill in rivers of the Amazon that had impacted the lands and communities of more than 27,000 Indigenous peoples. Federación de Comunas Unión de Nativos de la Amazonía Ecuatoriana (a federation of native communities in the Ecuadorian Amazon)  reported that police had tried to accuse the Indigenous people of carrying "lethal weapons or sharp weapons" in reference to the wooden spears that represent their culture. Indigenous lawyers intervened on their behalf and the group was released and able to file their complaint. 
The Alliance for Human Rights in Ecuador, together with the affected communities, started the lengthy process to receive compensation for the loss of land and livelihood due to the now polluted waterways. Six months into the process, the Ecuadorian authorities and oil companies had, at the time of this update, not responded to their appeals. 
Amnesty granted to 20 Indigenous leaders
In a positive development, on 31st July 2020, Ecuador's National Assembly granted amnesty to 20 Indigenous leaders from the San Pedro del Cañar region who had been accused of extortion and kidnapping. The Assembly ruled that the charges they faced could not be settled in a national court of law. Their sentences were annulled and the leaders released from prison. This decision acknowledges that national law protects Indigenous peoples' rights to make decisions based on ancestral traditions within their communities.
Peaceful Assembly
Demonstrators face police use of excessive force
Respaldamos la lucha de más de 3000 médicos postgradistas en la exigencia de sus derechos y por un trabajo digno, repudio total al gobierno de @Lenin por reprimir a quienes salvan vidas en la pandemia. Las medidas neoliberales se radicalizan contra el pueblo. @postgradistasEC pic.twitter.com/WzZ1WARul7

— CONAIE (@CONAIE_Ecuador) September 15, 2020
On 15th September 2020, Ecuadorian doctors went on strike, marching through the centre of Quito to demand the state's compliance with the Ley de Apoyo Humanitario (Law of Humanitarian Support), which was enacted in June 2020. The law secures the payment of salaries and establishment of employment contracts with medical professionals. Similar marches took place in Cuenca and Guayaquil. Before arriving at Palacio de Carondelet, the seat of the Ecuadorian government, protesters in Quito faced police repression. Anti-riot police used tear gas to disperse the peaceful demonstrators.
After the demonstrations, the government announced it would sign employment contracts with doctors and issue salaries retroactively from July 2020. Police Commander Fausto Salinas apologised on his Twitter account to the president of the Association of Postgraduate Doctors, Santiago Zuñiga, "for any excesses" by police during the demonstration. 
On 16th September 2020, hundreds of people  took to the streets to protest budget cuts and layoffs in connection with policies to access a US$6.5 billion loan from the International Monetary Fund. Protesters gathered in several parts of Quito to march to the government headquarters. In Santo Domingo Square, security forces fired water cannons to disperse the crowd. Several organisations, including Frente Unitario de Trabajadores, Federación Única de Afiliados al Seguro Social Campesino, Frente en Defensa de la Educación Pública and Movimiento Indígena y Campesino de Cotopaxi, had organised the marches.
On 1st October 2020, demonstrators again marched peacefully through Quito to protest unemployment and announce October as a month of struggle and rebellion ("rebeldía y lucha").
"October lives, the fight continues"
La Conaie, junto a la Asociación de Víctimas del Paro Nacional Inocencio Tucumbi, ingresó una denuncia en la Fiscalía en contra de @Lenin.
La @CIDH en su informe sobre octubre 2019 concluyó que existió uso excesivo de la fuerza en la represión.https://t.co/oE40y7JJM9

— CONAIE (@CONAIE_Ecuador) October 14, 2020
On 12th October 2020, a year after national strikes and massive protests, the Confederación de Organizaciones Indígenas de Ecuador (Confederation of Indigenous Organisations of Ecuador), together with the Asociación de Víctimas del Paro Nacional «Inocencio Tucumbi» (Association of Victims of the National Strike), filed a lawsuit with the Attorney General's Office against the Ecuadorian State for crimes against humanity and violations of human rights during the 11 days of protests in October 2019.
After the lawsuit was filed, relatives of those injured or killed in the protests gathered in Parque El Arbolito to walk on the same streets where demonstrators had faced police repression. "October lives, the fight continues", was their slogan.
The Confederation has declared October as the 'Month of Indigenous and popular resistance' to solidify the group's "commitment to the demand for truth, justice and reparation" around the October 2019 events.
Expression
Multiple cases of threats against journalists
From July to October 2020, several incidents involving threats and other violations against journalists were documented as follows:
A report by regional press freedom coalition Voces del Sur warned that the country's improving situation for freedom of expression had lost momentum, with decline taking place again after the October 2019 protests. 194 alerts for violations against fundamental freedoms were registered in Ecuador in 2019 - representing an increase of 133 percent compared to 2018. The majority of these violations took place between October and December, during and after the national strike. These included several attacks on media offices and infrastructure. The report noted a revived the legacy of animosity towards journalists and the media, saying that the growing hostility towards the press jeopardises the modest progress on freedom of expression made during Lenin Moreno's government.