India: Government continues crackdown on civil society and harassment of journalists as it hosts the G20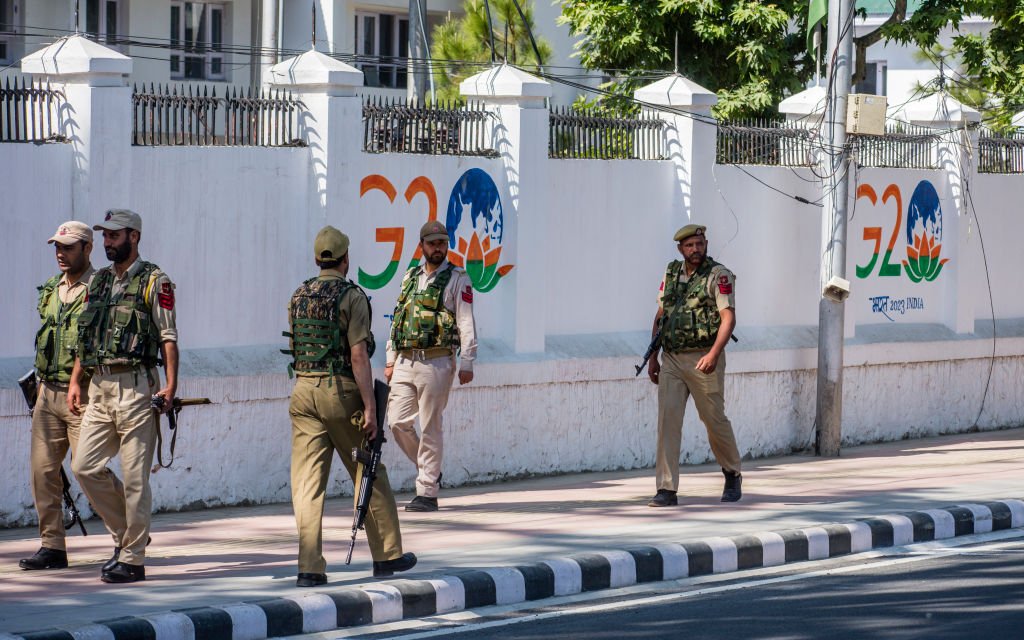 India's civic space continues to be rated as 'repressed' by the CIVICUS Monitor. In 2022, the draconian anti-terror Unlawful Activities (Prevention) Act (UAPA) and other laws continued to be misused to keep activists behind bars and new fabricated cases were brought against activists. journalists were arrested for undertaking their work. The authorities blocked access to foreign funding for NGOs using the restrictive Foreign Contribution (Regulation) Act (FCRA) and human rights defenders and journalists in Indian-administered Jammu and Kashmir continue to be targeted.
In March 2023, the UN Human Rights Council adopted the Universal Periodic Review (UPR) of India where around 30 recommendations were related to civic space. While the Indian government accepted recommendations to ensure a safe and enabling environment for civil society, it only noted recommendations to review restrictive laws including the draconian UAPA and FCRA. The government also failed to accept most of the specific recommendations aimed at improving the situation of human rights defenders and civil society as well as to decriminalise defamation. The government also only noted recommendations to review laws regulating freedom of peaceful assembly and rejected recommendations to release Kashmiri journalists and human rights defenders.
In May 2023, following concerns raised by civil society groups, for the second time in a decade the UN-recognised Global Alliance of National Human Rights Institutions (GANHRI) deferred the accreditation of the National Human Rights Commission-India (NHRC-India) citing objections like political interference in appointments, involving the police in probes into human rights violations, and poor cooperation with civil society. GANHRI also cited lack of diversity in staff and leadership and insufficient action to protect marginalised groups as reasons for the deferment of the accreditation.
Despite hosting the G20 summit which includes commitments to protect civic space, in recent months, the government has used the draconian Foreign Contribution Regulation Act (FCRA) against civil society and continued its crackdown in Kashmir and detention of human rights defenders. Journalists in India continue to be targeted by the state. Civil society groups called on the government to withdraw the latest amendment to IT rules and raised concerns about attempts to find new surveillance technology. Delhi University students have been detained around protest, while there have been calls for accountability after violent protests in Manipur.
Association
Foreign funding law used to crack down on civil society
The Indian government's crackdown on foreign funding for civil society organisations using the Foreign Contribution Regulation Act (FCRA) continues to remain a cause for concern. The FCRA, which regulates the acceptance and utilisation of foreign funds by Indian NGOs, has been amended several times in recent years. These amendments have made it more difficult for NGOs to receive foreign funding and have given the government greater powers to monitor and regulate NGOs.
One of the main reasons cited by the government for tightening the FCRA is to prevent 'foreign influence' over civil society organisations. However, critics argue that the government's real intention is to suppress dissent and limit the activities of NGOs working on issues such as human rights, the environment and social justice.
Recent developments such as the investigation of Oxfam India by the Central Bureau of Investigation (CBI) and the tightening of regulations on NGOs are indicative of a broader trend towards restricting civil society space in India.
CBI files FIR against Oxfam India for FCRA violation, conducts searches at its offices https://t.co/TQwKeAmZKR #CBI #FCRA pic.twitter.com/w3i5CparRr

— ITDC News (@ITDCindia) April 20, 2023
On 19th April 2023, the CBI registered a case against Oxfam India for violating the conditions of its foreign funding licence and attempts to pressure the central government to renew the licence by using foreign governments and institutions. The CBI's action came just days after the Union Home Ministry of India recommended a probe into the organisation.
According to the Ministry of Home Affairs (MHA) complaint, which is part of the case filed by the CBI, Oxfam India planned to circumvent the FCRA by "routing funds through means other than the legal route". It said that surveys by the Income Tax department showed that Oxfam had paid Rs 12.71 lakh (USD 15, 413) to the Centre for Policy Research (CPR) in the form of commissions to employees or associates, which is in violation of its FCRA licence which was granted for social activities. CPR's FCRA registration was suspended by the MHA on 1st March 2023.
On 6th April 2023, Oxfam India claimed that it was "fully compliant with Indian laws and has filed all its statutory compliances, including FRCA returns, in a timely manner since its inception".
This is the latest attempt to harass and intimidate the Oxfam staff. In January 2022, the government refused to renew Oxfam India's FCRA licence. The organisation has filed a plea in the Delhi High Court against the decision. In September 2022, the Income Tax Department conducted an invasive "income tax 'survey" of Oxfam India, during which staff were not allowed to leave the premises and were denied access to communication devices, with the internet shut down by the authorities. They also took all the data by cloning the Oxfam India server and the private mobile phones of the senior leadership team and the finance lead.
Both CPR and Oxfam India have been instrumental in highlighting the extreme socio-economic inequality prevalent in India. Oxfam India's latest report focused on the concentration of wealth in the hands of a few. According to the report, the top one percent of the country holds more than four times the wealth held by the 953 million people who make up the bottom 70 percent, adding that the government's policies and tax systems have facilitated this disparity and have favoured the wealthy and corporations.
David Kode, Advocacy and Campaigns Lead at CIVICUS, said: "The investigation against Oxfam India is the latest attempt to target an organisation that has worked for more than 70 years in the country to end discrimination and create a free and just society. Hindering it will affect thousands of people who benefit from its services. CIVICUS calls on the authorities to halt the judicial harassment against them and their staff immediately".
Crackdown in Kashmir and detention of human rights defenders
🇮🇳#India: 16 human rights groups call on authorities to stop reprisals against #humanrights defenders and organisations in Jammu & Kashmir, especially Khurram Parvez, Irfan Mehraj and the Jammu and Kashmir Coalition of Civil Society (JKCCS).
➡️https://t.co/BTXPw1dwjM pic.twitter.com/HtW9hx2BjN

— CIVICUS (@CIVICUSalliance) May 17, 2023
In March 2023, the UN Special Rapporteur on the situation of human rights defenders, Mary Lawlor, expressed concern over Kashmiri human rights defender Khurram Parvez's arrest and the wider crackdown on human rights defenders in Kashmir. Lawlor called on the Indian government to "cease the harassment and prosecution of human rights defenders" and to ensure that they can carry out their work without fear of reprisals.
On 22nd March 2023, Khurram Parvez, already detained since November 2021 on accusations of terrorism, was arrested in a second case after two days of interrogation by the National Investigation Agency, India's main counter-terrorism body. He is accused of financing terrorism under the Unlawful Activities (Prevention) Act, through his work with the Jammu and Kashmir Coalition of Civil Society (JKCCS).
Prior to Parvez's arrest, a former associate of the JKCCS, human rights defender and journalist Irfan Mehraj, was arrested in the same case on 20th March 2023 from Srinagar and immediately transferred to New Delhi. Former associates and volunteers of the JKCCS are facing coercion and intimidation from the authorities.
The UN Special Rapporteur said that the Indian government's crackdown on human rights defenders in Kashmir is part of a wider pattern of repression in the region. Since the revocation of Article 370 in August 2019, which granted Jammu and Kashmir a special status within the Indian constitution, the government has clamped down on dissent and restricted civil liberties in the region. Human rights organisations have documented a range of human rights abuses, including the use of excessive force by security forces, arbitrary detention, and the suppression of free speech.
In May 2023, these concerns were also echoed by sixteen human rights organisations that called on the Indian authorities to immediately stop the reprisals against human rights defenders and organisations in Jammu and Kashmir, especially Khurram Parvez, Irfan Mehraj and the Jammu and Kashmir Coalition of Civil Society (JKCCS).
On 15th May 2023, the UN Special Rapporteur on Minority Issues, Fernand de Varennes, said that the government was seeking to "normalise what some have described as a military occupation by instrumentalising a meeting" of the G20 tourism working group in Srinagar.
"The G20 is unwittingly providing a veneer of support to a facade of normalcy at a time when massive human rights violations, illegal and arbitrary arrests, political persecutions, restrictions and even suppression of free media and human rights defenders continue to escalate," the Special Rapporteur on Minority Issues noted.
Expression
Journalists in India are facing increasing threats and attacks, with many being arrested, harassed and subjected to violence for carrying out their work. This trend is a cause for concern and raises serious questions about the state of press freedom in the world's largest democracy.
Targeting of journalists
On 26th February 2023, the Committee to Protect Journalists reported that two masked men shot journalist Devendra Khare, a reporter for the privately owned Hindi-language broadcaster News1India, at his office in the Chandpur Balu Mandi area of the city of Jaunpur. He was injured in his stomach and right hand and was hospitalised. Khare told CPJ that he believed the attack was in retaliation for his reporting on an alleged assault by the brother of a local political leader.
Journalist Rabin Das, from the state of Odisha, was arrested on 7th March 2023, while he was out buying medicines. The police paraded Das through the marketplace for almost an hour after his arrest and questioned him in public on whether he was in possession of illegal drugs. The police officer in charge also made a video of the parade before taking the journalist to the police station. His arrest came just days after the journalist had reported on corruption in a government programme in the state, following which two local leaders filed complaints against him for not returning money that he had borrowed from them.
In UP's Sambhal, Sanjay Rana, a reporter with a Youtube channel confronted UP govt MoS Gulab Devi with promises of development as against reality at a function on March 11. An FIR was registered and Rana was arrested based on the complaint of genel sec of BJYM. pic.twitter.com/IwkphNjX8T

— Piyush Rai (@Benarasiyaa) March 13, 2023
On 11th March 2023, Sanjay Rana, 19-year-old reporter for the privately owned newspaper Moradabad Ujala from the state of Uttar Pradesh was arrested after he questioned a local minister from the ruling Bharatiya Janata Party (BJP) about unfulfilled promises made by the government. In the video, which went viral on social media, Rana can be seen asking the BJP state minister for secondary education, Gulab Devi, why she hadn't returned to the constituency since her election victory. He also asks the state minister about why the Uttar Pradesh government has still not constructed new toilets and paved new roads. A day later, he was arrested and spent 30 hours in a police lock-up before he was freed on bail.
On 18th March 2023, Jaspal Singh, a Haryana-based TV journalist who reports part-time for the local broadcaster News18 Haryana, was arrested on the complaint of the son of an official of the ruling party BJP, Lakshman Napa. He accused Singh of publishing fake news and defaming his father's 'political image' through false posts on two WhatsApp groups claiming the lawmaker was involved in illegal gambling activities and questioning why police had not apprehended him. The first information report says that Singh is under investigation for extortion, defamation, transmitting obscene material in electronic form and attempting to promote feelings of enmity, hatred, or ill-will against members of scheduled castes or tribes. Each offence can carry a punishment of two to five years' imprisonment and an undisclosed fine. Singh's arrest has sparked widespread condemnation from the journalists' unions and civil society groups, who accused the government of suppressing dissent and stifling free speech.
🇮🇳#India #WestBengal: Freelance journalist and @masum_india member Arkadeep Goswami faces intimidation & threats

He also faces 2 criminal investigations as reprisals for his human rights work

We call for the end of all acts of harassment against him.

➡️https://t.co/1ylOJylUNf pic.twitter.com/ayPV8VHGIM

— The Observatory (@OBS_defenders) April 27, 2023
In April 2023, the Observatory for the Protection of Human Rights Defenders reported acts of intimidation and harassment against Arkadeep Goswami, a freelance journalist and research associate at MASUM, a human rights organisation based in Kolkata. On 18th April 2023, two individuals arrived at Goswami's house in Kolkata, where he lives with his parents, told them they were friends with Goswami, and requested to see him. As he was not at home, the two individuals asked his mother to call Goswami.
During the call, they refused to reveal their identity and addresses, and repeatedly questioned Goswami about his whereabouts and when he was planning to return home. Following Goswami's refusal to share any information with them, they threatened him. After that, one of the individuals told Goswami they had met in 2022 in Barikul Police Station, Bankura district, West Bengal state, where Goswami had been arbitrarily detained for over 45 days.
Arrest of journalist and human rights defender in Kashmir
As #India holds a #G20 meeting on tourism in Kashmir, #pressfreedom remains under attack in the region.

CPJ calls on the Indian government to end its brutal crackdown on the media and immediately release the four arbitrarily detained Kashmiri journalists.#FreeThePress pic.twitter.com/zKo4rwz6iK

— CPJ Asia (@CPJAsia) May 22, 2023
On 20th March 2023, Srinagar-based freelance journalist and human rights defender Irfan Mehraj was arrested by the National Investigation Agency of India in connection with an ongoing probe into Kashmir-based NGOs that are facing accusations of sponsoring terror activities in the state. Mehraj was asked by a team of the central anti-terror agency to appear at its Church Lane office for five minutes before being arrested.
Mehraj was charged under several sections of the Indian Penal Code and the Unlawful Activities (Prevention) Act (UAPA). These include "criminal conspiracy", "inciting disaffection towards the government" (Sections 120-B and 124-A of the Penal Code, respectively), and "raising funds for [a] terrorist act", "conspiracy to commit a terrorist act", "offence relating to membership of a terrorist organisation", "supporting a terrorist organisation", "raising funds for a terrorist organisation" and "offences committed by registered companies, societies or trusts" (Sections 17, 18, 38, 39, 40, 22-A and 22-C of the UAPA, respectively).
Mehraj has produced reporting critical of the impact of Indian government policies in Kashmir, including reports on extrajudicial killings. He was transferred to New Delhi by plane on 21st March 2023, after a remand transfer hearing before a magistrate in Srinagar which was held in the absence of his lawyer. Mehraj is now the fourth journalist currently in jail in Kashmir, along with Fahad Shah, the editor of the Kashmir Walla digital magazine and Sajad Gul and Aasif Sultan.
Activist arrested for tweet
Chetan Kumar: Indian actor arrested for tweet on Karnataka hijab row judge https://t.co/iVHMAZ4vqr

— BBC News India (@BBCIndia) February 23, 2022
On 22nd March 2023, activist and actor Chetan Kumar was arrested in connected with a tweet in which he had said that the Hindutuva ideology promoted by Hindu nationalists "was built on lies". The arrest was made based on a police complaint from a member of a Hindu hard-line group in Bangalore. Kumar has been charged with malicious intent to outrage religious sentiments and creating or promoting enmity. A local court has sent the actor to judicial custody for two weeks.
This is the second time that Kumar has been arrested for a tweet. In February 2022, he was arrested for tweeting against a judge who was hearing pleas against a ban on Muslim girls wearing hijabs in schools. His colleagues and supporters say that the actor is often targeted for his remarks on caste and religion.
Civil society groups call for government to withdraw latest amendment to IT rules
Ahead of World Press Freedom Day on 3rd May 2023, press freedom and human rights organisations called on the Indian government to review and withdraw the overbroad provisions of the Information Technology Rules, 2021, and to withdraw the latest amendment to the rules, announced on 6th April.
The amendment authorises the formulation of a central government fact-check unit empowered to order intermediaries, including social media companies and internet service providers, to take down "fake or false or misleading content." Intermediaries risk liability in court if they fail to remove such content.
The statement expressed concern that the amendment, which was announced without adequate and meaningful consultation with journalists, press bodies and civil society organisations, severely threatens press freedom and empowers the government to be the sole arbiter of truth on the internet.
Government pursues new surveillance technology
In March 2023, it was reported that India was searching for alternative spyware technology to replace the NSO Group's Pegasus surveillance software. According to the report, sources from the defence and intelligence department said that the Narendra Modi government is looking for alternative spyware "less exposed to NSO's competitors". It is ready to spend up to USD 2 million over the next few years.
Donncha Ó Cearbhaill, Head of the Security Lab, Amnesty International said: "It is chilling that instead of respecting human rights and ensuring accountability for those targeted by Pegasus, that the Indian government is instead looking for alternative spyware to further its surveillance capabilities."
In 2021, following revelations by Amnesty International about the Pegasus spyware produced by the Israeli company NSO, the Supreme Court of India set up a technical committee to investigate abuses involving the software. In 2022, the committee concluded their investigation, but the court has not made the findings of the report public. The court further noted that the Indian authorities "did not cooperate" with the technical committee's investigations.
Peaceful Assembly
Delhi University students detained around protest
Police entered Delhi University's Arts Faculty and detained 11 students protesting against the debarment of two students over the screening of the controversial BBC documentary #DelhiUniversity #DU #BBCDocumentary @DU_Teacher @AllDUNews https://t.co/qNRoxu6NbN pic.twitter.com/DDv6pmD4EE

— Vishu Adhana (@vishuadhana08) March 24, 2023
On 25th March 2023, around 11 Delhi University students were detained by the Delhi police for protesting against the debarment of two students for attempting to screen the BBC documentary on the Prime Minister.
On 10th March, the university barred two students, including a Congress students' wing leader, for a year for allegedly participating in a screening of a BBC documentary titled 'The Modi Question'. The screening was organised on 27th January. Those detained were released hours later, police officers said.
As previously documented, the two-part British Broadcasting Corporation (BBC) documentary aired first in January 2023 is critical of Modi and his role and passivity during the 2002 Gujarat riots — one of the worst outbreaks of communal violence in India's recent history — that took place while he was the Chief Minister of the Indian state of Gujarat. The Indian authorities blocked the documentary from being broadcast in India, sought to block public screenings as well as raided the offices of the outlet in the country.
Arrest of wrestling protesters around allegations of sexual harassment
#FPVideo: International amateur #wrestling governing body, #UWW, has condemned the arrest & temporary detention of some leading #Indian wrestlers during a protest march & threatened that it might suspend the #WFI if its pending elections are not held within the stipulated time pic.twitter.com/TGoqjyahga

— Firstpost (@firstpost) May 31, 2023
On 28th May 2023, several top Indian wrestlers, including Olympic medallists Sakshi Malik and Bajrang Punia were charged with rioting and disorder by police in New Delhi after their arrests during a march to the new parliament building following its inauguration by Prime Minister Narendra Modi.
The wrestlers and their supporters were arrested after scuffles broke out in front of parliament as they intensified their protests demanding the arrest of their federation chief over sexual harassment allegations.
Police released some of the protesters but filed first information reports (FIR), or formal complaints, against others under multiple articles of the Indian Penal Code, ranging from rioting to "causing an obstruction in the duty of a public servant with the use of assault and criminal force".
The wrestlers have been protesting in the capital for more than a month over the lack of action against Brijbhushan Sharan Singh, a member of parliament belonging to Modi's ruling BJP.
The International Olympic Committee (IOC) condemned the way India's top wrestlers are being treated during their ongoing protest. It has also demanded an investigation into allegations that Singh sexually harassed female athletes.
Calls for accountability after violent protests in Manipur
On 30th May 2023, Human Rights Watch called on the Indian authorities to immediately and impartially investigate ongoing killings by ethnic groups and security forces in northeastern Manipur state.
Violent clashes, largely between the ethnic Meitei and Kuki communities, left at least 70 people dead and 35,000 displaced, and destroyed over 1,700 houses, according to media reports. The Manipur government ordered an extension of restrictions on internet services, in place since 3rd May.
The violence in Manipur erupted on 3rd May 2023, after thousands of people from tribal groups protested plans to give the majority Meitei community protected status as a Scheduled Tribe, asserting that the community already enjoys advantages in the state. The classification, a form of affirmative action to correct historical and structural inequity and discrimination, provides quotas in government jobs and college admissions.
The protest, which included Kukis, one of the larger tribal communities in Manipur, who live primarily in hill areas, turned violent with clashes between various ethnic and religious groups. Some looted weapons and ammunition from police stations, which made the clashes even more deadly.
Tensions had been simmering for several months between the Kuki community, which is predominantly Christian, and the Bharatiya Janata Party (BJP)-run state government. The BJP promotes Hindu majoritarianism and most Meiteis are Hindu. Local activists accused groups affiliated with the government of targeting Kuki properties, businesses and churches.
Over 200 churches were burned or destroyed in the violence between 3rd and 15th May 2023. Kuki community members have accused the police of siding with the Meitei community, alleging they did not protect them, and at times even joined the mobs. The Manipur police has denied any bias.
Civic Space Developments
Tags
funding restriction,
women,
protest disruption,
minority groups,
intimidation,
harassment,
surveillance,
HRD detained,
attack on journalist,
negative court ruling,
excessive force,
internet restriction,
killing of journalist,
torture/ill-treatment,
restrictive law,
journalist detained,
protestor(s) detained,
HRD prosecuted,
Back to civic space developments