Amid UN scrutiny, documentary on Modi censored, activists remain in detention and repression in Kashmir continues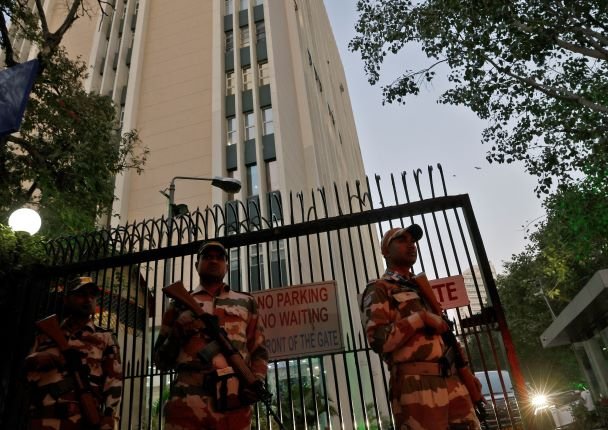 India's civic space continues to be rated as 'repressed' by the CIVICUS Monitor. In 2022, the draconian anti-terror Unlawful Activities (Prevention) Act (UAPA) and other laws continued to be misused to keep activists behind bars and new fabricated cases were brought against activists. journalists were arrested for undertaking their work. The authorities also barred activists and journalists from international travel. The authorities blocked access to foreign funding for NGOs using the restrictive Foreign Contribution (Regulation) Act and raided the offices of human rights groups for allegedly violating the law. Human rights defenders and journalists in Indian-administered Jammu and Kashmir continue to be targeted.
As previously documented, India's human rights record was reviewed on 10th November 2022 at the Human Rights Council. In its report submitted to the UN ahead of its review, the Indian government claimed it is "firmly committed to the promotion and protection of human rights." However, in the past UPR cycles, India has ignored important recommendations, including to address increasing violence against religious minorities, ensure accountability of its security forces and to protect freedom of expression and peaceful assembly. On 18th November, six international human rights organisations called on India to promptly adopt and act on the recommendations of UN member states.
In recent months, the Indian authorities have blocked a BBC documentary on Modi, sought to block public screenings as well as raided the offices of the outlet in the country. Internet shutdowns persisted in Indian-administered Kashmir in 2022. Human rights defenders remained in detention including Kashmir-based rights activist Khurram Parvez and the Bhima Koraegon activists. Activists were abducted and assaulted by police for protesting against an infrastructure project. In a positive move, the courts discharged student protests leaders who were targeted by the police and released journalists who had spent long periods in detention on baseless charges.
Expression
Since the nationalist conservative Bharatiya Janata Party led by Prime Minister Narendra Modi came to power in 2014, there has been an alarming deterioration of press freedom in the country. Over the past nine years, the Modi government and BJP supporters have attempted to silence independent media through attacks and repressive laws, often targeting the Muslim minority. According to an IPI report published last year, the majority of press freedom violations (from April 2022 to September 2022) were related to online censorship and internet and communications shutdowns.
BBC documentary on Modi blocked with emergency law
The latest in the attack on free expression is the Modi government's enactment of an emergency law to ban a two-part British Broadcasting Corporation (BBC) documentary which is critical of Modi and his role and passivity during the 2002 Gujarat riots — one of the worst outbreaks of communal violence in India's recent history — that took place while he was the Chief Minister of the Indian state of Gujarat.
Aired first on 17th January 2023, the documentary charts Modi's rise to power and highlights an unpublished report from the UK Foreign Office that claims that Modi was "directly responsible" for the "climate of impunity" that enabled the violence. The report further adds that the riots had "all the hallmarks of an ethnic cleansing."
Modi's supporters have called the documentary "vile propaganda" and several Indian Ministries have backed the government's decision to ban it. The Ministry of External Affairs even said that the documentary pushed a discredited narrative and casts "aspersions on the authority and credibility" of the Indian Supreme Court — which cleared Modi in June 2022.
Media groups have condemned the Indian government for abusing its emergency powers under the 2021 IT Rules by blocking the documentary from being accessed or shared online in India. The International Press Institute (IPI) expressed its "alarm" regarding the invoking of emergency laws to block the documentary, saying that the country's 2021 IT Rules allow the government "expansive and unchecked powers" to control and censor online content and news outlets.
India's ranking in the World Press Freedom Index has continued to decline in recent years. In the 2022 index, India ranked 142nd out of 180 countries, a significant drop from its precious ranking of 140th.
Efforts by authorities to block screenings of documentary
Delhi | Security strengthened outside Jamia Millia Islamia University after a group of students planned to screen the BBC documentary on PM Modi. pic.twitter.com/9LB5XVivxe

— ANI (@ANI) January 25, 2023
On 25th January 2023, tensions flared as police detained about a dozen students at Jamia Millia Islamia University in Delhi, ahead of a planned screening of the BBC documentary. Scores of police officials wearing riot gear were deployed in front of the university. On the same day, students of Jawaharlal Nehru University (JNU) - another prominent university in Delhi - accused the police of cutting off power and internet access to stop the screening of the documentary on campus. The JNU student leaders distributed QR codes so people could stream the documentary on their phones. BBC journalists present at the scene reported that a group of 20 to 30 people threw stones at the students while they were watching the two-part series.
Two days later, on 27th January 2023, 24 people were detained from the Delhi University campus for trying to screen the documentary on campus.
However, there have been successful efforts at screening the film - opposition parties in the Indian states of Kerala and Kolkata screened the documentary in various public venues and universities with the Kerala state government, ruled by the Communist Party of India (Marxist), condemning the move by the government to remove the film from online platforms.
Since the incident, both the German foreign ministry and US State Department have spoken out on the crackdown on the documentary and the people screening it. Both countries called on India to uphold the freedom of the press, with the US State Department saying that it was high time to highlight the importance of democratic principles like freedom of expression and make a point around the world as well as in India.
Raid on BBC offices by tax officials
Income Tax officials conduct survey at #BBC offices after the release of Gujarat riots documentary

The survey operations at the broadcaster's Mumbai and Delhi offices are reportedly part of a tax evasion investigation. https://t.co/YqrwEnJuut pic.twitter.com/HZ7EPqTCW9

— Scroll.in (@scroll_in) February 14, 2023
On 14th February 2023, approximately two dozen officials from India's Income Tax Department raided the India office of the BBC located in New Delhi to start an "income tax survey" of the organisation. According to Global Voices, roughly 100 employees from the organisation who were present in the building at the time were asked to submit their phones and remain on the premises during the raid. A similar "survey" also started at the BBC office in Mumbai. The search lasted for three days and was concluded on the evening of 16th February 2023. Officials said the BBC was suspected of violating "transfer pricing rules" and "diversion of profits."
The Editors Guild of India said it was deeply concerned by the visits by the tax officers. In a statement they said they were distressed "by the continuing trend of government agencies being used to intimidate and harass news organisations that are critical of the ruling establishment."
Reporters Without Borders (RSF) denounced the government's attempts to clamp down on independent media, saying that the raids "have all the hallmarks of a reprisal for the release of a documentary critical of Prime Minister Narendra Modi three weeks ago".
Harassment of editor for report on anti-drug drive
On 4th January 2023, Manipuri newspaper editor Hemantakumar Ningombam, editor of the Sanaleibak Daily, was harassed by the Manipur police after he raised concerns over the government's anti-drug drive during a television debate. The police also illegally searched the editor's house and arbitrarily detained him for four hours for questioning whether the government's policy on dealing with drug cultivation was adequate. The Manipur government's "war on drugs" has been Chief Minister N Biren Singh's pet project in which fields of poppies have been destroyed across the state.
Journalist detained and allegedly tortured, released after 846 days in prison 
Siddique Kappan Says Police 'Tortured' Him to Admit Links to Terrorist Groups https://t.co/3Ytf1e8zLb

— nikhil wagle (@waglenikhil) February 5, 2023
On 2nd February 2023, after 28 months in custody, journalist Siddique Kappan was released on bail. Kappan, a Malayalam language journalist, was arrested in October 2020 under the Unlawful Activities Prevention Act (UAPA), an anti-terror law, while he was on his way to report about the Hathras gang rape case in Uttar Pradesh in which a Dalit woman was raped and murdered by upper caste men.
Since his release, Kappan has revealed that the police allegedly tortured or ill-treated him in an attempt to force him to admit having links to Maoist or terrorist groups, adding that he was asked absurd questions in custody, including whether he had ever visited Pakistan and if he ate beef.
As previously documented, the journalist was granted bail by the Indian Supreme Court in September 2022 but he had to remain in prison because of a money laundering case registered by the Enforcement Directorate.
According to the Committee to Protect Journalists (CPJ) on 1st December 2022, seven journalists were behind bars in India. Six out of the seven have been charged under the UAPA that is instead regularly used to stifle dissent of activists and criminalise public interest journalism.
Journalist in Srinagar released after more than a year in detention
On 3rd January 2023, a Srinagar-based journalist, who was arrested by the National Investigation Agency on terrorism charges, was released from Tihar jail after more than a year.
Mohammad Manan Dar, a resident of Batmaloo in Srinagar, who worked as a freelance photojournalist, was nabbed by the NIA along with 12 persons, including his brother Hanan Dar, in October 2021, days after a string of targeted attacks in which members of the minority community and migrant workers in Kashmir were shot by suspected militants. He was accused of working "under the cover of a photojournalist" to "share details" about security forces and their deployment in Kashmir with terrorist outfits.
In its bail order, the court ruled that the central agency's evidence against Manan was "not sufficient" to prove that he was part of the conspiracy "to undertake violent terrorist activities in the State of Jammu & Kashmir and other parts of India including Delhi after abrogation of Article 370 from the Constitution of India".
Activist facing sedition prosecution for tweets
At a time when the Supreme Court has stayed the sedition law and put a hold on filing of all new sedition cases, the @LtGovDelhi gives sanction for sedition against activist Shehla Rashid for 2019 tweets. Left hand does not know right hand? #Sedition https://t.co/LhpXRlnpJ7

— Sagarika Ghose (@sagarikaghose) January 11, 2023
In January 2023, the Delhi Lieutenant Governor gave sanction to prosecute activist Shehla Rashid in a 2019 sedition case related to her tweets about the Indian Army. On 18th August 2019, Rashid had tweeted that Indian Army personnel had tortured four men in the Shopian district of Jammu and Kashmir, placing a microphone next to them "so that the entire area could hear them scream, and be terrorised".
The allegations were part of a Twitter thread in which Rashid had recounted what she had heard from those who had travelled out of Kashmir after the Valley was placed in a lockdown in August 2019, as the Centre revoked the state's special constitutional status and split it into two Union Territories. The restrictions were later removed gradually.
The Delhi lieutenant governor's office has said her tweets about the Indian Army were aimed at "promoting enmity between different groups" and "indulging in acts prejudicial to maintenance of harmony".
This decision came despite the Supreme Court's order in May 2022 to suspend the sedition law until the Government of India re-examines the 152-year-old provision.
Internet shutdowns in Kashmir
VOA reported that residents in Indian-administered Kashmir experienced more internet shutdowns and restrictions than any other region in 2022, according to a new report. More than a fifth of all web blackouts took place in Kashmir, according to Surfshark, a virtual private network company. Surfshark told VOA that in Kashmir the internet was shut down for a total of 456 hours in 2022.
Kashmir has experienced restricted and blocked internet regularly since 2019, when Indian authorities revoked the region's special autonomous status. Data from the Home Department of Jammu and Kashmir shows 49 internet suspension orders were issued in 2022. Authorities have said the blocks were intended to prevent the spread of "misinformation and maintain public order" in the wake of security-related incidents and political unrest in Kashmir.
But local journalists and analysts have said the blocks are also used to prevent critical reporting in the region.
Journalists in Kashmir have previously told VOA that the communication blocks — along with new media policies imposed since 2019 — make it hard to cover breaking news and get access to information or official responses. They added that the outages ultimately foster an atmosphere where misinformation and rumours flourish.
Two cartoonists charged for caricatures of yoga guru
On 21st December 2022, two Dehradun-based cartoonists were charged with hurting religious sentiments (section 153A of the Penal Code) for making caricatures of yoga guru Ramdev. The cartoonists say that their post on social media platform Facebook was published with a disclaimer that the characters in the cartoon are fictitious and the fact that they have been subjected to harassment and intimidation is proof that this is an attack on freedom of the press — an attempt to warn those who make cartoons and caricatures.
Gajendra Rawat, who shared the cartoon and also has a charged filed against him, has said that he is being targeted for his work as an activist in the region, especially his role in the agitation against the Jolly Grant airport that is being expanded, leading to forced displacement.
Association
Detained Kashmiri human rights defender receives award
🏆Khurram Parvez is recognized as one of the most prominent human rights actors in #Kashmir! @TIME magazine included him in their list of the 100 most influential people of 2022.

📢#FreeKhurram @AFAD_Updates @jkccs_ @SameenaMir4 @FreeKhurram2021 pic.twitter.com/fMGwhXoAES

— Martin Ennals Award (@martinennals) January 27, 2023
In January 2023, Kashmir-based rights activist Khurram Parvez was named as one of the three recipients of the 2023 Martin Ennals Award. The award recognises "outstanding activists who pioneered human rights". Several international and national human rights organisations, including the United Nation's human rights experts, have demanded multiple times that India release him.
Parvez, the Coordinator of the Jammu Kashmir Coalition of Civil Society (JKCCS) and Chairperson of the Asian Federation Against Involuntary Disappearances (AFAD), has been a champion of human rights advocacy, documentation and investigations, including in the Jammu and Kashmir region, for over 20 years.
He was detained on 22nd November 2021 by India's counterterrorism body, the National Investigation Agency (NIA), and faces multiple trumped-up charges under the Indian Penal Code and the Unlawful Activities Prevention Act (UAPA), a draconian anti-terror law. The NIA accuses Khurram Parvez of "running a network of over ground workers of the [Pakistan-based terrorist organisation] Lashkar-e-Taiba (LeT) for furthering activities of LeT and to commit terrorist attacks in India". Indian authorities have repeatedly targeted Khurram Parvez for his human rights work in an attempt to silence him and intimidate others.
Court says detained student leaders were used as 'scapegoats' by police
'Delhi Police Roped Them As Scapegoats, Prosecution Launched In Cavalier Fashion': Court Discharges Sharjeel Imam, Others In 2019 Jamia Violence Case @nupur_0111 https://t.co/pdm8artXE3

— Live Law (@LiveLawIndia) February 4, 2023
On 4th February 2023, a Delhi court discharged student activists Sharjeel Imam, Safoora Zargar, Asif Iqbal Tanha and eight others in connection with the violence which broke out near Jamia Millia University in Delhi in December 2019.
The court in its statement said that the prosecution was unable to apprehend the "actual perpetrators" but made the accused persons "scapegoats".
The three student activists were involved in protests against the discriminatory Citizenship (Amendment) Act (CAA). All three were arrested and detained under the Unlawful Activities (Prevention) Act (UAPA) in 2020 on a range of offences including rioting and unlawful assembly and various sections of the Indian Penal Code. However, Imam will continue to remain in prison as he is also accused in the larger conspiracy case related to the 2020 Delhi riots. Tanha and Zargar are also accused in the case.
Bhima Koregaon activists still in detention
Since 2018, the Indian authorities have arrested 16 activists under the draconian UAPA in connection with the Bhima Koregaon-Elgar Parishad case. They are accused of provoking caste-based riots and of having links with the banned Communist Party of India (Maoist) and have been charged under various provisions of the Indian Penal Code and the UAPA.
One of the activists, Jesuit priest Fr. Stan Swamy, died in detention in July 2021 due to denial of timely medical treatment. Three others - Anand Teltumbde, Sudha Bhardwaj and Varavara Rao - have been granted bail, and activist Gautam Navlakha has been shifted to house arrest. Since November 2022, 11 activists continue to languish in jail without trial. 
In December 2022, a new report by United States-based digital forensics firm Arsenal Consulting Limited said that "evidence" on Stan Swamy's computer was planted by hackers. Previously, the firm also found that files were placed remotely onto detained activist Rona Wilson's hard disk, while a sinister pattern of malware attacks was carried out on lawyer and human rights defender Surendra Gadling's computer.
These activists have long worked to defend the rights of some of India's poorest and most marginalised communities, including Dalits and Adivasis – India's indigenous peoples.
Peaceful Assembly
Activists abducted and assaulted by police for protest against infrastructure project
On 24th December 2022, two activists - Rajeev Yadav and Vinod Yadav - were abducted and assaulted by six or seven plain-clothed policemen for protesting the land acquisition for the expansion of an airport in the Azamgarh district of the north-Indian state of Uttar Pradesh. They were eventually handed over to the Sadar Subdivisional Magistrate (SDM) and released after they were made to fill in a bond application.
Two days later, when activist and Ramon Magsaysay award winner Sandeep Pandey arrived at Uttar Pradesh to participate in a farmers' protest against the police action against the two activists, he too was detained by police and kept under observation for five hours. The CIVICUS Monitor reported on Pandey's detention in Gujarat ahead of a march to express solidarity with Bilkis Bano, one of the victims of the 2002 Gujarat Godhra riots.
On 26th December 2022, Pandey and the Yadav brothers led the gathering of farmers, mostly women, and staged a sit-in outside the office of the Azamgarh superintendent of police (SP) demanding that an FIR be lodged against the "abductors" and an inquiry be conducted into the entire incident.
In the months of November and December 2022, nearly 100 farmers from eight villages protested the land acquisition process for the airport expansion project. Activists say that the government has flouted all rules and regulations in the process of acquiring land for the project by not requesting the consent of the 80 percent of farmers who will be affected by the project — which is required under The Land Acquisition Act. Farmer movements on the ground say that a total of 4,000 houses will be affected by the expansion project, while the district administration claims it will be only 783 houses.