Hong Kong: Authorities continue to use national security and sedition laws to detain activists and criminalise dissent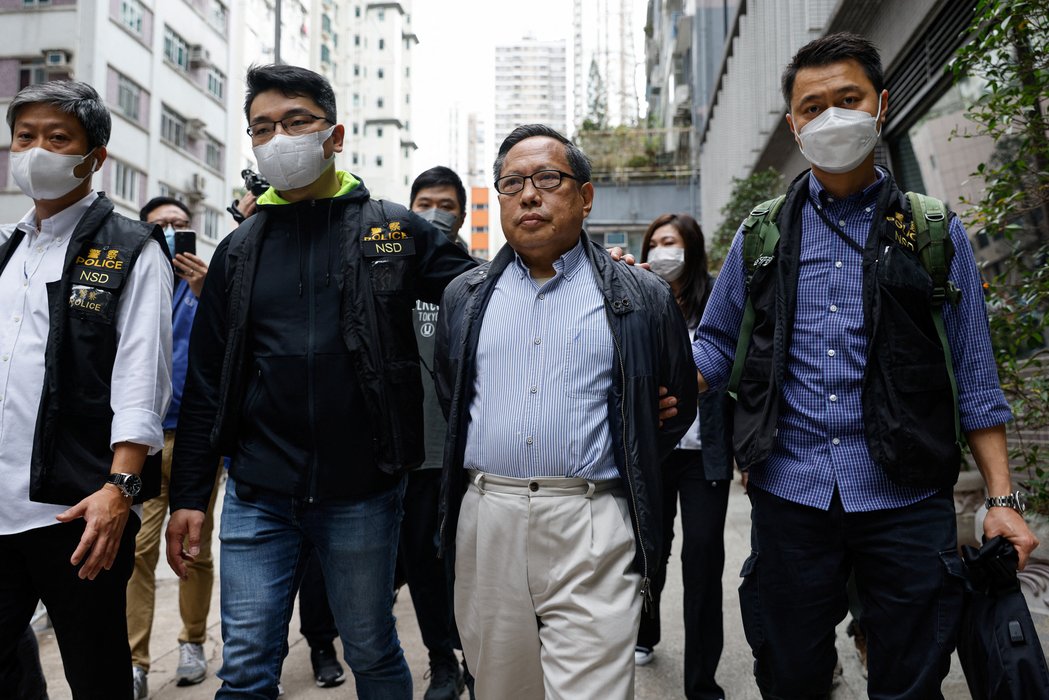 Hong Kong's civic space rating was downgraded by the CIVICUS Monitor from 'repressed' to 'closed' in March 2022. Among the reasons for the downgrade include the draconian National Security Law (NSL) which was passed in June 2020 that has been used to prosecute activists and critics with heavy penalties. There also have been concerns about the increasing use of sedition charges to silence dissent while the right to peaceful assembly has also come under attack with the authorities prosecuting and convicting peaceful protesters involved in demonstrations, The right to freedom of association has also been undermined by the introduction of the NSL, with civil society groups and unions ceasing to operate while others relocated to outside the country.
In January 2023, China appointed the head of the national security office in Hong Kong as its top representative officer in Hong Kong – a sign that Beijing will further tighten its control over the city. Zheng Yanxiong was among the Chinese and Hong Kong officials sanctioned by the United States for undermining Hong Kong's autonomy and freedoms. The office, which has broad powers to investigate major cases and supervise the Hong Kong government's implementation of the national security law, was established under the national security law.
In March 2023, the UN Committee on Economic, Social and Cultural Rights published its Concluding Observations on the third periodic report of China, including Hong Kong. The committee highlighted concerns around the 2020 National Security Law and the arrests, detention and trials without due process of civil society actors, journalists and human rights defenders.
In early May 2023, Hong Kong's leader stepped up a campaign to shut down further democratic challenges by unveiling plans to eliminate most of the directly elected seats on local district councils, the last major political representative bodies chosen by the public. Chief Executive John Lee said the proposed overhaul will reduce the proportion of directly elected seats in the municipal-level organisation to about 20 percent — from some 90 percent currently. He said the rest of the 470 seats will be filled by government appointees, rural committee chairpersons and others elected by local committees that are staffed by many pro-establishment figures.
In recent months, the authorities began the trial of 16 democracy activists that were arrested in January 2021. The authorities also detained a labour activist Elizabeth Tang, rearrested activist Albert Ho under the national security law and convicted three members of the Tiananmen vigil group. The International Women's Day march was cancelled amid police threats while a Labour Day event was also cancelled following the brief disappearance of one of its organisers. The sedition law continued to be used to criminalise activists and critics for dissent. A student was arrested for posting messages on social media from Japan, while authorities denied entry to a Japanese photographer.
Association
Landmark national security trial opens two years after arrests
Landmark Hong Kong national security trial starts two years after arrests https://t.co/epG2cpNxVo pic.twitter.com/vIwFE6nsIu

— Reuters U.S. News (@ReutersUS) February 6, 2023
On 6th February 2023, the trial of 16 Hong Kong democracy activists charged under a national security law imposed by Beijing began with tight security in a case that some observers say will be a test of the city's judicial independence.
The defendants are those who pleaded not guilty out of 47 arrested in a dawn raid in January 2021 and charged with conspiracy to commit subversion for participating in an unofficial "primary" election in July 2020 to pick opposition candidates for 2020 legislative elections, which were then postponed.
As previously documented, in January 2021, 55 people, including pro-democracy activists, opposition candidates, former lawmakers and lawyers were arrested and detained under the NSL. They were accused of 'subverting state power'. On 28th February 2021, police in Hong Kong charged 47 of the activists. The majority of defendants have been in detention for two years, as only 13 have been granted bail. 31 of the defendants have pleaded guilty.
Labour activist detained under national security law
📌The IDWF would like to report the bail of our General Secretary, Elizabeth Tang, has been extended for a third time, until May 17.

💪We will keep fighting for justice and supporting her as always. Together we are stronger!🤝

Full statement here 👉 https://t.co/mmPYSmLRl7 pic.twitter.com/UOOgQL5RI6

— IDWF (@IDWFED) April 24, 2023
On 10th March 2023, Hong Kong national security police arrested a veteran labour activist who is also the wife of an organiser of annual vigils commemorating China's 1989 crackdown on pro-democracy protesters.
Officers arrested Elizabeth Tang, the wife of Lee Cheuk-yan, outside Stanley Prison on Hong Kong Island. Police said they had arrested Tang for suspected collusion with a foreign country or with external elements to endanger national security and said she was being detained for investigation. She was detained for two days and released after being granted HK$200,000 (USD 25,477) cash bail and ordered to hand over her passport as a bail condition.
Tang is currently the general secretary of the International Domestic Workers' Federation. She was a former leader of the now-defunct Hong Kong Confederation of Trade Unions, the city's largest pro-democracy trade organisation. Before the group's disbandment it had been on a list of activist groups targeted by pro-Beijing media in the name of national security.
Tang was the target of reports by Beijing-controlled local media outlet Ta Kung Pao in September 2021, when the newspaper accused her of receiving funding from foreign organisations as a board member of labour rights advocacy group Asia Monitor Resource Centre.
Court convicts three members of Tiananmen vigil group
3 Hong Kong #Tiananmen vigil group activists jailed for 4.5 months for refusing national security data demandhttps://t.co/rRn60cQYOD #ICYMI

— William Nee (@williamnee) March 11, 2023
Three former organisers of Hong Kong's annual vigil in remembrance of victims of China's 1989 crackdown on pro-democracy protests were sentenced on 11th March 2023 to 4.5 months jail for failing to provide authorities with information on the group, in accordance with the National Security Law.
Chow Hang-tung, Tang Ngok-kwan and Tsui Hon-kwong were arrested in 2021 during a crackdown on the city's pro-democracy movement following massive protests more than three years ago. They were leaders of the Hong Kong Alliance in Support of Patriotic Democratic Movements of China and were best known for organising candlelight vigils in Hong Kong on the anniversary of the 1989 Tiananmen Square crackdown. There were found guilty on 4th March 2023.
Before its disbandment, police had sought details about the group's operations and finances in connection with alleged links to democracy groups overseas, accusing it of being a foreign agent. But the group refused to cooperate, arguing the police did not have the right to ask for its information because it was not a foreign agent, and the authorities did not provide sufficient justification.
During the trial, much of the prosecution's evidence was heavily redacted or withheld – even from the judge – under "public interest immunity". The court also ruled that the prosecution did not need to prove the Alliance was a foreign agent.
Pro-democracy activist Albert Ho detained again
On 21st March 2023, Hong Kong police arrested a veteran pro-democracy politician (picture on top) who was out on bail for medical treatment after spending more than a year in detention on a subversion charge.
Albert Ho, 71, once led the city's largest opposition group, the Democratic Party, and runs his own law firm. Ho had been charged with inciting subversion under the national security law and pleaded not guilty. He was granted bail in August 2022, with media reporting at the time that he needed medical treatment for lung cancer. His bail was granted on the condition that he not say or do anything that could threaten national security.
Ho, who ran the Hong Kong Alliance that was responsible for organising the annual Tiananmen candlelight vigils before it was shut down, was arrested in his home for allegedly interfering with witnesses.
On 28th March, the UN human rights office urged the authorities to release Albert Ho. They said: "A week ago, Albert Ho was returned to custody under this law, despite his critical health condition. We urge authorities to release Ho, to continue his urgent medical care."
Peaceful Assembly
The right to peaceful assembly has been severely restricted in Hong Kong since 2020. The authorities have continued to prosecute and convict peaceful protesters involved in demonstrations, including pro-democracy leaders. They are often charged under the Public Order Ordinance for organising, inciting participation in or participating in an 'unauthorised assembly' which carries up to five years in prison.
Activist wins appeal over conviction
[Recap] BREAKING: Ex-organiser of Hong Kong Tiananmen vigil Chow Hang-tung wins appeal against conviction and sentencinghttps://t.co/BOxSnS0hUj

— Hong Kong Free Press HKFP (@hkfp) December 14, 2022
In December 2022, human rights defender and lawyer Chow Hang-tung, the former vice-chairwoman of the now-disbanded Hong Kong Alliance in Support of Patriotic Democratic Movements of China, won an appeal against a conviction and 15-month prison term over a banned 4th June vigil in 2021.
As previously documented, Chow Hang-tung was jailed for 15 months under the Public Order Ordinance on 4th January 2022 for organising a vigil to commemorate the 1989 Tiananmen Square crackdown. It was her second conviction over the banned vigils.
The Court of First Instance judge Judianna Barnes said police did not exercise their responsibility in allowing and facilitating a peaceful public assembly wherever feasible, as stated in the Public Order Ordinance. Barnes added that the force did not consider an expert report, which only discouraged mask-off large-scale assemblies, when deciding whether to ban the gathering. The legality of the police ban, therefore, could not be ascertained, Barnes concluded. The judge added that while Chow had called for people to gather at Victoria Park, her action was not a crime as the ban was not legally sound.
International Women's Day march cancelled amid police threats
A women's labour organisation canceled a march planned for 5th March 2023 to mark International Women's Day amid threats from police that they would arrest key activists.
The Hong Kong Women Workers' Association (HKWWA), who had been granted authorisation to hold the demonstration, said: "We have regretfully decided to cancel the Women's Day rally and demonstration that were scheduled for tomorrow," without giving a reason for the change. Ahead of the march, its representatives had been summoned numerous times for meetings with the police.
The League of Social Democrats, a pro-democracy political party led by veteran rights activists that would have taken part in the event, said police had claimed that "violent elements" had been planning to join the rally.
League Chairperson Chan Po-ying said she and three other members were hauled in by national security police on 3rd March and warned that they would be arrested if they took part in the event. The League of Social Democrats said on Facebook that it was "deeply infuriated that our joining of a legal protest was met with intimidation and obstruction by the National Security Police".
Chan said it's possible that the authorities are trying to avoid any public protest or dissent during the annual session of China's rubber-stamp parliament, the National People's Congress in Beijing.
Residents hold first protest in years under tight restrictions
Hong Kong police keep tight control over first authorised protest in years https://t.co/pj4v4qWPx1

— Guardian World (@guardianworld) March 27, 2023
On 26th March 2023, police permitted a small protest march under tight restrictions in one of the first demonstrations to be approved since the enactment of the national security law in 2020.
Several dozen demonstrators were required to wear numbered lanyards and were barred from wearing masks, as police monitored their march against a proposed land reclamation and rubbish processing project. The police also limited the number of participants to a hundred and also banned seditious displays or speeches.
Police also examined banners in advance and surrounded the marchers with a cordon that kept media and protesters separated.
Participants chanted slogans against the reclamation project as they marched in the rain with banners in the eastern district of Tseung Kwan O, where the project is slated to be built.
Planned Labour Day march cancelled after organiser disappeared
Joe Wong, one of the organisers for #HongKong's now cancelled Labour Day march and former Chairman of #HK's Confederation of Trade Unions, was reported missing for 4⃣ hours on Wednesday morning. https://t.co/F1easNQ3Ni

— The Committee for Freedom in Hong Kong Foundation (@thecfhk) April 26, 2023
A planned Labour Day march in Hong Kong was scrapped after one of its organisers went missing for four hours on 26th April 2023.
The rally application was filed in early April 2023 by activists Denny To and Joe Wong, former members of the now-defunct pro-democracy coalition, the Hong Kong Confederation of Trade Unions (HKCTU). They regularly released updates about their application status on the Facebook page, Hong Kong May Day. Hong Kong police had also interrogated them on a range of issues including where they got their funding for the proposed demonstration.
On the morning of 26th April, a statement on their Facebook page said that Joe Wong had disappeared from his home and had been unreachable since 7:30 am. His family and friends suspect that Wong might have been arrested or taken away by the police for investigation. Four hours later, Denny To released a statement on the Facebook page announcing that Wong had "regained his freedom" at 11:30 am and had suffered an emotional breakdown due to the pressure and stress.
Secretive 'deradicalisation' programme for former protesters
In January 2023, the Globe and Mail reported that hundreds of mostly young people who took part in anti-government protests in Hong Kong have participated in a "deradicalisation" programme designed to "enhance their sense of national identity" and guide them "back on the right track."
In total, 474 inmates convicted of offences related to "black-clad violence" – the government's term for the unrest that rocked the city in 2019 – have taken part in Project Path since it was launched 14 months ago.
The Globe asked to see the materials it uses, under Hong Kong's equivalent of the Access to Information Act. The request was denied on the grounds that such a disclosure "would harm or prejudice Hong Kong's security, the security of the detention facility or prison, and the proper and efficient conduct of the operation of the CSD."
Eric Lai, a non-resident fellow at the Centre for Asian Law at Georgetown University in Washington, D.C., said the reluctance to share details of the programme could lead people to suspect it is "not consistent with the conventional citizenship and human-rights education that had lasted for decades in this city."
Expression
Ongoing use of sedition law to criminalise dissent
Since 2020, the Hong Kong government has been using colonial-era sedition charges – alongside the repressive National Security Law which was enacted in June of that year – to stamp out dissent. In July 2022, the United Nations Human Rights Committee expressed concern about the Hong Kong government's use of colonial-era sedition charges to target people for exercising their right to freedom of expression.
#HongKong national security police have arrested 6 people on suspicion of "selling seditious publications" & raided a Mong Kok shop, apparently confiscating books about the 2019-2020 protests.
Now 10 political arrests in 2023; 10,566 total since 9 Jun 2019https://t.co/FtQbwx4APv pic.twitter.com/UuHTJwqp77

— Hong Kong Democracy Council (@hkdc_us) January 17, 2023
On 18th January 2023, police in Hong Kong raided a lunar new year shopping fair and arrested six people for selling a "seditious" book related to the 2019 anti-government protests. National security officers accused three men and three women of producing and publishing "a seditious book about a series of riots that occurred in Hong Kong from June 2019 to February 2020", and selling it in a shopping centre in Mong Kok, a bustling shopping district. The police said the book advocated "Hong Kong independence" and "incited others to overthrow the central [Chinese] and Hong Kong governments". On 21st March, three people - Alan Keung, Alex Lee and Cannis Chan were jailed for five to ten months after they pleaded guilty. The other arrestees had not been formally charged at the time of writing.
On 30th January 2023, a 68-year-old woman was taken into custody to serve a three-month jail sentence over comments made about a magistrate, after withdrawing her appeal. Chiu Mei-ying was convicted of "uttering seditious words" under the colonial-era sedition law for applauding and chanting phrases that accused a magistrate of "non-compliance with the law, deciding the case arbitrarily, out-of-line behaviour and delivering unfair judgement" during the trial against Tiananmen vigil activist Chow Hang-tung in January 2022. She was handed a three-month prison term in October 2022 and was granted bail pending appeal.
Hong Kong arrested two men for owning a "seditious" children's book

The publishers of the books in the Yangcun series were tried and sentenced last yearhttps://t.co/6q93BGA5Fb

— T Zia Compliance (@TZiaCompliance) March 17, 2023
In March 2023, two men in Hong Kong were arrested for possessing books that authorities have characterised as "seditious." Police raided the homes of the two men in Kowloon and Hong Kong island on 13th March. They seized multiple copies of books that are part of a series titled Yangcun. Both men have been released on bail. In 2022, a government-nominated judge ruled the cartoon books for children, which depict sheep trying to hold back wolves from their village, a "brainwashing exercise." The court, which saw the sheep and wolves as references to Hong Kong and the Beijing government, put five members of the General Union of Hong Kong Speech Therapists, who published the books, behind bars for 19 months for trying to incite rebellion against the state.
On 29th March 2023, national security police arrested a 48-year-old woman over "acts with seditious intention". According to the police, the woman was suspected of posting seditious content on different social media platforms. The posts involved content that police said "incited hatred towards the Hong Kong and central governments, included slogans, promoted Hong Kong independence, incited violent protest, and insulted China's national flag and anthem."
Student arrested for posting messages on social media from Japan
In April 2023, it was reported that the authorities had arrested a student over political messages she posted on social media from Japan - the first known enforcement of the National Security Law over activities that occurred outside its territory.
Hong Kong police told the student in her 20s that she was suspected of violating the law by taking part in separatist activities. The student was arrested in early March 2023 when she returned from Japan to update her ID. She has been released but remains under investigation and her passport was confiscated.
A former Hong Kong assembly member said the arrest is the first known instance of the National Security Law, introduced by China in 2020, being enforced over an activity outside Hong Kong.
Authorities deny entry to Japanese photographer
On 30th December 2022, immigration authorities denied Michiko Kiseki, a freelance photographer known for her photography of Hong Kong's pro-democracy demonstrations, entry to the city.
The Committee to Protect Journalists (CPJ) reported that an immigration officer at the Hong Kong International Airport repeatedly asked Kiseki about her February 2022 photo exhibition featuring the 2019 pro-democracy demonstrations before denying her entry to Hong Kong. She was planning to spend the New Year holidays in Hong Kong but had to fly back to Japan the next day.
Kiseki is an award-winning photographer whose work on Hong Kong protests was regularly published by Japanese media outlets. According to her website, she has also published a photo book and held an exhibition in Japan featuring her Hong Kong protest photos.