Ongoing harassment, prosecution of activists and journalists in Hong Kong to silence dissent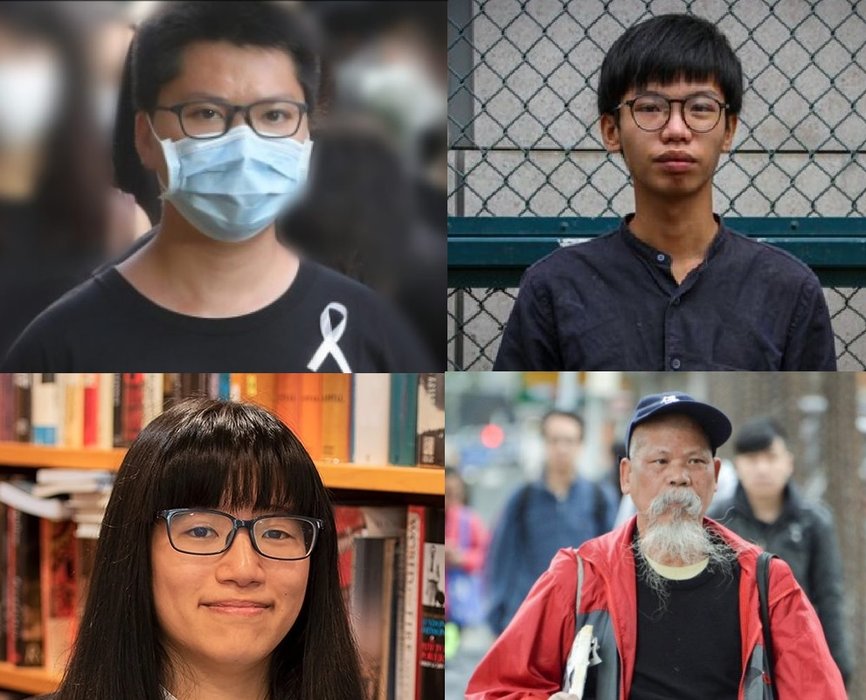 The state of 'civic space' in Hong Kong is rated as 'repressed' in ratings published by the CIVICUS Monitor in December 2021. Since June 2019, following mass protests that erupted against a proposed extradition bill, there has been a systematic crackdown on civic space. A draconian National Security Law was passed and used to criminalise all forms of dissent. Dozens of pro-democracy activists have been arrested and jailed, civil society groups, protest movements and unions have been forced to disband and the media has also been targeted.
A sham election was held in December 2021 for the region's Legislative Council (LegCo) more than a year after it should have taken place. Electoral rule changes in November 2020 by the authorities - that only Chinese Communist Party loyalists could win a seat - made it impossible for the pro-democracy camp to field candidates. Some are also facing charges under the draconian National Security Law for participating in an unofficial primary in preparation for the LegCo elections, while others have gone into exile.
In January 2022, the European Parliament issued a resolution on violations of fundamental freedoms in Hong Kong. Among other things it condemned in the strongest terms the fact that freedom of expression, freedom of association and freedom of the press are as severely restricted in Hong Kong; called for the release of all political prisoners and urged the repeal of the National Security Law (NSL). It also called on the Commission and the Member States to review the Agreement between the European Community and Hong Kong and to introduce targeted sanctions.
In recent months the authorities have continued to arrest, prosecute and convict activists for their planning, organising and participating in peaceful gatherings and protests. Both sedition provisions as well as the draconian National Security Law were used. The government has also targeted journalists and media outlets, forcing them to shut down. Visas were denied to a journalist and an academic, while a statue commemorating the Tiananmen massacre was removed. The authorities have also targeted a human rights group working on Hong Kong in the UK.
Peaceful Assembly
Eight sentenced for involvement in Tiananmen vigil
Eight Hong Kong pro-democracy activists have been sentenced to up to 14 months in prison for organising, taking part in and inciting participation in a banned vigil last year commemorating the victims of China's 1989 Tiananmen Square crackdown ⤵️ https://t.co/ki1UNQju27

— Al Jazeera English (@AJEnglish) December 13, 2021
Eight pro-democracy activists were sentenced to up to 14 months in prison in December 2021 for organising, taking part in and inciting participation in a banned vigil in 2020 commemorating the victims of China's 1989 Tiananmen Square crackdown.
Jimmy Lai, founder of defunct newspaper Apple Daily, who is already in jail, barrister Chow Hang Tung - vice chairperson of the now-defunct vigil organiser the Hong Kong Alliance in Support of Patriotic Democratic Movements of China and activist Gwyneth Ho received sentences of 13, 12 and 6 months, respectively. They were found guilty by the court on 8th December.
Five others who had pleaded guilty, including Lee Cheuk-yan, leader of the now-disbanded vigil organiser Hong Kong Alliance in Support of Patriotic Democratic Movements of China, were sentenced to between just over 4 months and 14 months.
They are among 24 activists who were charged over their roles in the 'unauthorised assembly' in Victoria Park on 4th June 2020, during which thousands of people gathered to light candles and sing songs in the park despite police warnings that they may be breaking the law.
Responding to the convictions, Amnesty International said: "The Hong Kong government has once again flouted international law by convicting activists simply for their involvement in a peaceful, socially distanced vigil. The authorities have deemed the vigil 'unlawful' because the police did not approve it, but peaceful assembly does not need government approval. These convictions merely underline the pattern of the Hong Kong authorities' extreme efforts to exploit the law to press multiple trumped-up charges against prominent activists."
Human rights defender convicted again for writing about the Tiananmen vigil
A court in Hong Kong on Tuesday handed down a jail term of 15 months' imprisonment to Chow Hang-tung, a 36-year-old rights lawyer and one of the organizers of a now-banned vigil marking the 1989 Tiananmen massacre.
https://t.co/AsJTJBmLpf

— Radio Free Asia (@RadioFreeAsia) January 5, 2022
Pro-democracy Hong Kong activist Chow Hang Tung was jailed for 15 months (with five to be served concurrently) under the Public Order Ordinance on 4th January 2022 for organising a vigil to commemorate the 1989 Tiananmen Square crackdown. It is her second conviction over the banned vigils. Chow had already been sentenced to 12 months in prison on 13th December 2021 for inciting and taking part in a similar vigil in 2020. This means she will spend a total of 22 months behind bars.
Chow organised annual vigils for the victims of China's brutal crackdown on democracy protesters on 4th June 1989. She was arrested on that date in 2021, after she published two pieces calling on residents to mark the day by lighting candles. The court ruled that those articles amounted to inciting others to defy the police ban on the vigil.
According to Frontline Defenders, Chow has advocated for the protection and promotion of labour rights, as well as for the rights of persecuted human rights defenders in mainland China. She was one of the current vice-chairs of the Hong Kong Alliance in Support of Patriotic Democratic Movements of China (the Hong Kong Alliance). As a barrister in Hong Kong, she has also provided legal assistance to peaceful activists and protesters targeted by police and judicial actions for their involvement in pro-democracy activities.
At the same time, Chow is facing charges from September 2021 of "inciting subversion of State power", together with Lee Cheuk-yan and Albert Ho, the chair and vice-chair of the Hong Kong Alliance. The indictment states that they were suspected of inciting others to subvert the Chinese regime in Hong Kong between 1st July 2020 and 8th September 2021. In addition, Chow and four other executive committee members of the HKA have been charged with "not complying with the requirement to provide information" under Article 43 of the National Security Law of Hong Kong, when the police accused HKA of being backed by "foreign agents" and demanded it provide information for the police investigation.
In October 2021, four UN independent human rights experts raised "deep concern" about her arrest
Veteran activist arrested ahead of Olympics protest 
Koo Sze-Yiu, 75yo #HongKong activist, was arrested after announcing plans to protest the #BeijingWinterOlympics.

He urges the world not to forget human rights are oppressed in HK.

Which is sadly demonstrated by said arrest.#NationalSecurityLaw https://t.co/9KuFkgOTAb

— Hong Kong Liberty 攬炒團隊 (@HKLiberty_Team) February 5, 2022
A veteran Hong Kong activist was arrested on 4th February 2022 after announcing plans to protest the Beijing Winter Olympics outside government offices in the city. The South China Morning Post newspaper identified him as Koo Sze-yiu, saying he was picked up in the early morning at his home.
Earlier that week, Koo sent a media announcement inviting coverage of a petition he planned to present on Friday in front of China's Liaison Office — the agency representing the Chinese government in the nominally semi-autonomous enclave. Koo said that China had pressed on with the Beijing Winter Games while ignoring "unjust" cases of imprisonment in Hong Kong. He said that authorities have abused the national security law to imprison dissidents or those who speak out against Beijing's policies in the city.
On 7th February 2022, a Hong Kong court denied him bail. According to the authorities he has been charged with "attempting to do or making any preparation to do an act or acts with seditious intention" under a colonial-era law.
A veteran pro-democracy activist, Koo has been jailed 11 times, most recently for taking part in an unauthorised assembly and violating the anti-mask law during the anti-extradition protests in 2019. Before that, he completed a four-month prison term for desecrating the Chinese national flag outside a courthouse in July 2020.
Expression
Sentenced under national security law for shouting slogans
"#HongKong govt could be setting the stage for similarly harsh sentences for leading pro-democracy figures to strike a knockout blow to the movement." Human Rights Watch @hrw call on HK authorities to release Ma Chun-man immediately: https://t.co/6uKpJMu61p

— Maya Wang 王松莲 (@wang_maya) November 11, 2021
On 11th November 2021, a Hong Kong court sentenced Ma Chun-man to five years and nine months in prison for "incitement to secession" for shouting slogans that advocate Hong Kong independence.
Ma's conviction was linked to having shouted and displayed slogans between August and November 2020, including "Hong Kong Independence, the Only Way Out" and "Hong Kong People, Resist!". Ma also used the 2019 protest slogan, "Reclaim Hong Kong, the Revolution of Our Times," which authorities banned in July 2020 because it "connotates Hong Kong independence" and thus "subverts state power." Other evidence against him includes setting up a Telegram channel and Facebook page in which he encouraged people to attend public events to promote independence views.
Since the Beijing government imposed the National Security Law on Hong Kong on 30th June 2020, more than 160 people have been arrested. The National Security Law (NSL) punishes four types of activities: secession, subversion, terrorism and collusion with "foreign forces", all carrying a maximum sentence of life in prison. These offences are vaguely defined and can easily become catch-all offences to prosecute activists and critics with potentially heavy penalties.
Hong Kong university removes Tiananmen massacre statue 
University of Hong Kong orders removal of statue commemorating Tiananmen Square massacre

https://t.co/HGYEagdqJ3

— BBC News (World) (@BBCWorld) October 8, 2021
As part of the ongoing crackdown on freedom of expression, a monument at Hong Kong university that commemorates the 1989 Tiananmen Square massacre was removed by workers early on 23rd December 2021 despite objections. The 8-metre-tall Pillar of Shame, which depicts 50 torn and twisted bodies piled on top of each other, was made by Danish sculptor Jens Galschiot to symbolise the lives lost during the bloody military crackdown on pro-democracy protesters in Beijing's Tiananmen Square in June 1989.
In October 2021, the university informed the now-defunct candlelight vigil organiser, the Hong Kong Alliance in Support of Patriotic Democratic Movements of China, that it had to remove the statue following "the latest risk assessment and legal advice".
Following this, other universities in Hong Kong have removed memorials commemorating the Tiananmen Square massacre. The Chinese University of Hong Kong took down the Goddess of Democracy, a statue based on a figure created by art students that was brought to Tiananmen Square in Beijing shortly before the 1989 crackdown. Lingnan University also removed a bas relief memorial wall display.
Independent media outlets cease operations; raided with journalists arrested
Independent and pro-democracy media outlets in Hong Kong have continued to face ongoing intimidation and judicial harassment
On 29th December 2021, the Hong Kong police raided the premises of Stand News, one of the most prominent independent pro-democracy media in Hong Kong. They also froze its assets and arrested seven people associated with the news site on suspicion of sedition. Police also confiscated boxes of information and computers from the offices of Stand News, using a court warrant issued under the draconian national security law (NSL), which allows officers to seize journalistic materials.
Among those arrested are the former senior editor Chung Pui-ken and his wife, acting chief editor Patrick Lam, and four former members of the Stand News board. They include lawmaker Margaret Ng, former board member Christine Fong, Chow Tat-chi, and pop singer and former board member Denise Ho. While the rest have been released on bail, Chung Pui-ken and Patrick Lam were denied bail and subsequently charged with conspiring "to publish and/or reproduce seditious publications" in contravention of sections 9 and 10 of the colonial-era Crimes Ordinance.
In a media statement, on 2nd January 2022, Citizen News, established in 2017 as an independent non-profit Chinese news site advocating for press freedom, decided to cease its operation effectively from 4th January 2022. It cited the worrying environment for press freedom in Hong Kong and the safety and security of its staff as the reasons.  Stand News and Citizen News were the only remaining local independent pro-democracy media outlets in the territory.
Additional sedition charges were brought against Jimmy Lai, the founder of pro-democracy Apple Daily newspaper in December 2021. It was shut down in June 2021. He had previously faced charges under the draconian national security law (NSL) for "conspiring to collude with foreign powers"
Hong Kong refuses visa renewal for Economist correspondent 
Hong Kong ousts Economist journalist Sue-Lin Wong without explanation, in latest blow to press freedom https://t.co/fHhZHW6k1c @suelinwong @cpjasia @IFJAsiaPacific @fcchk @FreedomofPress pic.twitter.com/qgav6huqUF

— Hong Kong Free Press HKFP (@hkfp) November 13, 2021
In November 2021, the Hong Kong authorities refused to renew the visa of The Economist's China correspondent, Sue-Lin Wong. According to the Committee to Protect Journalists, the Hong Kong government did not cite any specific reason for declining to renew Wong's visa. Wong, who is Australian, was not currently in Hong Kong and was refused permission to return to the city.
Steven Butler, CPJ's Asia program coordinator said: "Hong Kong's refusal to renew a visa for The Economist's correspondent Sue-Lin Wong shreds repeated claims by the Hong Kong government that it upholds press freedom."
The Hong Kong's Foreign Correspondents' Club also released a statement calling on the Hong Kong government to provide "assurances that applications for employment visas will be handled in a timely manner, and that the visa process for journalists will not be politicised or weaponised."
Association
Pro-democracy activist Tony Chung jailed under security law
20-year-old Tony Chung, the #HongKong pro-independence group Student Localism leader, has been sentenced to 43 months in prison.

Following the national security law set in place in 2020, he is the youngest person to be convicted yet. https://t.co/JmHcwm7RTC

— DW Freedom (@dw_freedom) November 24, 2021
On 23rd November 2021, a student activist in Hong Kong was sentenced to three years and seven months in prison for his pro-independence views.
As previously documented, Tony Chung was charged on 29th October 2020 under Hong Kong's national security law with secession, money laundering and conspiracy to publish seditious material. He pled guilty to the charges and told the court: "I have nothing to be ashamed of."
The charges related to his leadership of a small fringe group called Studentlocalism which he established as a student. The group advocated for Hong Kong's independence from China. Chung was also charged for possession of pro-independence materials and over social media posts which had been made illegal by the national security law. However, several of the posts dated back to before the security law took effect, undermining Hong Kong's pledge that the rules would not be imposed retrospectively. The money-laundering charges relate to his use of a Paypal account to collect donations from supporters.
Chung was arrested near Hong Kong's US consulate, where media reported he was planning to seek asylum. The 20-year-old is the youngest person convicted under the laws to date.
Immigration officials deny visa to human rights law lecturer
On 3rd February 2022, authorities in Hong Kong refused a visa application for a U.S. legal scholar specialising in human rights law, amid an ongoing crackdown on public dissent and political opposition under the draconian national security law.
Ryan Thoreson said he had accepted an offer to teach human rights law at the University of Hong Kong but found out his visa was denied. He later told Agence France-Presse that the authorities hadn't given any reason for the decision.
Thoreson has taught at Yale University and is currently a gender equality researcher at the New York-based group Human Rights Watch (HRW), which has been targeted for sanctions by Beijing.
Academic freedom has come under serious threat since 2020. Several pro-democracy scholars have had their employment terminated by universities in Hong Kong, while school administrators have told to help "prevent and suppress" acts that could violate the national security law. Academic research is being closely monitored in Hong Kong while there has also been a crackdown on student organisations.
Hong Kong police sends order to UK human rights group to shut down website
"In the letter, seen by HKFP and published on the NGO's website, Hong Kong Watch is accused of colluding with foreign forces. Police warned that the founder could face up to life imprisonment and a fine of HK$100,000."https://t.co/X2S5dt3Olr @hkfp @hk_watch

— CHRD人权捍卫者 (@CHRDnet) March 14, 2022
On 14th March 2022, Hong Kong Watch said it had received a formal warning from the Hong Kong Police Force's National Security Department to shut down its website for allegedly violating the National Security Law.
The letter from the police addressed to Benedict Rogers, Hong Kong Watch's Chief Executive, accused the organisation of interfering in the affairs of the Hong Kong Special Administrative Region. It also accused Hong Kong Watch of jeopardising the national security of the People's Republic of China by lobbying for sanctions and a blockade and influencing policy-making processes in the country.
The letter accused Hong Kong Watch of violating Article 29 of the National Security Law (NSL), which criminalises collusion with foreign forces to endanger national security. It warned that Hong Kong Watch could face a fine of HK$100,000 (USD 12,789), or its Chief Executive could face three years in jail for the offence. Police confirmed they had blocked Hong Kong Watch's website in Hong Kong as a result.
David Kode, Advocacy and Campaigns Lead at CIVICUS said: "We call on the government of Hong Kong to drop this absurd order against the organisation and respect their rights to freedom of expression and association."