Economic crisis & teachers' conditions spark mass protests as FIDESZ government continues its battle for EU funds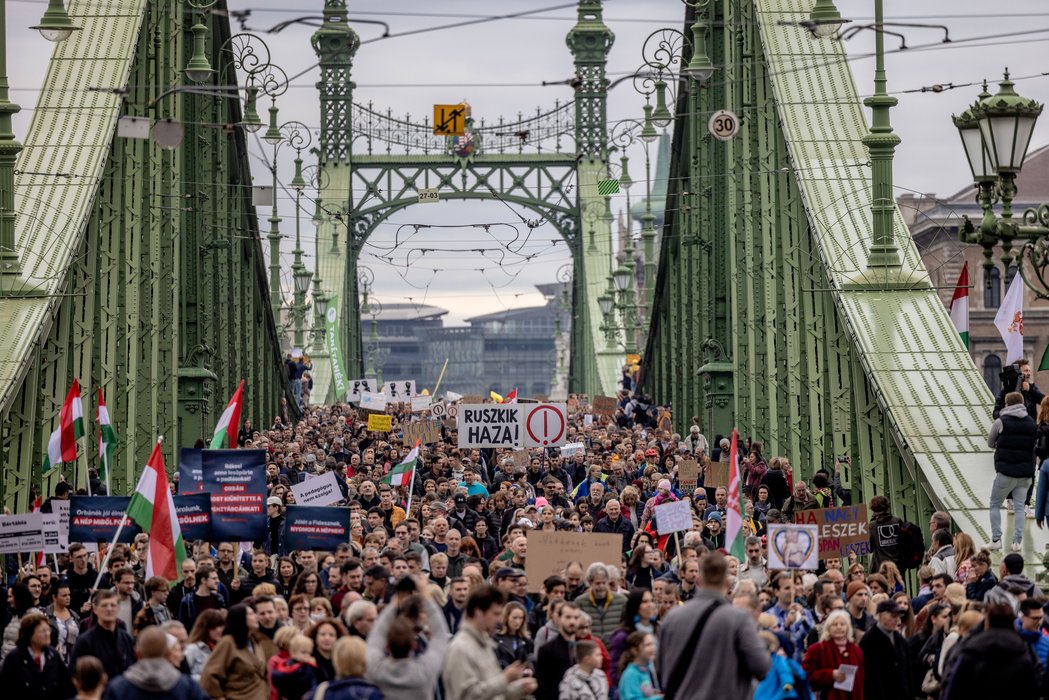 Introduction
State of emergency
Hungary's government has issued a new state of emergency declaration in the official gazette Magyar Közlöny due to the war in Ukraine and the resulting humanitarian crisis. Hungary has been under a 'special legal order' for more than two and a half years, under which the government enjoys fewer restrictions on its powers.
EP declares Hungary as an electoral autocracy
On 15th September 2022, the European Parliament said in a report that with 433 votes for, 123 against, and 28 abstentions Hungary can "no longer be considered a full democracy". The parliament stated that Hungary had become an " electoral autocracy", meaning a constitutional system in which elections occur, but respect for democratic norms and standards is absent. The EP cited a range of concerns, from the functioning of the country's electoral system to its judicial independence, fears about academic and religious freedom and the rights of vulnerable populations.
"The conclusions of this report are clear and irrevocable: Hungary is not a democracy. It was more urgent than ever for the Parliament to take this stance, considering the alarming rate at which rule of law is backsliding in Hungary. Beyond acknowledging Fidesz's autocratic strategy, the large majority of MEPs supporting this position in the European Parliament is unprecedented. This should be a wake-up call for the Council and Commission," - Gwendoline Delbos-Corfield (Greens/EFA, FR), Parliament's rapporteur on the situation in Hungary.
Battle over EU funds
The Hungarian government is battling to persuade the European Commission to unlock 4.64bn Euros in Covid recovery funds, frozen for more than a year, in addition to avoiding a 70 per cent cut in its cohesion funds. The government is expected to enact 17 changes to the law by 19th November 2022, changes that are supposed to ensure that EU funds are used properly and to make the legislature more transparent.
While the Hungarian government is negotiating to get EU funds in Brussels, at home, government politicians and a government mega advertising campaign depict Brussels as the cause of inflation, low teacher salaries, high energy prices and cold school classrooms and public offices.
Association
Smear campaign against human rights organisations continues
While during June to September 2022, "Brussels", and Brussels' sanctions against Russia were in the crosshairs of governmental smear campaigns, the government-captured state media and other institutions directly or indirectly financed by the government kept publically vilifying human rights organisations. For example, in October 2022, the government-financed think tank Centre for Fundamental Rights (Alapjogokért Központ), accused Amnesty International of promoting sex change surgeries in schools "in total open defiance of the constitution and the law", all because Amnesty promotes a project named "Inclusive Spaces" which aims to provide information to teachers and students about LGBTQI+ people and their rights.
Peaceful Assembly
Protests on the anniversary of the 1956 revolution
On 23rd October 2022, on the occasion of the anniversary of the Hungarian Revolution of 1956, Prime Minister Viktor Orbán held his commemoration speech in Zalaegerszeg, a town in Western Hungary. Participation was by registration-only and the police were allowing only residents to access the neighbouring streets. The opposition tried to organise a protest next to the government event, but the police did not approve the location and suggested a location further away from the event. According to a protester, the police were telling them that everyone's identification would be checked. This in practice resulted in the dissolution of the counter-event.
In the meantime, the Hungarian capital saw one of the largest protests in recent decades. As Radio Free Europe reports, the protesters were "brought together over a variety of issues, including conditions for teachers and the severe economic situation in Hungary." The protest was peaceful, and no police misconduct was reported. In the weeks preceding the protest, several other demonstrations were held, from minor to large ones. As reported previously on the CIVICUS Monitor, the government made teacher strikes effectively impossible by a decree in February 2022. However, as the conditions did not improve and there was no alternative, teachers practised civil disobedience and students and parents demonstrated in solidarity with several schools and childcare institutions around the country. In late September 2022, five teachers were dismissed for having participated in the civil disobedience movement. The dismissal gave a new impetus to the protests. The dismissed teachers have turned to the courts with the help of the Hungarian Helsinki Committeeand the Hungarian Civil Liberties Union.
No charges against far-right attackers of anti-fascist protesters
In October 2022, a criminal trial began related to events of 2019 when several anti-fascist students were attacked by a group in dark clothes after far-right groups commemorated a tragic chapter of World War II in Buda Castle.
Evidence shows that a group of young people was attacked by far-right black-clad men because of their political views. However, the prosecution failed to bring charges due to what they deemed insufficient evidence to charge the perpetrators with hate crime. Thus, the victims decided to bring a private criminal proceeding.
"There was only one reason why we were attacked, and that was our political beliefs. We feel that the prosecution has failed us and, therefore, the citizens who have political opinions. Our aim is not to take revenge on the two perpetrators, but to support those who stand up for themselves, their democratic convictions or social groups. We want the authorities to offer them protection. We ask the court to act in a way that allows the perpetrators to understand why the use of violence against ideas is dangerous and even to see in a historical context the dangers of doing so," said Viktor Mák, one of the victims, explaining their persistence.
During the 2019 incident, two victims were physically assaulted, and two others had their rainbow and student movement flags taken away. One student had blood spilling from his ear and was hit three times with his fist by one of the attackers.
Pro-choice protest
On 28th September 2022, more than 1,000 protesters took to the streets in Budapest to show their disagreement with a new ministerial decree on abortion which will place further pressure on women who are already in a difficult situation and want an abortion. As of 15th September 2022 by a new ministerial decree, pregnant women have to listen to the heartbeat of their foetus before having an abortion. Doctors will have to confirm in a report in each case that this was done. While access to abortion will not be restricted in the legal sense, many see this as a first step by Hungary to join other countries who have recently embarked on "a crusade against voluntary abortion."
The International Planned Parenthood Federation European Network (IPPFEN) condemned the new decree, stating that that it would "humiliate and harm women".
"As in Poland, it is tragic to see EU citizens paying the price, as their mental health, intimate lives and freedom are sacrificed on the altar of a government's ultra-conservative agenda. Orban's government knows very well that Hungarian public opinion is in favour of reproductive rights and that is why it is trying to chip away incrementally at women's self-determination," said IPPF European Network's Irene Donadio.  
🇭🇺 We condemn the Hungarian government's issuing of a decree that will force women seeking abortion care to listen to the embryonic cardiac activity before being able to access fundamental healthcare.

Press statement: https://t.co/qOFiGmWK3P#EPPlenary #Hungary pic.twitter.com/OGTHMD08A1

— IPPF European Network (@ippfen) September 15, 2022
Expression
Pegasus Committee will investigate Hungary
As reported previously on the CIVICUS Monitor (August, June,), in mid-July 2021 Hungary made international headlines as evidence suggested that it used highly intrusive Israeli Pegasus spyware against journalists, lawyers, politician and businessmen critical of the government. A delegation from the European Parliament's Committee of Inquiry will visit Hungary in February 2023 to investigatethe use of Pegasus and equivalent surveillance spyware and to gain a better understanding of what was done and whether surveillance was lawful. The Hungarian data protection authority had earlier found that all applications of the spy software by the Hungarian authorities were in complete adherence to Hungarian laws.
According to Emese Pásztor, Director of the Political Freedoms Project at the Hungarian Civil Liberties Union,
"The surveillance had a significant chilling effect on press freedom and the autonomy of civil society, but there are no available avenues for victims seeking effective domestic remedies. It turned out that in Hungary, even unlawful surveillance is in line with the law, as secret services have essentially unlimited data collection powers. Hungary is in constant breach of the Strasbourg law, which further increases the pressing need to set up strict conditions and introduce independent control mechanisms for the application of surveillance measures."
Netflix broke anti-LGBTQI+ law, says Hungarian media watchdog
Hungary's media watchdog, the National Media and Communications Authority (NMHH), said its Media Council had concluded that an animated Netflix series broke a Hungarian anti-LGBTQI+ law when it showed "two girls profess their love and kiss each other." The investigation, which was conducted in August 2022, was based on "several complaints."
The NMHH said its Media Council "is going to notify the Dutch audiovisual regulator (CVDM), asking it to investigate the case." Netflix, as a company registered in the Netherlands, must comply with Dutch rules. The Dutch authority has not responded publicly to any referral.
A couple of weeks later the NMHH announced that the Media Council had investigated another Netflix series following a viewer request, and concluded that "How to Control Your Mind" goes into great detail about the alleged positive effects of drugs, while the dangers are mentioned only superficially and incompletely and thus the series should be categorised as for "adult audience only".
There have also been previous incidences. For example, the Media Council asked its counterparts in other EU countries to investigative the website Lakmusz. The Council has concluded in at least six cases that a media provider headquartered in another EU member state miscategorised content depicting homosexuality or transsexuality and that the age recommendation was too young. However, none of the complaints which the Media Council filed with other media authorities resulted in an official procedure or fines.
Reduced salary for calling the government illegitimate
Following a proposalby Laszlo Kover, the speaker of the National Assembly, on 26th September 2022, the Hungarian parliament reduced the salary of László Sebián-Petrovszki (Democratic Coalition, DK) by the same amount as his two-monthly honorarium, i.e. by HUF 3,949,200 (approximately EUR 9,700), with 129 votes in favour, 50 against and one abstention. The opposition politician called the government "illegitimate" during a June 2022 session of the National Assembly. "(…) one thing is for sure: a legitimate government would not try any of them, only an illegitimate government that has its own interests at heart," László Sebián-Petrovszki said, at the end of a speech. According to the MP, his use of the phrase "illegitimate government" in itself "falls within the freedom of expression, so there should be no basis for any punishment to follow."
Court case for criticising a public representative
A resident of Hajdúböszörmény, a town in northeastern Hungary with a population of approximately 30,000 people, was acquitted by a final judgment at the Debrecen Court of Law. The resident called municipal councillor Imre Nagy and the members of the Civilek Association "talentless" voting machines, as he believed them to be close to the ruling party, in a Facebook comment under a post in which the association shared bread-baking recipes. Imre Nagy brought criminal proceedings against the resident for defamation and libel. The court of the first instance ruled in favour of the municipal councilor, but in the second instance, the tribunal corrected itself and ruled that the comment is free even when it is made between two bread-baking tips. The court also confirmed that public figures must tolerate criticism.