Argentina's feminist movements celebrate approval of legal abortion law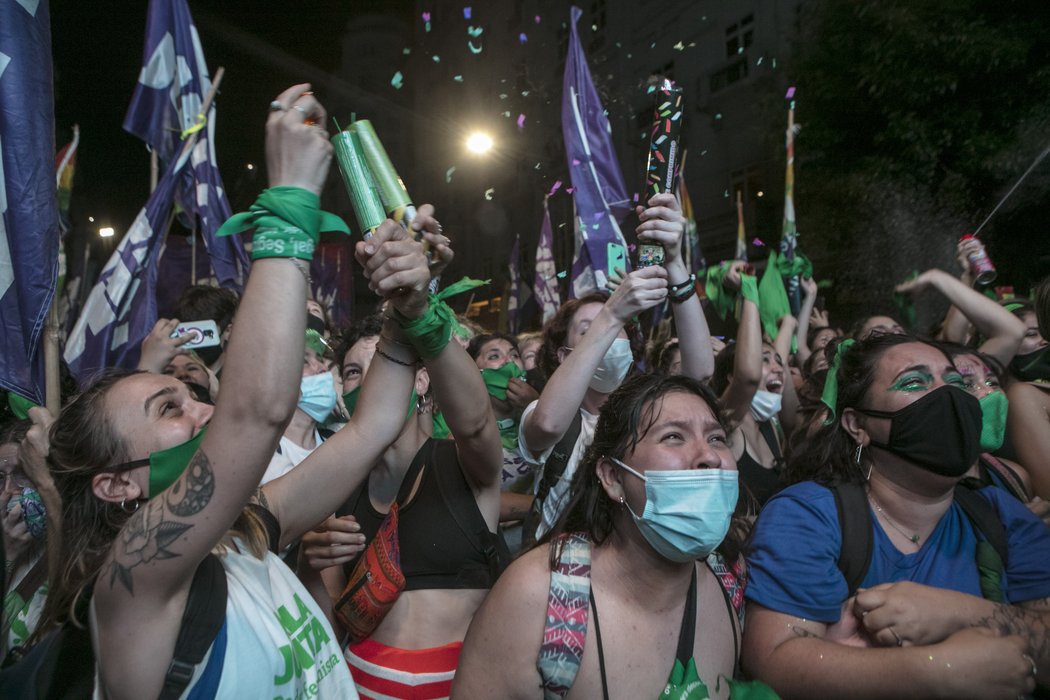 Peaceful Assembly
En nuestra memoria, la conquista reciente. La militamos, la vivimos, la sentimos. El aborto es un derecho y ahora también #EsLey. Más instantáneas de una vigilia federal inolvidable. #SomosHistóricas 🥰💚 pic.twitter.com/U3e823Pjez

— Ley 27.610 💚 (@CampAbortoLegal) January 5, 2021
Celebrations erupted in Argentina's streets when the Senate passed the Voluntary Termination of Pregnancy (IVE) Bill on 30th December 2020, in a victory for women's movements in Argentina who had long campaigned for the legislation. Thousands had gathered outside the National Congress in Buenos Aires to await the results of the vote and demonstrate their support or opposition. As the result was announced just after 4am, a joyful message flashed on a big screen above a crowd of feminist campaigners: "We did it! It's law!".
Argentina's Senate approved the bill after a 12-hour debate with 38 votes in favour, 29 against and one abstention. The bill had been approved by the Chamber of Deputies on 11th December 2020. Less than a month later, on 24th January 2021, the law entered into force, making abortion legalup to the 14th week of pregnancy. Previously, termination of pregnancy was only permitted in cases of rape or risk to the mother's health.
The National Campaign for the Right to Legal, Safe and Free Abortion had organised vigils in 120 cities across the country on the day of the legislative vote. This landmark victory for sexual and reproductive rights in Argentina comes after 15 years of mobilisation from feminist movements in the campaign. Dora Barrancos, 80-year-old feminist and Senator-elect, commented:
"Today Argentina is a slightly fairer, more egalitarian and more dignified country. The page of secrecy, stigmatisation, shame and death is left behind. When the law was approved, we were all in a total outpouring of emotion and, like gusts, I remembered the thousands of preventable deaths that occurred in this country."
Even with the law's approval, feminist movements have said they will continue to fight to guarantee the full implementation of the legislation. A key concern is that conservative groups could resort to judicialisation and bureaucratic restrictions to create obstacles for abortion access. "We have to be alert and careful," a member of the National Campaign told news media. "We don't want regulation to impose any inconveniences."
Association
📌Mañana se cumplirán cinco años de que Milagro Sala fue detenida por primera vez, por participar de una protesta contra decisiones del gobierno de Jujuy.

Desde entonces, está privada de su libertad de manera arbitraria.
Con @ANDHES_org y @amnistiaar
⬇️https://t.co/4BnOB8UHT0

— CELS (@CELS_Argentina) January 15, 2021
On 16th January 2021, social movements mobilised in the Jujuy province and in Buenos Aires to demand freedom for Indigenous activist Milagro Sala, on the fifth anniversary of her incarceration. Sala, leader of the organisation Tupac Amaru, was arrested in January 2016 for holding a protest against Jujuy's provincial authorities. After she was first detained, the local judicial system added multiple charges against her – including "illicit association", "fraud", "extortion" and "attempted murder". Human rights organisations said the subsequent charges and various court cases have been used to justify Sala's indefinite detention. As previously reported on the Monitor, the UN Human Rights Council's Working Group on Arbitrary Detention determined that Sala's detention was arbitrary and called for her immediate release on 24th August 2016.
Expression
Journalist attacked in the Chaco province
#Argentina (1 )- @RSF_esp repudia el brutal ataque perpetrado por funcionarios municipales de la localidad de Villa Río Bermejito, provincia argentina de #Chaco, contra el periodista y propietario de la radio FM Horizonte local, Luis Mancini https://t.co/yilsLdNyWe

— RSF en español (@RSF_esp) September 18, 2020
On 16th September 2020, journalist Luis Alberto Mancini was violently attacked while hosting his radio programme Mano a Mano on Radio FM Horizonte, in Villa Río Bermejito, Chaco province. Video of the attack was captured by the station's security cameras, showing at least two men entering the studio and punching, kicking and beating Mancini with a chair. The journalist was taken to a nearby clinic where he was admitted to the intensive care unit with multiple injuries, including internal bruising, damage to an eye and head trauma.
According to news reports, days before the attack Mancini had reported on alleged corruption in the Villa Río Bermejito municipality. On the day of the assault, two men turned themselves in and were detained. Four people were later charged with "attempted murder", including the municipality's former secretary of public works.
Judicial harassment of journalists
On 12th December 2020, the Inter American Press Association (IAPA) expressed concern about the criminalisation of journalists investigating high-profile corruption cases in Argentina. According to the press organisation, there is a pattern of judicial harassment conducted with the intention of preventing investigative journalists from continuing their work. IAPA detailed three cases of particular concern:
In the first incident, a court ruling set a negative precedent and endangered confidentiality of journalistic sources. In December 2020, a federal judge ordered that municipal authorities hand over security videos of the area where Diego Cabot, a reporter with newspaper La Nación, met with one of his sources in a case known as the "notebook scandal". The case uncovered one of the country's largest corruption schemes in recent decades, allegedly implicating former President and current Vice-President Cristina Kirchner. Press organisations Argentine Association of Journalistic Entities (ADEPA) and Forum of Argentine Journalism (FOPEA) also expressed concern about the court decision, saying it ignores the protection of journalistic sources guaranteed by the Constitution.
In the second case, investigative journalist Daniel Santoro of the national daily Clarín was accused of involvement in an alleged scheme seeking to extort business-people by threatening negative news coverage. In October 2020, the reporter was formally charged with belonging to an "illicit association dedicated to illegal espionage" and carrying out "prohibited intelligence actions". One of Santoro's sources was charged with extortion and the allegations against the journalist stem from this connection. Santoro has denied any criminal misconduct.
The third case highlighted by IAPA is that of journalist Irene Benito with newspaper La Gaceta de Tucumán, who is facing a criminal complaint for publications questioning the functioning and independence of the Tucumán criminal justice system. In December 2020 she was accused of "fraudulent administration", "attack on authority" and "coercion" by a local lawyer.
This pattern has continued after IAPA's warning. In yet another example, in January 2021 the municipality of Quilmes, a city in Buenos Aires province, filed a criminal complaint against journalist Roberto Carrigall. The journalist had reported on social media about the municipal government's alleged mishandling of the coronavirus vaccine.