Watchlist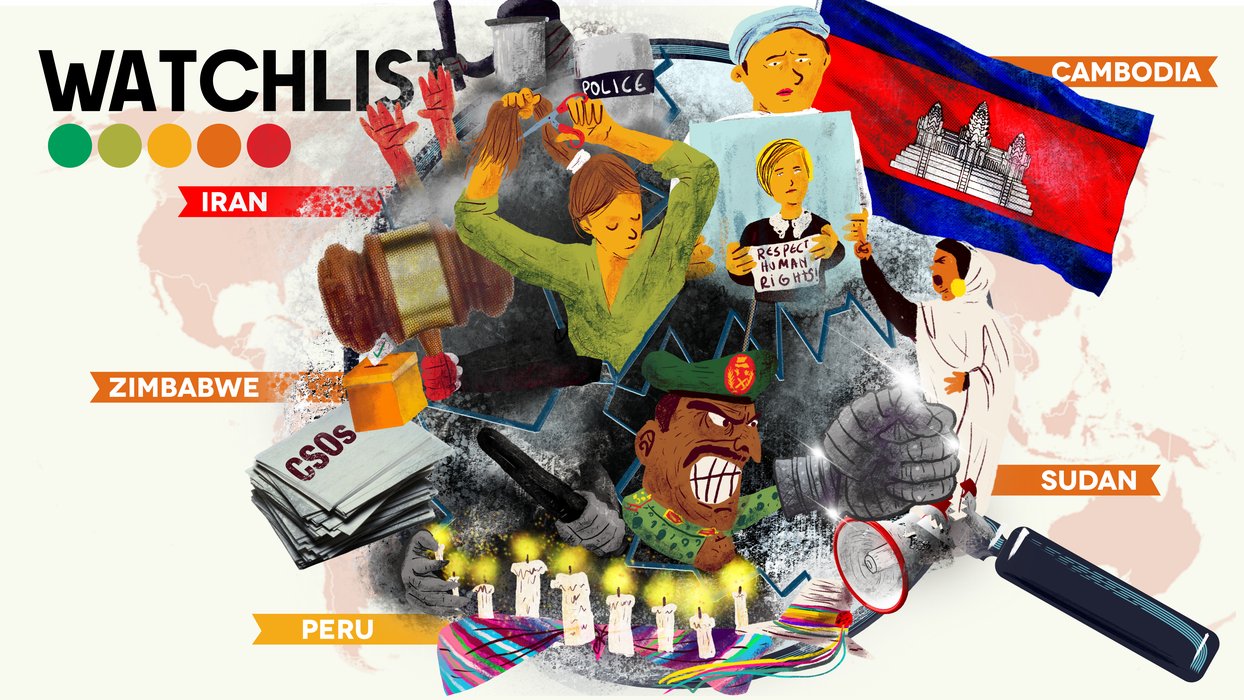 Latest Update: 16 February 2023 - The new CIVICUS Monitor Watchlist highlights serious concerns regarding the exercise of civic freedoms in Cambodia, Iran, Sudan, Peru and Zimbabwe. The Watchlist draws attention to countries where there is a serious, and rapid decline in respect for civic space, based on an assessment by CIVICUS Monitor research findings, our Research partners and consultations with activists on the ground.
In the coming weeks and months, the CIVICUS Monitor will closely track developments in each of these countries as part of efforts to ensure greater pressure is brought to bear on governments. CIVICUS calls upon these governments to do everything in their power to immediately end the ongoing crackdowns and ensure that perpetrators are held to account.
Descriptions of the civic space violations happening in each country are provided below. If you have information to share on civic space in any of these countries, please write to monitor@civicus.org.
Peru
Civic space rating:
Obstructed
An attempt by former President Pedro Castillo to dissolve Congress and his subsequent rapid removal on 7th December 2022 launched Peru into a new chapter of political crisis. Serious violations of civic freedoms have been taking place since his ousting and arrest, which sparked protests with calls for early general elections and for institutional overhaul.
Between 8th December 2022 and 27th January 2023, at least 57 people, among them six minors, died amid the unrest. According to the National Human Rights Coordinator (CNDDHH), at least 46 of these were killed in extrajudicial executions during the repression of protests. The Ombudsperson's Office reported 1,658 people injured in protests in this period.
Civil society organisations (CSOs) have also recorded multiple other violations, including arbitrary arrests, raids, the use of prohibited munition by law enforcement, disproportionate use of tear gas and instances of officers firing tear gas canisters from close range directly at protesters' bodies.
Dozens of journalists covering demonstrations have also reported facing attacks. Between the outbreak of protests and 10th January 2023, the ANP recorded at least 72 cases of violations of the work of media and aggressions against journalists. Most of these attacks were perpetrated by police and the military. Civil society organisations and human rights defenders monitoring abuses during the crisis have faced harassment and attacks by extremist groups linked with the far-right.
Emergency measures which suspended freedom of peaceful assembly and enabled the deployment of the armed forces to address the unrest were extended in several departments until mid-February. While authorities consider bringing general elections forward to the end of 2023, the crisis continues and many have vowed to maintain protests – which now also demand justice for those dead and injured in the turmoil.
Cambodia
Civic space rating:
Repressed
Prime Minister Hun Sen has overseen a systematic assault on fundamental freedoms in Cambodia over the past decade. Repressive laws are routinely used to restrict civic freedoms, undermine and weaken civil society and criminalise activists. At least 50 political prisoners are behind bars.
In November 2022, woman human rights defender and trade union leader Chhim Sithar was detained by immigration police at Phnom Penh International Airport and sent to pre-trial detention for allegedly violating her bail conditions and has been denied bail. Her union - the Labour Rights Supported Union of Khmer Employees of NagaWorld - has faced harassment and arrests for protests that have taken place for over a year.
There also continues to be restrictions to press freedom with radio stations and newspapers silenced, newsrooms purged and journalists prosecuted. Reporters from two news outlets, VOD and VOA, were denied access to Prime Minister Hun Sen's press conference following the ASEAN Summit in November 2022.
Cambodian activists continue to face repression. In recent years, vaguely worded charges of 'incitement' have been systematically used to harass and convict them. In January 2023, authorities ordered that a music video by a rapper that recounts a deadly government crackdown on a 2014 workers' protest nine years ago be removed from a social media page. The cybercrime police also questioned a number of activists around the video.
Hun Sen has also escalated his crackdown of the opposition in the lead up to the general elections in July 2023. He has threatened to dissolve the opposition Candlelight Party and seize their properties and brought charges against their leaders. In December 2022, 36 opposition party leaders and activists linked to the banned Cambodia National Rescue Party (CNRP) were convicted on trumped up charges. This was the fourth verdict in five mass trials that have been initiated against a total of 158 leaders and supporters of the former CNRP since November 2020.
Zimbabwe
Civic space rating:
Repressed
Zimbabwe remains on the CIVICUS Monitor Watchlist as attacks on civic space continue ahead of the scheduled 2023 elections.
The Private Voluntary Organisations (PVO) Amendment Bill which will see CSOs subjected to tighter restrictions is awaiting presidential assent after it was passed by the parliament and the senate, despite backlash and outcry from civil society. The bill represents one of the greatest threats to freedom of association in Zimbabwe and is an attempt by the authorities to target civil society groups that have often raised concerns about violence related to elections. On 22nd January 2023, Zimbabwean authorities announced that they had revoked the registration of 291 nongovernmental and civil society organisations for "noncompliance with the provisions of Private Voluntary Organisation Act", throwing into question the ability of civil society to participate in monitoring the 2023 electoral process.
In keeping with the sustained attack on CSOs, in November 2022, the cabinet approved the Criminal Law (Codification and Reform) Amendment Bill, 2022, which will be known as the Patriotic Act. The proposed law seeks tocreate the offence of "willfully damaging the sovereignty and national interest of Zimbabwe" and will essentially criminalise the lobbying of foreign governments to extend or implement sanctions against Zimbabwe or its officials. This concerning development, which has been interpreted by some as a malicious attempt to muzzle the work of CSOS, carries with it dire consequences for those found guilty, including a punishment of revocation of citizenship. The Bill is awaiting approval by the country's Senate and President Emmerson Mnangagwa.
Additionally, since the previous Watchlist brief on Zimbabwe, opposition members and their supporters continue to face systematic attacks from supporters of the ruling party. Citizens holding gatherings, including non-political gatherings, also face arbitrary arrests as the government clamps down on the freedom of assembly altogether.
Iran
Civic space rating:
Closed
A wave of protests that began in September 2022 as collective action against the country's compulsory head-covering laws, which quickly expanded to articulate broader grievances and demands for fundamental political and social change, has been met with a ruthless crackdown characterised by use of lethal force, mass arrests, detentions and prosecutions, as well as digital repression. The authorities' heavy-handed response to the protests, which erupted in Iran following the death of an Iranian Kurdish woman - Mahsa Amini - who died in police custody on 16th September 2022 after being arrested by Iran's morality police for breach of the country's strict dress code, shows no signs of abating as protesters, activists and journalists continue to face dire consequences for daring to exercise their rights.
According to the Centre for Human Rights in Iran, authorities have gunned down over 500 protesters since the protests began in September 2022, and more than 15,000 protesters have been arrested and thousands detained in overcrowded prisons and deprived of their due process rights. Iranian authorities sought the death penalty for at least 21 people in sham trials designed to intimidate those participating in the popular uprising, and had executed two men in relation to the protests as of 5th January 2023. The release of detained protesters has been marred by suspicious deaths of several recently released detainees, which Iranian authorities have labelled "suicides" despite significant evidence indicating otherwise.
The government has also doubled down on the brutal suppression of the protests by disrupting internet and social media access, and has embarked on a targeted phishing agenda using social engineering tactics to access sensitive information from protesters, HRDs and staff members of CSOs.
Sudan
Civic space rating:
Repressed
Escalating attacks on civic freedoms have been documented in Sudan, with pro-democracy protesters and women human rights defenders repeatedly targeted since the October 2021 coup.
In December 2022, a two-year deal was signed by the military and political parties, mapping a framework for a civilian-led transition towards elections. However, pro-democracy resistance committees have rejected the deal as transitional justice measures and security sector reform are yet to be included. This prompted renewed protests in December 2022 and January 2023, which were met with excessive force. For instance, on 17th January 2023, the Sudanese Doctors Association (SDA) reported that at least 112 protesters were injured, and some protesters were hit in the head with tear gas and stones by security forces and required hospitalisation. In addition, 60 were detained during protests. Thus far thousands have been injured, with 119 protesters killed since October 2021.
Women human rights defenders and women protesters have been targeted by brutal violence. In one case on 17th November 2022, security forces threw a 24-year-old woman protester off a bridge in central Khartoum, resulting in severe spinal injuries. Additionally, the offices of Alharisat, one of the prominent women's groups, was raided.
Furthermore, several associations have faced restrictions. The registration of the Sudanese Consumers Protection Society (SCPS) was cancelled, while the Sudanese Bar Association has also been targeted, after its premises were temporarily taken over and attacked by the police and members of the former regime's Lawyers Syndicate.