Middle East and North Africa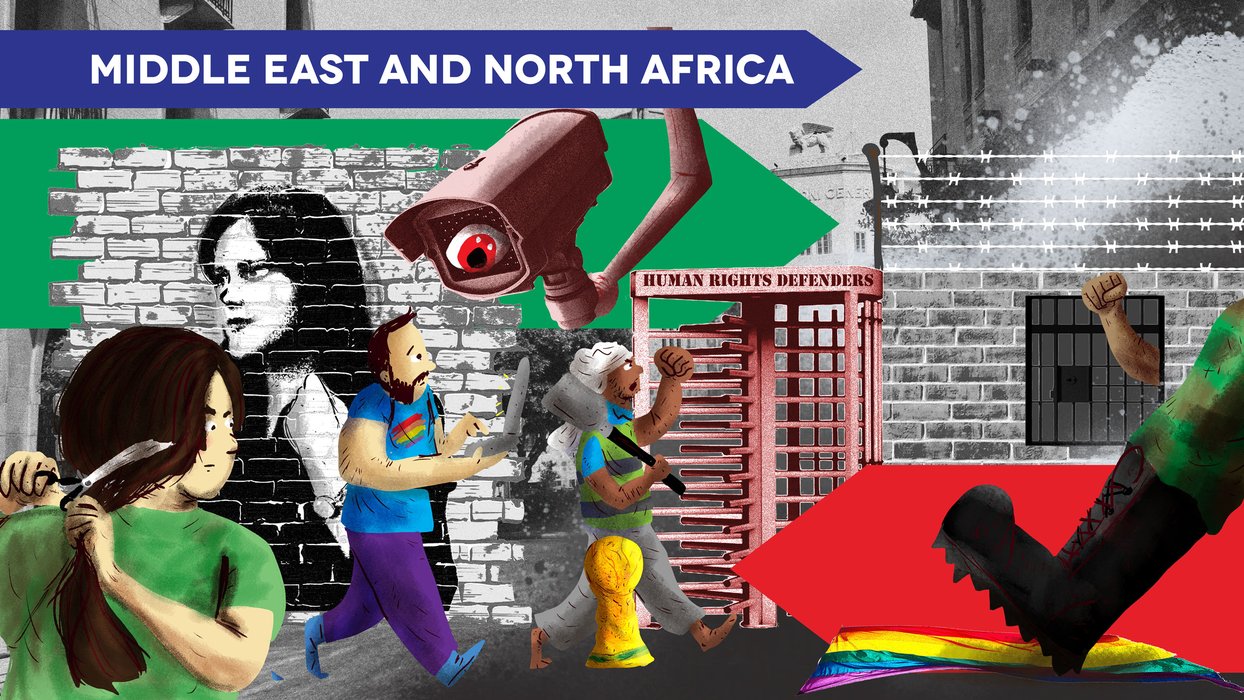 Rating Overview
No major improvements in civic space were documented in the Middle East and North Africa (MENA) region during the past year. Out of 19 countries, civic space is rated as closed in nine, repressed in seven and obstructed in three. Tunisia is downgraded from obstructed to repressed, and as in previous years, no countries are rated as open or narrowed in the MENA region.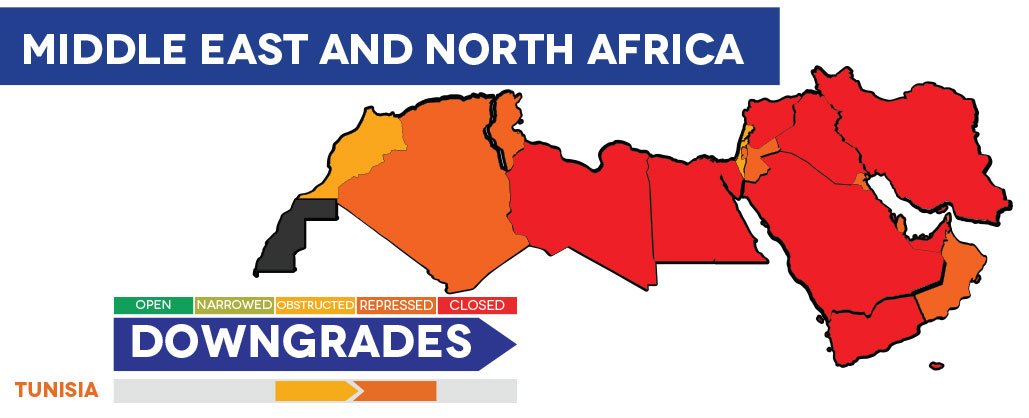 In Saudi Arabia, the authoritarian government, intolerant of any criticism or dissent, continued to repress HRDs, with many of them, including Dr Mohammed Al-Qathtani, still serving long sentences behind bars. Several more such as Salma Al-Shehab and Nourah bint Saeed Al-Qahtani were sentenced to multiple decades in prison for their online activities in the past year, while many others continued to be held in detention despite completing their sentences.
In Iran, protests that began in September 2022 have been met with a ruthless crackdown characterised by the use of lethal force, with the authorities killing over 500 protesters and detaining over 18,000 protesters, activists, journalists and students among others, while injuring many others.
In Algeria, an expansion of the definition of terrorism in 2021 was used to prosecute, intimidate and criminalise HRDs and activists, with at least 340 people jailed for their participation in peaceful protests or exercise of freedom of expression as of February 2022. In February 2022 alone, 27 HRDs were arrested. In Lebanon, the ongoing economic and political crisis led to several decrees imposing banking restrictions, to which people responded though forceful withdrawal of their funds and protests, which were met with repression.
In Qatar, which hosted the 2022 World Cup, CSOs increased their scrutiny of human rights, and particularly called for the protection of the rights of migrant workers and LGBTQI+ people, two groups whose rights have been systematically violated. In Egypt, the authorities embarked on a crackdown on environmental rights groups and journalists in the period leading up to the country hosting the COP27 climate summit. In Palestine, a crackdown on civil society labelled as terrorist organisations saw Israeli occupying forces enter, raid and seal the entrances of offices of seven CSOs in August 2022, damaging and confiscating property while doing so.
Civic space has worsened in Tunisia. The 2021 decisions of President Kais Saïed to freeze parliament, suspend the constitution, dismiss the head of government and indefinitely extend his extraordinary powers has resulted in a more hostile environment for civil society. In the past year, Saïed dissolved the Superior Council of the Judiciary, replaced it with a provisional mechanism, granted himself absolute power to fire judges summarily and dismissed dozens of judges. A new constitution took effect in August 2022 following a flawed drafting process, limited public consultation and a critically low referendum turnout of just over 30 per cent. The new constitution gives the president further powers without checks and balances and erodes judicial independence. Saïed also continued to crack down on prominent critics, perceived political opponents and civil society, including through arrest, detention and prosecution, and by issuing or initiating decrees that restrict fundamental freedoms. In particular, Decree-law 2022-54, issued in 2022, criminalises 'fake news' and rumours, posing a threat to independent journalism.
In response to the brutal onslaught on democratic space and civic freedoms, in October 2022, one of Tunisia's biggest protest actions was held to denounce Saïed's anti-democratic rule and the economic crisis that has led to food and fuel shortages. Tunisia's downgrade comes after its addition to the CIVICUS Monitor Watchlist in March 2022 following a rapid decline in civic space.
Civic Space Restrictions
The five most reported violations in MENA in 2022 were harassment, prosecution of HRDs, detention of journalists, detention of HRDs and censorship. The top violations remain largely the same as in 2021 report, with only the prosecution of HRDs replacing the detention of protesters as one of the top five violations this year.
Harassment
Harassment was the most documented violation in MENA in 2022, reported in at least 14 out of 19 countries. Harassment was documented in multiple forms, affected various groups of people trying to exercise their civic rights and freedoms, and in retaliation for their efforts to do so.
A worrying trend noted yet again in the past year was the systematic judicial and institutional persecution of HRDs who are in the criminal justice system, in deliberate efforts to keep them stuck in long cycles of criminal litigation. This was seen through the continued arbitrary detention of HRDs even after they had completed their sentences, the re-imprisonment of those recently released, the arbitrary extension of detention periods just days before release from jail was due and arbitrary summons for interrogation. These tactics, which are meant to harass and intimidate HRDs, were documented in countries including Iran, Kuwait, Palestine, Saudi Arabia and the United Arab Emirates (UAE).
In Iran, the status of feminist activists and WHRDs remains a particular issue of concern, as the authorities continue repeatedly to sentence and imprison WHRDs, keeping them in jail. In April 2022, WHRD Narges Mohammadi was re-imprisoned and returned to Qarchak Prison soon after being released on medical furlough following heart surgery.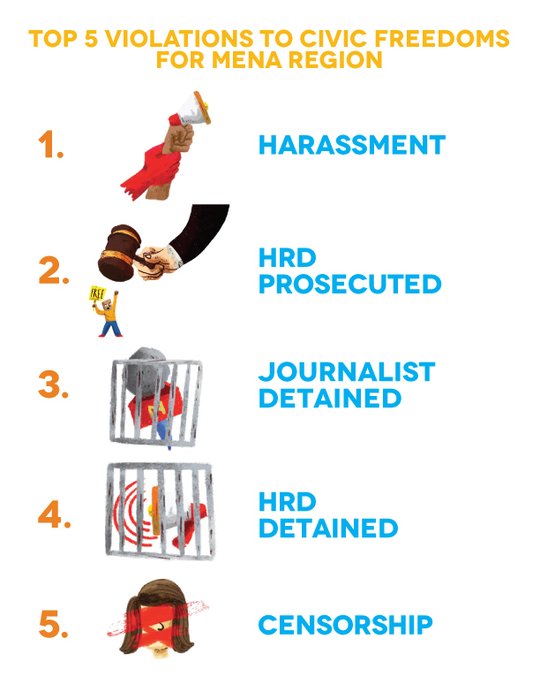 In Palestine, Israeli occupation authorities repeatedly extended the administrative detention of journalists just days before their release, as seen in September 2022 when they renewed the detention of journalist Bushra Al-Taweel for another three months for the third time in a row, and in November 2022 when they extended the administrative detention of journalist Amer Abu Arafah for four months days before his release was due.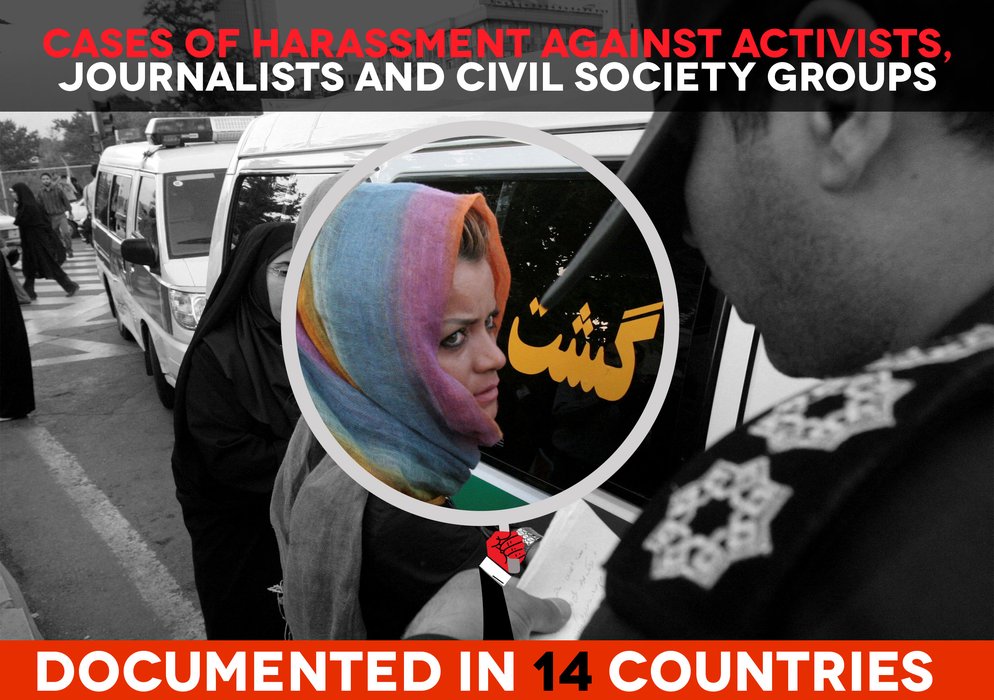 In the UAE, an escalating trend was documented of the authorities keeping HRDs in detention past their prison sentences. The authorities continued to detain 40 prisoners of conscience, many of them part of a group collectively known as the UAE94, after they finished their prison sentences. The group was arrested in 2012 in retaliation against their peaceful pro-democracy activities and in 2013 sentenced to between seven and 15 years in prison following a grossly unfair trial. HRD Dr Mohammed Al-Roken also remains in detention despite completing his 10-year sentence in July 2022, after he was charged and sentenced for providing legal assistance to victims of human rights violations.
A similar tactic was documented in Saudi Arabia, when the authorities continued to arbitrarily detain Palestinian poet Ashraf Fayadh for a further eight months, even though he had completed his eight-year prison sentence earlier in 2022. In Kuwait, HRD Abdulhakim Al-Fadhli was summoned by public prosecutors in March 2022 three times in one month and interrogated for three and a half hours. The spate of repeated interrogations was linked to a complaint filed against him by the director of the Office of the Central Apparatus for Illegal Residents' Affairs in relation to content on Al-Fadhli's Twitter account. Al-Fadhli was charged with insult and defamation of a government employee. In Lebanon, state security officers harassed and insulted protesters who gathered outside the Justice Minister's home in September 2022 to protest against the Higher Judicial Council's decision to appoint an alternate investigative judge in the probe into the devastating 2020 explosion in Beirut.
Prosecution of human rights defenders
The prosecution of HRDs was the second most documented violation in the MENA region, having been reported in at least 11 out of 19 countries.
In Oman, business leader Hani Al-Sarhani was charged and sentenced to a year in prison in relation to his work highlighting the difficulties small businesses faced during the pandemic. He was sentenced to an additional six months for organising a small, peaceful protest over economic conditions. HRD Mukhtar Al-Hinai faced trial because of a tweet he published about a court ruling on a matter related to fraud in a government department. He was later acquitted.
In Algeria, journalist Belkacem Haouam from local newspaper Echorouk was prosecuted in relation to an article he published about Algeria's problems in exporting dates, and sentenced to two months in prison, with a further 10-month sentence suspended and a fine of 100,000 dinars (approx. US$730) for 'publishing and disseminating false news to the public likely to harm the general interest'
In Qatar, the Criminal Court of Appeal upheld life sentences handed down to lawyer Dr Hazzaa bin Ali Abu Shraydeh Al-Marri and his brother, lawyer Rashid bin Ali Abu Shraydeh Al-Marri, who were arrested and charged solely because of their declarations of support on social media for protests in August 2021. In Iran, the authorities sentenced five prominent HRDs – Maryam Afrafaraz, Mohammadreza Faghihi, Arash Keykhosravi, Mehdi Mahmoudian and Mostafa Nili – to prison sentences ranging from three months to four years. The sentences were in relation to their attempts to file a legal complaint against government agencies and officials for mismanagement of the pandemic.
In Morocco, HRD and blogger Saida Al-Alami was arrested and prosecuted in October 2022 over her social media criticism of the government and security services. She was sentenced to two years in prison. In Egypt, journalist Ahmed Al-Bahy, a local correspondent for the Masrawy website, was arrested at his home and charged with inciting violence. His arrest was related to an incident that occurred the day before as he was reporting, when police officers at the scene of a young man's killing asked Al-Bahy to stop filming and not to write or publish anything about the case.
Detention of journalists
Detention of journalists was the third most documented violation in MENA, reported in at least eight out of 19 countries.
In Syria, journalist Kenan Wakkaf was arrested and detained in February 2022 after he criticised the lavish reception that a Syrian actress and her director husband had received at the presidential palace while the rest of the population struggled with constant shortages. In Jordan, seven unidentified men, including two in military uniform, arrested and detained Adnan Al-Rousan, a prominent Jordanian columnist who writes critically about the government on Facebook. Al-Rousan allegedly violated Jordan's cybercrime law by writing articles 'insulting to Jordan' and other related offences. In Palestine, journalists continued to face systematic detention. In August 2022 alone, at least 13 cases of detention of journalists were documented in the West Bank.
In Iran, the mass protests that erupted in September 2022 were characterised by mass detentions that also targeted journalists. In just the first two weeks of the protests, at least two dozen journalists were subjected to arbitrary detention, including Niloufar Hamedi, who first revealed the circumstances surrounding Mahsa Amini's death, and Elaheh Mohammadi, who was arrested after she covered Amini's funeral in Saqqez. Others, such as photojournalist Yalda Moayeri, were arrested during the protests.
In Iraq, journalist Qusay Shafiq, a programme presenter on Watan Satellite Channel, was arrested and detained in March 2022 because of his harsh criticism of the government's financial policies. He was released six days later when the court suspended the charges brought against him. In Tunisia, Khalifa Guesmi, a correspondent for leading radio station Mosaique FM, was detained in March 2022 under anti-terrorism laws after he refused to reveal his sources. Guesmi was released a week later but continued to face charges.
In Egypt, the authorities continued to charge journalists with joining a terrorist group, inciting a crime and spreading 'false news'. Journalist Hala Fahmy was detained in April 2022 pending investigations on charges of 'joining a group founded in violation of the provisions of the law and spreading false news'. Fahmy had continuously spoken out against the government and led protests calling for labour rights for journalists. In March 2022, the Cairo Criminal Court renewed the detention of journalists Hisham Abdelaziz and Bahaa El-Din Ibrahim for an additional 45 days pending investigation. At least four Al Jazeera journalists were detained without charge in Egypt in March 2022: Hisham Abdel Aziz, Bahaa El-Din Ibrahim, Ahmed Al-Najdi and Rabie Al-Sheikh. In Lebanon, freelance journalist Nada Homsi was stopped and detained by officers at Beirut airport while returning from the USA and threatened with deportation. She was eventually allowed to enter the country.
Countries of concern: Iran and Saudi Arabia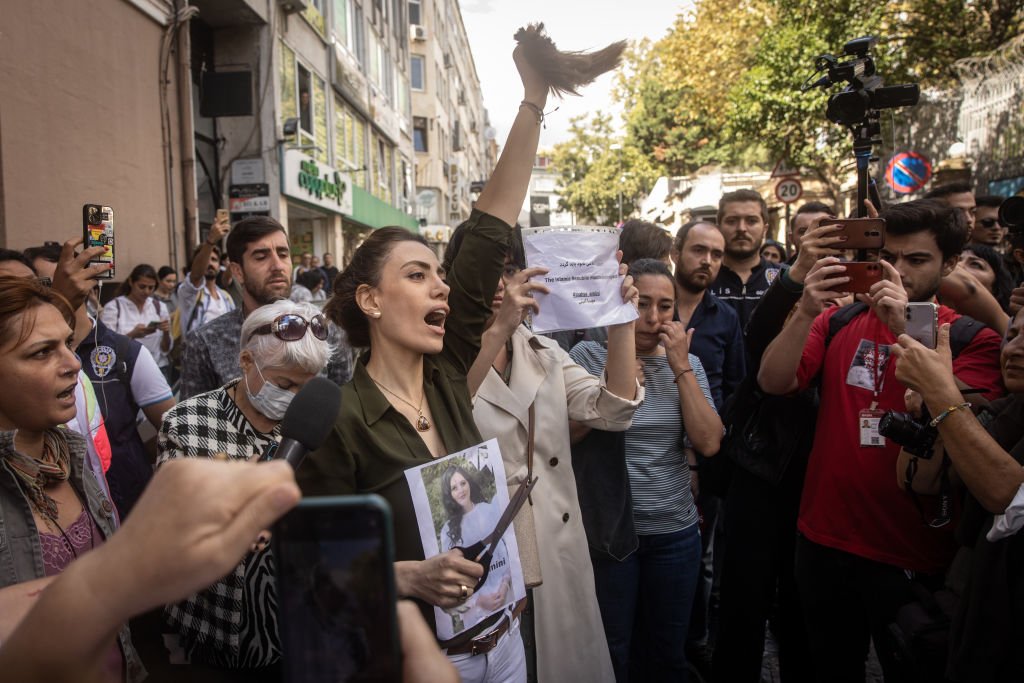 In Iran, mass protests began in September 2022 in collective action against the country's compulsory head-covering laws and quickly expanded to articulate broader grievances and demands for fundamental political and social change. They have been met with a ruthless crackdown.
Authorities have gunned down over 500 protesters since the protests began in September 2022, and more than 18,000 people have been arrested and detained in overcrowded prisons and deprived of their due process rights.
Iranian authorities sought the death penalty for at least 21 people in sham trials designed to intimidate people participating in the uprising, and two people were executed in relation to the protests in mid-December 2022.
The release of detained protesters has been marred by suspicious deaths of several recently released detainees, which Iranian authorities have labelled as 'suicides' despite significant evidence indicating otherwise. The government also doubled down on the brutal suppression of the protests by disrupting internet and social media access.
In Saudi Arabia, HRDs continue to be targeted with judicial persecution. Many face extremely long sentences and many others continue to be sentenced, with recurring cases of enforced disappearance and arbitrary detention beyond the expiry of prison sentences becoming commonplace. Mohammed Al-Qathtani, co-founder of the now-disbanded Saudi Association for Civil and Political Rights, has been arbitrarily detained since 2013 in relation to his peaceful human rights work. Al-Qathtani's sentence was supposed to end in November 2022 but he has been forcibly disappeared by Saudi authorities since October 2022. The authorities refuse to disclose any reliable information confirming his location, in what is believed to be retaliation to a complaint filed by his family about the repeated assaults he faced from other prisoners. Internet activist and aid worker Abdulrahman Al-Sadhan, who is serving a 20-year prison sentence followed by a 20-year travel ban for exercising his right to freedom of expression, has not been heard from since October 2021. Al-Sadhan was deprived of access to legal counsel during a trial lacking in the most rudimentary of international standards on fair trials and due process, and Saudi officials continue to deny him calls and visits. In keeping with the worrying trend of detaining activists in prison beyond the expiry of their sentences, poet Ashraf Fayadh continued to be arbitrarily detained for an additional eight months after completing his eight-year prison sentence, before he was eventually released.
Other HRDs serving sentences in Saudi prisons include Lina Al-Sharif, who has been arbitrarily detained on false charges since May 2021 as a result of her social media activism. While still in detention, the authorities opened new terrorism-related investigations against her in 2022 because of her social media activism. Several other WHRDs received decades-long sentences in 2022, including a 34-year prison sentence handed down to Salma Al-Shehab and a 45-year sentence handed down to Nourah bint Saeed Al-Qahtani for their online activities.
| | | | | | | |
| --- | --- | --- | --- | --- | --- | --- |
| COUNTRY | SCORES 2022 | RATING 2022 | RATING 2021 | RATING 2020 | RATING 2019 | RATING 2018 |
| ALGERIA | 32 | | | | | |
| BAHRAIN | 15 | | | | | |
| EGYPT | 19 | | | | | |
| IRAN | 13 | | | | | |
| IRAQ | 18 | | | | | |
| ISRAEL | 49 | | | | | |
| JORDAN | 36 | | | | | |
| KUWAIT | 38 | | | | | |
| LEBANON | 47 | | | | | |
| LIBYA | 20 | | | | | |
| MOROCCO | 41 | | | | | |
| OMAN | 23 | | | | | |
| PALESTINE | 23 | | | | | |
| QATAR | 25 | | | | | |
| SAUDI ARABIA | 7 | | | | | |
| SYRIA | 4 | | | | | |
| TUNISIA | 40 | | | | | |
| UNITED ARAB EMIRATES | 17 | | | | | |
| YEMEN | 20 | | | | | |
*Palestine: The analysis covers the Occupied Palestinian Territory (OPT) including violations perpetrated by both Israeli Occupying Force and Palestinian authorities