On the watchlist: LGBTQI+ EuroPride goes ahead at the last minute as journalists and LGBTQI+ activists attacked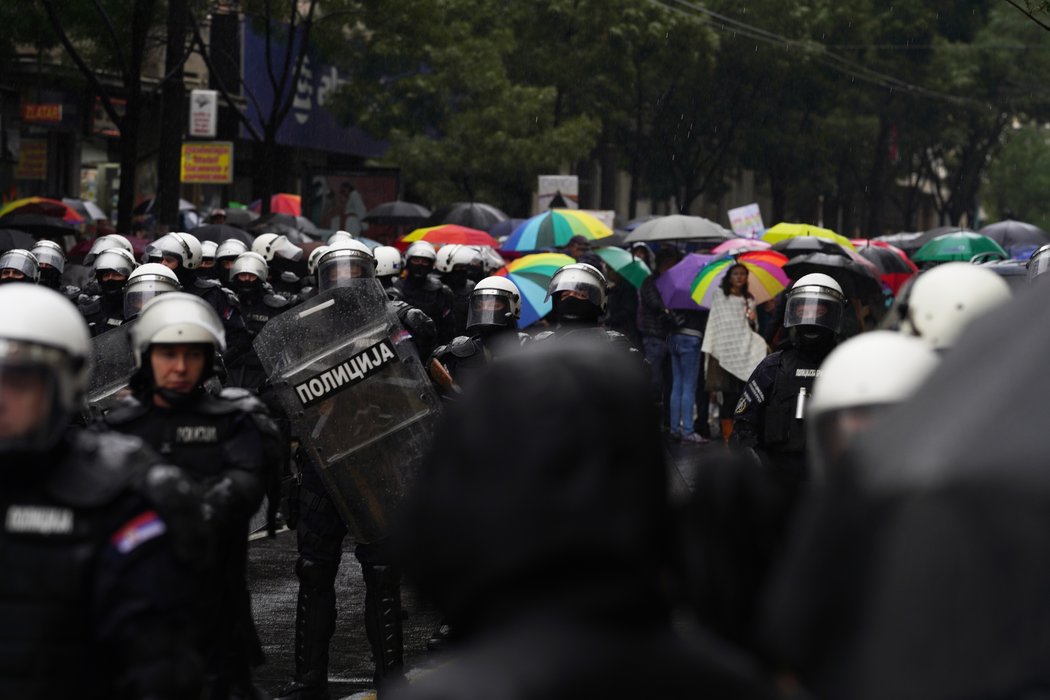 Introduction
On 22nd September Serbia was added to the CIVICUS Monitor watchlist due to a rapid decline in civic freedoms, with concerns about the government's attempts to ban the LGBTQI+ EuroPride march event. The government's last-minute decisions regarding the march have prevented LGBTQI+ persons from fully exercising their right to peaceful assembly and created an environment for further hateful rhetoric and violence. Additionally, there are concerns over the ongoing targeting of environmental defenders during protests, and attacks against journalists.
Association
During a session of the Assembly of the City of Belgrade held on 18th August 2021, the Mayor of Belgrade, Aleksandar Šapić, targeted the Humanitarian Law Center (HLC) and its founder, Nataša Kandić. This comes after councillors of the "Moramo" coalition questioned the election of former military official Svetozar Andrić as a member of the City Council, against whom the HLC filed a criminal complaint for war crimes. Reacting to this, Mayor Šapić said "everyone against whom Nataša Kandić and the HLC file a criminal complaint, that should be celebrated in the Serbian people". He also added that Kandić "accused the Serbian people of genocide" and that she "believed Serbs were absolutely guilty of everything in the wars of the 1990s". The Humanitarian Law Center, as well as Nataša Kandić, have often been targeted by right-wing public officials and politicians due to their decades-long involvement in the field of transitional justice and dealing with the past.
Separately, on 25th August 2022, the Novi Sad communal police fined an activist who collected signatures against the construction of the controversial monument "Innocent victims of 1944/45" in Novi Sad. Mladen Cvijetić told N1 that, in accordance with the city's regulations, he submitted a request for occupying a public area so that he could set up a stand where signatures would be collected, but that even after ten days, he had not received any response. He was fined not only for illegally setting up the stand, but also for refusing orders to remove it. Member of parliament in the National Assembly of the Republic of Serbia, Anna Oreg, spoke out, accusing the mayor of Novi Sad, Miloš Vučević, of suppressing the opposition and civil activism, adding that "activists who collect signatures against monuments of proven war criminals and fascists are being fined". Oreg stated that two weeks earlier, activists had sent a request to occupy public space, but that "in Novi Sad, it is a practice that political organisations never receive any response for a duly submitted request for civic activism." Several formal and informal groups, including local opposition parties, are protesting against the erection of the aforementioned monument, stating that the names of the victims include war criminals and fascists who participated in the Novi Sad Raid in 1942.
Peaceful Assembly
LGBTQI+ rights threatened
In August 2022, President Aleksandar Vucic announced the cancellation of the EuroPride event, citing safety concerns. EuroPride is a pan-European and international LGBTQI+ event, which is hosted by a different European city each year and includes a series of events such as conferences and a march. The event is being held in the Balkans region for the first time. In its official statement, the government explained that "at this moment there are no conditions for the safe holding of EuroPride 2022, and especially bearing in mind the fact that certain extremist groups could use and abuse this event and Serbia's will to organise it in order to further increase tensions and bring Serbia into instability." Later, Prime Minister-designate Ana Brnabic, the first woman and openly gay person to hold the office, stated that the cancellation was more of a request than a ban. The decision was widely condemned, including by 145 members of the European Parliament LGBTI intergroup and the European Commission.
The initial decision came after right-wing and religious groups staged protests with the use of slogans such as "save our children, save our family". One group, the conservative Dveri movement, called for a ban of gay pride for 100 years via a people's referendum. Added to this, it called for the legal prohibition of homosexuality and transgender propaganda among minors, including a ban on promoting non-traditional sexual relations among children on the Internet, social networks and in public spaces. The proposed ban is similar to the one adopted in countries like Russia and Hungary.
Despite the government's cancellation, organisers maintained that the event would go ahead. Leading up to the event, protests took place, including one on 11th September 2022, with the Serbian Orthodox church, which has a strong prominence in the country, voicing its opposition and calling on authorities to ban the event, which it believes threatens traditional family values. Amongst the protesters were pro-Russian supporters in support of Serbia's long-term ally.
Civil society organisations condemned the decision. In a statement, the Belgrade Pride and European Pride organisers' association said that while the state, specifically the police, can attempt to ban the EuroPride march, it cannot cancel it as this would be unconstitutional. The Three Freedoms Platform, a coalition of CSOs, called for competent institutions to "clearly and unequivocally guarantee the safe holding of "EuroPride 2022". It added that discouraging citizens from public participation violates their fundamental freedoms, such as the right to peaceful assembly.
On 10th September 2022, the President announced that the Interior Ministry would decide on the event within 96 hours, in accordance with the law and Constitution of Serbia. Following this, on 13th September 2022, the government announced that it is officially banning the Pride march segment of EuroPride scheduled for 17th September 2022. Organisers of the EuroPride march said they would submit an official complaint to the Ministry of Interior Affairs to overturn the decision. Reacting to the decision, Council of Europe Commissioner for Human Rights, Dunja Mijatović called on the authorities to withdraw the ban, adding that the uncertainty around the event has led to creating a "space for hateful rhetoric and more threats against LGBTI people, including from religious leaders". On 17th September 2022 the Administrative court rejected an appeal filed by EuroPride organisers against the decision to ban the EuroPride march. Shortly afterwards, organisers announced that the police had permitted the walk but with a shorter route. However, the Interior Minister did not call this a "walk" but "security for the passage of participants" to the Tašmajdan Stadium, where concerts were to be held. 
We are gathering for the historic #EuroPride2022 March. We March in 40 minutes. Thanks to all the incredible and brave @belgradepride activists who have got us to this point. pic.twitter.com/AfNexZVUAy

— EPOA • EuroPride (@EuroPride) September 17, 2022
Anti-LGBTQI+ groups gathered near the Constitutional Court building in an attempt to prevent the EuroPride march from starting. Carrying bibles and crosses, some anti-Pride protesters trampled on an LGBTQI+ rainbow flag that was spread out on the street in front of the Court. Additionally, they damaged cars, attacked police officers and attempted to break the police cordon protecting EuroPride marchers. Several journalists were targeted by anti-Pride protesters (see more under expression).
Additionally, two women were physically attacked by anti-Pride protesters while trying to take photos of the gathering. According to Prime Minister Ana Brnabić, 64 people were detained. At least 13 police officers were injured after clashes with anti-pride protesters.
We expect the Serbian government to fully pursue those who came against us. There is no Europe without freedom. #EuroPride2022 https://t.co/KX7n7iUfkN

— EPOA • EuroPride (@EuroPride) September 19, 2022
Following the march and concerts, LGBTQI+ activists from Germany and Albania were attacked while returning to their hotel. It is reported that eight Albanian activists were attacked by ten people, with two activists injured and requiring medical attention. The activists reported that the police failed to intervene.
Following @BelgradePride and #EuroPride2022 on Saturday, around 10 #LGBTI activists were attacked and several injured in front of police officers who did not react during the beating. 1/3 https://t.co/gPFdwn0Ouw

— ILGA-Europe (@ILGAEurope) September 19, 2022
Environmental rights & defenders targeted
Those staging protests for environmental rights have faced restrictions. The following cases were documented:
Separately, the authorities have targeted those participating in environmental rights protests by bringing misdemeanour charges against protesters. A report by Civic Initiatives found thatover 60 acquittals were handed down in cases of misdemeanours allegedly committed by participants in environmental protests and roadblocks in several cities in Serbia at the end of 2021 and the beginning of 2022. Police officers filmed protests without authorisation or recognised activists protesting and recorded their presence. This information was then forwarded to the traffic police, who issued fines for misdemeanours for "staying on the roadway".
Expression
On 17th September 2022, several journalists were targeted by anti-Pride protesters.
N1 reporter Petar Gajić was threatened by an anti-Pride protester and his phone was temporarily taken away.

A FoNet journalist was insulted by two anti-Pride protesters.

A cameraman and a journalist from Tanjug media were verbally threatened by a masked and hooded anti-Pride protester, who demanded that they stop filming and then pushed them.

In one case, FoNet journalist Davor Lukač was intimidated by the police. He was told to "get lost" and "get out of here so we don't see you again" by police officers who searched him.
#Serbia today: The 'defenders of family values' violently protesting against #EuroPride2022 in #Belgrade today by throwing bottles at journalists. Our cameraman was targeted too and was hit. Clear message that #HumanRights don't apply to all. | @belgradepride @EuroPride https://t.co/egWzWp8UWc

— Oor Ika Ferrer Gotić (@IkaFerrerGotic) September 17, 2022
Earlier, on 23rd August 2022 journalist Nenad Živković was verbally attacked by the "Banatska istina" portal. In the disputed article on the aforementioned portal, Živković was characterised as a "traitor and foreign mercenary", adding that he "hated the Serbian people". This is not the first time that "Banatska istina" has attacked Živković. The Independent Journalists' Association of Serbia (NUNS) stated that this latest case is just a continuation of the campaign against independent journalists. NUNS condemned this attack and called on the institutions to protect Živković, as well as to find the authors of the disputed article who persistently target dissenters, endangering their safety.
SLAPPs against media outlets
The former State Secretary in the Ministry of Internal Affairs, Dijana Hrkalović, charged with influence peddling, filed 16 lawsuits against Danas, NIN, Vreme, Nova.rs and other media portals demanding compensation for articles written about her. Hrkalović also sued the Crime and Corruption Research Network (KRIK), an investigation portal investigating Hrkalović and her connections with criminal activities. KRIK's editor-in-chief Stevan Dojčinović stated that the portal received 11 lawsuits in 2021 and 2022 from different persons, adding that the purpose of such suits is to "intimidate and financially exhaust journalists" and editorial offices, to deter them from further reporting.