Venezuela stifles dissent with political interference in opposition parties and detentions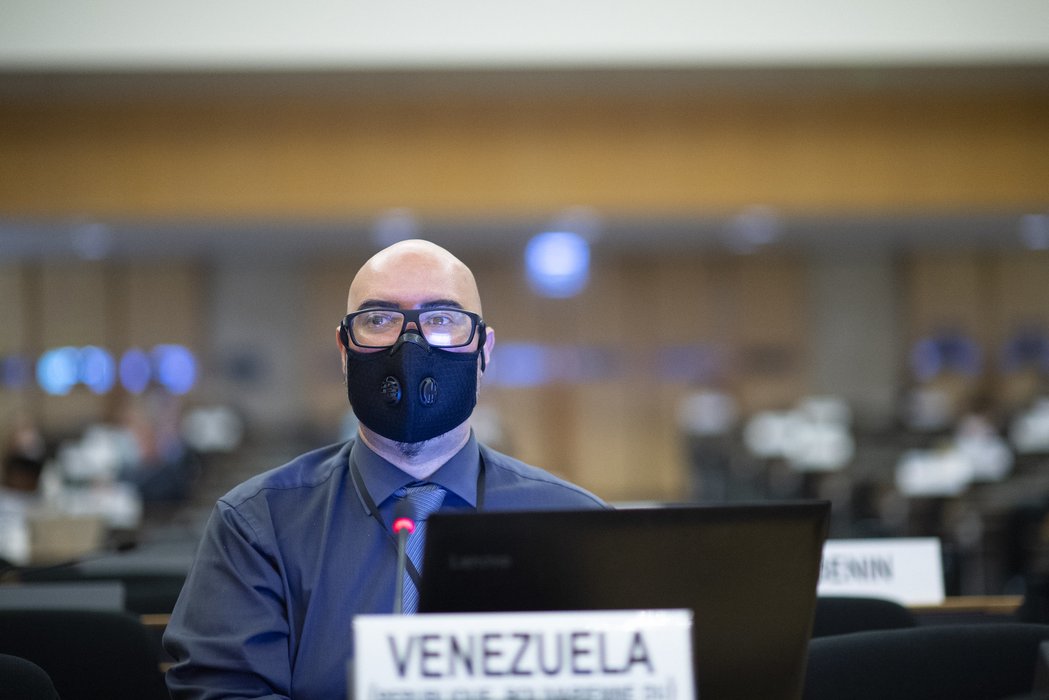 At the 44th session of the Human Rights Council, the UN High Commissioner for Human Rights, Michelle Bachelet, presented a new report on the situation in Venezuela between June 2019 and May 2020. The Office of the High Commissioner documented continuing restrictions to civic space, with violations of freedom of expression and the right to information, and the detention of political leaders, journalists, trade unionists, health professionals and people protesting for public services. Attacks, and the obstruction of the work of parliamentarians of the opposition-controlled National Assembly also continued.
In an oral update on the report, Bachelet expressed concern about the pattern of arbitrary detentions, violation of due process, as well as allegations of torture and enforced disappearances. Among the violations documented, there are cases of protesters detained and one case of sexual assault of protesters under police custody. There were also several allegations of torture and ill-treatment of detainees. The High Commissioner also said that rulings by Venezuela's Supreme Court of Justice in June and July 2020, naming new rectors of the National Electoral Council without the consensus of all political forces and interfering with the internal organisation of main opposition parties, have reduced the possibility of creating conditions for credible and democratic electoral processes.
Association
Enforced disappearance of political adviser
Maury Carolina Carrero Mendoza fue detenida arbitrariamente después de que 15 funcionarios de la Dirección de Contraingeligencia Militar allanaran su vivienda el pasado 2 de abril

La represión y censura hacia quienes están vinculados a la AN deben cesarhttps://t.co/2PJWhWqpKo pic.twitter.com/6VuPAPi2CH

— Marcos Gómez 🕯 (@GomezMarcos) April 14, 2020
On 21st July 2020, the IACHR granted precautionary measures in favour of the political prisoner Maury Carolina Carrero Mendoza. On 2nd April 2020, military intelligence officers with Dirección General de Contrainteligencia Militar (DGCM) arrested Carrero, who serves as an adviser to opposition leader Juan Guaidó. She was charged with conspiracy to commit crimes and concealment of firearms and explosives. Human rights organisations have reported that her whereabouts are unknown and that she has been denied access to lawyers and to her family. The IACHR's decision notes that Carrero is in a serious and urgent situation and called on state authorities to release information on the circumstances under which she is being held. The Venezuelan government was also urged to protect Maury Carrero Mendoza's rights to life and integrity.
As previously reported on the Monitor, in the first semester of 2020 human rights organisations documented increasing attacks on opposition-controlled National Assembly members by Venezuela's government.
Political interference
On 7th July 2020, Venezuela's Supreme Court suspended the leadership of the opposition political party Voluntad Popular and appointed supporters of the Nicolás Maduro administration to its leadership. In June 2020, similar decisions replaced the leadership of parties Acción Democrática and Movimiento Primero Justicia. Following these rulings, on 2nd August 2020, the country's main opposition parties pledged to boycott legislative elections scheduled for 6th December 2020.
The decision to appoint pro-government politicians to opposition parties "severely undermines the ability of dissenting voices to participate in the electoral process, unjustifiably restricting its members' human rights to freedom of association and expression" said Human Rights Watch in a statement.
IACHR on stigmatisation
On 15th July 2020, the Inter-American Commission on Human Rights (IACHR) expressed concern over the continuing reports of harassment and stigmatising speeches against civil society and human rights defenders. For instance, government-aligned media "Mision Verdad" accused some non-governmental organisations of receiving funding from the United States to spread misinformation and incite violence. Public authorities have also repeatedly claimed that human rights organisations act to destabilise and conspire against the country. The IACHR stressed that such stigmatising statements can contribute to exacerbating a climate of hostility and intolerance, which in turn can affect the life and personal integrity of human rights defenders, increasing their situation of vulnerability.
Peaceful Assembly
Una espiral de conflicto que no se detiene.

En los primeros seis meses del año:

▶️4.414 protestas
▶️129 detenidos
▶️62 heridos
▶️2 asesinados en manifestaciones

Nuestro informe semestral: https://t.co/XLI1INnAlU #OVCS #Conflictividad2020 pic.twitter.com/TniOnTFVRf

— Observatorio de Conflictos (@OVCSocial) July 20, 2020
On 17th July 2020, civil society organisation Observatorio Venezolano de Conflicto Social (Venezuelan Observatory of Social Conflict - OVCS) released a report documenting 4,414 protests in Venezuela during the first half of 2020. 646 of these protests took place in June 2020. According to OVCS' report, most of the demonstrations in the first six months of the year demanded basic services, particularly electricity, gas and water. State security and paramilitary groups repressed 221, or about 5%, of these protests. 129 people were arrested, 62 were injured and two were killed during protests in this period.
Expression
#DenunciaEP | Excarcelan al periodista Otilio Rodríguez tras permanecer 20 horas detenido de manera arbitraria por parte de los efectivos de la GNB el #15jul en el estado #Sucre

Le imputan el delito de "instigación al odio" y la medida cautelar de régimen de presentación #16jul https://t.co/SVMR1JZJPc

— Espacio Público (@espaciopublico) July 16, 2020
Two separate cases of alleged arbitrary detention of journalists took place on 15th July 2020. In Sucre, Otilio Rodríguez of radio station Pura Candela 93.3FM was detained by the Bolivarian National Guard (GNB) on charges of "incitement of hatred". He was conditionally released after 20 hours, with the requirement to present himself at court every 60 days. According to the national press union, charges were related to his reporting on alleged corruption in law enforcement and illegal fuel sales. In Caracas, GNB officers detained Glyebert Asencio, Ronald Montaño and Yonathan Torres of the digital news platform Crónica Uno while they were reporting from a hotel used to quarantine COVID-19 patients. The three media professionals were released after two hours and were reportedly told that they should apply for permits to do this type of work.
The Inter-American Press Association also reported that at least three other journalists were accused of "inciting hatred" and detained on related charges in June and July 2020.
On 16th July 2020, Esteban Echezuría denounced on social media that Sucre municipal police officers attempted to detain him after he expressed dissatisfaction with gas shortages on his personal social media account. Echezuría said in a video that officers arrived at his home with a police summons, but he remained inside the house until officers decided to leave.
The national journalists' association Colegio Nacional de Periodistas de Venezuela (CNP) warned about the increase in alleged persecution and arbitrary arrests of independent media workers during the COVID-19 pandemic. The organisation published a report of several cases in which people and organisations were persecuted and detained for criticising government response, news websites were blocked and information access was curtailed. A spokesperson for CNP, Edgar Cárdenas, also noted the increase in attacks on press workers during the coronavirus pandemic, saying the organisation has recorded 201 attacks on journalists and media outlets, including 47 arbitrary arrests and 41 physical assaults, by the end of June 2020.