Venezuela: intimidation and harassment of human rights defenders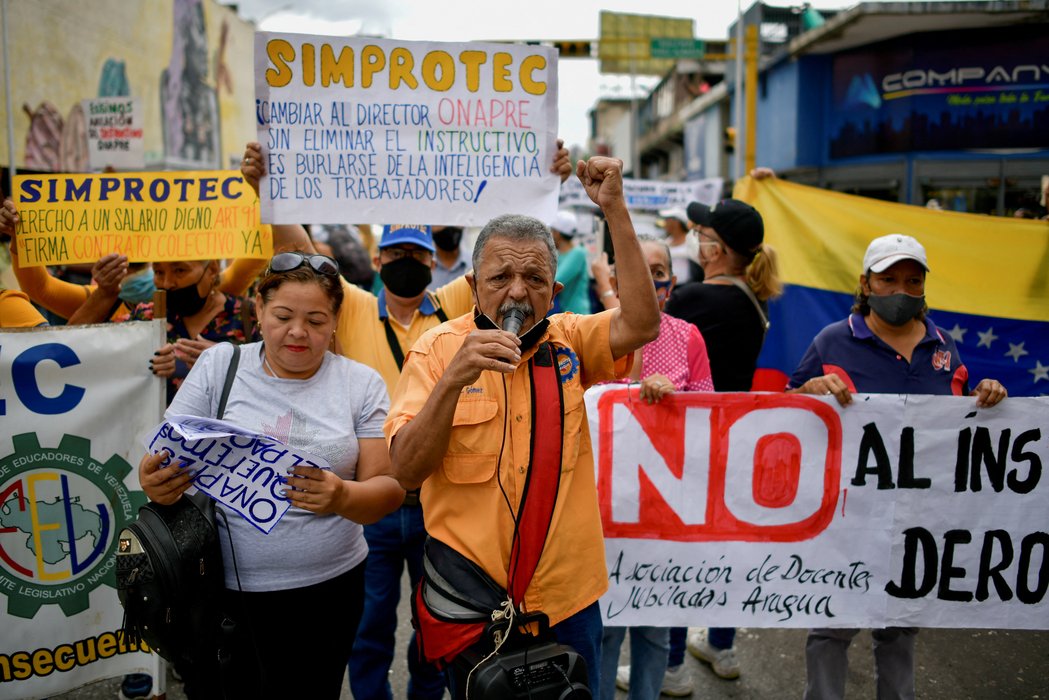 On 24th August 2022, human rights lawyer Alonso Medina Roa was stopped at the Maiquetía international airport and prevented from leaving the country. Medina Roa is a lawyer with the civil society organisation Coalición por los Derechos Humanos y la Democracia (Coalition for Human Rights and Democracy), which works on the monitoring and reporting of torture and ill-treatment of political prisoners, and on their defence.
According to the Observatory for the Protection of Human Rights Defenders, the lawyer was going abroad for family reasons when agents of the Scientific, Criminal and Criminalistic Investigations Corps (CICPC) informed him that he was under a travel ban, issued by the CICPC's Anti-terrorism division. The officers told Medina Roa that there was an open criminal case against him and said he should present himself before the division. Once he did, he learned of a criminal case against himself, the Coalition's executive director Ana Leonor Acosta and its legal director Kelvi Zambrano. The investigation is reportedly related to the publication of a June 2022 report on torture and ill-treatment of political prisoners in Venezuela.
In a separate incident, on 20th September 2022 agents of the Bolivarian National Intelligence Service (SEBIN) attempted to enter the headquarters of human rights group PROVEA in Caracas during a press conference with families of detained union leaders. In a report of the incident, the group said the agents claimed to have had orders from a superior to attend the conference and listen to what was being said. PROVEA staff refused to allow them to enter without a judicial order. However, the security agents reportedly took photographs of staff member Inti Rodríguez and his identity documents, while warning him not to "make it difficult" for them. They then remained around the premises for about forty minutes. The Inter-American Commission on Human Rights (IACHR) commented on the incident, expressing concern and urging Venezuela to cease hostile acts against human rights defenders and civil society organisations.
Reports highlight Venezuela's human rights crisis
2/3 In its report to #HRC51, the #FFMV outlines an institutional structure designed to repress dissent and stresses need for #accountability against systematic:

🔹#Torture
🔹#SexualViolence
🔹#ArbitraryDetention

📘Report: https://t.co/8ILLprxSlm pic.twitter.com/ZfknTHVwjh

— Universal Rights Group (@URGthinktank) September 26, 2022
On 14th September 2022, the United Nations High Commissioner for Human Rights published a report on intimidation and reprisals against those who cooperate with international human rights mechanisms. In the reporting period of 1st May 2021 to 30th April 2022, cases reported in Venezuela included those of Theresly Malavé Wadskier, human rights lawyer and director of the organisation Justicia y Proceso Venezuela (JUYPROVEN), and human rights lawyer Karen Caruci. Malavé Wadskier reportedly received threats and faced increased harassment and surveillance for cooperating with the UN. The threats allegedly came from officials from the First Special Court of First Instance in Trial Functions with National Jurisdiction in Terrorism, where she acts as legal defence in several high-profile cases. As a result, her family moved out of the country.
Meanwhile Karen Caruci, who in the past was arbitrarily detained, was re-arrested, questioned about her engagement with the UN and asked whether she was remunerated by the UN for sharing information on human rights violations. In March 2022, she was charged with incitement of hatred and released pending investigation. The UN report also addressed the multiple undue restrictions on civil society in Venezuela which inhibit their cooperation with the UN.
On 20th September 2022, the UN Independent International Fact-Finding Mission on the Bolivarian Republic of Venezuela (FFMV) issued a new report detailing the involvement of Venezuela's military and civilian State intelligence agencies in the repression of dissent and in crimes against humanity. "Our investigations and analysis show that the Venezuelan State relies on the intelligence services and its agents to repress dissent in the country. In doing so, grave crimes and human rights violations are being committed, including acts of torture and sexual violence. These practices must stop immediately, and the individuals responsible must be investigated and prosecuted in accordance with the law," said Marta Valiñas, Chair of the UN FFMV. The report was based on 245 confidential interviews with victims, their relatives and former officials of the security and intelligence services. In addition, the Mission also analysed case files and other legal documents.
Peaceful Assembly
📢 #Atencion El @OBS_defenders ha recibido información sobre actos de acoso judicial y administrativo contra los defensores de Derechos Humanos
@AnaLeonorAcosta, @medinaroaalonso y @ZambranoKelvi
miembros de la ONG @Coalicion_ddhhhttps://t.co/qCVa8ldH96

— Coalición por los Derechos Humanos y la Democracia (@Coalicion_ddhh) September 7, 2022
Association
🛑 Primera exigencia de los ciudadanos durante 2022:

📍 Derechos laborales

📢 El Estado no garantiza ni cumple con los trabajadores.

Publicamos nuestro #InformeOVCS de agosto:
🔍 https://t.co/cSmoQZMBRP #OVCS pic.twitter.com/srU8iSbJ0L

— Observatorio de Conflictos (@OVCSocial) September 28, 2022
Civil society organisation Observatorio Venezolano de Conflictividad Social (Venezuelan Observatory of Social Conflict - OVCS) registered 667 protests in August 2022, an increase of 15 percent compared with the same period in 2021. The majority of demonstrations were over demands related to economic, social, cultural and environmental rights. As previously reported on the CIVICUS Monitor, several of these protests were led by teachers and unions over wage cuts and labour-related demands. OVCS also registered protests over issues such as the lack of public services, declining purchasing power, currency devaluation, and the high costs of food, medicine and other goods.
There were also 77 protests with demands related to civil and political rights. Some of these were demanding freedom for detained union leaders and human rights defenders. Throughout the month, the OVCS documented 13 cases of protests repressed in 7 states, which resulted in 17 people detained.
Expression
Funcionarios del Dgcim en Nueva Esparta intentaron impedir que periodistas cubrieran actos por el 85 aniversario de la GBN @cnpven https://t.co/2PW30Nk1XY

— CNPNuevaEsparta (@CNPNuevaEsparta) August 5, 2022
On 4th August 2022, law enforcement agents obstructed the work of news teams attempting to cover an event in Nueva Esparta celebrating 85 years of the creation of the Bolivarian National Guard (GNB). Silvimar Campos, Globovisión correspondent, Mario Guillén from Noticias Todos Ahora, and Lisbeth Miquilena and Lennis González, from Televen, were prevented from approaching the venue where the event was taking place. Journalist Edgar Corzo and camera operator Gustavo González, with the Nueva Esparta state government press team, were told to leave, and officers also photographed their identity documents. A request from the state government's press director to allow the journalists into the event was reportedly denied.
Freedom of expression organisation Espacio Público warned that September 2022 ended with the highest number of freedom of expression violations recorded during the year. The organisation documented 27 cases which involved 68 violations of this freedom. About half of the cases involved censorship. For instance, at least 16 radio stations were shut down without explanation by order of telecommunications regulator Conatel. Most of the stations closed were based in Zulia, but there were six cases in Sucre. A representative of the National Union of Press Workers (SNTP) in Zulia state, Sheyla Urdaneta, stated that she was informed that Conatel closed eight radio stations on 6th September 2022, saying these closures were imposed by "order of the minister" – without giving any additional details on the motivation behind them.
In another incident reported by Espacio Público, on 29th September 2022, a news team of Venevisión was attacked by an unidentified individual while covering a protest by retired workers in Caracas. According to an eye witness, the same person threatened protesters who were being interviewed by news outlets. Contrapunto reporter Theodoraskis Morales said the police and GNB guards were present but did not intervene to stop the attack. Other cases documented by Espacio Público in September included the obstruction of journalistic work by GNB agents and intimidation of journalists covering other protests. There were also several cases of power failures affecting internet connectivity across the country.
A separate report published by Espacio Público in September showed a marked and consistent increase in internet restrictions between 2018 and 2021. The organisation noted a widespread practice of public officials and institutions blocking users' access to content on their social media accounts, in particular on Twitter.