Venezuela: continued harassment of civil society groups and journalists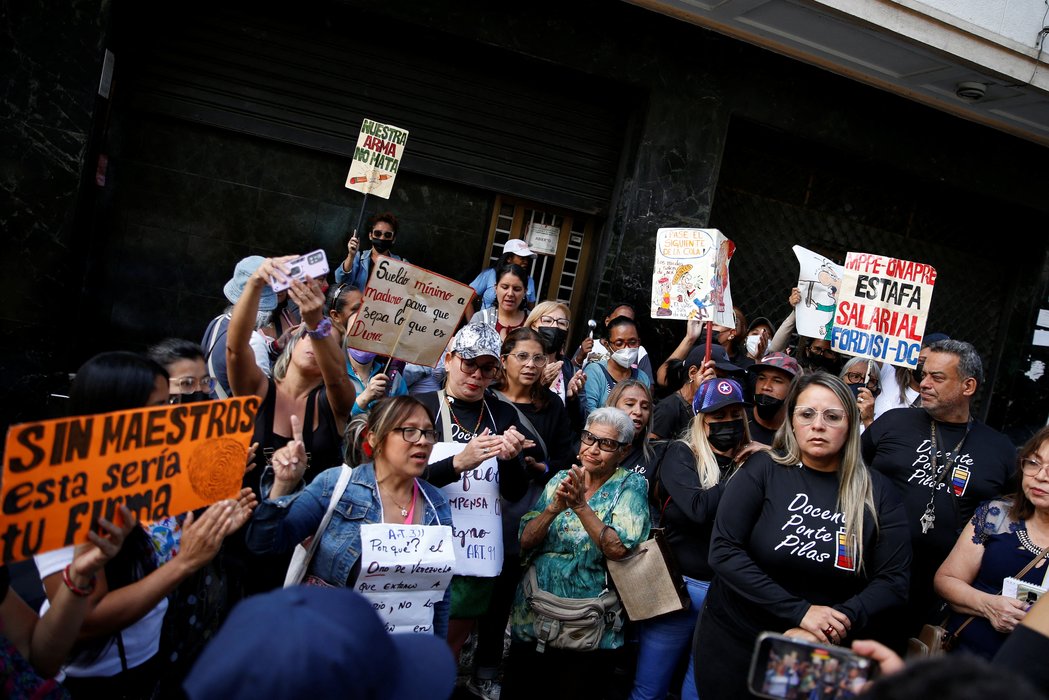 Association
45.35% of the organizations claimed been subject to harassment or persecution because of the performance of their work. #DerechosParaVenezuela
Report: https://t.co/cRkQa223B6 pic.twitter.com/ocgTUmwDYv

— PROMEDEHUM (@promedehum) April 5, 2023
In January 2023, human rights organisation Promedehum issued a report on the situation of freedom of association in Venezuela. The group said government authorities have used administrative, legislative and judicial measures – as well as repressive practices – to stigmatise the defence of human rights. According to their data, about 28,3% of civil society groups operating in the country have not been able to obtain legal status. Meanwhile almost 55% of organisations registered have reported facing obstacles when changing their Board of Directors or undertaking similar administrative changes. 45% said they had been targeted with some form of harassment and 86% stated they knew about other organisations facing harassment. 34% said they had received international cooperation funds, while 62% said they had not.
On 27th February 2023, the UN High Commissioner for Human Rights reiterated his concern about criminalisation, intimidation and attacks on human rights defenders and journalists in Venezuela. In an oral update to the Human Rights Council on the country's human rights situation, Volker Türk highlighted the case of the six union workers who have been in detention for more than nine months and face charges of conspiracy and criminal association. In addition, he expressed his concern about ongoing media restrictions and proposed NGO regulation which would severely affect civic space.
Peaceful Assembly
#InformeOVCS | Febrero 2023

Los estados con mayores niveles de protestas fueron: Anzoátegui, Portuguesa, Bolívar, Lara y Mérida.

En cambio, Cojedes fue el que menos registró protestas durante el mes pasado. pic.twitter.com/hGjn8jAZrH

— Observatorio de Conflictos (@OVCSocial) March 16, 2023
In February 2023, the Venezuelan Observatory of Social Conflict recorded 762 protests across Venezuela. This figure represents a 19% increase compared to the same period in 2022. Protests focused on demands for better working conditions and the right to basic services. Key demands were living wages, respect for labour laws and dignified working conditions. The organisation documented 13 protests repressed in nine states. Human rights defenders and civil society representatives reported threats and intimidation against those participating in peaceful demonstrations.
Expression
#DataEP | En Espacio Público registramos 28 violaciones a la libertad de expresión en el mes de febrero, 13 de ellas corresponden a intimidación y censura hacia trabajadores de la prensa durante su libre ejercicio de buscar, recibir y difundir información | #24mar pic.twitter.com/rhg5wvoJUH

— Espacio Público 🗣️ (@espaciopublico) March 25, 2023
As documented by civil society group Espacio Público, there were 16 cases involving 28 violations of freedom of expression in Venezuela in February 2023. Censorship, verbal harassment and intimidation were the most frequent violations. State officials were the main perpetrators of harassment and intimidation. 56% of the cases occurred on the internet.
In one case, on 27th February 2023, investigative journalist Ronna Rísquez said that several of her family members received threats after news outlets published information on her new book about the criminal gang 'Tren de Aragua'. Launched in early 2023, Rísquez's book documents the quick rise of the criminal group, which is allegedly involved in extortion, prostitution, murder, drug trafficking and people smuggling. The journalist filed a complaint with the Attorney General's Office for the threats received over social networks.
Separately, the mayor of Piar in the Bolívar state stigmatised journalists who covered allegations of irregularities in a local hospital. In a radio programme, Mayor Yulisbeth García accused the press of 'media terrorism' for publicising the allegations.