Venezuela: draconian NGO Law threatens civil society organisations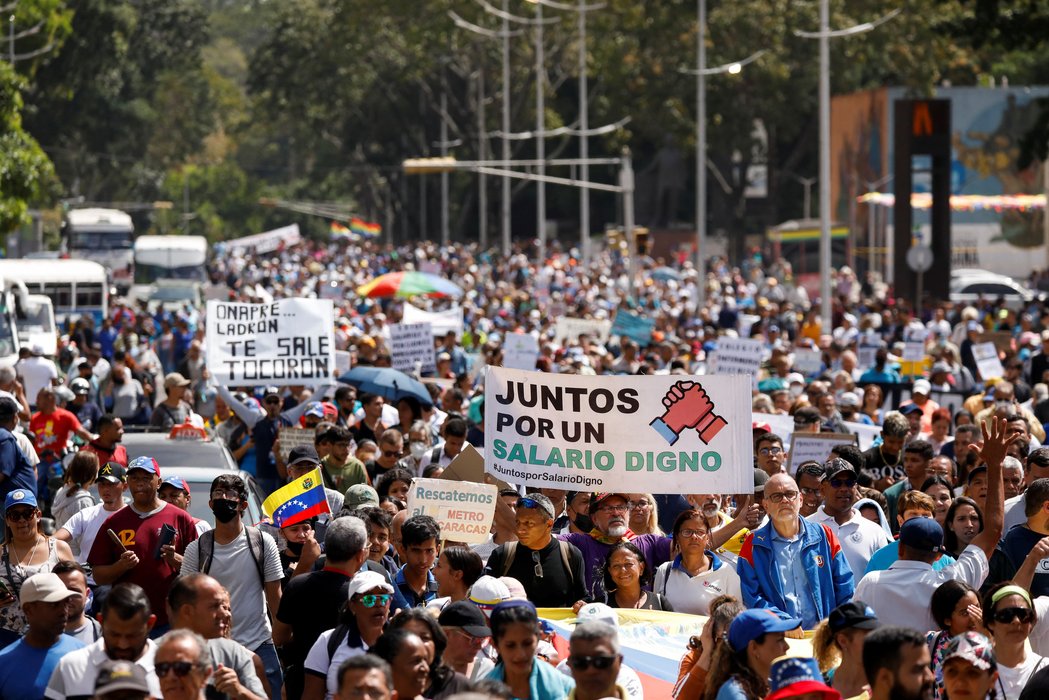 Between 26th and 28th January 2023, United Nations High Commissioner for Human Rights Volker Turk conducted an official visit to Venezuela. The High Commissioner met with President Nicolás Maduro and various government officials, as well as members of civil society, human rights defenders, victims of human rights violations and representatives of victims' organisations.
At the end of the visit, Turk said he had found in Venezuela a "fragmented, divided" society where there is an eagerness and need to "build bridges to try to heal these divides." He also asserted that his conversations with authorities touched on issues relating to civic space, encouraging them "to take the lead in building trust with victims and civil society organisations, to listen to them, to include them meaningfully in dialogue and respond to their plight, in particular, of the victims."
Just days before the visit, however, Venezuelan lawmakers began considering a draconian bill whose provisions would restrict the work of civil society and enable their criminalisation. This initiative and other developments are detailed in this update.
Association
#Comunicado | De aprobarse esta ley, el trabajo de las ONG en Venezuela estaría bajo una seria amenaza, lo que aumentaría las restricciones en un espacio cívico ya estrecho en el país | #5feb https://t.co/DNQU3tnvPU

— Espacio Público 🗣️ (@espaciopublico) February 5, 2023
On 24th January 2023, Venezuela's National Assembly approved on first reading a draft "NGO Law" which could be used to control, restrict and potentially criminalise and close civil society organisations working in the country. The bill was introduced by Diosdado Cabello, lawmaker and vice-president of ruling party United Socialist Party of Venezuela (PSUV), who in previous weeks had accused some CSOs of conspiring against the country.
The proposed 'Ley de Fiscalización, Regularización, Actuación y Financiamiento de las ONG' (Law on the Control, Regularisation, Performance and Financing of NGOs) would enable strict control of civil society by the government, imposing additional and onerous requirements for organisations' creation and maintenance. These include handing over lists of members and personnel and their assets, lists of donors, and registration of financial movements. Non-compliance with the new requirements could result in organisations' closure and may lead to criminal prosecution for their representatives.
Francisco Cox, expert of the Independent International Fact-Finding Mission on the Bolivarian Republic of Venezuela, said:
"The proposed law would put in place formal requirements on existing and prospective NGOs which are so onerous that, in practice, it would grant the State a quasi-permanent power to suppress them. The law is clearly aimed at obstructing, as opposed to facilitating, the exercise of the right of association."
This legislation would also prohibit organisations from conducting "political activities" and from receiving funding for "political organisations", without clearly defining these expressions. Article 7 of the bill states that non-governmental organisations are limited to working in areas explicitly stated in their statutes, naming in particular the fields of humanitarian, social, aid, cultural and educational activities. Any expansion or modification of their scope of work would require approval. Concerningly, the legislation would give the Executive branch the power to implement control mechanisms to supervise and punish organisations whose "deviations" compromise "national sovereignty" (Article 13).
These provisions are particularly worrying in light of similar legislation used in other countries, such as Nicaragua, to close down hundreds of civil society organisations and arrest opposition leaders, journalists and human rights defenders using trumped-up charges. In their detailed analysis, civil society group Acceso a la Justicia (Access to Justice) said the bill was "persecutory in nature, jeopardising the rights to association and participation in public affairs." Civil society coalition Foro Por la Vida also condemned the initiative, calling it an "attack on democratic principles" and saying it intends to close civic space and criminalise solidarity.
A second reading of the bill is expected to take place in the National Assembly after a consultation phase.
Peaceful Assembly
#16Ene | #BalancePreliminarOVCS

Contundente respuesta de los educadores durante la jornada de manifestaciones

📌 51 protestas simultáneas en todo el país

📢 Exigencia: #DerechosLaborales y Derecho a la manifestación pacífica

🛑2 protestas impedidas y 1 obstaculizada

📷Aragua pic.twitter.com/QGthEqmDZu

— Observatorio de Conflictos (@OVCSocial) January 16, 2023
2023 began with a wave of protests for labour rights in Venezuela, led by public sector workers and unions demanding living wages. Demonstrators spoke out against working conditions and hyperinflation, and demanded minimum wages compatible with the price of the basic food basket. Many of the protests were organised by teachers and other education professionals, who were joined by workers in multiple other sectors.
On 23rd January 2023, for example, the Observatorio Venezolano de Conflictividad Social (Venezuelan Observatory of Social Conflict - OVCS) registered 41 protest actions across 21 of Venezuela's 23 states. During the month, OVCS also recorded cases of protesters prevented from marching by security forces.
Expression
Radio station closures
📻El Estado venezolano ordenó el cierre de al menos unas 80 estaciones de radio en todo el país durante 2022. Esto, lo situó como el año con más emisoras cerradas en dos décadas | #30ene

Conoce más en nuestro informe preliminar ⬇️https://t.co/sswNM9l7J3

— Espacio Público 🗣️ (@espaciopublico) January 30, 2023
As documented by civil society organisation Espacio Público, at least 80 radio stations were shut down by the Venezuelan government in 2022. Most of the stations affected were small private or community enterprises that authorities said did not meet all the requirements set by the National Telecommunications Commission (Conatel) to maintain their permits. In one example at the end of the year, on 12th December 2022 Conatel ordered radio station Sonora 107.7 FM to cease its operations. The station was based in Araure, Portuguesa state, and had been on the air for more than 20 years. The closure reportedly left more than 25 people unemployed.
In 2022, Espacio Público documented 227 violations of freedom of expression and the press in Venezuela. Censorship was the most common violation, followed by bureaucratic restrictions and intimidation.
Online harassment
In December 2022, writer Carolina Jaimes Branger was harassed by an anonymous account on social media after publishing two articles, one on protests in Iran and another on statements made by a businessman. In one comment on Instagram, the user told Branger: "you will pay and pay. We are waiting for you in court. Get ready."
In a separate case, journalist José Gregorio Rojas received hostile messages from a police officer on social media Kwai at the end of December 2022. Rojas said he believes the messages were a response to his report on increasing violence in the state of Mérida, which mentioned violent attitudes from members of the security forces.
Intimidation of El Nacional workers
El #25Ene un fiscal del Ministerio Público ( #MP) y agentes del Cuerpo de Investigaciones Científicas, Penales y Criminalísticas ( #CICPC ) se apersonaron en la vivienda de Meza y lo llevaron #detenido «para declarar sobre unos trabajos que se publicaron en #ElNacional. pic.twitter.com/xSS6hzK8mE

— El Nacional (@ElNacionalWeb) January 27, 2023
In January 2023, several members of news outlet El Nacional were cited in connection with a criminal complaint against the outlet. According to the Committee to Protect Journalists (CPJ), the citations are related to a news article published on 10th January 2023 asserting that President Maduro's son, Nicolás Maduro Guerra, was connected to two Venezuelans sanctioned in 2020 by the U.S. Treasury Department for their alleged involvement in illegal gold mining.
On 25th January 2023, officers of Venezuela's investigative police unit took El Nacional news editor José Gregorio Meza and human resources manager Virginia Nuñez to the Attorney General's Office for questioning. Meza said officers asked him about his role in the newspaper and told him he was being investigated for crimes under the 'Anti-Hate Law', which has often been used to criminalise dissent. Officers also reportedly warned him that an arrest warrant had been issued against him, but had not yet been executed.
Authorities also sent citations to the outlet's president and editor Miguel Enrique Otero and reporters Carola Briceño, Hilda Lugo and Ramón Hernández. All four are based outside of Venezuela. Otero said this was an attempt by the government to intimidate El Nacional by threatening them with a criminal investigation.