USA: Domestic terror charges for protesting sets dangerous new precedent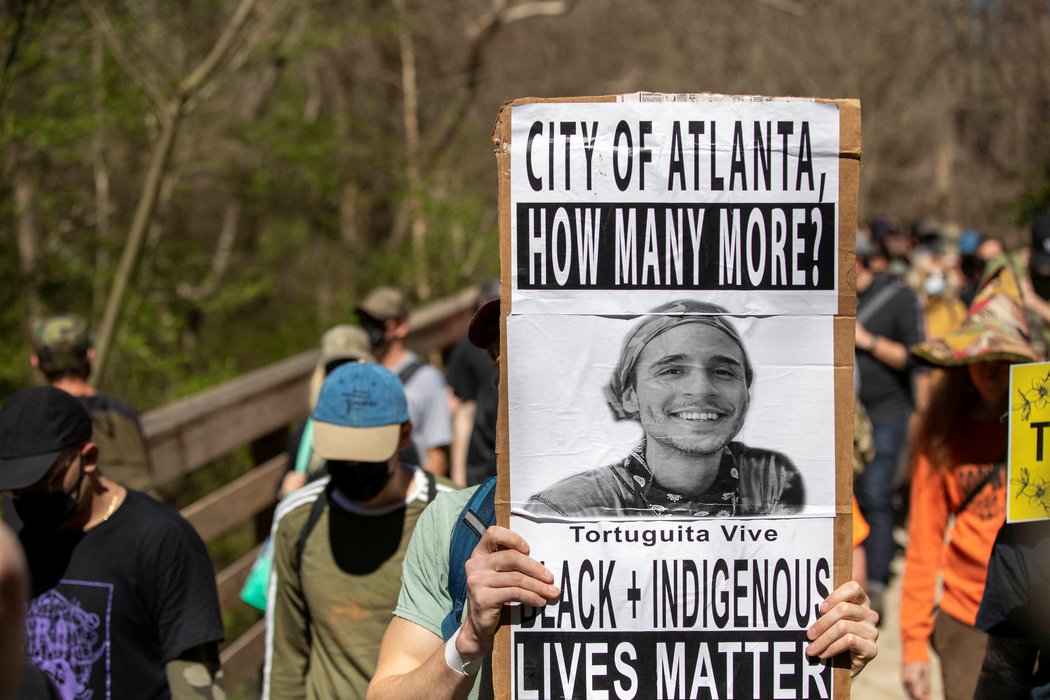 Peaceful Assembly
Environmental activist killed and protesters facing 'domestic terrorism' charges
Today is the spreading of ashes and memorial ceremony of Manuel "Tortuguita" Paez Terán. A somber group of activists have gathered on Weelaunee People's Park for their lost comrade pic.twitter.com/SCGIPB89fW

— Atlanta Community Press Collective (@atlanta_press) March 12, 2023
In Atlanta, Georgia, protests against a facility known as 'Cop City' were met with repression, with one protester killed in January 2023. Local activists and environmental groups have protested the construction of the multi-million police training facility in the city's South River Forest since 2021, citing damages to the forested area and negative impacts on excluded communities nearby. On 18th January 2023, police shot and killed protester and environmental advocate Manuel Esteban Paez Terán during a raid on an encampment against the facility.
The killing of the 26-year-old activist, who identified as non-binary and was known to friends as 'Tortuguita', led to calls for an independent investigation and further protests against the facility. While police claimed the activist had carried a weapon and fired at a state trooper, activists and Terán's family disputed this version, asserting that an autopsy had shown Terán was likely sitting down with hands raised when shots were fired. The activist was shot at least a dozen times. The City of Atlanta also released videos in which an officer suggests the trooper may have been injured by friendly fire.
On 23rd January 2023, Georgia's Attorney General announced he was preparing 'domestic terrorism' and multiple other felony charges against at least five people arrested at protests against Cop City which ended in vandalism days before. At least 19 people who participated in the "forest defenders" encampment against Cop City have also been charged with felonies under Georgia's rarely used 2017 domestic terrorism law. Protests continued into March 2023, with more demonstrators charged with 'domestic terrorism.'
Protests against police violence
The City of Cambridge has hired an outside agency to conduct an independent review of the fatal shooting of Sayed Faisal by Cambridge police. @clemoult reports:https://t.co/q8GL7RPSL5

— GBH News (@GBHNews) March 17, 2023
On 9th January 2023, hundreds of people demanded justice for a Bangladeshi American college student who was killed by police near Boston, Massachusetts. Sayed Faisal was shot and killed by officers on 4th January 2023 for allegedly approaching police with a short sword. The police had been called to the scene after receiving reports that the student was seen harming himself with a knife. The Bangladesh Association of New England organised a rally outside the Cambridge City Hall, where people held signs saying "Justice for Faisal" and "Faisal needed help not bullets", while his friends and teachers made speeches remembering their friend.
In late January 2023, protests were held in Memphis, Tennessee, and cities across the country in response to the release of a video showing at least five police officers assaulting Tyre Nichols, a 29-year-old, who died three days later from the assault. In Memphis, protesters locked arms and chanted "we ready, we ready, we ready for y'all", as they marched from a local bridge toward downtown. The video of Tyre Nichols' killing, which involved five officers who were later charged, showed Nichols being tasered, beaten with a baton, repeatedly kicked in the face and brutalised despite putting up no resistance. While there were reports of violence at some protests, most events in cities such as Charlotte, Newark, Dallas and Raleigh remained peaceful. Three people were arrested at a protest in New York City.
Other developments and protests
In early January 2023, several hundred people marched in El Paso, Texas, protesting against new restrictive border policies announced by the Biden administration. The reviewed "border enforcement" policy blocks Cubans, Haitians and Nicaraguans from accessing asylum by expelling them to Mexico, and restricts access to asylum for people who travel through other countries before reaching the U.S. The policy was criticised by the UN High Commissioner for Human Rights, who said the measures risk "undermining the basic foundations of international human rights and refugee law."
On 13th January 2023, three women were sentenced to unsupervised probation and barred from entering the Supreme Court during its 2023 term. They were arrested in November 2022 after protesting against the Court's ruling overturning the right to abortion during oral arguments in an unrelated case. Emily Patterson, Nicole Enfield and Rolande Baker had pled guilty to breaking a law against speeches and objectionable language in the Court's building.
On 14th January 2023, hundreds of people in New York City protested against U.S. involvement in overseas wars. Speakers called for peace in Ukraine and criticised U.S. military spending. "We're here today because we oppose the endless expansion of NATO, which is not only unnecessary but reckless and proactive", said Brian Becker, national director of anti-war group ANSWER Coalition. There were separate protests in February 2023 expressing support and solidarity with Ukrainians, and calling for an end to the war.
Restrictive Florida law still suspended
On 10th January 2023, the Eleventh Circuit Court of Appeals let stand an injunction against Florida's anti-protest law, H.B. 1. As previously reported on the CIVICUS Monitor, in September 2021 a federal trial court issued a preliminary injunction blocking the enforcement of key provisions of the anti-protest law. This injunction was appealed by Florida's governor but will remain in place while the Florida Supreme Court considers the law. "This means that I can continue to exercise my Constitutional right to protest and not worry about being arrested under the unfair provisions of H.B. 1", said Ben Frazier, founder of plaintiff organisation the Northside Coalition of Jacksonville. "This is a step in the right direction."
Expression
.@WSJ reporter @DionRabouin was handcuffed and detained in November while interviewing customers at a Chase Bank in Phoenix for an ongoing story about savings accounts. The police department has now said it opened an investigation: https://t.co/op4ZU8Qb1k

— U.S. Press Freedom Tracker (@uspresstracker) February 8, 2023
On 23rd November 2022, a Wall Street Journal (WSJ) reporter was detained for allegedly trespassing while reporting outside a bank in Phoenix. Dion Rabouin was interviewing customers outside the bank for a story about savings accounts. Bank employees reportedly called the police to report a suspicious person after seeing him outside. Rabouin said he identified himself as a reporter for the WSJ and was about to leave when the officer detained him A bystander who witnessed the arrest recorded part of the incident. "I heard him say he was going to leave," the woman said in the recording. "This is ridiculous. He's a reporter." Rabouin was released after other officers arrived at the scene.
On 1st February 2023, a reporter with the Binghamton Press & Sun-Bulletin was pepper-sprayed by police while covering a protest in Johnson City, New York. Sarah Eames was covering a protest demanding justice for the police killing of Tyre Nichols and the arrest of Hamail Waddell when the incident took place. In footage Eames captured on her mobile phone, a Johnson City police officer is heard yelling, "Back up or you're going to get sprayed!" right before spraying her in the face. Eames had identified herself as press and wore credentials.
On 9th February 2023, a NewsNation reporter in Ohio was assaulted and arrested after allegedly being told to stop reporting live while the governor was making remarks at a public event. Body camera footage showed an Ohio National Guard official pushing Evan Lambert during an argument at a press conference. Lambert was held in jail on preliminary charges of criminal trespassing and resisting arrest. "No journalist expects to be arrested when you're doing your job, and I think that's really important that that doesn't happen in our country", said Lambert after his arrest. Charges against him were later dismissed.
Restrictive regulations and court cases
In December 2022, the U.S. House Select Committee investigating the 6th January attack on the Capitol dropped a subpoena seeking phone records of freelance photojournalist Amy Harris. Harris, who had filed a lawsuit against the Committee, also subsequently dropped her suit. The photojournalist had been working on a project documenting the Proud Boys, a far-right extremist group, and was at the Capitol when rioters stormed the building.
Separately, Texas joined other Republican-controlled state Senate houses in Iowa, Kansas and Utah by maintaining limits to reporters' access in the legislatures. Under the rules adopted by the state, access to the Senate floor is off limits to the media. The rule had been put in place during the pandemic, but was among the few temporary measures that did not get rescinded. "Unfortunately, this rule was left in place", one reporter said. "The result: reporters are still restricted to the Senate gallery, which is a floor above the senators themselves. That works to the detriment of timely and mutually beneficial conversations between senators and reporters."