USA: Pro-choice rally sizzles, pro-Trump rally fizzles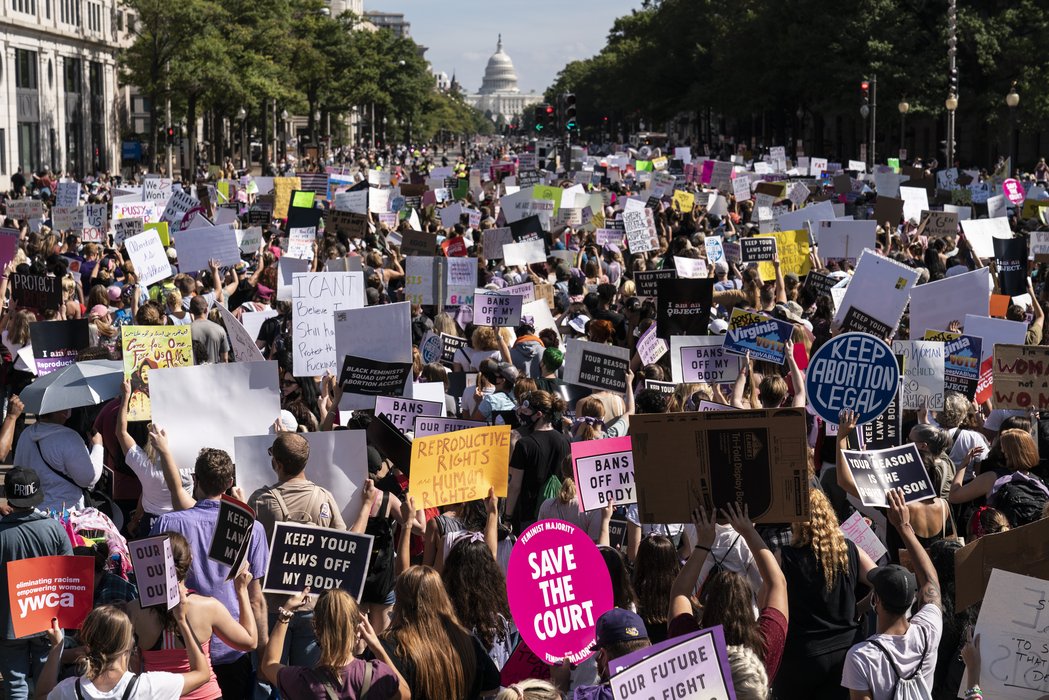 Peaceful Assembly
Rallies for abortion rights
💯 You all brought it yesterday! Thank you for sharing in the joys, heartbreak, and hope of this moment. Together, we'll keep fighting for reproductive freedom. #BansOffOurBodies pic.twitter.com/I0Jrb0dOmZ

— Planned Parenthood (@PPFA) October 3, 2021
On 2nd October 2021, tens of thousands of women and their supporters marched in multiple cities to protest against state restrictions on abortion and to advocate for a constitutional right to the procedure. The events were largely sparked by a Texas law that bans abortions after cardiac activity is detected in the embryo, usually at about six weeks of pregnancy. According to research by the Guttmacher Institute, in 2021 19 U.S. states have enacted 106 abortion restrictions.
Protesters mobilised in over 650 locations, organised by the Women's March and more than 90 other organisations, in a campaign to defend reproductive rights in the U.S. At the Rally for Abortion Justice in Washington, demonstrators carried signs that said, "Bans off my body," "Think outside my box" and "Keep your rosaries off my ovaries."
Reproductive rights activists also protested on 13th September 2021, when dozens of people gathered outside the house of Supreme Court Justice Brett Kavanaugh in Maryland to protest his decision to allow the enactment of Texas' abortion ban.
Coronavirus-related protests continue
On 18th September 2021, nearly a thousand people gathered at the Oregon Capitol to protest Gov. Kate Brown's COVID-19 vaccine and mask mandates. The rally was organised by Oregonians for Medical Freedom and protesters identified themselves as health care workers, teachers, emergency services workers and state employees. The state has included many of these sectors among those whose employees are required to be vaccinated.
Similar protests were held around the country. On 13th September 2021, hundreds of people in New York City gathered at Foley Square for a "Freedom Rally" to protest against the city's vaccination mandate. The protest was organised by a group of city teachers and parents opposed to medical mandates as requisites for employment. In Pittsburg, Kansas, dozens of healthcare workers gathered in front of a local hospital to protest the facility's vaccine mandate.

Other developments
Yesterday, we along with many of our partners held a protest demanding for:
➡️End of expulsion flights
➡️End of T42
➡️End the mistreatment of Black asylum seekers
➡️Humanitarian parole for Haitians at the border

Our communities must also be protected! 📸@bellikemike on insta pic.twitter.com/STdLohqavJ

— HaitianBridge (@HaitianBridge) October 5, 2021
On 26th September 2021, Haitian Americans and supporters rallied in Detroit to protest the treatment of Haitian migrants seeking asylum at the border and to call on the Biden administration to change its border policies. Gathering at the Spirit of Detroit statue, speakers highlighted the history and contributions of Black immigrants with roots in the Caribbean and Africa, while some in the crowd waved the flag of Haiti and chanted in Creole and English. In a separate protest for immigration reform in San Francisco on 30th September 2021, demonstrators in dozens of vehicles blocked traffic on the Golden Gate Bridge to demand Senate Democrats "take immediate action to protect all immigrant families." Five organisers with the Citizenship For All campaign were detained at the protest and four cars were towed.
On 24th September 2021, dozens of Indian Americans gathered outside the White House to protest against Indian Prime Minister Narendra Modi's meeting with President Biden. Chanting slogans and holding placards that read "Save India from fascism", the protesters criticised Modi over the persecution of Muslims and other minorities, new farm laws and the crackdown in Indian-administered Kashmir. "Right now, we are witnessing a slow genocide of minorities. The lives of India's 200 million Muslims are at stake, and the Biden administration can no longer afford to stay silent. This meeting is the right time to send a stern message to India," said Syed Ali, president of advocacy group Indian American Muslim Council.
On 18th September 2021, a few hundred people gathered around the US Capitol for a rally in support of the pro-Trump rioters who ransacked the building on 6th January 2021. Despite footage showing violence by rioters and guilty pleas from over 50 people charged in connection with the incident, speakers at the rally made claims that rioters were "political prisoners" who had committed no violence. Capitol Police made four arrests at the event, including a man armed with a handgun. A similar event on 22nd August 2021 in Portland, Oregon, ended in clashes between far-right demonstrators and antifascist counter-protesters, with protesters using paintball guns, fireworks and smoke bombs against each other. At least three reporters were assaulted while covering the clashes.
On 15th September 2021, a federal appeals court ruled that pro-Palestinian protests outside a synagogue in Michigan are protected by the First Amendment. Since 2003, protesters have regularly stood outside of the Beth Israel synagogue in Ann Arbor holding signs with messages like, "Jewish Power Corrupts," "Stop Funding Israel" and "End the Palestinian Holocaust." The American Civil Liberties Union (ACLU) filed a brief in support of the protesters, saying they were entitled to protection even if "offensive, upsetting and distasteful." This recent ruling came after plaintiffs appealed another ruling dismissing the lawsuit on similar grounds.
Court ruling blocks anti-protest law
🚨Last week a federal judge temporarily blocked key parts of #Florida's anti-protest bill from taking effect and #NorthCarolina's governor vetoed an anti-protest bill.

For more on these types of bills check out our US Protest Law Tracker and analysis➡️ https://t.co/nJKqKlOCgL https://t.co/mSMXOBwiMo

— ICNL Alliance (@ICNLAlliance) September 13, 2021
On 9th September 2021, a federal judge ruled that Florida's "anti-protest" law is unconstitutional and cannot be enforced. The ruling by U.S. District Judge Mark Walker found the recently-enacted law "vague and overbroad" and amounted to an assault on First Amendment rights of free speech and assembly as well as the Constitution's due process protections. Under the law, people engaged in peaceful protest or bystanders could face criminal charges and stiff penalties for being present in the area when a demonstration turned violent, the judge said. In his ruling, Walker wrote:
"If this court does not enjoin the statute's enforcement, the lawless actions of a few rogue individuals could effectively criminalise the protected speech of hundreds, if not thousands, of law-abiding Floridians."
The lawsuit was filed by civil rights organisations NAACP, the ACLU of Florida and the Community Justice Project (JCP) on behalf of plaintiffs that included racial justice groups The Dream Defenders, The Black Collective, Chainless Change and Black Lives Matter Alliance of Broward. Florida's governor said the state would appeal the decision.
Expression
On 13th September 2021, a reporter in Illinois was told to stop filming and ordered to leave a city council meeting in Country Club Hills. Erica Chiang, editor-in-chief for The Southland Journal, said the incident took place when the mayor told security to clear the room after the crowd began to get "upset" because he'd interrupted a speaker. "I'm a member of the press," Chiang can be heard saying in her recording of the incident. "This is a public meeting, I have every right to record a public meeting. I don't need permission; it is a public meeting." According to the Illinois Open Meetings Act, "Any person may record the proceedings at meetings required to be open by this Act by tape, film or other means. The authority holding the meeting shall prescribe reasonable rules to govern the right to make such recordings."
"To me this is really just an underscore of how dangerous this job has become." — Independent journalist @MaranieRae was assaulted multiple times, her cell phone, camera and other equipment damaged while covering Portland demonstrations on Aug. 22: https://t.co/raCFXckzlv

— U.S. Press Freedom Tracker (@uspresstracker) October 12, 2021
On 22nd August 2021, at least three journalists were assaulted while covering demonstrations by far-right groups and antifascist counter-protesters in Portland, Oregon. Independent journalist Maranie Staab and other journalists were attacked when they were caught between two clashing groups. Staab was first sprayed with a chemical she did not recognise. "It definitely wasn't mace. Someone else said it was hornet spray or wasp spray or something," the reporter commented, saying that moments later another demonstrator began threatening her. "Pretty immediately someone grabbed my cell phone out of my hand — it was on a little, small gimbal — threw it on the ground and smashed it. Then someone pulled me down by my camera strap, which was on my right arm." Protesters also used paintball guns to shoot Staab and other two journalists covering the clashes.
On 20th August 2021, Twitter temporarily suspended the account of Christina Pushaw, press secretary to Florida Gov. Ron DeSantis, for violating rules on abusive behaviour after she incited her followers to harass an Associated Press reporter. After AP reporter Brendan Farrington published a story about a major funder of the DeSantis campaign, Pushaw retweeted Farrington's article and wrote "Drag them" in a message which has since been deleted. The AP reported that the press secretary wrote in another tweet that if Farrington didn't change a story, she would "put you on blast." She also retweeted a message that said "Light. Them. Up." in reference to the AP. Farrington said he received death threats following Pushaw's tweets.