Two weeks of barricades in Bolivia after presidential election postponed to October 2020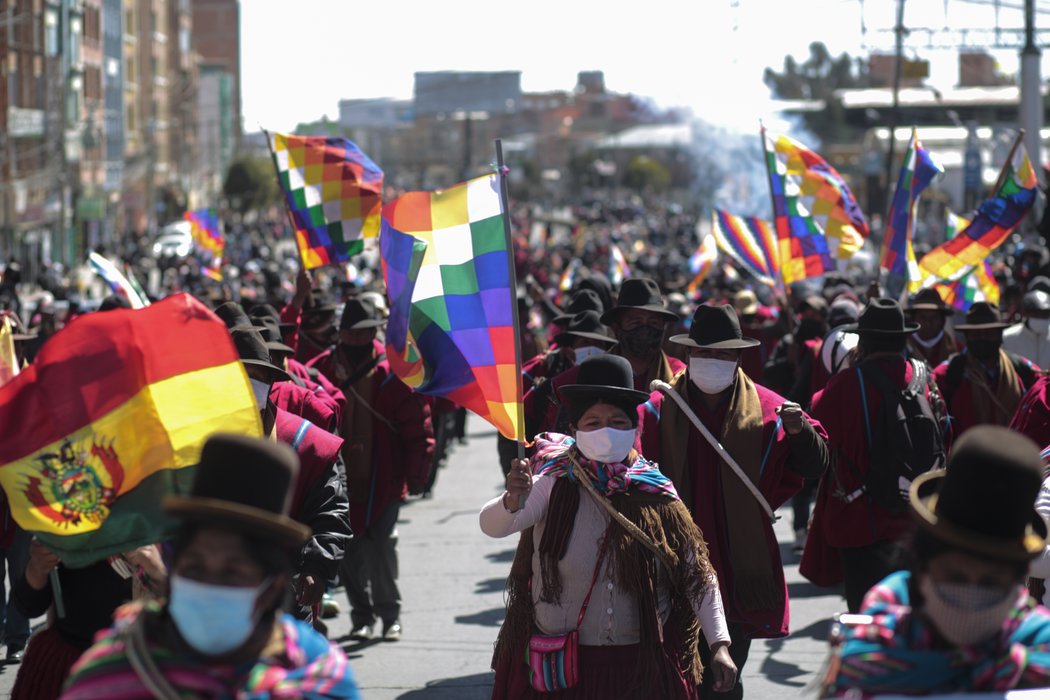 Peaceful Assembly
On 23rd July 2020, the head of Bolivia's electoral tribunal announced that general elections would be pushed back until 18th October 2020 to ensure the safety of voters as coronavirus cases soared. It was the second time that the country's highly anticipated elections, first scheduled for May 2020, were postponed.
In response, in August 2020 protesters across the country organised demonstrations and roadblocks against the delay of the vote. The demonstrations were convened by Bolivia's main workers' union, Central Obrera Boliviana, and Indigenous and campesino movements allied with former president Evo Morales' Movement Towards Socialism (MAS). According to The Guardian, more than 100 roadblocks and marches were reported nationwide, bringing the country to a standstill for several days early in the month. During the protests, there were reports of violence by some protesters and between civilian groups.
Seven people were detained in protests in Oruro and El Alto, including a teenager, and the police used tear gas to disperse protests in at least one city. In some cities, protesters dynamited passes and reportedly impeded the passage of medical supplies. After several days, the interim government authorities threatened to deploy military forces to remove the blockades. The protest organisers responded saying that they had instructed demonstrators to let ambulances and medical supplies through the barricades.
On 7th August 2020, the Inter-American Commission on Human Rights (IACHR) called on the Bolivian State to establish dialogue between political actors involved in the protests and to prevent the escalation of violence. The IACHR and Bolivia's Ombudsperson both expressed concern about the creation of armed paramilitary groups that have acted violently against several protesters. In some cases, authorities are alleged to have failed to intervene, allowing these groups to attack civilians.
After negotiation, interim president Jeanine Áñez signed a law mandating that elections must be held by 18th October 2020. Following this commitment by authorities, on 14th August 2020, Central Obrera Boliviana and Pacto de Unidad agreed to pause the protests in order to "pacify the country".
On 20th August 2020, news outlets reported that several protest leaders were facing criminal charges for alleged "terrorism" and "sedition" related to the convening of roadblocks during the protests. Arrest warrants were reportedly issued for five leaders, including Central Obrera Boliviana's executive secretary Juan Carlos Huarachi.
Association
Estas personas, que intentaron trepar las paredes para poder llegar hasta el despacho, lanzaron amenazas y palabras irreproducibles contra los funcionarios defensoriales, con la clara intención de amedrentarlos y agredirlos físicamente sin ningún respeto. pic.twitter.com/vL4AwL6j70

— Nadia Alejandra Cruz Tarifa (@NadiaCruzDP) August 27, 2020
The IACHR and the UN High Commissioner for Human Rights' Office in Bolivia condemned threats and violent actions against officials of the Ombudsperson's Office. On 27th August 2020, an organised group invaded the institution's offices in La Paz, insulting Ombudsperson Nadia Cruz and employees of the institution. Members of the group reportedly also threatened Cruz and caused material damage to the offices. According to the IACHR, at least one official who tried to intervene in the conflict was physically assaulted.
The Ombusperson's Office asked the police to ensure the safety and integrity of its officials due to these and other attacks and threats. As previously reported by the CIVICUS Monitor, the interim government has disavowed Ombudsperson Nadia Cruz, generating a concerning crisis with one of the country's main human rights institutions.
Reports on Bolivia's political crisis
Our new @amnesty report on #Bolivia documents human rights violations committed during the post-election crisis. #COVID19 is not the only serious crisis. The presidential candidates must commit to take urgent action to heal the pandemic of impunity 🇧🇴 https://t.co/cLLeLjqSdi

— Erika Guevara-Rosas (@ErikaGuevaraR) August 20, 2020
On 27th July 2020, researchers from the International Human Rights Clinic at Harvard University and the University Network for Human Rights published a report titled "They Shot Us Like Animals: Black November & Bolivia's Interim Government". The study found that, since taking over in November 2019, Jeanine Añez's government has continued to undermine civil society freedoms in Bolivia. Under the administration, the report says, "state-sponsored violence, restrictions on free speech, and arbitrary detentions have all contributed to a cli­mate of fear and misinformation that has undermined the rule of law as well as the prospects of a fair and open election".
The researchers investigated cases of police abuse during the height of the post-election conflict in 2019 and the continued persecution of political opponents. According to the report, by the beginning of 2020 at least 100 MAS politicians had been detained or were facing charges. In addition, members of the interim government have publicly maligned human rights defenders and political rivals, while some activists have allegedly been arrested and tortured.
On 20th August 2020, Amnesty International published another report on the Bolivian crisis titled "Healing the pandemic of impunity: 20 human rights recommendations for candidates in the 2020 presidential elections in Bolivia". The civil society organisation investigated the involvement of armed forces in policing protests, the massacres in Sacaba and Senkata in 2019 and victims' access to justice.
According to their report, at least 35 people died and 833 were injured in the context of protests since the disputed October 2019 presidential election. The report also noted that during Evo Morales' presidency there was a deterioration in the situation of human rights defenders in Bolivia, and that defenders have continued to face attacks after the former president resigned. The interim government, meanwhile, "has created a climate of fear and censorship through its public statements and has targeted those journalists and social communicators who are critical of the administration". The report also touches on the country's deep political polarisation, the role of non-state actors in violent incidents and attacks on judicial independence during the crisis.
Expression
#BOLIVIA: Las autoridades bolivianas deben investigar pronta y exhaustivamente la agresión de que fue objeto el periodista David Sapiencia, identificar a los autores y someterlos a la justicia.

"Pensé que iba a morir", declaró Sapiencia.https://t.co/1OMQsBQVqx

— CPJ Américas (@CPJAmericas) August 11, 2020
Press association Asociación Nacional de la Prensa de Bolivia (ANP Bolivia) denounced several attacks against journalists during the latest wave of protests in Bolivia. On 5th August 2020, freelance journalist David Sapiencia was reportedly beaten with clubs and pelted with rocks by protesters in the town of Mairana. As reported by the Committee to Protect Journalists, the reporter required medical attention after the incident, receiving seven stitches for wounds on his head and treatment for bruises.
On 9th August 2020, journalists and cameramen who were covering a protest in front of Tribunal Supremo Electoral (TSE) were subjected to verbal and physical attacks from demonstrators, who reportedly shouted that they did not want the press covering the protest and prevented journalists from doing their work.
On 12th August 2020, ANP reported that once again a group of demonstrators attacked press workers – in this case from television broadcaster Red Uno in Santa Fe de Yapacaní. Journalist Marco Chávez, cameraperson José Antonio Posiavo and driver Maximiliano Sosa were attacked when they were trying to broadcast live from a protest. Chávez said that the protesters threatened to pelt them with stones and that when they got into their car, demonstrators surrounded them, threw stones at the vehicle and damaged some of their equipment.
At the end of July 2020, after similar episodes of harassment of journalist crews had taken place during protests, the IACHR and UN Human Rights in Bolivia recalled the importance of keeping protests peaceful and of the respect for journalistic work during demonstrations.