Teachers fired for civil disobedience; teenager faces backlash over critical speech about Orbán government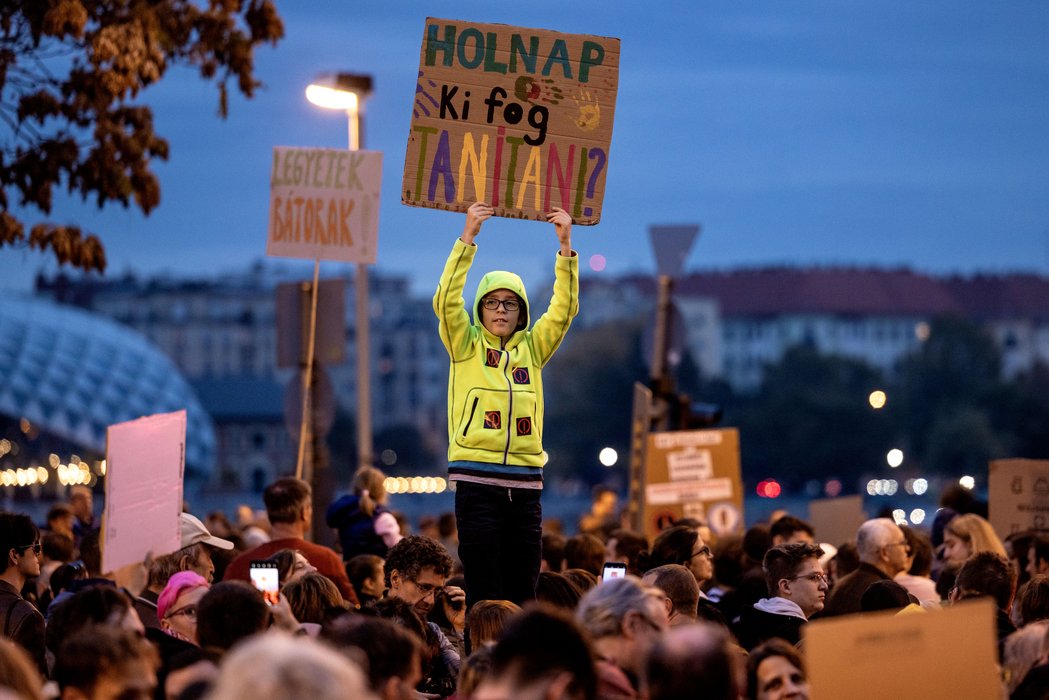 Introduction
The Hungarian government failed to adequately implement the 17 reforms negotiated with the EU's executive as part of the rule of law conditionality regulation by the deadline of 19th November 2022. Some believe that the required reforms did not cut deep enough. In a statement, civil society watchdogs K-Monitor TI Hungary, and Hungarian Helsinki Committee pointed out that
"the decision to tie EU funds to rule of law compliance criteria did not require the Hungarian government to introduce changes that would shake the institutional and procedural fundaments of the captured, illiberal state, or to promise sweeping reforms to ensure comprehensive and effective protection against corruption."
Notwithstanding the moderate nature of the required reforms, when reviewing the situation, the European Commission found that while Hungary did introduce reforms, "central aspects of the necessary 17 remedial measures" were missing, and, on 30th November 2022, it proposed to freeze funds.
On 6th December 2022, the issue should have been discussed at a Council of EU. In order to put pressure on the EU to release the funds, Hungary blackmailed Brussels by blocking aid to Ukraine and a global deal on corporate taxation until the commission unlocks billions in EU funds. On 12th December 2022, the EU countries agreed to reduce the amount of frozen funds from 7.5 billion to 6.3 billion in exchange for Budapest lifting its strategic vetoes.
In addition to not getting the above sum, Hungary is facing an energy crisis and soaring food prices, partly as a consequence of Russia's war in neighbouring Ukraine. The government, in an attempt to halt the cost-of-living crisis, put price caps on food items and fuel. Later it decided to abolish price caps on fuel, as shortages became frequent.
In order to gain support from the EU budget and unfreeze its resources, the Hungarian government has submitted a number of bills to parliament in an attempt to prove to Brussels its respect for the rule of law. New reforms will halt the opportunities for the government to remove or transfer judges in politically sensitive cases. The opposition in its turn believes the changes are merely a cover for the EU and will not have positive impacts in practice.
Due to the energy and economic crisis, educational institutions cannot ensure proper heating of their classrooms. Private schools have said that they will have to drastically increase the price of their services to cover the energy costs, or they will suspend teaching. Most universities have switched to online learning, extending the winter break until the end of February 2023. The problem of the accessibility of online education, which became apparent during the pandemic, remains unresolved.
Association 
EU funding for pro-democracy NGOs
In December 2022, it was announced that a consortium comprising the Ökotárs Foundation, the Autonómia Foundation, the Carpathian Foundation-Hungary and the Association of Community Developers was one of 16 applicants selected from across Europe to receive a total of €4 million in funding in the framework of the EU's "Citizens, Equality, Rights and Values" programme to support domestic NGOs working to protect and promote the rule of law, democracy, equality and human rights through open calls for proposals over the next three years.
Ökotárs Foundation was the grant operator of the civil society leg of so-called Norwegian Funds. As reported earlier on the CIVICUS Monitor, the Hungarian government decided to forgo the support of the fund altogether, because the donor countries insisted that the funds to civil society (10% of the funds) should be distributed by an independent operator of their choice, Ökotárs.
The EU's support is no direct compensation for the lost funds but is rather to be seen as the EU's response to the shrinking civic space within its own boundaries.
Peaceful Assembly
Ongoing teachers' protests
Protests about teachers' working conditions have continued in Hungary in the winter of 2022.
As reported earlier on CIVICUS Monitor, Hungarian teachers have been protesting against low wages, exhausting working hours and their general working conditions that they believe are not conducive to educating the next generations. Dozens of solidarity protests have also been held, characteristically by high school students worried about their future and the quality of education they receive. Hungary's government has promised to give teachers a salary increase in the near future, but only if the EU releases blocked funds.
Since then, a number of teachers have been dismissed for "civil disobedience". In fact, many teachers have chosen civil disobedience over the past two months precisely because the government last year significantly restricted teachers' right to strike. As reported previously on the Monitor, the government introduced a new decree increasing the "minimum level of service" strikers must provide during a strike. This decree had a considerable impact on the right to strike because teachers have to provide important work while striking. This restriction on the right to strike has led teachers resorting to civil disobedience to make their voices heard. However, this action is not considered a legal strike, but rather a refusal to work, which is grounds for dismissal in Hungary.
Hungarian teachers, students and parents organised nationawide sit-ins, strikes today protesting the firing of teachers who participated in civil disobediance actions, and calling for higher wages, education reforms #Hungary (Pics: HVG, Telex) pic.twitter.com/k305ohQOjY

— Eszter Zalan (@eszterz) December 8, 2022
For example, on 30th November 2022, 14 teachers from a prestigious Budapest school, called Fazekas Mihály, were dismissed for participating in civil disobedience actions. These dismissals were justified by the teachers' refusal to work without authorisation. The headmaster of the school signed a letter saying "please be informed that repeated refusal to take up work constitutes, according to the Ministry of the Interior's principled statement, a deliberate and substantial breach of an essential obligation arising from the employment relationship as a public servant and is grounds for extraordinary dismissal by the employer".
Following this, a day of nationwide strikes took place in the country and hundreds of teachers have continued to participate in civil disobedience actions. The Democratic Trade Union of Teachers (PDSZ) has announced that from 23rd to 31st January 2023 there would be another week-long national strike for the future of education.
Expression
Describing the developments around the teachers' protests in Hungary, Emese Pásztor, head of the Political Freedoms Project at the Hungarian Civic Liberties Union(HCLU) told the Monitor that
"in the last few months several talented secondary school students saw the time had come to step up for their future, even if, in Hungary, formulating a critical opinion on public issues might entail serious risks."
On 23rd October 2022, one of the leading figures in the education movement, high school student Lili Pankotai, gave a speech during a mass solidarity protest. In her speech, she harshly criticised the government's position, including on the teachers' strike and LGBTQI+ rights, using foul language. Following this, she was heavily criticised and threatened, including by the director of her school. According to the Nagy Lajos High School of the Cistercian Order, the speech was incompatible with church values and the school's administration distanced themselves from it.
In January 2023, Hungarian media reported that Pankotai experienced serious psychological pressure from the school, which resulted in her having to change schools. Represented by the HCLU, she is suing her former school for putting pressure on her based on her political views.
Judit Zeller, a senior legal expert at HCLU, told independent online outlet Telex, that she hoped that "this lawsuit will set a precedent for other institutions" and that in her view,
"the school simply has to do something about the fact that a student is active, has political opinions, and cannot respond by retaliating against them. Freedom of expression, and even the expression of political opinion, is a fundamental right and cannot be restricted by a school."
Hate speech against independent journalist
On 4th November 2022, the National Association of Hungarian Journalists (MÚOSZ) issued a statement condemning the incitement to hatred by Barna Bartha, a politician of the far-right party Mi Hazánk towards Transylvanian journalist Boróka Parászka.
The journalists' association's statement comes after the politician fantasised about hanging the Transylvanian journalist at a meeting held in the hall of the Unitarian church in Sfântu Gheorghe, during one of the stages of his political campaign in Transylvania.
"I would not take this story seriously, but in this case, it is not my person that is important, but the fact that Mi Hazánk attacked the journalist of the Hungarian language channel of the Romanian public media. Therefore, this is an attack on the press and the public service, which should be taken seriously," said Parászka.
The journalistic body called on the authorities to initiate proceedings for incitement of a hate crime.
Government media on freedom of the press
On 4th November 2022, Krisztina Baranyi, the mayor of Ferencváros (a district of Budapest) was invited to a show on the TV channel ATV in front of three journalists, including Szilárd Szalai from the media Pesti Srácok, a radical-right media outlet. The mayor refused to answer a question about the payment of utility bills in Ferencváros. The Hungarian politician said that she had vowed not to speak to the "propaganda media" and "paid propagandists by the government". She goes on to explain that if she had known who would be in the studio she wouldn't have come. After this event, the mayor received threatening messages.
ATV, once a liberal-oriented outlet, has been taken over by Sandor Nemeth, chief pastor of the biggest Hungarian neo-Protestant church. Following this, the channel turned into yet another pro-government media outlet after the elections in April 2018, according to insiders who worked there.
In a later interview, Krisztina Baranyi explains why she does not talk to the propaganda press. She played a recording from Pesti TV's Politikai Hobbista programme, which shows three hosts acting in a mocking manner and discussing the topic of Baranyi's election as mayor, that she is "not a very beautiful woman, but she is not a smart woman either". Soon the talk turned to the part in which the hosts concluded that if they had to choose, they'd rather "choose to f*** a goat" than have sexual intercourse with the mayor of Ferencváros.
The pro-government media condemned Baranyi's attitude which, according to them, says a lot about how the left views diversity of opinion and freedom of expression. On the other side, Prime minister Viktor Orbán has long been unwilling to give an interview to any media organisation critical of the government, while opposition politicians virtually have no opportunity to present their views in the supposedly 'independent' state media.
Pegasus report
Hungary was accused of using Pegasus and other similar spying software against their own citizens in a European Parliament report. A press release published on 8th November 2022 states that the system was particularly used against critics of the government, the opposition, journalists and whistle blowers.
As reported previously on the CIVICUS Monitor, in November 2021, Hungary's government acknowledged that it had bought Pegasus spyware but stated that its use was carried out in accordance with Hungarian law. However, an international investigation by a team of NGOs, including Citizenlab and Amnesty International, found an abusive pattern targeting investigative journalists and the opposition of Orban's regime.
In January 2022, the Hungarian Civil Liberties Union launched legal action on behalf of six applicants. After no measures were taken by Hungarian authorities, on 11th November 2022 HCLU sent a letter to Irene Khan, the UN Special Rapporteur for Freedom of Opinion and Expression, in which they wrote about the domestic and international procedures initiated by the HCLU to remedy the rights violations.
Incidents against journalists: smear campaigns & censorship
On 5th October 2022, reporter Márk Móna from Hungarian private broadcaster Hír TV was pushed off a platform by a protester while he was speaking live from a protest staged by teachers, parents and students in central Budapest.

In November 2022, Zoltán Varga, owner and CEO of the Central Media Group which operates 24.hu, one of the very few independent news outlets in Hungary, was questioned by the National Tax and Customs Administration (NAV) as part of an investigation into alleged budget fraud. This raised further concerns of media ownership pressure.

On 16th November 2022, far-right extremist websiteVadhajtások.hu published an opinion piece titled: "You could easily beat all the journalists of 444 to death". 444.hu is one of Hungary's leading independent news platforms and has reported critically on the website and its former owners. The opinion piece drew many comments, including ones of hate speech and insults.
"You could beat all the journalists of 444 to death" - is the title of an article published on vadhajtasok(dot)hu an extremist website in Hungary. The first sentence reads "In our opinion, it would be completely justified to beat them to death, no harm would be done..."

— Peter Erdelyi (@erdelyipe) November 16, 2022
In December 2022, journalists from several independent news outlets, including Media1, 444.hu and Magyar Hang, were denied entry into the Prime Minister's end-of-the-year press conference by a police officer who claimed that their names were not on the media list, despite the journalists' registration for the event.

In January 2023, Hungarian investigative media outlet Átlátszó and its editor-in-chief were subject to a smear campaign through a series of articles published in pro-government media and during a press conference held by a pro-government foundation. The publication and its editor-in-chief Tamás Bodoky were attacked over the non-profit media outlet's role in the cross-border investigative project coordinated under the Investigative Journalism for Europe (IJ4EU). Bodoky was accused of being a national traitor and a security risk. In a statement, IJ4EU said:
"We, the undersigned partners of the investigative project, call on the involved actors to stop the smearing campaign against Átlátszó and specifically call on the Hungarian government to condemn these blatant attacks against regional independent media and the incitement of hatred towards Átlátszó and its journalists in Hungary."