The Taliban continues to target activists, journalists and stifle protests by women with impunity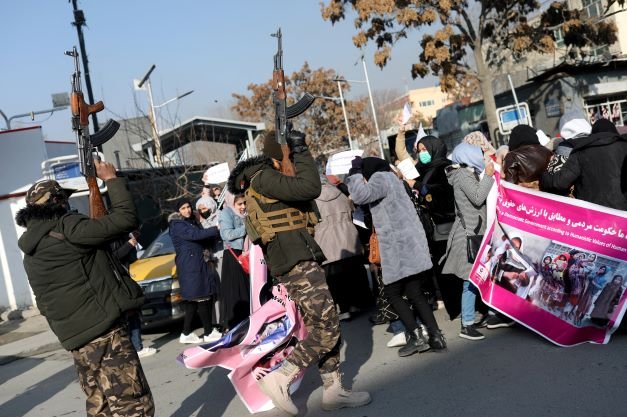 The state of civic space in Afghanistan remains repressed. Following the Taliban takeover of the country in August 2021, a human rights and humanitarian crisis has ensued. Human rights defenders face systematic intimidation throughout the country and dozens have been threatened, abducted or attacked. Protests, especially by women activists, have been stifled by the Taliban with the use of excessive force to disperse crowds, leading to deaths and injuries of peaceful protesters. Journalists have also been at increased risk.
In May 2022, Taliban authorities in Afghanistan dissolved five key departments including the country's human rights commission, deeming them unnecessary in the face of a financial crunch.Also dissolved was the high council for national reconciliation (HCNR), the once high-powered national security council, and the commission for overseeing the implementation of the Afghan constitution.
The UN Special Rapporteur on the situation of human rights in Afghanistan, Richard Bennett, appointed in April 2022, undertook his first visit to the country from 15th to 26th May 2022. Following his visit, he stated that Afghanistan is facing a plethora of human rights challenges, but the Taliban have failed to acknowledge or address the magnitude and gravity of abuses, many of which were committed in their name.
Among other issues, he was alarmed about reports of ongoing extrajudicial and revenge killings of former members of the security forces and officials, and door-to-door searches. The high number of reports of intimidation, harassment, attacks, arrests and, in some cases, the killing or disappearance of journalists, prosecutors, judges and civil society members, was another serious concern. Bennet also said the erasure of women from public life was especially concerning, citing measures such as the suspension of girls' secondary education, severe barriers to employment and limits on freedom of movement, association and expression.
On 24th May 2022, members of the UN Security Council expressed deep concern regarding the increasing erosion of respect for the human rights and fundamental freedoms of women and girls in Afghanistan by the Taliban. The council also expressed deep concern regarding the volatile situation in Afghanistan, including political, economic, social and security challenges and their impact on the lives of the Afghan people, in particular continued terrorist attacks targeting civilians and civilian infrastructure, including in religious minority communities.
On 1st June 2022, a coalition of 25 leading NGOs including CIVICUS urged the UN Human Rights Council to call for an Urgent Debate on the women's rights crisis in Afghanistan at the 50th session of the UN Human Rights Council that started on 13th June 2022. The groups stated that there has been an enormous deterioration in the recognition and protection of the rights of women and girls in Afghanistan, including with respect to the rights to non-discrimination, education, work, public participation, health and sexual and reproductive health.
In recent months, there have been reports of the growing pattern of arbitrary arrests, unlawful detentions and enforced disappearances by the Taliban. Detained women's rights activists have been forced to make video confessions saying they had been incited to protest by foreign activists. There have been ongoing restrictions, detention and attacks on journalists by the Taliban, the banning of international broadcasts and forcing of female news presenters to cover up. Despite harassment and threats, women's rights activists have continued to protest for their rights to education and employment.
Association
Arbitrary arrest and detention of activists, journalists and others
On 21st March 2022, Amnesty International reported a growing pattern of arbitrary arrests, unlawful detentions and enforced disappearances against those who have tried to question the Taliban by way of peaceful protests or by exercising their right to freedom of expression.
The group said that in January and February 2022, more than 60 people including children faced either arbitrary arrest, unlawful detention or enforced disappearance at the hands of Taliban authorities in Afghanistan. Some of the cases, which include women protesters, began with enforced disappearance at the hands of the Taliban authorities and led to illegal incommunicado detention.
Amnesty International said that the Taliban – in particular the Taliban General Directorate of Intelligence – have been arbitrarily detaining activists, journalists, women's rights activists and members of the former government in increasing numbers. The male detainees have mostly been arrested from public places by the Taliban according to the cases Amnesty International investigated. However, the arrests and detentions have been arbitrary as those arrested and detained have not been charged and, in most cases, the detained have been denied access to a lawyer or their families and have not been brought before a court or charged with a recognisable criminal offence.
The Taliban have also allegedly been discouraging victims' families from publishing information on their cases or talking to the media. Due to fears of reprisal from the Taliban, victims are afraid to talk.
Women's rights activists make video confessions under duress
Ministry of #Interior of the #Taliban released a video of #women activists confessing to being paid to do activism. Activists confessing to wrongdoing on camera after abduction, does it sound familiar? Story of every tyrannical regime ever.pic.twitter.com/rLWZQbARe7

— Obaidullah Baheer (@ObaidullaBaheer) February 21, 2022
Women's rights activists have been at the forefront of protests against the Taliban. In response, the Taliban has cracked down on the protests through harassment, excessive force, and even the abduction of activists, according to rights groups. Some women were held incommunicado and since their release most have gone silent.
According to reports in February 2022, the Taliban authorities appear to be using a new tactic to intimidate women's rights activists: airing so-called confessions in which women say activists based outside the country had told them to protest.
On 21st February 2022, the Taliban Interior Ministry released a video on Radio Television Afghanistan (RTA) of several women who said they had been encouraged by foreign-based activists to take to the streets by offering them the chance to relocate or send their children to study abroad. They also said that, unlike what they expected from the Taliban, they were not treated harshly. The women are reportedly among 29 women and their families who disappeared from a safe house in Kabul.
The video has led to anger and accusations that the Taliban extracted the so-called confessions under duress. Samira Hamidi, deputy regional director at Amnesty International, said the Taliban is attempting to silence protesters and those who have challenged the extremist group's human rights record. She added: "If you pay attention to the video, the mental state of the protesting women [shows] that they're under pressure." Hamidi also said on Twitter that it wasn't clear what kind of pressure the women may have faced to confess that they were protesting in an effort to help them flee the country.
Heather Barr, associate women's rights director at Human Rights Watch, said: "When you detain people without charge, lie and say you haven't detained them, and deny them access to lawyers, family and advocates, no one is surprised when you cap those abuses off with a choreographed confession."
Expression
Academic detained by the Taliban
This is unfair individual arrest by #Taliban without any logical reason, no freedom of speech #Afghanistan please #ReleaseSayedBaqerMohseni pic.twitter.com/NVwPg3Bwj1

— Syd Hussain Honaryar (@SHonaryar) March 5, 2022
On 4th March 2022, the Taliban arrested Sayed Baqer Mohseni, an academic and political analyst. According to a relative, Mohseni and two of his friends were summoned by the officials and then went missing and did not return home. He was reportedly released the two days later.
Mohseni has recently appeared in several round table programmes on television and was critical of the way the Taliban was ruling the country. In addition to calling for the formation of an inclusive government, he strongly criticised the performance of the Taliban and questioned their capacity to run the country. Mohseni had also raised concerns of censorship and had claimed that Taliban officials had banned the media from publishing his speeches and interviews.
Ongoing restrictions, detention and attacks on journalists
Journalists remain at risk in Afghanistan and since the Taliban takeover many have been ill-treated, attacked or arrested and detained for undertaking their work
Taliban arrested two journalists today;
Mirwais Atel, Zama Radio News director in #Kandahar, and Sarwar Hashemi, a correspondent for Radio Salam Watandar in #Kabul pic.twitter.com/RuzKlkL0fB

— khalilminawi (@khminawi) March 26, 2022
On 26th March 2022, Taliban forces in Kandahar detained the independent local broadcaster Zema Radio's director, Mirwais Atal, after raiding his home. Authorities held Atal for about 15 hours before bringing him back to his home to retrieve his phone; they then transferred him to an undisclosed location, according to sources. At a meeting with local media executives the following day, the deputy director for media and public affairs at the Taliban's General Directorate of Intelligence, Jawad Sargar, said that Atal was detained due to his "feministic viewpoints".Prior to his arrest, Atal had published commentary on his personal Facebook page praising local protests by female students against Taliban orders to close girls' schools.
On the same day, the Committee to Protect Journalists (CPJ) reported that Taliban intelligence agents in Kabul's District One had detained Sarwar Hashemi, a journalist with the independent local broadcaster Salam Watandar, while he was covering a protest against the school closures. Authorities interrogated Hashemi for about six hours and then released him without charge.
On 28th March 2022, the Taliban detained six Kandahar radio journalists for several hours and briefly shut down their stations for violating a ban on music. Taliban intelligence agents questioned the six journalists and released them only after their station managers agreed to stop playing music in line with a new Taliban directive. The Kandahar-based representative for the Afghan Independent Journalists' Association helped negotiate their release.
Afghan journalist Mohib Jalili was arrested on 16th April 2022 by more than seven armed men from the Taliban's General Directorate of Intelligence (GDI), when on his way home. He works as a presenter with the independent 1TV station in District 15 of the capital, Kabul. According to CPJ, while Jalili was detained at a GDI office, Taliban intelligence agents beat him with a gun, resulting in a large welt on his left arm and held him for about three hours before releasing him without charge. Upon release, an agent threatened Jalili and told him not to talk about the detention to any journalist or media outlets.
Taliban forces beat and detain journalist Reza Shahir in Kabulhttps://t.co/3QgfeORQ5o

— Committee to Protect Journalists (@pressfreedom) April 20, 2022
On 19th April 2022, armed Taliban members stopped Reza Shahir, a reporter for the independent TV station Rahe Farda, while he was covering a suicide attack at a school in western Kabul, and proceeded to beat and detain him. Shahir told CPJ that he reached the scene of the explosion before authorities, and when Taliban forces arrived at the scene, two members confiscated his camera and cellphone, punched him on his head and arms, beat him on his feet with their guns, blindfolded him and took him away from the attack site. They held Shahir for about three hours and accused him of being connected to the attack, and then released him without charge. On 3rd June, Taliban forces stopped Shahir again while he was on his way to his home in Kabul's District 18, searched him and then punched him in the head and beat him on the shoulder with an AK-47, knocking him unconscious, and took his mobile phone.
#Afghanistan: Taliban authorities must immediately release Afghan journalist Khalid Qaderi, drop all charges against him, and stop detaining and imprisoning members of the press for their work.https://t.co/KEqDPdQTe5

— CPJ Asia (@CPJAsia) May 6, 2022
A Taliban military court in the western city of Herat sentenced Afghan journalist Khalid Qaderi to one year in prison for allegedly spreading anti-regime propaganda and committing espionage for foreign media outlets. Qaderi did not have access to a defence lawyer, and Taliban authorities forced him to sign a document agreeing not to appeal the verdict, the journalist said. The ruling was issued in mid-April 2022 and the journalist was notified 10 days after his appearance in court. Qaderi is a reporter and producer of cultural programmes for Radio Nawruz, an independent broadcaster in Herat province.
On 25th April 2022, journalist Jebran Lawrand, a political programmes manager and presenter at the independent Kabul News TV station, was summoned to the Taliban's General Directorate of Intelligence (GDI), where he was detained and questioned for over two hours. Activists told CPJ that the Taliban intelligence agents warned Lawrand that his TV shows shouldn't criticise the Taliban and that he must not invite critical analysts to appear. The agents also reportedly warned that no one should know about the journalist's detention and questioning or he would face graver consequences.
NAI, Supporting Open Media in #Afghanistan has reacted to the disappearance of Ali Akbar Khairkhah, a journalist and photographer for Subhe Kabul newspaper and called on the #Taliban to seriously investigate his disappearance and provide information. pic.twitter.com/L9em3HDyPb

— Reporterly (@Reporterlyaf) May 28, 2022
On 24th May, Ali Akbar Khairkhah, a photojournalist and reporter with the local Subhe Kabul newspaper, disappeared from the Kote Sangi area of District 5 in the capital of Kabul. Khairkhah told his family that he was going to the area to report but they could not find any information about him in the hospitals, police districts or the Kabul police command. Khairkhah had recently conducted interviews with Afghan politicians for Subhe Kabul, which covers Afghan news and current affairs.
Taliban bans international news broadcasts
On 28th March, the Taliban barred local broadcasters from airing Pashto, Persian and Uzbek programming from British public broadcaster the BBC, the U.S. Congress-funded broadcaster Voice of America, and German public broadcaster Deutsche Welle. The Shamshad, Ariana and Arezo broadcasters have aired programming from the BBC, while TOLOnews has aired VOA programming, and Shamshad, Ariana and TOLOnews have aired programming from DW.
Tarik Kafala, head of languages at the BBC World Service, said in a statement: "This is a worrying development at a time of uncertainty and turbulence for the people of Afghanistan. We call on the Taliban to reverse their decision and allow our TV partners to return the BBC's news programmes to their airwaves immediately."
DW director general Peter Limbourg said: "The increasing restrictions on freedom of the press and freedom of expression in Afghanistan are very worrying. Free media is essential for this and we will do everything we can to continue to provide the people of Afghanistan with independent information via the internet and social media."
Taliban enforce face coverings for female news presenters
On 21st May 2022, the Taliban's Ministry of Vice and Virtue ordered all women television presenters to cover their faces, stating "the decision was final and that there was no room for discussion."
After the order was announced, only a handful of news outlets complied. However, a few days later most female presenters were seen with their faces covered after the ministry began enforcing the decree.
Human Rights Watch said: "The rule blatantly violates women's rights to freedom of expression, as well as personal autonomy and religious belief. It will also prevent access to information for people who are deaf or hard of hearing who lip read or rely on visual speech cues to help them understand people speaking."
In response to the order, male presenters at several major news channels in Afghanistan have worn masks on air in solidarity with their female colleagues – an act that prompted the #FreeHerFace campaign on social media. As one women's rights activist wrote, "Afghan men showing up for Afghan women is not just a gesture. It's a turn in the story that will change everything. Brave brothers."
Peaceful Assembly
Since the Taliban returned to power, they have effectively banned protests and frequently intervene to block demonstrations. The Taliban have responded to many of these demonstrations with gunfire and beatings to disperse crowds, leading to deaths and injuries of peaceful protesters. Despite these threats, women's rights activists have continued to risk their lives by holding protests against the discrimination and restrictions they have faced.
Protests against restrictions on the education of girls
"Open the schools! Justice, justice!"

Afghan girls stage protest and demand Taliban reopen schools https://t.co/MyqgjdYAHT pic.twitter.com/aCiqZnJtvS

— Al Jazeera English (@AJEnglish) March 26, 2022
On 26th March 2022, more than two dozen girls and women staged protests in front of the Ministry of Education in the capital, Kabul, days after the Taliban administration shut secondary schools for girls until further notice. Thousands of girls across Afghanistan had attended learning institutions on 23rd March but, just hours into the first day, the ministry announced a shock policy reversal that left them saying they felt betrayed and foreign governments expressing outrage. The decision means girls above the sixth grade will not be able to attend school.
"Open the schools! Justice, justice!" chanted protesters, some carrying school books as they gathered at a city square in Kabul. They held banners that said: "Education is our fundamental right, not a political plan", as they marched for a short distance and later dispersed as Taliban fighters arrived on the scene.
After taking power the Taliban ordered that from September 2021, boys' secondary schools should reopen; they did not mention girls' schools. Most girls' schools have remained closed since August 2021, depriving most adolescent girls' access to education, one of many violations of the rights of girls and women committed by the Taliban since they gained control of the country.
Afghan women face threats for protesting Taliban decree to cover their faces
Women took to the streets in protest against "Taliban's Burqa Decree".#Kabul Afghanistan
|
pic.twitter.com/Sz8T7d6zyo

— Kabuli كابلى (@kabulii) May 10, 2022
About a dozen women protested in the Afghan capital on 10th May 2022 against the Taliban's new edict that females must fully cover their faces and bodies when in public.
Afghanistan's supreme leader and Taliban chief Hibatullah Akhundzada issued a decree on 7th May ordering women to cover their faces in public by wearing either the head-to-toe burqa, which has a grille for the face, or the niqab, which covers the face except for an opening for the eyes. Most women in Afghanistan wear a head covering but do not cover their faces, though women in rural areas tend to dress more conservatively.
The edict, issued by the Ministry for the Propagation of Virtue and Prevention of Vice, has alarmed not only the women of Afghanistan, but also the international community, which condemned the newest suppression of women's rights in the country. The UN Assistance Mission in Afghanistan (UNAMA) said it was "deeply concerned" by the move.
"Justice, justice!" chanted the protestors, many with uncovered faces, in central Kabul. The demonstrators also chanted "Burqa is not our hijab!" -- indicating their objection to trading the less restrictive hijab headscarf for the totally concealing burqa. "We want to live as human beings, not as some animal held captive in a corner of a house," protester Saira Sama Alimyar said at the rally.
After a short procession, the march was halted by Taliban fighters, who also obstructed journalists from reporting on the event.
According to a report by Open Democracy, the Taliban screamed at the protesters, calling them "loose women with no morals or character". They also pointed guns and threatened to attack some of the protestors. The Taliban also snatched handphones and ripped the banners used during the protest. Some were detained for two hours, questioned, threatened and warned that if they continue they will be imprisoned for these protests.
Protests on education and employment disrupted by the Taliban
On 29th May 2022, about two dozen Afghan women chanting "bread, work, freedom" protested in the capital against the Taliban's harsh restrictions on their rights. "Education is my right! Reopen schools!" chanted the protesters, many of them wearing face-covering veils, as they gathered in front of the ministry of education.
Demonstrators marched for a few hundred metres before ending the rally as authorities deployed Taliban fighters in plain clothes. Zholia Parsi, a protester said: "We wanted to read out a declaration but the Taliban didn't allow it. They took the mobile phones of some girls and also prevented us from taking photos or videos of our protest."
Women protest to go back to work. You may not follow Afghanistan news anymore, but they are resisting against a terrorist group and we all know the threats they face.
So, stand with women in Afghanistan, push your governments to do something about it. pic.twitter.com/oJifxK5zXQ

— Metra Mehran (@Metra_Mehran) June 9, 2022
Despite these threats, another protest was held against the Taliban on 9th June 2022 by a group of women in Kabul over violations of their rights and the exclusion of females from government institutions. The women protesters called on the Taliban to permit females to return to work. The women took to the streets to protest under the banner of "Female Civil Service Employment of Afghanistan."
The Afghan women who participated in the protest highlighted that they have not been able to work for 10 months and continue to face problems. Nadira Rashidi, head of the Female Civil Service Employment of Afghanistan Association, urged the Taliban to reopen schools for female students.