Students tear-gassed, prosecuted for protesting education law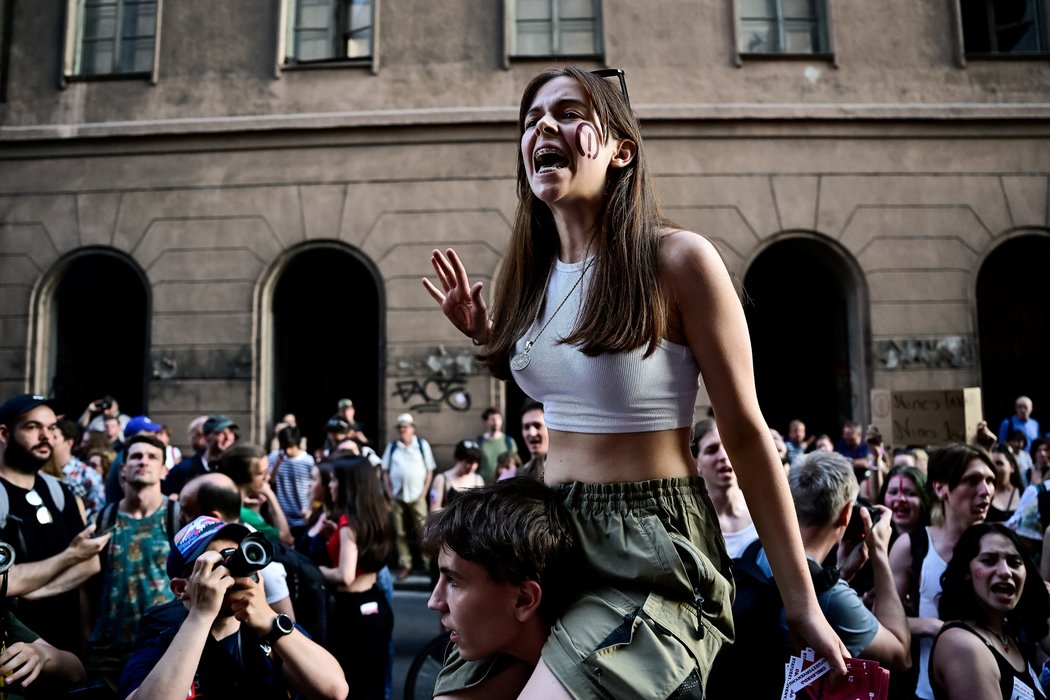 Introduction
Rule of law developments under scrutiny
The European Commission's 2023 Rule of Law Report, published on 5th June 2023, identifies several improvements Hungary has made to correct its poor rule of law record. One positive development is the strengthening of the country's National Judicial Council, which is a step towards improving judicial independence. However, the Commission's report also identified significant problems. It noted that, despite rolling out new anti-corruption reforms to gain access to EU funds, Hungary lacks a "robust track record" in investigating corruption allegations. The Commission also expressed concerns regarding media independence, in particular the use of spyware to target investigative journalists and others working in media. Additionally, the government was criticised for its continued and extensive use of emergency powers since 2020, when a "state of danger" was first introduced due to the COVID-19 pandemic.
Civil Liberties Union for Europe has criticised the Commission's report for embellishing the current rule of law situation in Europe. According to the watchdog, reading the Commission's EU-wide overview, "one would think that the overall trend is a steady progress towards addressing identified challenges, with new initiatives and reforms underway in many member states and in most of the areas covered. Yet, the picture drawn by rights defenders on the ground is different." The watchdog found that the way Hungary is described in the Commission's report creates one of the "most striking discrepancies" as the "European Commission made remarkable efforts to highlight the initiatives the Hungarian government is taking to address systemic deficiencies in areas such as justice, corruption, and public participation in law-making. Yet, it is clear from Liberties' Hungarian member's report that reforms being initiated are likely to lead to only very modest improvements and that, at the same time, the government keeps on implementing measures overtly designed to centralize power, silence their opponents, control public opinion, and make it very difficult to lose future elections."
PM continues pro-Russian narrative in response to democracy concerns
As reported earlier by the CIVICUS Monitor, the erosion of the rule of law and Hungary's declining commitment to European values have led the EU Commission to suspend billions of EUR earmarked for the country. In an attempt to unblock the funds, the government has introduced some – according to watchdogs, insufficient – reforms, and has been using national media to accuse "Brussels" of attacking Hungary due to the country's decision not to "join the pro-war camp," Continuing this narrative in an interview with state radio Kossuth on 30th June 2023, Prime Minister Viktor Orbán claimed that the EU budget "ran out" and the EU is on the verge of financial bankruptcy due to the funds it gives to Ukraine. He went on to state, "Where has the money gone? We think we know the answer, it is somewhere in Ukraine. Where is the money of the Hungarians? Where is the money of the Poles? I am afraid it's in Ukraine. They gave it towards a war that should never have happened in the first place." Hungary has maintained a semi-explicit pro-Russia stance since the beginning of Russia's war in Ukraine in February 2022, weakening its relationship with other countries in the bloc, including its long-term ally Poland.
Hungary and Poland block migration clause at EU Summit
In addition to budgetary issues related to the war in Ukraine, the EU Council summit held on 29th and 30th June 2023 also saw the bloc's leaders discuss migration. While 25 countries were able to agree on a shared stance, opposition from Hungary and Poland blocked the Council from adopting joint conclusions on the issue. This was in response to the proposed migration policy reforms discussed in a meeting between EU Home Affairs Ministers earlier in the month. The reforms include a "mandatory solidarity" mechanism that aims to share responsibility between EU states, especially during spikes in migratory patterns. Since all European Council conclusions must be endorsed by consensus, the other states had no option but to comply with Hungary and Poland's demands to delete the section on migration from the summit's written conclusions. Discussing the proposed migration deal, Viktor Orbán claimed that the reforms aim to create "migrant ghettos" in Hungary.
Hungary is a questionable fit to hold EU Presidency, European Parliament says
On 1st June 2023, the European Parliament adopted a non-binding resolution casting doubt on whether the country would be able to fulfill credibly the tasks associated with the rotating presidency of the Council of the European Union in 2024, calling on the EU Council to find a "proper solution" to the issue. The resolution cites numerous concerns about the rule of law in Hungary, including a lack of transparency, mismanagement of EU funds, manipulated public procurement procedures, fraud, corruption, conflicts of interest and the government's continued use of emergency decrees since the COVID-19 pandemic. In addition to these issues, the report notes serious threats against academic freedom and LGBTQIA+ rights in the country.
Freedom of Association
"Revenge Law" passed to punish striking teachers
On 4th July 2023, the Hungarian Parliament passed an education law, dubbed the "Revenge Law" by teachers, which they say will undermine the rights of public school teachers across the country. The law, which was passed without adequate consultation with teachers' unions, is set to change teachers' working status from public servants to "public education employees." With this change, teachers would be subject to an extended maximum working time of 48 hours per week and could be temporarily transferred to a "different place of activity", forcing them to work at distant locations. Teacher committees would not be able to decide their schools' curriculums, and this right will be transferred to the maintaining authority. The law will come into effect in January 2024, and teachers who do not sign on to their new status will no longer be able to work in Hungarian public schools. In a country already struggling to fill teacher positions, almost 5,000 teachers have previously pledged to quit their profession in the event that the law is passed.
The law is seen as the government's "revenge" for strikes that have been happening over the past 18 months. Since the first warning strike in January 2022, teachers in Hungary have been demanding better pay and lighter workloads. Teachers have seen a decrease in their real income, as their minimal pay increases do not match up with Hungary's worsening inflation.
As mentioned in a previous CIVICUS Monitor report, Orbán's government used the country's "state of emergency" to issue a decree making it effectively impossible for those working in the education sector to strike. Despite this, a number of teachers practised civil disobedience and did so anyway, leading to their dismissal. New plans for wage increases were announced in October 2022, but the government made the raise conditional on Hungary receiving the withheld EU funds - attempting to put the blame on Brussels for teachers' shockingly low salaries.
A dark day in Hungary— Parliament passed the revenge law, a brutally oppressive piece of legislation with the sole purpose of punishing & intimidating teachers who defy Orban's regime.

5,000 teachers already said they would quit. Students are robbed of an education & a future. pic.twitter.com/XGckE77m07

— Katalin Cseh (@katka_cseh) July 4, 2023
Freedom of Assembly
Students protesting against Revenge Law
On 24th April 2023, students, teachers and opposition MPs gathered in Budapest to protest the proposed "Revenge Law". After a silent sit-in in front of the Interior Ministry, a number of protesters walked to the Prime Minister's office, where opposition MPs tried to pull down the barriers surrounding the building, which were allegedly there to seal off a construction site. Police intervened aggressively to prevent this, dragging away several MPs and using tear gas to disperse the protest.
The following week, on 3rd May 2023, thousands more rallied against the law. A crowd, largely comprised of young people and students, gathered outside the Prime Minister's office once again. While the protesters grew more lively, the police declared the assembly illegal and attempted to disperse it. As human rights watchdogs have pointed out, spontaneous and unannounced gatherings still enjoy the same basic fundamental rights protections as those organised with advance notice, and should not be dispersed unless protesters are acting violently. Despite this, police officers ordered the protesters to leave and threatened they would break up the demonstration with "coercive measures" if the crowd didn't comply.
This announcement only further agitated the protesters, who began to dismantle the barriers surrounding the area. In response, the police fired tear gas and forcefully pushed back the crowd. Several protestors were dragged behind police lines, forced to the ground and handcuffed. Five people were initially detained for inciting violence against an officer of the law. According to the human rights watchdog Hungarian Civil Liberties Union (HCLU), whose legal observers were present at the scene, the protesters had not actually attacked the police, but only dismantled a few barricades. Four of the five detainees were minors, and were later prosecuted for wearing a mask at an assembly, something they did to protect themselves from the tear gas. HCLU criticised police conduct during the demonstrations, especially the use of tear gas to break up the demonstrations, claiming that the police response was disproportionate to the "threat" posed by the protesters.
During its regular weekly press briefing on 11th May 2023, the Hungarian Government claimed the police behaviour was impeccable. "Over the past 13 years, professional police practices have shown that anyone can freely demonstrate in Hungary within the legal framework," the Minister in the Prime Minister's Office said. However, when the students protested again on 19th May 2023, it was clear that the police response was much more restrained. Despite this, the police continued to use media to further the narrative that paints the student protesters as the aggressors, and themselves as the victims.
Freedom of Expression
Court rules in 2020 case of police cordoning off journalists
On 13th April 2023, the Metropolitan Regional Court in Budapest ruled that the measures police took to stop two journalists from interviewing government officials in 2020 were disproportionate, unnecessary and a violation of their freedom of expression.
In November 2020, a top Fidesz MEP was caught fleeing an illegal "sex party" during the COVID-19 lockdown in Brussels. Days later, on 2nd December, two journalists from the independent Hungarian news portal Telex, Tamás Fábián and Máté Szilágyi, made their way to the Prime Minister's office to interview government officials about the emerging affair. As human rights watchdog Hungarian Helsinki Committee notes, "the area around the building had become one of the last places where independent media reporters could directly approach and pose questions to cabinet members." However, soon after their arrival, a police squad appeared and cordoned off the entire square in front of the building to prevent journalists from asking questions. While the police claimed the cordon was a routine security measure necessitated by the Prime Minister's arrival, the Court found this excuse invalid.
Hungarian President pressures media outlet to send different journalist to interview her
In April 2023, the Media Freedom Rapid Response mechanism (MFRR) reported that independent outlet Válasz Online had been pressured to send a different journalist to a previously agreed upon interview with the President of Hungary, Katalin Novák. According to Válasz, they were contacted by the President's office and offered an interview – a very rare opportunity for independent media in Hungary. Both parties agreed that the topics would be provided in advance and that the interview would be subject to approval before publishing. During the same conversation, Válasz gave the President's staff the name of the journalists who would be conducting the interview. Two days before the interview was supposed to take place, the President's office requested that the portal not send a particular reporter, as they claimed that the journalist in question had previously "personally attacked the head of state on multiple occasions". Válasz protested this and eventually cancelled the interview, refusing to compromise its principles.
Cyber attacks against independent news sites
In April and May 2023, several news sites in Hungary experienced denial-of-service (DDoS) attacks and crashed temporarily. Most of the websites targeted were independent media outlets that have an editorial line critical of the government. It is so far unknown who were behind the attacks and what their motivations were.
Journalists denied access to events of public interest
On 28th April 2023, journalists from the independent news outlet Magyar Hang were prevented from entering the Sándor Palace to cover Pope Francis' visit, even though they had applied for registration and fulfilled all formal requirements. The newspaper was not informed that their staff would not be allowed to attend the event, and in fact had not received any response to their registration request despite sending it weeks in advance. According to the explanation given to Magyar Hang by a representative of the Prime Minister's office, Balázs Szabó, the journalists' registration was refused due to a lack of space and wanting to ensure "as many media as possible" were represented.
In a separate but related development, ahead of the US Conservative Political Action Coalition (CPAC) conference held on 4th and 5th May 2023 in Budapest, several Hungarian and international journalists were refused accreditation for political reasons. Numerous outlets reached out to the International Press Institute after their accreditation requests were turned down. This included Hungarian media, such as the prominent political weekly, HVG, and the Media 1 portal, as well as others from across the world. Those whose accreditation requests were rejected were informed they could watch the event through a livestream. While the organisers claimed that the denial of access was due to space limitations, it was notable that right-wing media supportive of the US Republican Party and Hungarian pro-government media were permitted to attend. On the other hand, almost all mainstream and independent media organisations were refused entry to the event.
Hungary correspondent for the Guardian, Flora Garamvölgyi, was notified by email that she would not be granted access to the conference due to "a lack of space" – at the time, she was already on her way to Budapest, having previously been able to register. Upon her arrival, security let her into the event despite this. Later, however, she was pulled aside by three security guards and ejected from the space mid-interview with a former Republican senator. Organisers later told the journalist that her registration had been accepted by mistake. The International Press Institute (IPI) strongly condemned the expulsion of the Guardian from the event, characterising it as a "shameless move" and an "attack on media freedom." In his speech at the event, CPAC chairman Matt Schlapp proudly boasted that the Hungarian franchise event's organiser, the Centre for Fundamental Rights, had taught him effective methods of eliminating unwanted journalists during last year's conference.
Got kicked out of CPAC Hungary. The organizers told me that I was only able to register due to a "system error".
A few weeks ago they sent me a "successful registration" email after I filled out their form AND they checked my passport at the registration desk yesterday.

— Flora Garamvolgyi (@floragaramvolgy) May 5, 2023
The keynote speaker of the CPAC conference was Hungarian Prime Minister Viktor Orbán, who, in his address, compared liberal and progressive ideologies to "viruses" that target "the most vulnerable part of the Western world", the nation.
Defamation and libel partially decriminalised
On 23rd May 2023, the Hungarian Parliament voted to decriminalise defamatory and libellous statements pubished in the press, under certain circumstances. The proposal was adopted by a majority of 129 votes in favour and 57 against. In future, defamation will no longer be a criminal act if the offending statement is made "within a scope of discussion of public affairs, and is committed by means of a press product or media service," as long as the statements made do not "obviously and seriously" offend someone's human dignity.
It is important to note that this amendment specifically applies to the press, and does not extend to blogs, Facebook, or other social media. This means all those who publish on those platforms are still subject to prosecution for defamation and libel, which is punishable by a maximum of three years in prison. In Hungary, convictions against journalists on defamation charges have been relatively rare, but there have been instances where bloggers have received jail sentences for defamation. The Hungarian Civil Liberties Union (HCLU) noted that the partial decriminalisation of defamation and libel will send a positive signal to the Council of Europe and the European Union, but that this move alone will not be sufficient to improve the overall conditions for press freedom in Hungary.
Writers concerned as government-linked college takes over Hungary's largest publisher
In the third week of June 2023, Hungary's largest publishing house, the Libri Group, announced that it had sold 67.48% of its shares to the Mathias Corvinus Collegium (MCC), making MCC the majority shareholder with a 98.41% stake. MCC is a private educational institution with close ties to Orbán's government, and has been described as "a training ground for future cadres of Orbán's hard-right". PM Orbán's political director chairs its Board of Trustees, and the college has reportedly received billions of Forints in "semi-secret" government grants since 2020.
This takeover has effectively made the state a key figure in the Hungarian publishing market, stirring concerns over the future independence of the publishing sector given the government's track record on freedom of expression. Various authors have protested against this transfer in ownership by terminating their contracts with the Libri Group. One is bestselling author Éva Péterfy-Novák, who proclaimed that she refuses to work with people who "lie, steal and use propaganda to brainwash society."
Libri Group representatives claim that the acquisition will not interfere with their work, and that the publisher will continue to operate in the same way that it always has. However, Libri has since begun wrapping its books featuring LGBTQI+ characters in transparent foil (to prevent them from being opened in-store) and moving some from the youth section to the entertainment section. This has reportedly been done to comply with Hungary's Child Protection Law, which forbids shops from promoting products that "display homosexuality" in sections intended for children. The law, which critics call the "anti-gay law", requires that such products be displayed separately, and in closed packaging. This law has not been widely enforced since its adoption in 2021, with Libri now becoming the first bookstore chain in Hungary to implement these changes to their packaging. Prior to the takeover, in May 2023, two consumer protection proceedings were filed against Libri and Líra. At the time, the two bookstores were fined around EUR 2500 and 700, respectively, for their improper display of LGBTQI+ books.
Hungary remains "problematic" for media despite rise in press freedom ranking
According to Reporters Without Borders' (RSF) 2023 World Press Freedom Index, published on World Press Freedom Day, 3rd May 2023, Hungary seems to show a minimal improvement in its global rankings. In 2022, Hungary placed 85th out of 180 countries. This year, the country moved up to 72nd place, but still remains in the "problematic" category. "[Hungarian] Prime Minister Viktor Orban, whom RSF has deemed a press freedom predator, has built a media empire whose outlets follow his party's orders. Independent media maintain major positions in the market, but they are subject to political, economic and regulatory pressures," RSF said.
LGBTQI+
Hungary removes anti-LGBTQI+ clause from Whistleblower Law
On 23rd May 2023, Hungary adopted a new whistleblower law without a controversial clause contained in the original draft that had serious anti-LGBTQI+ implications. Human rights groups had previously criticised the clause, which would have allowed citizens to report affronts to the "Hungarian way of life". Per the original draft, this would have included "casting [of] doubt" on the "constitutionally recognised role of marriage and family" or "children's (…) right to self-identify according to their birth gender." Even though the bill was passed in Parliament on 11th April 2023, President Katalin Novák used her powers to veto the law. After President Novák sent the original draft back for review, the bill was modified, and the National Assembly approved a new version that did not include these potentially harmful provisions.
The Hungarian parliament led by Putin ally Viktor Orban approved a law that (in theory) transposes an EU directive protecting whistleblowers - but in truth is anti-gay legislation.
The president just vetoed it in a win for our community in #Hungary 🏳️‍🌈 https://t.co/46pnQRt8Nt

— The Council for Global Equality (@Global_Equality) April 26, 2023
However, other sections of the law remained largely unchanged. As reported in our previous country update, critics say that the law still doesn't provide sufficient protections for whistleblowers, and that it is not in line with the EU anti-corruption directive it was supposed to be modelled after. For example, when raising the alarm about corruption in their workplace, whistleblowers could still be criminalised for leaking documents related to the case.
Survey shows Hungarians gradually increasing acceptance of same-sex marriage
A new survey carried out by Ipsos shows progress in Hungarians' views on marriage equality. While only 30% of Hungarians were in favour of legalising marriage for same-sex couples in 2013, this number has increased to 47% in 2023. On the other hand, there has been a slight drop in Hungarians' acceptance of the right to adoption for same-sex couples. In 2021, the survey showed 59% of Hungarians felt same-sex couples should have the same rights to adopt children as heterosexual couples. However, in 2023, that number has dropped to 56%. More worryingly, almost half of Hungarians oppose counselling and hormone treatment for transgender teens.