Stigmatisation of opposition continues in Bolivia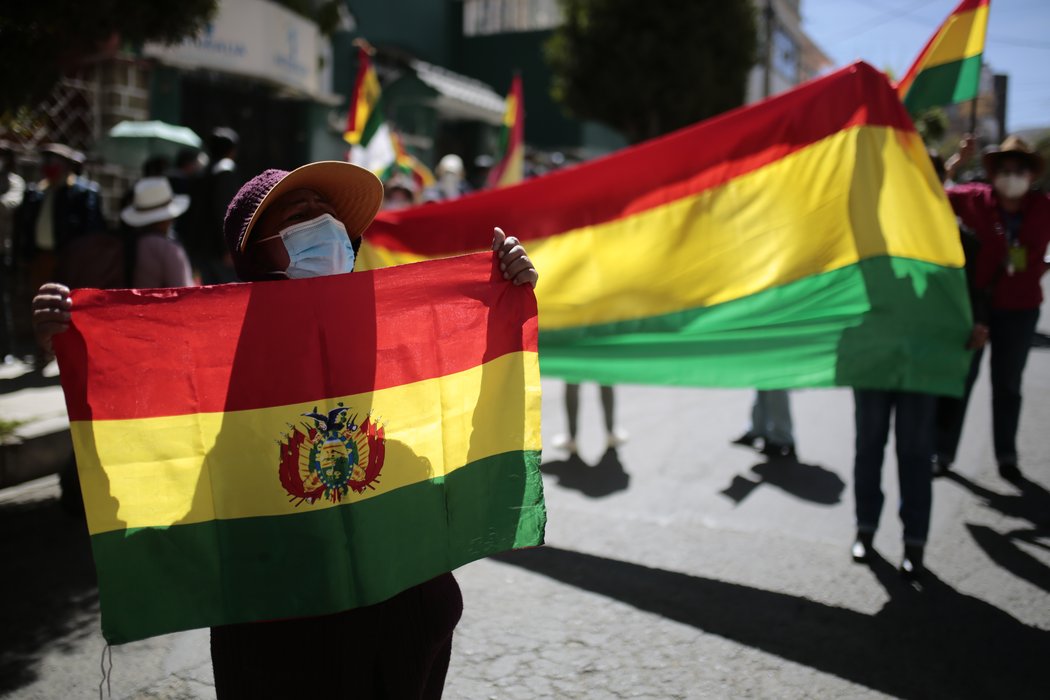 Association
[Boletín Alerta Común]

Te invitamos a leer el boletín #6 de Alerta Común. En esta ocasión con un análisis de las declaraciones de autoridades del Ejecutivo y un senador del MAS que vulneran derechos fundamentales.https://t.co/uHrsN3wXIT

— Red UNITAS (@redunitas) August 9, 2021
On 14th August 2021, the Observatory of Human Rights Defenders of civil society organisation UNITAS warned about criminalisation and stigmatisation of political opposition in Bolivia. The organisation highlighted three instances in July and August 2021 where public officials made statements which vilified the opposition, linked protesters to criminal activities and displayed intolerance for dissent. On 7th August 2021, President Luis Arce said that opposition groups organising protests against the closure of the investigation on alleged fraud in the 2019 election intended to "paralyse" and "destabilise" the country.
UNITAS said stigmatisation is one of the most common violations monitored by the Observatory, with 125 cases recorded since 2018. The organisation said:
"These acts generate an environment of intolerance and rejection against those who are stigmatised, provoking their self-censorship, understood as the restriction of expression for fear of reprisals."
Peaceful Assembly
Un grupo de manifestantes pintó, mutiló e intentó derribar la estatua de Cristóbal Colón en el centro de La Paz, la capital administrativa de Bolivia. No lograron echarla abajo por la intervención de la policía, que detuvo a cinco jóvenes https://t.co/BcClTQ9QxB

— EL PAÍS (@el_pais) August 3, 2021
On 2nd August 2021, police detained five young demonstrators who attempted to bring down a statue of Christopher Columbus in La Paz during a protest on the National Day of Agrarian Revolution. The protesters also painted the statue's face and tied a rope around its neck. According to news reports, around twenty people joined the protest dressed in traditional clothing and waving an Indigenous wiphala flag. The detained protesters were released but will reportedly face charges for vandalism.
In a separate development, opposition groups organised protests after authorities announced the closure of the investigation into alleged fraud during the 2020 presidential elections. In a demonstration on 5th August 2021, opposition protesters in La Paz clashed with groups connected with ruling party Movimiento Al Socialismo (MAS), who had organised a counter-protest. A former lawmaker and MAS militant, Gustavo Torrico, was filmed attacking protesters. An opposition lawmaker was injured in the clashes. Peaceful demonstrations took place in Santa Cruz, Cochabamba and other cities.
On 15th August 2021, hundreds of Indigenous protesters blocked a road between San Ignacio de Mojos and San Borja, Beni department. The Indigenous organisations in the mobilisation issued a manifesto saying that the State still maintains bureaucratic, discriminatory and exclusionary practices towards Indigenous peoples. Among their demands were autonomy for Indigenous communities and full recognition their political and land rights. After five days, the protesters reached an agreement with the local and national authorities and the blockade was lifted.
At the end of August 2021, supporters of former interim President Jeanine Áñez organised a series of protests to demand her release from jail. As previously reported on the CIVICUS Monitor, Áñez was detained in March 2021 on charges of "terrorism" and "sedition". She faces a series of judicial proceedings, including an indictment for "genocide" over her alleged responsibility in killings which took place amid social protests in 2019. Supporters intensified calls for her release after news outlets reported in August 2021 that Áñez's health had deteriorated with depression and hypertension, and that she had recently attempted to self-harm. On 25th August 2021, at least one person was injured in clashes between Áñez's supporters and counter-protesters during demonstrations in front of the Miraflores prison in La Paz, where the former interim President is detained.
Report on excessive force during political crisis
On 17th August 2021, the Interdisciplinary Group of Independent Experts (GIEI) of the Inter-American Commission on Human Rights published their report on the events in Bolivia between September and December 2019, when contested elections sparked a political crisis in the country. The GIEI, who worked in Bolivia for eight months, said they found evidence of disproportionate military and police force used against civilians during the political and social crisis. According to the report, "it must be recognised that there are people affected on both sides of the political spectrum and that the situation of each and every one of them demands that we all recognise them as victims." The experts made 36 recommendations on providing justice and reparation to victims and on governmental strategies to prevent violence.
Expression
On 12th August 2021, newspaper El Diario de La Paz was notified of a potential attack on their account with media company Yahoo. The newspaper received an email from the company saying their account could have been targeted by government-backed actors trying to access information. According to press association Asociación Nacional de la Prensa de Bolivia (ANP-Bolivia), the news outlet has often faced persecution over its independent editorial line.