Protests against tax reform lead thousands to the streets in Colombia, face brutal police repression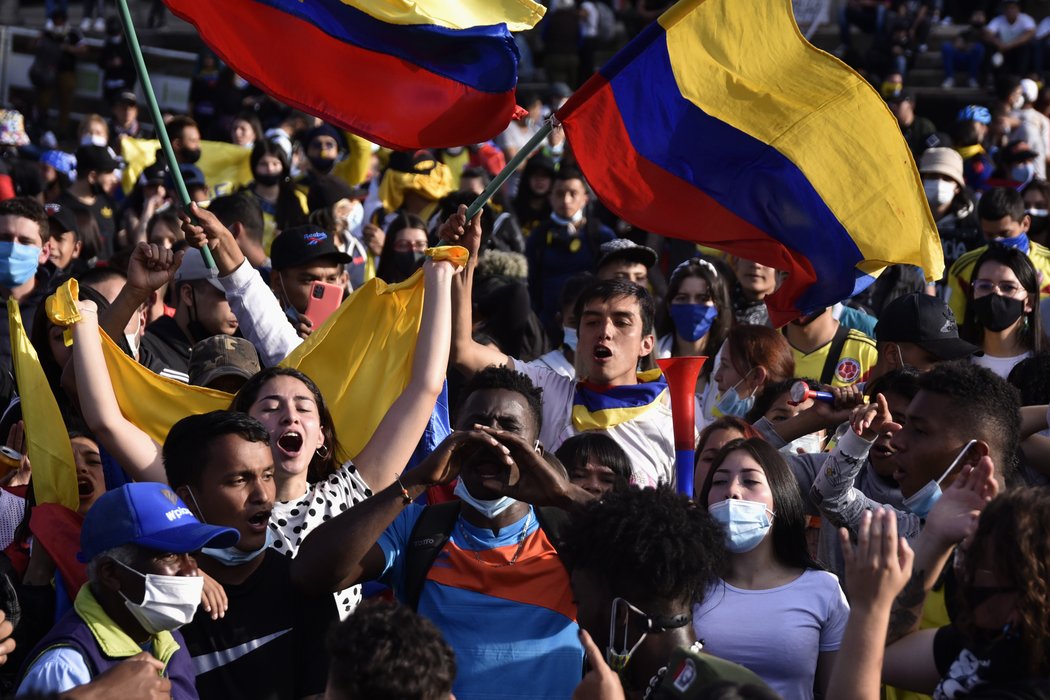 Peaceful Assembly
#ParoNacional15M 🔥| Hoy, 18 días de #ParoNacional la manifestación social sigue siendo masiva.
Este es el panorama en este momento en el Monumento de Héroes en la ciudad de Bogotá. pic.twitter.com/g8intDhXZp

— Colombia Informa (@Col_Informa) May 15, 2021
Since 28th April 2021, nationwide protests sparked by a proposed tax reform have been brutally repressed by Colombian law enforcement. Mobilisation has continued after nearly three weeks, with protests growing to encompass multiple grievances and demands for social justice.
On 15th April 2021, President Ivan Duque's government proposed a bill to address the fiscal gap, help to fund social programmes and reign in public debt by raising tax revenue. The controversial reform would broaden the tax base and increase taxes on pensions and basic products, heavily impacting the lower and middle classes. Outcry against the bill was compounded by a backdrop of social discontent over growing inequality and poverty. According to Colombia's statistics body DANE, poverty in the country was exacerbated by the pandemic, rising to affect 42.5% of the population in 2020. The government's response to the coronavirus and the lack of implementation of the country's Peace Accord have further added to the general discontent.
Thousands joined "Paro Nacional" ("National Strike") demonstrations convened by Colombia's biggest unions on 28th April 2021 in response to the bill. Over the following days, response to the protests in various cities across the country was characterised by heavy repression. Civil society organisations in Colombia denounced serious human rights violations, including disproportionate use of force by the police, violent suppression of protests, the killing and disappearance of protesters, sexual abuse and arbitrary detentions.
Both police and the military were deployed to police the demonstrations, as the government adopted a discourse stigmatising those taking to the streets as "vandals" and justifying excessive use of force in the first days of mobilisation by alleging that protests were orchestrated by illegal armed groups. Despite President Duque's announcement of the withdrawal of the tax reformproposal on 2nd May 2021, protests continued in several cities such as Barranquilla, Bogotá, Bucaramanga, Manizales and Cali. In part, the continuation of protests was driven by the police repression and the government's lack of willingness to engage with legitimate demands.
In Cali, which became the epicentre of the nationwide demonstrations, police opened fire on demonstrators on 3rd May 2021. The Office of the High Commissioner for Human Rights (OHCHR) said that human rights groups accompanying a verification mission in the city were attacked, threatened and shot at by police. The NetBlocks Internet Observatory confirmed the disruption of internet services in Cali on 5th May 2021, which the country's regulator said was mainly due to damages to infrastructure. Meanwhile protesters alleged social media platforms had removed content about the protests and blocked attempts to report live from demonstrations.
On 7th May 2021, 650 civil society organisations issued a public statement calling for an exhaustive investigation into human rights abuses and calling on the Inter-American Commission on Human Rights (IACHR) to act:
"We call on Colombia to immediately cease the arbitrary and excessive use of force to avoid additional human rights violations against the population. Additionally, in light of the important role of the international community in this situation, we call on the Inter-American Commission on Human Rights (IACHR) to request the agreement of the Colombian government to visit the country and create an independent expert mechanism to support the investigation of these events."
Entre el 28 de abril y el 17 de mayo, nuestra plataforma GRITA ha podido documentar 2387 casos de violencia policial. Entre estos, 43 homicidios, 384 hechos de violencia física y 18 hechos de violencia sexual. pic.twitter.com/bt53fnQUJz

— Temblores ONG 🐘 (@TembloresOng) May 18, 2021
As reported by human rights monitoring organisation Temblores, between 28th April and 17th May 2021 there were 43 killings of protesters, presumably committed by law enforcement, 384 cases of physical violence, 1,139 reported arbitrary detentions, 33 people with eye injuries and 18 victims of sexual violence. The organisation also recorded over 450 cases of excessive force in dispersing the protests and 146 instances of the use of firearms by police. At least one police officer was also killed.
Amnesty International verified documentation of Colombian security forces using lethal weapons and resorting to indiscriminate use of tear gas, water cannon and other less lethal weapons against demonstrators. By 9th May 2021, the Foundation for the Freedom of the Press (FLIP) had also documented 122 attacks against the media workers covering the protests.
According to news reports, in the first days of the strike the vast majority of demonstrations were peaceful but there were incidents of looting and vandalism in Cali, Bogotá and other cities. However, unrest escalated as the crackdown on protests continued. As protests entered their second week, at least 15 local police centres were vandalised and set on fire – in one case with 10 police officers inside. In Cali, where protesters occupied some streets, civil society and media also reported incidents in which armed people in civilian clothing intimidated and attacked demonstrators. Members of the Indigenous Minga collective in Cali were reportedly attacked by armed civilians on 9th May 2021, which left several members of the Regional Indigenous Council of Cauca (CRIC) injured.
On 15th May 2021, four young social leaders from Popayán were accused of "terrorism" by the Minister of Defence in the context of protest-related unrest. Human rights organisations condemned the accusations and questioned the government's focus on alleged internal enemies. A researcher for civil society group Fundación CORE said: "The riots that have taken place, however harsh they may have been, are not terrorism. The use of that word completely delegitimises the causes of the march and what it does is justify the action of the police".
On 16th May 2021, over 300 research centres, members of universities and academic institutions and students signed a letter calling for a de-escalation of violence and the strengthening of local spaces of democracy in response to the crisis.
Association
More than 50 social leaders and activists killed in four months
Wílsón López
28/04/21
Aguadas, Caldas

Wilsón era un reconocido líder campesino del proceso de retorno de la Vereda El Congal en el municipio de Samaná, Caldas. Allí impulsó procesos de agricultura familiar, huertas caseras y unidad comunitaria para las personas de la comunidad. pic.twitter.com/RXH7Rd8iKY

— 🇮 🇳 🇩 🇪 🇵 🇦 ​🇿 (@Indepaz) April 30, 2021
Between 1st January and the end of April 2021, civil society organisations continued to report a situation of extreme violence against human rights defenders and social leaders in Colombia. The Instituto de Estudios para el Desarrollo y la Paz (Institute of Studies for Development and Peace – Indepaz) reported that 57 social leaders and human rights defenders were killed in this period.
The cases recorded since February 2021 include the killing of young leaders such as campesino community leader Yordan Eduardo Guetio, Indigenous Awá Miguel García Paí and Álvaro Pascal García, and Orlando Manuel Chimá, who was in the process of entering the Indigenous Guard for the Indigenous Reserve of Los Almendros. Community leaders and political representatives were also targeted, including Jesús Salazar Valencia, Wilson López, Albeiro Hoyos, Luis Hermídes Álvarez and his son José Éver Álvarez. Labour leader Carlos Alberto Vidal and hospital manager Luis Octavio Gutiérrez, who had denounced corruption in Antioquia, were also among those killed.
Indigenous communities and leaders were particularly at risk in the early months of 2021, with cases of leaders killed across Colombia in Chocó, Nariño, Antioquia, Sucre, Cauca and La Guajira. In several of the cases, the presumed attackers were members of armed groups. In Putumayo, for instance, Kamentzá leader María Bernanda Juajibioy and her grandchild were killed after local organisations had denounced the lack of guarantees for Afro-Indigenous communities and rural workers. Traditional Indigenous medic Alejandro Manugama Cheché was killed in Chocó after reporting the presence of armed groups in Tahamy del Alto Andágueda territory. In April 2021, Sandra Liliana Peña, Governor of the La Laguna Siberia Indigenous Reservation, Sa'th Tama Kiwe territory, was killed in Cauca. An Indigenous and environmental defender, she had worked on the eradication of coca farms in the region.
Expression
Attacks on journalists
On 20th April 2021, freelance photojournalist Luis Carlos Ayala was attacked in Cali. As reported by the Committee to Protect Journalists (CPJ), an assailant on a motorcycle shouted the reporter's name and started shooting at him. Ayala was able to get away with superficial injuries. The journalist told CPJ that he had recently spent six months working on an independent reporting project covering Indigenous and Afro-Colombian groups defending their land from business interests and drug smuggling groups in the Cauca department. However, he said he had not received any threats for his work.
On 6th May 2021, three journalists from digital media Loco Sapiens were attacked by anti-riot police while covering a cultural event in support of anti-government protests in the rural area of Sibaté, near Bogotá. As reported by the Foundation for Press Freedom (FLIP), police officers from the Mobile Anti-Riot Squadron (ESMAD) fired tear gas to disperse the crowd during the event and directly shot at the reporters with pellet guns. In a video recorded by the reporters, officers are seen shooting despite their shouts that they were members of the press. According to FLIP, they were also carrying press identification cards and wearing helmets marked as "press". Two of the journalists were injured.
As reported in the "Peaceful Assembly" section of this update, FLIP documented 122 attacks on the press in the context of the nationwide protests between 28th April and 9th May 2021. These affected 141 journalists and outlets.
Such attacks have continued. On 12th May 2021, journalist Kevin Acosta was assaulted by around six police officers as he filmed them allegedly beating a protester in Popayán. Acosta, working with digital media Red Alterna, said the officers attempted to take his mobile phone and stop him from transmitting live. Two other journalists covering the protests in Popayán on the same day were assaulted by hooded protesters after filming a group of demonstrators throwing rocks at the city hall.
Developments in court cases
El Estado colombiano se retiró de una audiencia ante la CIDH en el caso de la periodista Jineth Bedoya. Después de 21 años esperando justicia, Jineth Bedoya tuvo que pasar un trago amargo en un día que debió haber sido histórico.https://t.co/1nBLE2qAcg

— democraciaAbierta (@demoAbierta) April 11, 2021
On 15th March 2021, Colombian representatives withdrew from a public hearing at the Inter-American Court of Human Rights on the case of Colombian journalist Jineth Bedoya. The Court's case seeks to determine the state's responsibility in the abduction, rape and torture of Bedoya in 2000 when she attempted to interview a member of a paramilitary group. The government's legal team left the hearing after requesting the recusal of five of the six judges overseeing the case, citing alleged bias and a "lack of objectivity". The Court suspended the hearing. Organisations representing the journalist denounced the State's attitude in this case, saying it demonstrates the indifference to the victims of sexual violence during Colombia's armed conflict and denial of dignified spaces for access to justice. In a statement, they said:
"We denounce this action as part of a strategy to delegitimise the Inter-American Court and create new obstacles in this process, which continues to punish Jineth Bedoya for making her voice heard. This is a new attempt to silence her."
In a separate development, on 24th March 2021, the Supreme Court upheld an appellate court ruling convicting journalist Vicky Dávila Hoyos and media outlet RCN for defamation. In a ruling in October 2020, Dávila and RCN were ordered to pay more than $43,000 in damages to the family of a police colonel who was removed from his post after the journalist reported on allegations that he was corrupt. In a statement, FLIP condemned the ruling, saying that it "violates the freedom of the press and constitutes a dangerous precedent in the face of the phenomenon of growing judicial harassment in Colombia."
Another journalist was notified of a criminal defamation suit in April 2021. Jeremy McDermott, a British national and co-director and legal representative of the Medellín-based news organisation InSight Crime, was accused of defamation by businessman Guillermo Acevedo. The lawsuit stems from InSight Crime's six-part series "The Invisible Drug Lord: Hunting the Ghost" published in March 2020. The articles, written by McDermott, claim that Acevedo was a former drug trafficker and leader of a now defunct paramilitary army.
CPJ's Central and South America Program Coordinator, Natalie Southwick, commented:
"The Colombian judicial system should not be used as a tool to retaliate against investigative journalists, but the fact that criminal defamation laws remain on the books allows this pattern to continue."
Civic Space Developments
Tags
attack on HRD,
internet restriction,
HRD killing,
non state actors,
labour rights,
excessive force,
attack on journalist,
criminal defamation,
violent protest,
women,
public vilification,
killing of protestors,
youth,
protest disruption,
negative court ruling,
censorship,
protestor(s) detained,
indigenous groups,
environmental rights,
protest,
land rights,
Back to civic space developments