Philippines: Activists abducted, harassed and arrested on fabricated charges while climate of impunity persists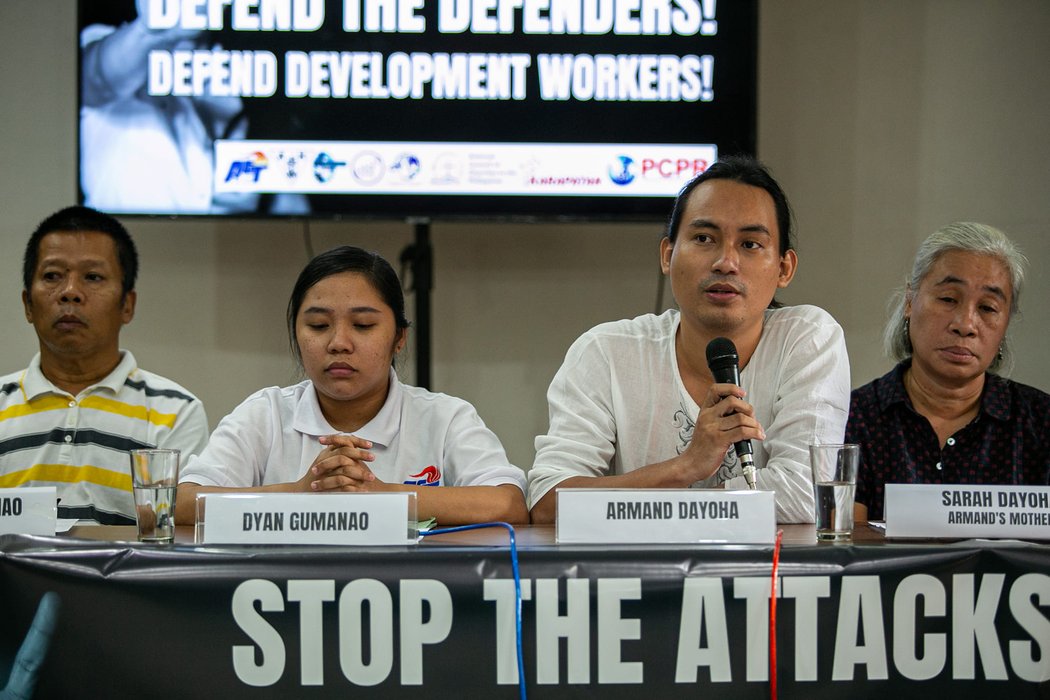 The state of civic space in the Philippines remains 'repressed' in ratings published by the CIVICUS Monitor in March 2023. Over the last year, the CIVICUS Monitor documented the red-tagging, arbitrary arrest and prosecution of human rights defenders and activists on fabricated charges while journalists faced threats and attacks. Protests were also stifled.
In January 2023, the International Criminal Court said it will reopen its investigation into possible "crimes against humanity" in the Philippines over former president Rodrigo Duterte's drug war, which led to the deaths of thousands of people. The Hague-based court announced plans for an investigation in February 2018 but suspended its work in November 2021 at the request of the Philippines' government after Manila said it was undertaking its own review. The ICC said it was "not satisfied that the Philippines is undertaking relevant investigations that would warrant a deferral of the Court's investigations".
For the third time in nearly two decades, a bill seeking to protect human rights defenders and punish acts of intimidation or violence against them was approved at the committee level in the House of Representatives in January 2023. However, for the bill to progress Senate lawmakers will have to file a similar bill at the upper chamber of Congress which it has failed to do.
On 7th March 2023, during the Oral Update by the High Commissioner for Human Rights, he welcomed "recent acquittals of human rights defenders" in the Philippines and said that "there must be an end to other politically motivated charges, and a safer environment for civil society."
In recent months, there have been reports of activists being abducted, facing surveillance and being arrested on trumped up charges. A reporter was sentenced to jail for defamation while a playwright and activist faced death threats. No one has been held to account for the 'Bloody Sunday' killings in March 2021. In a positive move, the courts acquitted 10 human rights defenders facing perjury charges and also journalist and Nobel laureate Maria Ressa and the Rappler outlet of tax evasion.
Association
Abduction of two activists in Cebu
In January 2023, development workers and labour rights advocates Dyan Gumanao and Armand Dayoha (pictured above) were abducted and went missing. Gumanao and Dayoha last communicated with their families on 10th January 2023 after arriving at the Cebu City Port after spending the holiday season in Mindanao. Human rights group Karapatan claimed that since 2020, both Gumanao and Dayoha had been the subjects of suspected surveillance and tailing.
On 16th January 2023, the two were finally found. According to The Commission on Human Rights (CHR), a video of the abduction sent by a concerned citizen was shown during the press conference held by the victims' families and colleagues after they were found. The said video, said to be taken on 10th January 2023 at around 9:00 AM, shows men in plain clothes forcing individuals, believed to be Dayoha and Gumanao, into a vehicle while people in the area were being heard asking for help.
Dayoha and Gumanao were reported to have been detained with no communication and were interrogated in different rooms and pressed to confess to terrorist connections and actions. They were reportedly held in handcuffs, blindfolds, and sometimes gags and earmuffs. Dayoha recalled one of four men saying they were 'police'. They were threatened that they would be turned over to other units of a "task force" for possible execution. They were released after five days.
The Commission on Human Rights (CHR) condemned the alleged abduction and said through its regional office in Central Visayas that it has already begun its independent probe regarding their disappearance. Central Visayas police spokesperson Gerard Ace Pelare denied police involvement in the reported abduction.
Surveillance and forced entry into youth group office
CAUGHT IN THE ACT.

Unidentified man is caught on CCTV right at the window of the Anakbayan Office days before the office was breached. Although the windows were covered by a curtain, we can see him attempting to check inside and looking into a device. #StopTheAttackes pic.twitter.com/iGttPdo3Hd

— Rachelle Villamor (@RachVillamor) January 18, 2023
In January 2023, CCTV footage circulated documenting an alleged breach into the Manila office of a progressive youth-led activist organisation Anakbayan on 15th March 2023.
According to Anakbayan, they found their office disorganised with their office door showing signs of forced entry. They said that "cellphones were not where they were left, tables were moved, windows are open, doors show clear signs of forced entry."
By noon and evening of the next day, 16th January 2023, Anakbayan members reported the unusual presence of multiple police mobiles near their national office. Members of Anakbayan also detailed separate incidents of unidentified men allegedly "tailing" and "photographing" them after protests around Metro Manila.
The Commission on Human Rights (CHR) expressed "serious alarm," and said that "these allegations of intrusion into a person's right to privacy by means of surveillance must not be taken lightly."
Court orders arrest of seven activists for 'rebellion' in Northern Luzon
GABRIELA condemns in the strongest possible terms the arrest of Jennifer Awingan based on a trumped-up charge of 'rebellion' today at Baguio City. Awingan is a woman human rights defender, indigenous peoples' rights advocate, and environmental defender of @CPA_Cordillera. pic.twitter.com/2XWeSyCpEx

— GABRIELA | A National Alliance of Women (@gabrielaphils) January 30, 2023
An indigenous people's rights activist was arrested on 30th January 2023 after a regional trial court (RTC) in Abra province issued a warrant against her and six other activists on charges of rebellion.
Police arrested Jennifer Awingan, a researcher for the Baguio-based progressive Cordillera Peoples Alliance (CPA), at her residence in Barangay Pinsao Proper. Awingan was then placed in the custodial facility of the police's City Intelligence Unit.
Even though her warrant did not recommend bail, the Abra Regional Trial Court granted bail "as a matter of right" since the prosecution still has to bring stronger evidence in support of their claims, to prove the allegations.
The arrest order, issued by Judge Corpus Alzate of RTC Branch 2 in Bangued on 24th January, also included human rights defenders and members of the CPA: Windel Bolinget, Steve Tauli, Lulu Gimenez and Sarah Alikes; while the other two from the Ilocos were Niño Oconer, the Northern Dispatch's Ilocos correspondent and Florence Kang, Executive Director of Ilocos Centre for Research, Empowerment and Development.
According to Frontline Defenders the charges are linked to an incident on 27th October 2022 in Gacab, a district in the municipality of Malibcong, located in the province of Abra. The event in question was an ambush by the New People's Army (NPA), an armed group, who attacked four soldiers of the Philippine Army, causing two deaths.
During the hearing, it was also highlighted that the affidavits of the soldiers who survived the ambush only named two alleged NPA members as perpetrators; and the other six accused human rights defenders were not among those identified as assailants.
Front Line Defenders believes that the charges filed against Jennifer Awingan-Taggaoa and six other human rights defenders are directly related to their work in defence of the human rights of social justice, the rights of indigenous peoples, national freedom and democracy in the Philippines.
Still no justice for 'Bloody Sunday' killings
As previously documented, nine community-based activists were killed in coordinated raids, known as the 'Bloody Sunday' killings, which took place across four provinces in the Calabarzon region on 7th March 2021 by members of the national police and the military. The police claimed the operations were meant to arrest alleged NPA rebels identified in search warrants issued by two Manila courts.
Those killed include fishers' leaders Ariel Evangelista and Anna Marie Lemita-Evangelista, Emmanuel Asuncion, a labour organiser, housing rights activists Melvin Dasigao and Mark Bacasno, Puroy Dela Cruz and Randy Dela Cruz of the Indigenous Dumagat tribe and urban poverty activists Abner Esto and Edward Esto.
No one has been held to account for the killings. On 18th January 2023, a panel of prosecutors at the Department of Justice (DOJ) dismissed the murder complaint filed against 17 police officers over the death of Emmanuel Asuncion. The prosecutor's resolution stated that "in the absence of proof, there could be no probable cause to charge the respondents."
Court acquits 10 human rights defenders
ACQUITTED: The ten members of Karapatan, Rural Missionaries of the Philippines, and GABRIELA charged with perjury have officially been found not guily. pic.twitter.com/lPKHNfzqEi

— AlterMidya (@altermidya) January 9, 2023
After more than three years of judicial harassment,10 human rights defenders, including members of Karapatan, the women's rights organisation Gabriela and the Rural Missionaries of the Philippines, were acquitted of perjury charges.
On 9th January 2023, the Quezon City Metropolitan Trial Court Branch 139 acquitted 10 human rights defenders who were facing more than two years of imprisonment on bogus "perjury" charges, in retaliation for their actions seeking legal protection for fellow human rights defenders amid a new wave of violence against them back in 2019. Presiding judge Aimee Alcera ruled that the prosecution had failed to establish beyond reasonable doubt that the 10 human rights defenders made a "willful and deliberate assertion of falsehood".
The acquitted rights defenders are: Elisa Tita Lubi, Karapatan Chairperson; Cristina Palabay, Karapatan Secretary General; Roneo Clamor, Karapatan Deputy Secretary General; Gabriela Grista Dalena, Karapatan Treasurer; Edita Burgos, Wilfredo Ruazol and Jose Mari Callueng, Karapatan National Council members; Gertrudes Ranjo Libang, Gabriela Chairperson; Joan May Salvador, Gabriela Secretary General; and Emma Cupin, Rural Missionaries of the Philippines (RMP) member.
As previously documented, In May 2019, all of them filed a petition for the writ of amparo (protection order) and habeas data (access to information) before the Supreme Court, seeking protection against threats, attacks and harassment by government officials against human rights defenders in the Philippines. The Philippine Court of Appeals denied their petition in June 2019, after which the authorities responded with retaliatory measures against them.
Expression
Reporter sentenced to jail for defamation
UPDATED. The cyber libel charge is filed by ex-agriculture chief Manny Piñol – a former broadcaster – over Frank Cimatu's 2017 Facebook post. https://t.co/EMMx7riDFo

— Rappler (@rapplerdotcom) December 13, 2022
In December 2022, a Philippine reporter was sentenced to imprisonment for defamation.
According to Reporters Without Borders (RSF), Frank Cimatu who was charged with cyber-libel for an old Facebook post about possible government corruption was sentenced to between six months and five years, five months and 11 days in prison under a system that allows a sentence implementation judge to decide how long such a sentence lasts in practice. He remains free pending the outcome of the appeal he has said he will file.
Based in Baguio, a city on Luzon island 240 km north of Manila, Cimatu is a reporter for the Baguio Chronicle newspaper while at the same time contributing to the Manila-based news website Rappler.
He was convicted for commenting about the fact that the registered wealth of then agriculture secretary Emmanuel "Manny" Piñol had increased by 21 million pesos (USD 386,778) at a time when bird flu was sweeping Luzon, the island where Manila is located.
Daniel Bastard, the head of RSF's Asia-Pacific desk, said: "This case is evidence – if any was needed – that the laws criminalising defamation in the Philippines are used to intimidate reporters critical of the government."
Section 4(c)(4) of the 2012 Cybercrime Prevention Act criminalises cyber libel and the law has been used in the past against journalists like Maria Ressa and Reynaldo Santos Jr. Sarah Dekdeken, chair of the Cordillera People's Alliance, was convicted in December 2022 on a cyber-libel charge filed against her by a police officer whom Dekdeken had accused in a social media post of ordering the removal of monuments dedicated to tribal leaders.
Playwright and activist faces death threat
Martial Law survivor Bonifacio Ilagan receives anonymous threats https://t.co/Fb7k5y9vPe

— Maria Ressa (@mariaressa) January 4, 2023
In January 2023, a playwright who was detained during the Martial Law period (1972-1981) reported that he had received a death threat over the New Year weekend.
Martial Law survivor Bonifacio Ilagan said he got a call from a man who introduced himself as part of a unit tasked to "wipe out" communists. Ilagan, a staunch critic of the Marcos family including President Ferdinand "Bongbong" Marcos Jr., said he was told by the man to desist from his activities. Ilagan said the man called himself "Kumander" who belonged to a unit whose name he was unable to remember.
According to Ilagan, the man said "he and his unit were just waiting for 'the final order from the higher-ups,' and they would surely get me, and that I should not ask for mercy."
In a statement, the Campaign Against the Return of the Marcoses and Martial Law (CARMMA) acknowledged that "like many other activists who have been vocal against the return to power of the Marcoses, Ka Boni has received quite a few text messages cursing and threatening him for courageously standing up for his principles."
Ilagan said he has reported the incident to police and has since taken extra precautions.
The Commission on Human Rights (CHR) denounced the death threat sent to Bonifacio Ilagan and said that they had already taken steps to investigate it.
Court acquits journalist and Nobel laureate Maria Ressa, Rappler of tax evasion
On 18th January 2023, the Philippines' Court of Tax Appeals (CTA), acquitted Nobel laureate Maria Ressa and Rappler Holdings Corporation (RHC) of four charges of tax evasion that were filed in 2018 by the previous Duterte government.
The CTA 1st Division decided to acquit Ressa and RHC, Rappler's holding company, on the Duterte government's charge that it evaded tax payments when it raised capital through its partnership with foreign investors North Base Media (NBM) and Omidyar Network (ON). This involved the issuance to the two entities of Philippine Depository Receipts or PDRs, financial instruments commonly used even among media companies like ABS-CBN and GMA Network.
The Hold the Line Coalition (HTL), which comprises more than 80 organisations around the world, welcomed the verdict. The group said: "This verdict indicates that it is possible for President Ferdinand Marcos Jr. to hit reset on his predecessors' vast campaign of media repression. As an immediate next step, we call for all remaining cases against Rappler and Ressa to be closed and their constant persecution to be stopped once and for all."