Despite UN scrutiny, activists continue to be criminalised by the new Philippines administration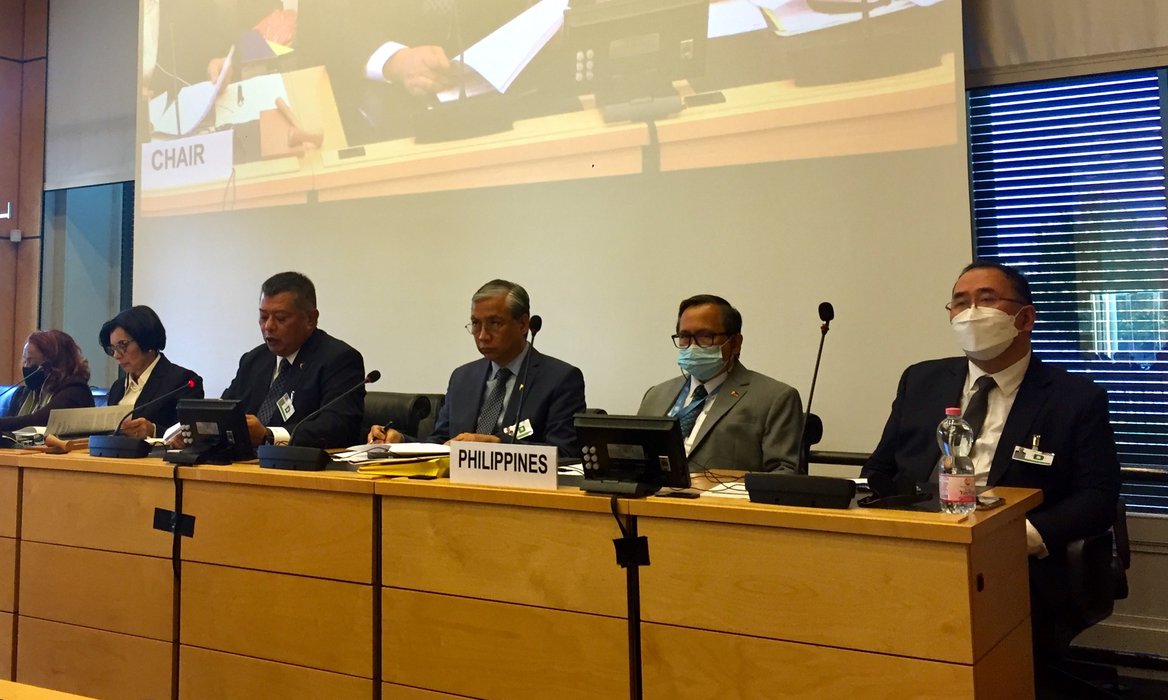 Ferdinand Marcos Jr, known as "Bongbong", the son and namesake of the Philippines' late dictator, was sworn in as the country's new president on 30th June 2022. Activists and survivors of the martial law era under his father protested against the inauguration.
Ahead of the inauguration, the incoming national security adviser to the President, Clarita Carlos, said she intended to stop "red-tagging," the longtime counterinsurgency tactic in which leftist activists and critics of the government are accused of being members of the communist movement.
In September 2022, amid continuing reports of human rights violations and abuses in the Philippines, including in the context of anti-drug operations, the Office of the High Commissioner for Human Rights (OHCHR) published a report mandated by Human Rights Council resolution 45/33 around the UN joint programme on human rights signed in July 2021. While acknowledging some progress in a number of areas, it stated that "access to justice for victims of human rights violations and abuses remained very limited. Institutional and structural shortcomings in law enforcement and the judiciary remained, despite efforts to address some cases."
Specifically, the report highlighted "limited oversight of human rights investigations, inadequate investigation capacity and inter-agency cooperation, limited forensic capacity and protracted judicial processes". Inadequate support and protection for victims and witnesses, as well as fear of reprisals, also affects victims' engagement.
The OHCHR also said it "continued to receive reports of killings, arbitrary detention, physical and legal intimidation" against human rights defenders. It said these individuals are often targets of "red-tagging". The OHCHR report corroborated human rights groups' findings.
Despite this, the UN Human Rights Council dealt victims of human rights violations in the Philippines a serious blow by failing to pass a resolution that would ensure continued scrutiny of the country's rights situation.
On 10th-11th October 2022, the UN Human Rights Committee reviewed the civil and political rights record of the Philippines. Ahead of the review CIVICUS submitted a report on the deterioration of civic space to the committee. In its Concluding Observations, the committee highlights issues of persistent violations of the freedom of expression, in particular press freedom restrictions, reports of increased crackdowns on human rights defenders, activists and other civil society actors and the rights of peaceful assembly and freedom of association.
During the Universal Periodic Review of the Philippines on 14th November 2022, states made recommendations to address past and ongoing human rights violations and the climate of impunity. A large number of states urged the government to ensure a safe and enabling space for human rights defenders and civil society. They also called on the government to end red-tagging or the linking of activists and human rights defenders to the armed insurgency; protect judges, prosecutors and lawyers, as well as journalists against public threats, intimidation, harassment and violence, including killings. States also recommended the government take concrete measures to protect and promote the rights to freedom of expression and peaceful assembly, as well as media freedom, by amending legislation including cyber libel laws and the Revised Penal Code.
However, over the last five months, human rights defenders have continued to be arrested on fabricated charges while the terrorist financing law has been used to persecute activists. Journalists have also been targeted for their work.
Association
Ten activists facing 'perjury' charges
🇵🇭Our dear colleague Cristina from @karapatan is among 10 activists facing baseless perjury charges when she returns home to the #Philippines after #HRC43

Too many of our members and partners are persecuted for speaking truth to power.

All ludicrous charges must be dropped pic.twitter.com/DbXkbWrHuc

— CIVICUS (@CIVICUSalliance) March 18, 2020
In June 2022, the World Organisation Against Torture (OMCT) reported that ten human rights defenders, including human rights group Karapatan, women's rights organisation Gabriela, and the Rural Missionaries of the Philippines (RMP), are facing trial in retaliation for their human rights work.
The ten individuals are: Elisa Tita Lubi, Karapatan Chairperson; Cristina Palabay, Karapatan Secretary General; Roneo Clamor, Karapatan Deputy Secretary General; Gabriela Grista Dalena, Karapatan Treasurer; Edita Burgos; Wilfredo Ruazol and Jose Mari Callueng, Karapatan National Council members; Gertrudes Ranjo Libang, Gabriela Chairperson; Joan May Salvador, Gabriela Secretary General; and Emma Cupin, RMP member. If convicted, they could face up to two years and two months of imprisonment.
OMCT stated that in May 2019, due to the alarming increase in violence against human rights defenders in the Philippines, the above-mentioned human rights defenders from Karapatan, Gabriela and the RMP filed a petition for the writ of amparo (protection order) and habeas data (access to information) before the Supreme Court, seeking protection against threats, attacks and harassment by government officials. The Philippine Court of Appeals denied their petition in June 2019.
Following the rejection of the petition, the authorities responded with retaliatory measures against the ten human rights defenders. In July 2019, National Security Adviser Hermogenes Esperon, who was named in the petition, lodged a "perjury" complaint against them, alleging that the ten defendants had committed that offence by stating that the RMP was a registered non-governmental organisation at the Securities and Exchange Commission in the petition they filed before the Supreme Court. While the perjury complaint was initially dismissed for "lack of probable cause and/or insufficiency of evidence", in February 2020, the Quezon City prosecutor sustained a motion for reconsideration filed by the National Security Adviser and found probable cause to charge the ten human rights defenders with "perjury".
Arrest & detention of environmental woman human rights defender 
I've written to the Governemnt of the #Philippines expressing concern about the arrest & intimidation of 69 year old WHRD Daisy Macapanpan. She has since been released but will reportedly face pre-trial proceedings in Feb 2023.@karapatan @jodeszgavilan https://t.co/w2njqePsYz

— Mary Lawlor UN Special Rapporteur HRDs (@MaryLawlorhrds) October 10, 2022
Vertudez "Daisy" Macapanpan, a 69-year-old environmental human rights defender was arrested in Pakil, Laguna on 11th June 2022 on charges of rebellion.
According to a communication written by the UN Special Rapporteur on Human Rights Defenders and other UN experts, Macapanpan was handcuffed and dragged to a police car. She repeatedly asked the officers why she was being arrested, but they reportedly did not give her an answer. Police officers also initially refused to tell family members where Macapanpan was being taken. The arrest came several hours after Macapanpan spoke at a community meeting opposing the Ahunan Pumped Storage Hydropower Project in Pakil, Laguna.
According to the UN Special Rapporteur, she was presented with a warrant on the charge of "rebellion" in relation to an incident that took place in 2008. The warrant lists a number of aliases and names, among which Macapanpan's name does not appear. Macapanpan did not know of the existence of the investigation prior to her arrest. The incident reportedly relates to an armed encounter between the Philippine Army and New People's Army in Quezon Province in April 2008.
Macapanpan was initially detained at the Nakar Municipal Police station for four days, then transferred to the Pagbilao Bureau of Jail Management and Penology for a seven-day COVID-19 quarantine. A week later, she was moved to Lucena City District Jail in Quezon province.
She has for many years advocated peacefully in defence of the environment in Southern Luzon, the Philippines. She is the lead convenor of Protect Sierra Madre for the People and a member of the Network Opposed to Kaliwa-Kanan-Laiban Dam movement. She has been leading opposition to the proposed Ahunan Pumped-Storage Hydropower Project in Mount Inumpong in the Sierra Madre, which local communities believe could affect their drinking water, religious practices and could lead to increased flooding during typhoon season.
Macapanpan was released on bail on 9th August 2022 after a local court in Infanta, Quezon approved the cash bond worth P200,000 (USD 3,608.49) for her temporary liberty.
Ombudsmen dismisses bribery charges against Leila de Lima
On 9th August 2022, the Philippines' Office of the Ombudsman rejected the bribery complaints against activists and former Senator Leila de Lima, citing inconsistencies in witnesses' testimonies. According to Amnesty International, this dismissal – which comes months after several witnesses retracted their allegations against Leila in relation to her drug-related charges – adds to growing proof of concerted efforts to persecute her and fabricate evidence against her.
As previously documented, de Lima, who has been detained at the headquarters of the Philippine National Police (PNP) since her arrest on 24th February 2017, was one of the staunchest critics of the human rights violations under the administration of former President Duterte. She faces charges alleging that she received money from drug lords while serving as justice secretary. She has repeatedly denied the charges, contending that the Duterte administration was retaliating against her for investigating extrajudicial killings under Duterte's anti-drug campaign.
In November 2022, the UN Human Rights Committee said the authorities "should take necessary steps to end the prolonged pretrial detention of former Senator Leila de Lima, including through granting her bail, and to ensure that her trial and trials of other opposition members are conducted without delay and with the respect of due process rights."
Women activist detained on fabricated charges
Karapatan secretary-general Cristina Palabay says accusations against septuagenarian activist Atheliana Hijos are preposterous because she's frail. https://t.co/8YAWM9tocn

— Rappler (@rapplerdotcom) September 1, 2022
On 30th August 2022, the secretary general of women's group Gabriela in Caraga was arrested in Nasipit, Agusan del Norte. Atheliana Hijos, 76, also known as Ka Atel, was apprehended in Barangay Kinabjanga. Caraga police director Brig. Gen. Romeo Caramat Jr. said Hijos had pending warrants for murder and kidnapping with serious illegal detention, the same cases that numerous red-tagged and arrested activists are facing in court.
Human rights group Karapatan denounced the arrest "as yet another reprehensible act that shows how the judicial system is being weaponised against human rights defenders, following numerous other cases of trumped up charges against and arrests of human rights defenders in the Caraga region."
The group said that the arrest of Hijos is "based on fabricated testimonies of soldiers - a blatant lie considering her senior age and frail physical condition. Hijos has been subjected to red-tagging via numerous posters and fliers bearing her name and picture disseminated by the military in public places in Caraga."
Hijos was a founding member of the Women's Alliance for True Change (WATCH) - Mindanao, a broad-based movement of women who resisted the Marcos dictatorship. She had been a long-time officer and women's rights advocate of Gabriela.
Terrorist financing law used to persecute humanitarian workers and activists
In August 2022, the Department of Justice (DOJ) filed criminal charges against 16 individuals, including nuns from the Rural Missionaries of the Philippines (RMP) / RMP-Northern Mindanao Region (NMR), for allegedly providing financial support to a terrorist organisation.
Those charged are Sister Emma Teresita E. Cupin, Sr. Susan M. Dejolde, Ma. Fatima Napoles Somogod, Sr. Augustina C. Juntilla, Sr. Mary Jane C. Caspillo, Melissa Amado Comiso, Czarina Golda Selim Musni, Maridel Solomon Fano, Jhona Ignilan Stokes, Hanelyn Caibigan Cespedes, Angelie Z. Magdua, Emilio Gabales, Mary Louise Dumas, Aileen Manipol Villarosa, Evelyn Lumapas Naguio and Aldeem Abroguena Yanez.
They were charged with violating section 8(ii) of Republic Act 10168 or the Terrorism Financing Prevention and Suppression Act of 2012. The provision punishes anyone who "makes available any property or funds, or financial services" to persons or groups identified or designated as terrorists with 12 years to 40 years in jail and a fine of between P500,000 to P1 million.
The RMP is a church-based national organisation, comprising priests and lay persons. The group empowers farmers, fisher-folk and indigenous peoples and educates them on their rights. The RMP has denied the charges stating that the accusations are part of a government strategy of using people who allegedly surrendered to testify against groups like RMP.
The Union of Peoples' Lawyers in Mindanao (UPLM) issued a statement saying the non-bailable offence of providing funds to the Communist Party of the Philippines and New People's Army (CPP-NPA) was "aimed at suppressing and harassing human rights defenders."
Previously, in February 2020, the government froze several bank accounts of the RMP on suspicion of "terrorism financing."
Court voids search warrants used against activists
In September 2022, the Court of Appeals nullified the search warrants used to arrest activist Reina Mae Nasino and two other activists Ram Carlo Bautista and Alma Moran. They were arrested in 2019 on the basis of search warrants issued by the Quezon City Regional Trial Court that led to the supposed seizure of illegal firearms and explosives.
The three were arrested at the office of Bayan-Manila in Tondo in November 2019. The raid was part of coordinated operations by the Philippine National Police in several offices and homes of members of NGOs in Manila and Negros Occidental. Nasino asserts that the charges against her and her colleagues were trumped up and planted by the police.
Kapatid, a network of support groups for families and friends of political prisoners, called for the immediate release of Reina Mae Nasino and the two other activists. Their spokesperson said: "nothing now stands in the way of freedom for Reina Mae Nasino, Alma Moran and Ram Carlo Bautista after nearly three years in jail for an offence they did not commit because it was pure police invention".
Expression
Radio commentator killed by gunmen
Remulla now points out Marcos admin's actions regarding the killing of journalist Percy Lapid. Read the timeline here: https://t.co/xL3iLJD5zg

— Jodesz Gavilan (@jodeszgavilan) November 14, 2022
Gunmen on 3rd October 2022 fatally shot a hard-hitting radio commentator in Las Pinas, a city in Metro Manila, the latest in a long line of targeted killings of journalists in the Philippines. Percival Mabasa, popularly known on air and online as Percy Lapid, was the second journalist killed since President Ferdinand Marcos Jr. took office on 30th June.
According to Human Rights Watch, police said the assailants were riding a motorcycle, the modus operandi for many targeted killings in the Philippines. These so-called "riding in tandem" hitmen are rarely caught and brought to justice. Police said the gunmen shot Mabasa twice while he was inside his vehicle. Authorities have not disclosed a motive for the murder.
Mabasa, who broadcast for station DWBL and regularly streamed his commentary on Facebook, rose to prominence for criticising former President Rodrigo Duterte and his "war on drugs", and Marcos, the son of the late dictator. Mabasa also tackled on air the practice of "red tagging" leftist activists and other critics of the government. In a Facebook post, Mabasa's family said his "bold and sharp commentaries cut through the barrage of fake news."
On 7th November 2022, police charged the country's prisons chief and a number of others for ordering the killing.
Prominent activist arrested for cyber-libel
Known activist and academic Walden Bello was arrested by Quezon City police today over charges of cyberlibel. The warrant was issued only today by a Davao RTC judge and implemented the same day. pic.twitter.com/wsRrUYYR3d

— Krixia Subingsubing (@krixiasINQ) August 8, 2022
Philippine police arrested Walden Bello, a 76-year-old social activist, academic and former congressman, on 8th August 2022 at his home in Quezon City on charges of cyber-libel. According to Human Rights Watch, the arrest was based on allegations by Jefry Tupas, a former information officer for Vice-President Sara Duterte. Bello spent the night in jail before being released after posting bail.
Tupas, who worked for Duterte when she was mayor of Davao City, filed two counts of cyber-libel against Bello in March for a Facebook post alleging that Tupas was involved in illegal drugs after attending a party in November 2021 that was raided by the police.
Bello, a leftist progressive voice well-known in the Philippines and Southeast Asia, unsuccessfully ran for vice-president in May. He used his candidacy as a platform to highlight progressive and social justice issues during the campaign. He is a long-time critic of the late Ferdinand Marcos, father of President Ferdinand Marcos Jr., and of former President Rodrigo Duterte, father of Vice-President Duterte. Sara Duterte denied any role in the libel case.
The Philippines' cyber-libel law, passed in 2012, has been used several times against journalists, columnists, critics of the government and ordinary social media users.
Court denies appeal in cyber libel case against journalists
On 11th October 2022, the Court of Appeals (CA) denied the motion for reconsideration filed by Nobel Peace Prize laureate and Rappler CEO Maria Ressa and former Rappler researcher Reynaldo Santos Jr. over their cyber-libel case. According to the CA, the arguments raised by Ressa and Santos had already been resolved.
Ressa and Santos Jr. were found guilty of 'cyber-libel' in June 2020 over a 2012 Rappler article, which was updated in 2014, and sentenced them to between 6 months and 1 day to 6 years in prison. The article linked a Filipino business leader to a top judge. On 7th July 2022, the Court of Appeals affirmed the conviction and extended the maximum term of imprisonment by eight months and 20 days with fines amounting to 400,000 pesos (USD 7,100) for moral and exemplary damages.
Prominent journalist Maria Ressa is a vocal critic of former President Duterte and his deadly 'war on drugs' which has killed thousands of people with impunity since he took office in 2016.
On 28th June 2022, two days before the end of President Rodrigo Duterte's term, the Securities and Exchange Commission (SEC) confirmed its decision to revoke the licence of Rappler. The first order was issued in 2018 by the SEC, stating that Rappler had breached foreign ownership restrictions.