Pegasus Spyware used against Catalan separatist figures, journalists and activists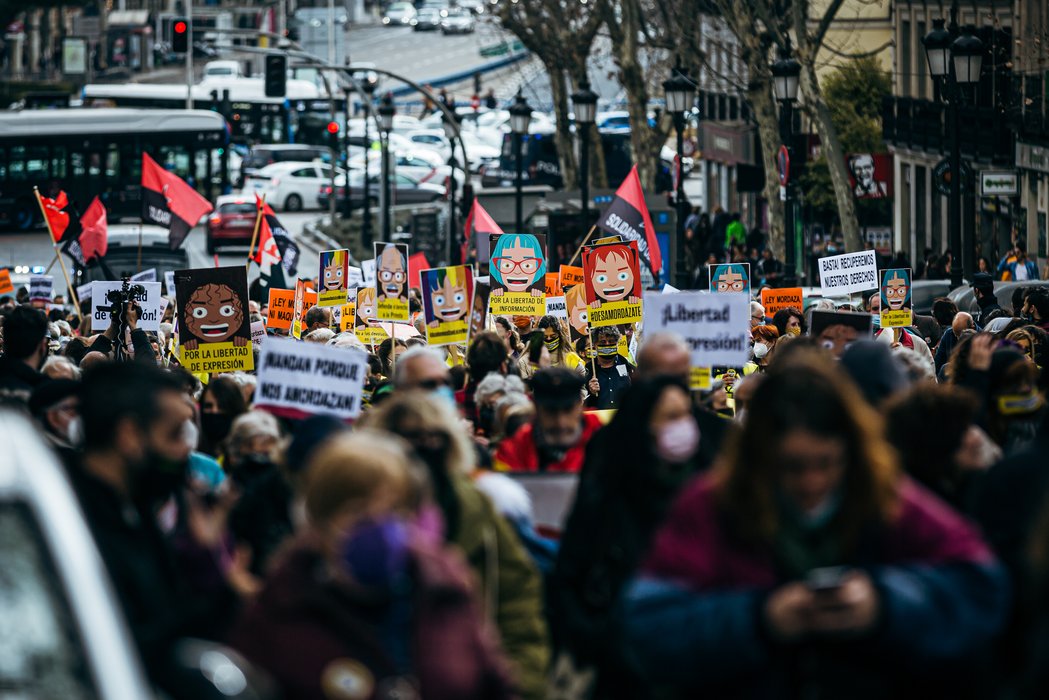 Peaceful Assembly
Repeated calls to reform the so called 'Gag Law'
On 30th May 2022, a group of NGOs condemned the Spanish government for its supposed reforms to Spain's infamous 'Gag Law' which have been stalled. This announcement comes after months of expectation that the government would finally make changes to the law that has been used to fine several thousand people and imprison dozens since 2015. When the reform plans were announced in 2021, thousands of police officers and right-wing supporters protested in the streets against reforming the law. The Spanish left, alongside more than 100 civil society organisations, believe that the proposed reforms would still fall short of international human rights standards. The reformed version does not address various important issues such as migrants, refugees, racial profiling by police and full support of the right to freedom of information.
NGO groups, consisting of large organisations such as No Somos Delito, Amnesty International and Greenpeace, have renewed their calls on the Spanish Parliament to revise the legislation. The group's demands are in line with a letter which the Council of Europe Commissioner for Human Rights, Dunja Mijatović sent to the Spanish Government.
Spain shld ensure that the review of the 2015 Law on Citizens' Safety results in better protecting #HumanRights esp. #freedomofexpression & #freedomofassembly, the right to seek asylum & prohibition of refoulement. Read my letter to @Congreso_Es @Senadoesp https://t.co/Ii9XndTu5D

— Commissioner for Human Rights (@CommissionerHR) February 14, 2022
The major areas of concern with the Gag Law include:
Article 36.6: "Resistance, disobedience or refusal to identify oneself" and Article 37.4: "Disrespect for authority", are the two articles that accounted for more than 70% of the sanctions under the Gag Law that have not been modified in the reform proposal.

Taking pictures of officers is still a violation and there is no independent mechanism to monitor the behaviour of officers.

There is no prohibition against collective expulsions at the border, which are contrary to international law.

There is no prohibition against raids, racial profiling and racist identification.

Article 36.11, which forces prostitution to be practised in isolated places, therefore putting sex workers at a greater danger of abuse, is not eliminated.

There is no prohibition against the use of rubber bullets by officers.

The right to spontaneous protest is granted but may be shut down in the case of a "disturbance of public order."
Expression
Pegasus Spyware used against politicians, activists and journalists
On 3rd May 2022, nearly 30 organisations, including Rights International Spain, rejected the use of Pegasus software in Spain afterconfirmation that journalists, lawyers, over 60 Catalan separatist figures and Spanish politicians, among them the prime minister and the defence minister, have been spied on. The NGO coalition has demanded an investigation and the guarantee of civil rights relating to privacy and freedom of information. The group has also requested that Law 11/2002, the law regulating the National Intelligence Centre, be revised to allow for improved clarity, accessibility and protection of civil rights.
Defence Minister Margarita Robles, who herself was subjected to surveillance, asserted that Spain's intelligence agency has always followed the law and has used surveillance on 18 Catalan separatists with full court approval. Following the scandal, the head of the intelligence agency, Paz Esteban, was dismissed. Critics have said that she was used as a scapegoat to please certain parties to retain support for the current left-wing government that faces elections in 2023.
On 7th June 2022, Xavier Antich, the president of Òmnium Cultural, a Catalan NGO, stated that "The Spanish government's reaction to [the Catalan] scandal is incompatible with the rule of law". Antich added that Madrid has been silent and assumed no responsibility towards the victims, which "violates international commitments." He believes that the espionage is part of Madrid's repression of Catalan dissent against Spain.
Amnesty International Spain called for
"an exhaustive, independent and effective investigation into the cases of surveillance of Catalan and Basque figures, including the opening of a commission whose findings are made available to the ad hoc Commission of the European Parliament on infringements of European Union law and fundamental rights associated with the use of Pegasus."
Incidents against journalists
On 8th April 2022, journalist Jesús Rodríguez and photojournalist Victor Serri were detained and searched by the Catalan police after documenting an eviction protest. The protestors entered the lobby of a hotel in Barcelona, but, according to Serri, the journalists only observed from outside. Although they identified themselves as journalists and provided police with their documents from the Union of Journalists of Catalonia, they were still searched against a wall. Local media freedom activist groups criticised the police's actions.
Avui, a l'acció de les entitats de @Can_Sanpere a un hotel de Núñez y Navarro a Barcelona, el que més m'ha donat mala espina ha sigut veure això:
Un jove fotoperiodista, donar la seva acreditació del Sindicat @periodistescat a l'agentde @mossos, i acte seguit, venir escorcollat. pic.twitter.com/cZJ7HUySfo

— Victor Serri (@_ittos_) April 8, 2022
On 19th April 2022, chief of staff of the regional government of Madrid, Miguel Rodriguez, allegedly pushed a journalist, Andrea Ropero, when she was attempting to pose questions to Isabel Ayuso, the current president of Madrid. The reporter was authorised to ask questions and was involved in a short dialogue with Rodriguez who claims that he did not push her. Upon realising that the event was caught on video, Rodriguez approached the cameraman and requested that the footage be deleted.

On 3rd May 2022, it was reported that the mobile number of Spanish journalist Ignacio Cembrero was listed in the Pegasus project database. Cembero's mobile number was included in a list of more than 200 Spanish numbers that were selected as potential targets for espionage by a client of Israeli NSO Group, believed to be Morocco. Cembrero is a journalist specialising in the Maghreb. In the past, he has faced lawsuits and legal pressure from members of the Moroccan elite. The Provincial Prosecutor's Office of Madrid did not find proof that the phone had been infected and recommended shelving the investigations for not having "sufficient reasons to accuse a certain person or persons as authors."

According to Mapping Media Freedom, on 4th May 2022, VOX, Spain's radical right populist party, launched another lawsuit against journalist Antonio Maestre for his remarks about the party and several of its members. Some of Maestre's claims included that the party was "neo-Nazi" and "co-responsible for sexist violence." The Spanish Supreme Court previously ruled that claims like Maestre's, referring to a party as "fascist" or "Nazi" is protected under freedom of expression. VOX's new lawsuit remains ongoing.
Journalist fined under Gag Law
On 13th June 2022, photojournalist Javier Bauluz was fined €960 for "disrespecting an agent" and "refusing to identify himself" under Article 36.6 and Article 37.4 of the "Gag Law". In November 2020, the Pulitzer prize-winning photojournalist had been documenting the arrival of migrants and refugees at the port in Arguineguín on the island Gran Canaria. He was trying to capture the dire living conditions that people were forced to deal with. One morning, Balauz was taking pictures of a rescue ship arriving in the port. Video footage appears to show police grabbing him by the arm and insisting that he leave the site. When Bauluz protests, one police officer threatens to fine him. According to the International Press Institute, Bauluz rejected the fines. Under Spanish law, there is no option to appeal the sanctions. It said that until the Gag Law is reformed, "press freedom in Spain will continue to suffer".
1 día de muelle Arguineguín liberado, abierto al público, con llegada de pateras. Varios policías aparecen y pretenden alejar a #periodistas. Uno me aprieta nervio de antebrazo y le contesto. 2 denuncias x Ley Mordaza, por falta respeto y negar a identificar #SinCensuraPrevia pic.twitter.com/HQa9vcfGwr

— Javier Bauluz (@javierbauluz) December 2, 2020
Positive move for women's rights
On 17th May 2022, the Spanish government passed a draft abortion law that would allow individuals from the age of 16 to have abortions without parental permission. Additionally, the legislation will also make Spain the only country that allows menstrual leave for women who suffer from painful periods. The draft still awaits approval from Parliament to replace the current abortion legislation that requires parental permission for abortions until age 17. The law also provides for free birth control pills, previously priced at about 20 euros.