Papua New Guinea: Multiple protests against government actions and increasing restrictions on the press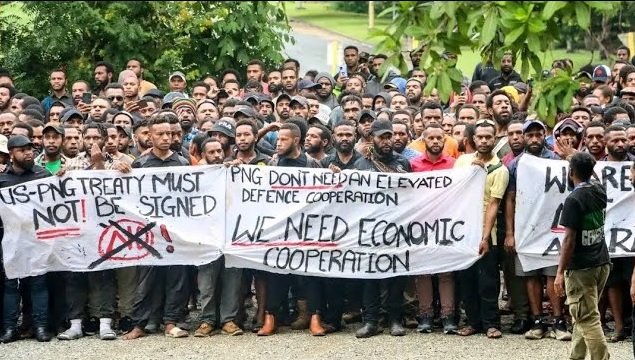 Papua New Guinea's civic space remains as 'obstructed' by the CIVICUS Monitor. Among concerns documented are the harassment and threats against human rights defenders, particularly those working on land and environmental rights, intimidation and threats against journalists and excessive force during protests.
Despite making commitments in March 2022, during its human rights review at the UN Human Rights Council, the government has yet to establish a national human rights commission or pass legislation related to access to information.
In recent months, there have been protests against a minister's comments, the reopening of the Porgera mine and US defence deal. Further, a draft media policy could lead to government control of media while media access has been restricted in parliament.
Peaceful assembly
University students protest over offensive comments by Minister
PNG foreign minister Justin Tkachenko "steps aside" after furore over the PNG delegation trip to UK for coronation. His attack on critics of his daughter as "primitive animals" sparked anger, with UPNG students joining protests to call for his resignation (photo Scott Waide). pic.twitter.com/niujNBAHBh

— Nic Maclellan (@MaclellanNic) May 12, 2023
On 12th May 2023, students at the University of Papua New Guinea (UPNG) marched to Parliament House in Port Moresby in protest over offensive comments made by Foreign Minister Justin Tkatchenko.
Tkatchenko was responding to public backlash over a TikTok video - depicting luxury travel and high-end shopping - posted by his daughter during a taxpayer funded trip to King Charles III's coronation in London. In an interview with the ABC, he called the critics "useless" and "primitive animals".
UPNG student Michael Pais said: It is not just about the offensive comments. The primary reason is the manner in which money has been spent on this trip and the extravagance displayed whilst our people lack the most basic services."
The foreign minister's comments drew outrage across PNG with opposition leader Joseph Lelang calling for Prime Minister James Marape to sack Tkatchenko over the comments, which he described as an "insult" and discriminatory.
Later in the day, Tkatchenko announced that he would "step aside" after apologising for his remarks.
Protest against reopening of Porgera mine and lack of accountability
Human Rights Akali Tange Association Porgera protest to pay compensation to the victims of Barrick and the state of Papua New Guinea pic.twitter.com/dYefptCLhQ

— Akali Tange Association Human Rights Porgera (@APorgera) April 19, 2023
Activists from Papua New Guinea, where a controversial gold mine is reopening, joined a campaign of global protests ahead of the annual general meeting of Canada-based Barrick Gold in May 2023.
Mongabay reported that members of the Akali Tange Association, a grassroots human rights group in Porgera, held a protest against Barrick Gold's activities in Enga province on 14th April 2023.
Cressida Kuala, an Indigenous Ipili landowner, single mother and survivor of assault said: "This is not right. Even though they know about the mine legacy issues, they are still going ahead to mine the Porgera gold, and we cannot tolerate that."
For more than a decade, Kuala has helped women who were sexually assaulted by mine workers to demand justice from Barrick, which has paid compensation to more than 100 women. But Kuala said this is not enough.
"We have been deprived of our rights as resource owners, and we need the company and the government to hear our voices to create a dialogue system so that women can get remedy to sustain their lives, because we have lost our land, our integrity, our dignity," she said.
In March 2023, Barrick announced it would reopen the Porgera copper and gold mine. The mine had been closed since 2020, when PNG's government refused to renew its licence, citing "environmental damages claims and resettlement issues." According to Mongabay, Barrick has also ignored demands that it take responsibility for violence and ongoing land and water contamination that has displaced people and contributed to ongoing and targeted attacks, home burnings, and even deaths.
Students protest against US defence deal
'There must be clarity': PNG students protest US defence deal #PNG https://t.co/5qA55sW0JK pic.twitter.com/OUfBVK46pC

— Raet Lomi (@raetlomi) May 22, 2023
In May 2023, university students in Papua New Guinea organised protests against the signing of a defence cooperation agreement with the United States in Port Moresby. Protest leaders appear to have focused on the anti-democratic way in which the agreement had been pushed through and the implications for PNG national interests.
Students from universities around the country have been calling for more transparency from the government. On 22nd May, the students' president at the University of Technology in Lae, Kenzie Walipi, said the goverment must explain exactly what was going to be in the deal ahead of the signing. Walipi said they were coordinating protests with student colleagues in other universities around the country.
The following day hundreds of students from the Mt Hagen Technical College (HATECO) in Western Highlands Province staged a protest march through the crowded town centre, despite the presence of security personnel.
Papua New Guinea signed a defence and maritime cooperation agreement with the US during the US Pacific Islands Forum in Port Moresby on 21st May. The agreement was signed by defence minister Win Bakri Daki and US secretary of state Antony Blinken, who flew into the country in the place of US president Joe Biden.
The full text of the PNG-US Agreement has not yet been released, but it gives US forces unrestricted access to PNG's territorial land, waters and airspace in exchange for $US45 million worth of development programmes.
Many in the Pacific are also concerned about the increasing militarisation of the region and that PNG could be stuck between an increasingly hostile US and China.
Expression
Draft media policy could lead to government control of media
Papua New Guinea's draft media policy is an attempt to legitimise government control over journalists | Bethanie Harriman https://t.co/7BTzkh6khy

— The Guardian (@guardian) February 22, 2023
In February 2023, it was reported that a new media development policy being proposed by the Papua New Guinea Communications Minister, Timothy Masiu, could lead to more government control over the country's relatively free media.
The new policy suggests a series of changes including legislative amendments. This includes re-establishing the PNG Media Council (MCPNG) through the enactment of legislation. The policy envisages the council as a regulatory agency with licensing authority over journalists. Further, the plan is to place this body, which is currently independent, under the PNG communications department.
The MCPNG was established in 1989 as a non-profit organisation representing the interests of media organisations. Apart from a brief period in the earlier part of its existence, it has largely been unfunded. Over three decades, its role has shifted to being a representative body for media professionals and a voice for media freedom. The proposal for the licensing of journalists is one of the biggest red flags that could lead to government control. There are fears the government could use the council to pressure journalists into covering what they want, significantly formalising political control of PNG newsrooms.
The draft media development policy also doesn't address obstacles that journalists face, including the need for training and better remuneration, and it doesn't state clearly exact mechanisms to protect journalists from violence, harassment and intimidation.
Another red flag is that the national media was initially given only 11 days to respond to the draft. Though later extended by a week, this was still seen as insufficient time to contribute to the process.
Neville Choi, the president of the PNG Media Council, expressed concern about the government's plans, warning: "Undermining media freedom diminishes the role of the media as the mouthpiece of the people, holding those in power to account … We need newsrooms with access to trainings on media ethics and legal protections from harassment."
The International Federation of Journalists (IFJ) said: "The current provisions within the proposed National Media Development Policy pose significant concerns for press freedom in Papua New Guinea, with media regulations amounting to government censorship and restrictions on independent journalism.
Media access restricted in parliament
In June 2023, the Speaker of Parliament decided that there would be certain areas of parliament where the media cannot access. Acting Speaker Koni Iguan said he had made this decision under the enabling power of the Parliamentary Privileges and Powers Act, Section 108 of the Constitution. According to reports, journalists are now restricted to the press gallery and cannot venture around the House in search of news.
This is the latest restriction on the media. As previously documented, in August 2022, the office of the Prime Minister informed journalists that his office would no longer engage in direct correspondence with either domestic or international journalists and media practitioners, and that they should direct their questions to the appropriate government ministries instead.
In September 2022, burdensome requirements were imposed on foreign journalists visiting PNG. This involves seeking permits from several offices such as the Department of Foreign Affairs, PNG Immigration & Citizenship Authority, PNG National Filming Institute and the Prime Minister's Department.