Slow progress in ensuring accountability for unlawful killing of protesters in PNG while journalists face restrictions and threats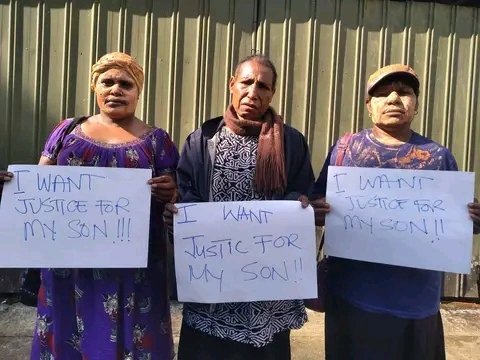 Papua New Guinea's civic space remains as 'obstructed' by the CIVICUS Monitor. Among concerns documented are the harassment and threats against human rights defenders, particularly those working on land and environmental rights, as well as intimidation and threats against journalists. PNG has also yet to establish a national human rights institution.
James Marape took office as Papua New Guinea's prime minister in August 2022 after a fraught and violent election period that ran for roughly six weeks. Marape – who became prime minister in 2019 after toppling his predecessor and former party leader, Peter O'Neill – was invited to form a government by the governor general, after his Pangu Pati party secured 36 seats and was able to strike deals with coalition partners to bring its numbers to more than 80. The new PNG parliament has female representation for the first time since 2017, with two women being elected.
In recent months, restriction and attacks on civic freedoms have been reported. There has been slow progress in ensuring accountability for the unlawful shooting of protesters in Jiwaka around the general elections. There are concerns around a notice that would limit journalists' engagement with the Prime Minister's office as well as entry requirements for foreign journalists. A journalist was harassed and threatened.
Peaceful Assembly
Still no justice for unlawful shooting of protesters in Jiwaka
Security forces have open fired at youths in Banz, Jiwaka in election related confrontation killing 6 young men, confirmed death, 6 are in critical condition in Mt Hagen General Hospital while 3 are in the ICU. pic.twitter.com/S8t0ZPePmq

— Tony Tambi Jr (@tambijr_4rmPNG) August 7, 2022
There has been slow progress in ensuring accountability for the unlawful shooting of protesters in Jiwaka province around the general elections in the Anglimp-South Waghi electorate.
The National reported that security forces had allegedly shot dead at least four men and wounded 15 others on 6th August 2022. The protesters were mostly young men from the Kuli tribe in Jiwaka, including students. Those reportedly killed were taken with the wounded to the Mt Hagen General Hospital in Western Highlands.
It was reported that the men were not happy with the conduct of the election and held a protest at the Highlands Highway at Anglimp junction, blocking it off.
Jiwaka regional candidate Patrick Nema said when the first group of security forces arrived, they managed to calm the situation. However, a second group of security personnel arrived and fired at the protestors. It was reported that the police used three armoured vehicles during the incident.
An investigation was reported to have taken place into the shootings and was ongoing. On 27th October 2022 it was reported that eight policemen had been identified as suspects.
Under international law, states should investigate, prosecute, and ensure accountability for human rights violations committed in the context of protests. Investigations and prosecutions must be effective, speedy and carried out by independent judicial or adjudicatory bodies, and capable of bringing perpetrators, instigators and those overseeing violations to account through criminal or disciplinary proceedings as appropriate.
Human rights groups have highlighted how the Papua New Guinea police have a long record of violence with impunity, including against children.
In June 2022, Clément Voule, the UN Special Rapporteur on the right to peaceful assembly and association had raised concerns that too often governments resort to repression to suppress protests and silence people's voices. He warned that this approach was resulting in an escalation of violence and tensions, human rights abuses, and increased impunity in the context of peaceful protests.
Expression
Prime Minister limits communication with journalists
Papua New Guinea's new media rules could undermine the work of journalists https://t.co/NsrA0lgKY8

— GlobalVoices SE Asia (@gvsoutheastasia) October 1, 2022
Press freedom continues to be a concern in Papua New Guinea after the office of the prime minister enforced new media rules which could hinder journalists' work and undermine press freedom.
On 31st August 2022, the office of Prime Minister James Marape published a full-page public notice in two newspapers, the National and the Papua New Guinea Post-Courier, informing journalists that his office will no longer engage in direct correspondence with either domestic or international journalists and media practitioners, and that they should direct their questions to the appropriate government ministries instead. The notice said this measure was to accelerate communications and deliver relevant enquiries to their respective ministries.
The text of the notice was also sent to a WhatsApp group of journalists in Papua New Guinea by Marape's media team, accompanied by an appeal to "work for the good of our country" and "support the PM."
The office indicated that this direction came from the Prime Minister personally and warned that if the instructions were not respected then the government would limit journalists' access to prime ministerial press conferences, allowing only one political reporter per news outlet.
The International Federation of Journalists (IFJ) said: "As press freedom continues to decline across the Pacific, any restriction on journalists is a concerning development. The IFJ urges Prime Minister Marape and Papua New Guinea's government to maintain press freedom and due consultation with the media and allow journalists full and unfettered access to government proceedings."
Marape has been increasingly critical of the media since his reelection. In December, he said that "journalists were creating a bad perception of his government" and he would "look to hold the media and individual journalists accountable".
Entry requirements for foreign journalists raises concerns
Foreign journalists visiting PNG will now have to meet several requirements for entry into the country.
On 27th September 2022, the Prime Minister's Department and National Executive Council announced the screening of journalists in a one-page statement. The statement noted the requirements that foreign journalists need to submit before they are allowed entry into the country. This involves seeking permits from several offices such as the Department of Foreign Affairs, PNG Immigration & Citizenship Authority, PNG National Filming Institute and the Prime Minister's Department.
The Post-Courier published an editorial criticising the requirements. It said that "the requirements appear to be ludicrous and an affront to media freedom in PNG" and that "our foreign friends should not be turned away on some ridiculous belief that they may stumble on some hidden secret that will unplug the government." It also suggested that the new media rules could be linked to the government's refusal to address sensitive topics like corruption.
Kate Schuetze, Pacific researcher for Amnesty International, said: "Absolutely there are concerns about what does this mean for press freedom. It is concerning for them to be saying that 'you should be supporting our vision for the country' because that's not what media freedom is."
Journalist harassed and threatened
A female journalist of The National was harassed and threatened by supporters of former Gumine MP Nick Kuman outside the Waigani Courthouse.
On 29th September 2022, the National reported that a journalist was in the committal court covering a criminal case against Kuman when she was confronted by his supporters. They took away her phone and told her that her outlet had "spoiled the name of Nick Kuman" and should stop reporting on his case. A complaint was lodged by the reporter at the Gordon Police Station.
The journalist said: "I was traumatised by what happened. I felt violated because the supporters invaded my private space and assaulted me in close range."
Steven Matainaho, the Secretary to the Department of Information and Communications Technology, said they strongly condemned "any act of harassment and violence on anyone in the media fraternity".
A Post Courier reporter was also reportedly threatened, harassed and intimidated.
Papua New Guinea was ranked 62nd out of 180 countries in Reporters Without Borders' press freedom index in 2022, a deterioration from 47th place the year before. Its laws are relatively protective of press freedom, but journalists are faced with intimidation, direct threats, censorship, lawsuits and bribery attempts, making it a dangerous profession, the advocacy group said in its 2022 report.