Nicaragua: persecution of civil society leaders continues unabated two months ahead of elections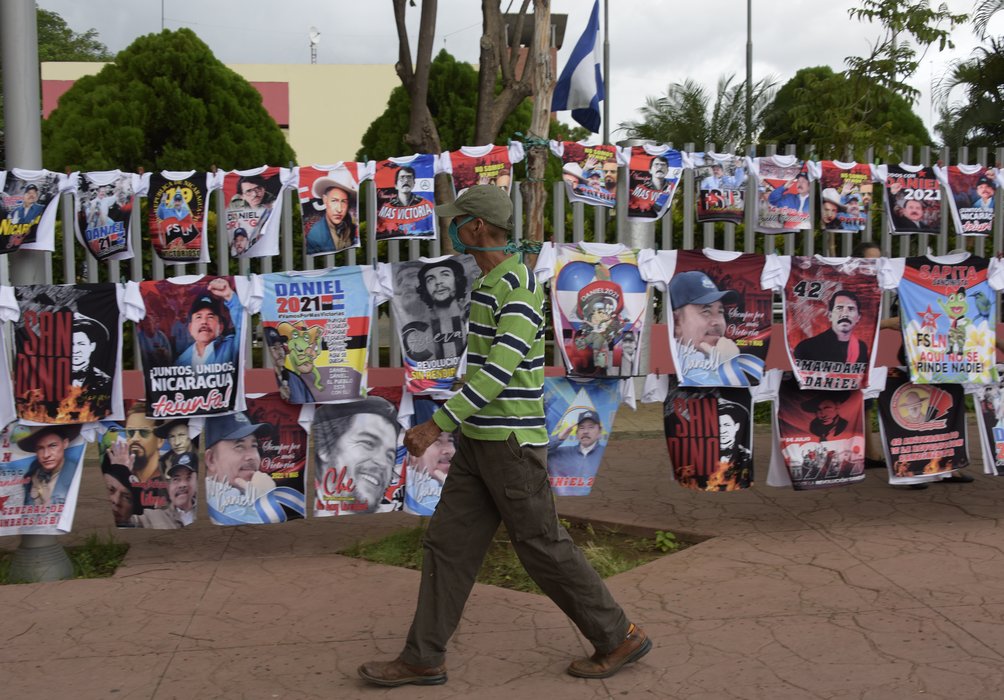 Association
Repudiamos las acusaciones contra Noel Vidaurre, María Oviedo, Pedro Mena, Aguirre Sacasa, Mauricio Díaz y Jaime Arellano, por el delito de "conspiración para cometer menoscabo a la integridad nacional" .@CIDH .@OEA_oficial .@Europarl_ES .@OACNUDH pic.twitter.com/UvKQU8iEx1

— Colectivo de Derechos Humanos "Nicaragua Nunca +" (@ColectivoNunca) September 10, 2021
On 9th September 2021, Nicaragua's Public Prosecutor Office charged lawyer and human rights defender María Oviedo, presidential candidate Noel Vidaurre and campesino leader Pedro Mena with "conspiracy to undermine national integrity". Oviedo was also charged under the country's Cybercrime Law (No. 1042) with "dissemination of false news using information and communications technologies". On 24th September, the Inter-American Commission on Human Rights (IACHR) expressed concern about the misuse of criminal law against opposition activists and human rights defenders in Nicaragua and asked the government to respect guarantees of due process.
In early September, several other members of the opposition and rights defenders detained in the recent wave of arrests were also officially charged. These include student leader Lesther Alemán, journalist Jaime Arellano Arana, presidential candidate Félix Maradiaga and activists Violeta Granera and Tamara Dávila. In most cases, authorities accused those detained of "conspiracy to undermine national integrity".
On 20th September 2021, Nicaraguan authorities arrested opposition activist Irving Larios, a member of Articulación de Movimientos Sociales (Social Movements Articulation - AMS) and president of Instituto de Investigaciones y Gestión Social (Institute of Social Research and Management - INGES). Authorities accused Larios of acting to undermine sovereignty under the Sovereign Law (No. 1055). The charges were levied days after AMS called for an "electoral strike", telling people to abstain from voting in upcoming elections as a protest against the regime and collaborating parties. On 21st September 2021, the IACHR condemned Larios' arrest and called on Nicaragua's authorities to cease arbitrary detentions.
On 23rd September 2021, Nicaragua's Public Ministry issued a statement announcing that an initial hearing had taken place in the cases against journalist and La Prensa manager Juan Lorenzo Holmann Chamorro, charged with money laundering, as well as in the cases of presidential candidate Noel Vidaurre, youth leader José Alejandro Quintanilla and lawyer Roger Abel Reyes, all three charged with "conspiracy to undermine national sovereignty." During the hearing, pre-trial detention was maintained for the four detainees. Lawyers and family of Holmann Chamorro said they were surprised to hear about the official charges and the hearing, and said these were "flawed judicial proceedings."
In the same statement, the Public Ministry said investigations into the managers of the Violeta Barrios de Chamorro Foundation and FUNIDES were still ongoing, and that warrants would be issued for any persons summoned to give testimony who failed to present themselves. The authority said these persons would be considered to be "fleeing from justice." As previously reported, some of the people arbitrarily detained in Nicaragua were arrested as they complied with citations from authorities. In some cases, journalists cited as witnesses in the processes against the civil society organisations were also threatened with legal action as "suspects".
Report on Nicaragua at the Human Rights Council
#HRC48 :

Human Rights Council hears @mbachelet's global #HumanRights update and updates on #Venezuela, #Afghanistan 🇦🇫, #Nicaragua 🇳🇮 & #Sri Lanka 🇱🇰.

It also holds interactive dialogue with the Independent Investigative Mechanism for #Myanmar 🇲🇲 : https://t.co/1AQSwLpcYT pic.twitter.com/6CpqKivywr

— UN Geneva (@UNGeneva) September 13, 2021
During the 48th session of the UN Human Rights Council, on 13th September 2021, the High Commissioner for Human Rights denounced the deterioration of the political situation in Nicaragua ahead of the elections in November. Between 22nd June and 6th September, the High Commissioner's Office (OHCHR) documented the arbitrary detention of 16 people, including political leaders, human rights defenders, business leaders, journalists, campesino and student leaders, in addition to 20 others detained since the end of May 2021. Michelle Bachelet also reported that attacks against freedom of expression had increased, with at least 12 journalists fleeing the country.
Bachelet recalled that Nicaraguans should be able to exercise their right to vote without intimidation and violence, and that those who wished to do so should be able to freely present their candidacies, and voters should be able to engage in election campaigns. The High Commissioner also urged the Council to consider all measures within its reach to promote and protect human rights in Nicaragua.
Expression
La policía a entrado a mi casa nuevamente, se han llevado detenido a mi cuñado, mi mamá fue golpeada y mi hermanas @SOSNicaragua 🇳🇮🇳🇮

— Kevin Monzón (@KevinMonzn11) September 22, 2021
TikTok influencer and young activist Kevin Monzón announced in September 2021 that he had gone into exile in Costa Rica. Monzón told news media that he decided to leave Nicaragua after authorities violently raided his home and tried to arbitrarily detain him on 22nd September 2021. In a tweet, the young communicator said his family's house was still under surveillance by members of paramilitary groups on 28th September 2021. Monzón became well-known in the country for making videos satirising the government and he has been persecuted and harassed for his criticism. He and his family were granted precautionary measures by the IACHR.