New court ruling allows implementation of restrictive NGO law in Guatemala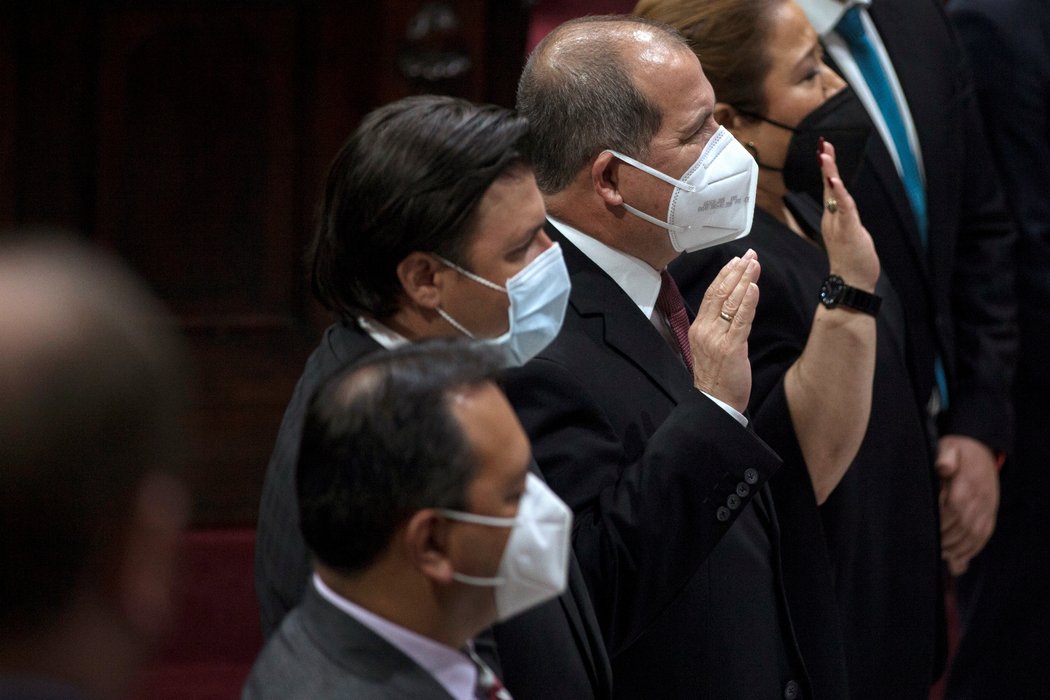 In a public letter, Human Rights Watch warned that President Alejandro Giammattei and his coalition in the Guatemalan Congress are working to halt anti-corruption efforts and attempting to block funding to the country's human rights Ombudsperson, whom they have tried to remove from office several times. The organisation said Guatemala's authorities have worked to remove the last few independent judges and replace them with allies in an apparent effort to halt an anti-corruption drive that has implicated many senior politicians.
Association
Concerning NGO Law reinstated
Organizarse en un entorno libre y seguro fortalece la democracia. Sin embargo, vemos con preocupación la entrada en vigencia de la reforma a la #LeyDeONG y el #DecretoLey106 en #Guatemala, que atenta contra los derechos de las personas.
Más en: https://t.co/mAv5wdgyy0 pic.twitter.com/OcBoxxYMrJ

— Due Process of Law Foundation (@DPLF_info) May 20, 2021
On 12th May 2021, newly elected members of Guatemala's Constitutional Court overturned a March 2020 ruling that had halted the implementation of the "Law on NGOs" (Decree 4-2020), a set of amendments to the laws covering non-governmental organisations. This was one of the Constitutional Court's first major rulings after Guatemala's Congress blocked Justice Gloria Porras' re-appointment in April 2021, in a move that was interpreted as retaliation for her previous rulings on corruption cases.
As previously reported on the CIVICUS Monitor, this reform imposes sweeping controls over civil society, restricting freedom of association in the country. The implementation of the controversial decree had been halted by a provisional injunction in a lawsuit filed by civil society. In the new ruling, court magistrates held that the law did not pose an imminent threat, thereby allowing the President to adopt and publish it.
Civil society organisations have warned that the decree contravenes international standards, giving government strict and arbitrary control over civil society. For example, the decree allows government the discretion to dissolve and deregister civil society organisations and associations whenever it deems appropriate. The legislation also enables the criminalisation of civil society organisations using foreign funding to carry out activities that the government deems to disturb public order in national territory. The law's text provides vague definitions which could be used to criminalise civil society.
More than 200 organisations signed a statement rejecting the legislation, saying that it "grants the Executive an almost absolute power to decide who can and who cannot express themselves and organise." On 19th May 2021, the Inter-American Commission on Human Rights (IACHR) also spoke out against the implementation of the decree, calling on Guatemala to repeal the legislation. The IACHR said the adoption of these laws would seriously affect the ability of human rights organisations to carry out their legitimate work of defending human rights in Guatemala.
Smear campaign coordinated by public officials
#ComunicadoPDH | Ante las campañas de desprestigio contra funcionarios públicos promovidas desde la oficina de Comunicación Social del @CongresoGuate, el @PDHgt @JordanRodas recomienda al @MPguatemala una pronta investigación de los hechos. pic.twitter.com/SU5I3JuIPU

— PDH Guatemala (@PDHgt) May 21, 2021
On 20th May 2021, news outlets Artículo35 and Vox Populi published a report claiming that public officials working for Guatemala's Congress have headed a structure dedicated to attacking opposition representatives and officials of other institutions. The article includes audios and screen captures of alleged messages between public officials of Congress' Social Communication department, where directors instructed workers in the department to make videos to discredit the work of Ombudsperson Jordán Rodas Andrade. An attack on legislator Samuel Pérez of Bancada Semilla was also reportedly coordinated by the group.
Bancada Semilla representatives filed a complaint against the directors of the department for abuse of authority. The Ombudsperson's Office also issued a statement recommending an investigation into these accusations by the Public Ministry. As reported by Prensa Libre, one of the officials involved in the case said in a deposition that information on the Ombudsperson had been requested by members of Congress' Permanent Commission, with the objective of presenting a brief to a delegation of the Organisation of American States visiting Guatemala to investigate the crisis sparked by protests in November 2020.
Expression
🚨🇬🇹 El informe #Guatemala, el Estado contra la prensa y la libre expresión da muestra de cómo la criminalización de periodistas por parte del Ejecutivo ha llegado a niveles sumamente preocupantes.

Conoce más en:https://t.co/gOuc1sTOwE pic.twitter.com/HGKF1VAdHN

— ARTICLE 19 MX-CA (@article19mex) May 20, 2021
On 3rd May 2021, civil society organisations Article 19, Artículo 35 and Centro Civitas de Guatemala published a report on freedom of expression titled "Guatemala: Estado contra la prensa y la libre expresión" (Guatemala: State against the press and free expression). Between January 2011 and July 2020, the Public Ministry registered 820 complaints of attacks against journalists in Guatemala. Threats and coercion were the most frequently documented violations in this period,. A concerning finding shows 90% of women journalists saying they have faced sexual harassment at work.
According to the report, journalists in Guatemala have faced various restrictions during the past three government administrations – Pérez Molina, Morales and Giammattei – including criminalisation, attacks on investigative journalism and direct confrontation with presidents themselves. They also reported the persecution of community radio stations, use of netcentres to discredit and threaten communicators online and denial of access to information. The analysis concludes that the State has failed or neglected to fulfil its obligations, and that an extraordinary effort is required to gradually reduce obstacles to the exercise of press freedom in the country.
In a separate development, journalists Sonny Figueroa and Marvin del Cid face criminal charges from a lawsuit filed in May 2021 by a former public official's family members. Both are investigative reporters with Vox Populi, which published reports on the finances and asset purchases of former official Miguel Martínez. The ex-official's mother and his sister filed a lawsuit against the journalists claiming they had experienced emotional and psychological trauma due to their work, in violation of the country's Law Against Femicide and Other Forms of Violence Against Women. On 31st May 2021, a group of more than 60 local organisations issued a statement condemning the "malicious" use of the country's law against domestic violence in the case against the Vox Populi reporters, calling it "an abuse of public power".
On 18th May 2021, CNN correspondent Michelle Mendoza denounced being subjected to online harassment after she attended a government press conference. She and journalist Jody García said a judge had taken photographs of her during the event, which were subsequently used by an anonymous account to harass Mendoza. Guatemala's Ombudsperson Jordán Rodas said the constant harassment against Mendoza is concerning and that the journalist's allegations must be urgently investigated.
On 22nd May 2021, the Asociación de Periodistas de Guatemala (Guatemala's Journalists Association - APG) warned of increasing criminalisation, delegitimisation, persecution and detention of journalists in Guatemala. The Association's Observatory recorded 54 attacks, restrictions and incidents of harassment against the press in 2021. The organisation expressed concern about actions by the three organs of government to restrict fundamental rights and curb dissent. APG also voiced solidarity with journalists who have faced persecution, harassment and smear campaigns.
Peaceful Assembly
Desde la vertiente de Chisec las comunidades Q'eqchi's caminan y resisten para liberar a los ríos.#LibertadParaBernardo #LibertadRioCahabon pic.twitter.com/PuIxteVVGV

— Festivales Solidarios (@festivalesgt) June 4, 2021
On 4th June 2021, protesters in various regions of Guatemala marched to demand the release of Maya Q'eqchi defender Bernardo Caal Xol, a teacher and trade unionist who has been in prison for over three years for his defence of environmental rights and who has been considered a prisoner of conscience. The mobilisation was organised by several Indigenous groups, community organisations and environmental defenders.