Mexico: President vilifies civil society activists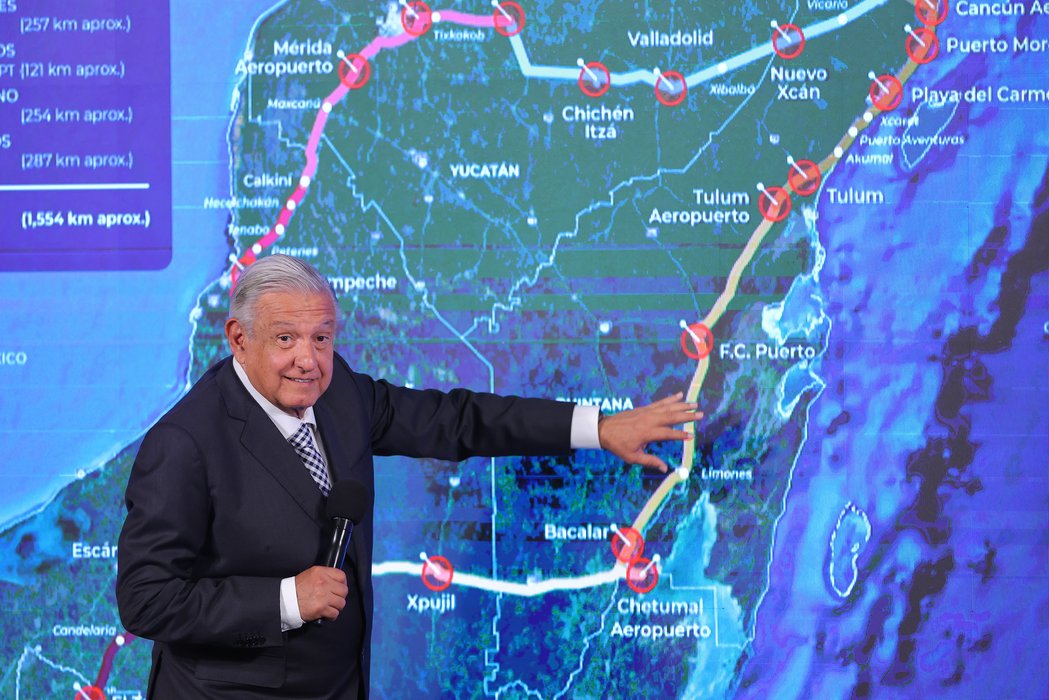 Association
In July 2022, President Andrés Manuel López Obrador made recurring statements vilifying activists who have campaigned to halt the construction of a section of the Maya train project until environmental concerns are addressed. "Pseudo environmentalists come from Mexico City and other parts of the country, financed by the government of the United States, and they file these injunctions against us", said López Obrador on one occasion. "It is an issue of national security for many reasons, because a foreign government is interfering". On 19th July 2022, the President declared the Tren Maya projecta matter of "national security" thus work on the trainline would not be suspended, despite a court injunction.
In a statement, environmental group Sélvame del Tren denied the claims that they are supported by foreign governments. The group said that the courts were their last resort, after months of respectfully asking the government to engage with environmental experts to hear their concerns. The activists said if the necessary processes had been carried out, showing the feasibility and the environmental impact statement of the trainline, there would be no need for a court battle over the project.
HRD found dead in Sonora
🚨#AlertaDefensoras
"Brenda Jazmín Beltrán Jaime, quien buscaba a su hermano Luis Heraldo Beltrán, desaparecido desde el 1 de noviembre de 2018, era integrante del colectivo Guerreras Buscadoras de Cajeme, Sonora, y colaboraba acompañando a familiares de personas desaparecidas"👇🏿 https://t.co/cWhS5dSXbn

— Red Nacional de Defensoras de Derechos Humanos HN (@RedDefensoras) July 25, 2022
On 17th July 2022, human rights defender Brenda Jazmín Beltrán Jaime was found dead in Sonora. According to the Sonora Attorney General's Office, she died of asphyxiation and her body had clear signs of violence. Authorities said the investigation would focus on Beltrán Jaime's personal life, rather than her work as a HRD. She had been searching for her missing brother since November 2018, and was a member of the group Guerreras Buscadoras de Cajeme (Searching Warriors of Cajeme), which supports relatives and friends of missing persons in the region. Women human rights defenders network Red Nacional de Defensoras de Derechos Humanos en México (RNDDHM) said that there have been several recent attacks on members of the group searching for disappeared persons in Sonora. They called on the authorities to conduct an expedited, comprehensive, and gender-sensitive investigation.
Peaceful Assembly
Migrants continue to protest
Some 2,000 migrants, mostly Venezuelans, walked out of the southern Mexican city of Tapachula en masse, to pressure authorities into allowing them to continue to the U.S. border at a time when attention is focused on immigration.
Story: https://t.co/I2syNXq5qL pic.twitter.com/FL5DopmRWE

— Border Report (@BorderReportcom) July 3, 2022
On 1st July 2022, nearly 2,000 migrants began marching from Tapachula, near the Mexican border with Guatemala, toward the north of the country, in a protest to demand that the authorities allow them to continue their journey to the U.S. border to seek asylum. The migrants, many of them from Venezuela, decided to make the move a day after the U.S. Supreme Court ruled that the Biden administration had authority to end the Trump-era policy that forced some asylum seekers to wait out their cases in Mexico. The Mexican government quickly negotiated to give temporary documents that allow migrants to transit through the country.
Protests against violence
#Relevante | Doctores y estudiantes de medicina se manifestaron en Ciudad Juárez, #Chihuahua, en demanda seguridad para ejercer esa profesión, luego del asesinato de la doctora Masiel Mexia Medina pic.twitter.com/QJikLxA6Zo

— Azucena Uresti (@azucenau) July 13, 2022
On 12th July 2022, doctors and students protested in Ciudad Juarez, Chihuahua over the murder of one of their female colleagues. The healthcare workers demanded safer working conditions and justice for the murder of Masiel Mexia Medina, an anesthesiologist. The protesters carried banners that read: "We are missing one, Masiel Mexia" and "The dead give no consultation". The doctor, who worked at the Mexican Social Security Institute in San Juanito, was killed in front of her house by an armed assailant. A suspect was arrested in the case.
On 1st July 2022, over a hundred journalists and local residents demonstrated in Ciudad Victoria, Tamaulipas to demand justice for Antonio de la Cruz, a journalist who was shot dead days earlier. They walked through several streets of the state capital with banners and chanting slogans such as "I am a journalist" and "Justice for Toño". De la Cruz was a reporter in Tamaulipas, a state bordering Texas, which is known for the presence of organised criminal groups.
LGBTQIA+ women march in Mexico City
🏳️‍🌈👩‍❤️‍👩Arranca la segunda edición de la #MarchaLencha inició en La Glorieta de las Mujeres que Luchan y camina hacia el Parque de la Amistad México-Azerbaiyán @MarchaLencha pic.twitter.com/yIkggCoETv

— LaCaderadeEva (@LaCaderadeEva) June 18, 2022
On 18th June 2022, dozens of lesbian, bisexual, and trans women marched in the Mexican capital to demand equal rights and end discrimination. This was Mexico City's second Marcha Lencha, a local word for 'lesbian'. Waving colourful flags, protesters celebrated diversity and called for equality. They stressed the need to make themselves visible within the LGBTQIA+ community, showing that some of their claims are different from those of other groups. "We have been living in the shadows for a long time. We needed space for lesbians to be able to make ourselves visible, take to the streets to ask for our rights, which seem to be the same as those of gay men, but the truth is there are differences", one protester said.
Protest for justice in Ayotzinapa students' case
On 16th June 2022, parents of the 43 Ayotzinapa students abducted nearly eight years ago in Guerrero protested the failure of President Lopez Obrador to deliver on his promise to solve the case. Parents, accompanied by several dozen students, walked to the Foreign Relations Secretariat to demand justice. In 2014, students from the Ayotzinapa Normal School were attacked in Iguala, Guerrero, after they had commandeered buses to travel to Mexico City for a protest. Six people – including three students – were killed, 25 were injured, and 43 students were abducted and are presumed dead.
Expression
Journalist killed in Guanajuato
🇲🇽#Mexico mourns the death of Tu Voz director Ernesto Mendez, the 13th journalist to be murdered this year. @Article19mex says he received threats in the past.

It's a harrowing reminder that more must be done to #ProtectJournalists now.

🔻https://t.co/fPBXBccF33 pic.twitter.com/CwQFheLiUB

— ARTICLE 19 (@article19org) August 10, 2022
On 2nd August 2022, journalist Ernesto Méndez, editor of media Tu Voz, was shot and killed in an attack in San Luis de la Paz, Guanajuato. According to news reports, an armed group attacked a bar owned by Méndez's family, leaving four people dead and one injured. Méndez had previously worked at the news site Zona Franca, whose director, Carmen Martínez, reported that the journalist had received threats in the past. On 6th August 2022, public authorities announced they had arrested a suspect and three others allegedly involved in the homicides. They did not provide further information on whether the attack was motivated by Méndez's work as a journalist.
Attacks on journalists
Susana Mendoza Carreño, a journalist from Mexico, was viciously attacked on July 1.

We cannot accept the idea that journalists live in constant terror. The IWMF calls for the prosecution of those responsible and the assurance of Susana's protection. pic.twitter.com/oW73poFnb8

— International Women's Media Foundation (@IWMF) July 6, 2022
On 1st July 2022, a journalist was stabbed and robbed by unknown assailants in Puerto Vallarta, Jalisco. Susana Mendoza Carreño, director of Radio Universidad, was taken to the hospital for the wounds she sustained during the attack. Carreño and her co-worker had just entered their vehicle when unidentified drivers in another car crashed into her vehicle. Two men then approached the scene on a motorcycle, forced Carreño at gunpoint to lay down, and then stabbed her repeatedly. Authorities minimised the incident, claiming that it was a robbery unrelated to her work. But press advocates said local authorities have a history of downplaying attacks against media workers in the region. Article 19 stated: "It is worrying for the signatory organisations that journalistic work is dismissed as a motive for crimes committed against the press before conducting the investigations".
In a separate incident, on 30th June 2022, Ana Lilia Mata, a reporter for Unión de Morelos, was physically assaulted by a police officer while covering a public event hosted by the Morelos State Attorney General's Office. After the event ended, Mata tried to interview public officials, but an officer physically prevented her from approaching the officials and doing her job. The contact allegedly included grabbing her bag and pushing her away.
On 4th June 2022, two reporters with Paginabierta were assaulted by police and blocked from covering a public roadblock setup by police in Campeche, state of Campeche. Rony Aguilar and Rodrigo Bastos said they were documenting abuses, physical attacks, and arbitrary arrests by police officers when the officers physically assaulted them. In a video of the incident, police are seen physically roughing up people at the roadblock.
Journalist threatened with legal action
Iván Soto Hernández, director of the digital media En Vivo Durango, reported that the governor of Durango state threatened to file criminal charges against him over a phone call on 10th July 2022. The threat is related to the Hernández's criticism over the lack of an investigation into the sexual assault of his daughter in 2021. Hernández and his family have alleged that members of the political party - Partido Acción Nacional (PAN) - sought to obstruct the investigation because of the alleged involvement of a son of a PAN member.