Media Networks and Journalists Face Brutal Repression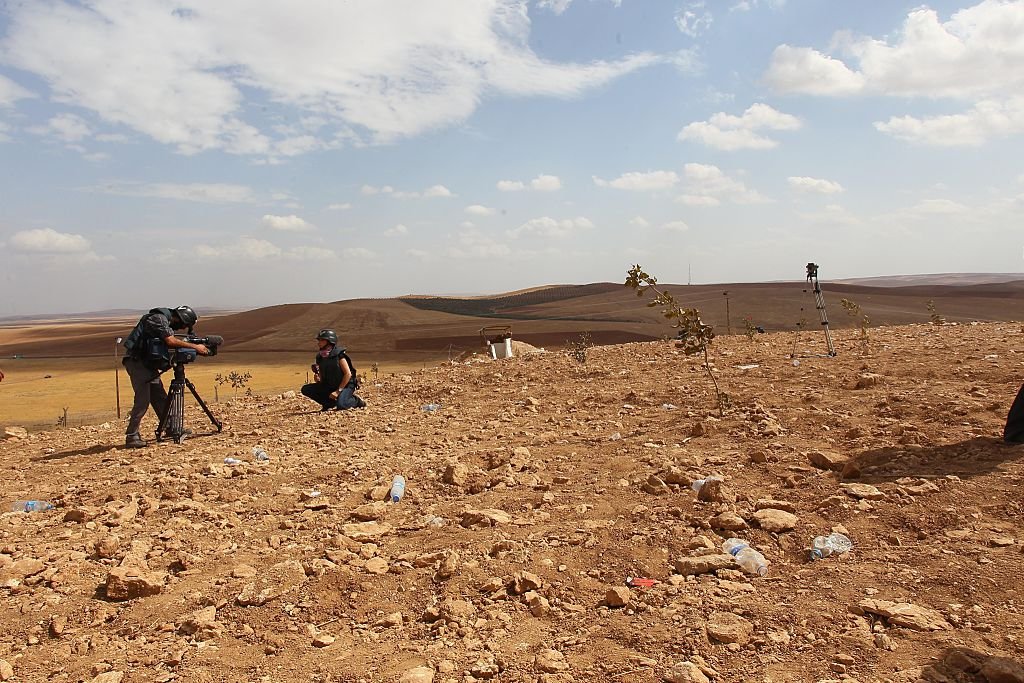 Expression
This year's World Press Freedom Day, which takes place on 3rd May every year, has been dedicated to "Journalism under Digital Siege". During the World Press Freedom Day Global Conference 2022 which took place in Uruguay from 2nd-5th May, policymakers, journalists, media representatives, activists, cybersecurity managers and legal experts discussed the impact of the digital era on freedom of expression, the safety of journalists and the threats posed by increased surveillance.
In a press release to mark the occasion, the Gulf Centre for Human Rights (GCHR) called for more resources to protect journalists in the Middle East and North Africa (MENA) and highlighted a survey being conducted by GCHR to gain more information on the level of knowledge amongst MENA journalists on the protection mechanisms available to them. The survey, which is available in Arabic, can be found here and preliminary results indicate that of the 45 journalists who have responded so far, 83% report feeling a "high" or "very high" level of risk in their work. Syrian journalists are amongst those surveyed.
Syria is amongst the worst countries in the MENA region for journalists. On 18th April 2022, Syrian President Bashar Al-Assad ratified the Cybercrime Law No. 20 of 2022, which includes penalties ranging from one month to 15 years in prison, while fines range from 200,000 to 15 million (approx. 26,700 EUR) Syrian pounds for a group of acts classified by the law as cybercrimes. These acts include publishing online content that the government finds objectionable, as well as publishing digital content on the internet with the intention of "overthrowing or changing the regime in the country", or "undermining the prestige of the state and compromising national unity". According to GCHR, "there is no doubt that this article is designed entirely in order to silence different opinions under unclear headings, as any digital content can theoretically be accused of leading to the overthrow or change of the regime or encouraging it."
On 5th February 2022, the Autonomous Administration of North and East Syria—the regional government—announced that it was suspending Rudaw Media Network's license to operate in north-eastern Syria (Rojava), claiming that the network spreads "hate and misinformation". This decision came three days after Asayish security forces harassed Rudaw journalists who were covering the public funeral of 12 members of the Kurdish-led Syrian Democratic Forces, who were killed in a fight to repel an ISIS assault on 15th January, in the north-eastern city of Qamishli, in the Rojava region. During the funeral, Rudaw crew members consisting of reporter Viviyan Fatah, cameraman Issa Hassan and driver Abdullah Majdal, were approached by an unidentified armed group who harassed and attempted to discourage the journalists from continuing with their coverage. After the funeral, the crew was once again approached by five armed people in black military uniforms who identified themselves as Asayish forces. They ordered the journalists into their car and forced them to drive into a deserted area of the city's suburbs where the crew was blindfolded, beaten and threatened in relation to their work for Rudaw. The group also confiscated the crew's camera, live stream equipment and Fatah's purse. The crew has reportedly filed an official complaint at Asayish headquarters.
In #Syria, talking about corruption is risky. "Consider this video a testament," said #journalist Kenan Wakkaf, filming himself shortly before being arrested: his third arrest in 18 months. @RSF_inter is calling for his release. More information here:
https://t.co/oYhksdjFZU pic.twitter.com/JAIKR2mkeY

— LIDC (@LIDC_UK) February 19, 2022
On 5th February 2022, journalist Kenan Wakkaf was arrested in Tartus, a government-controlled city on Syria's Mediterranean coast, shortly after posting a video in which he stated that the security forces had raided his home and were looking for him. The day before his arrest, Wakkaf criticised the lavish reception that a Syrian actress and her director husband had received at the presidential palace while the rest of the population copes with constant shortages. This is not the first time Wakkaf has been detained. The first time was in September 2020 when he was arrested on a cyber-crime charge in retaliation for an article he wrote for the daily newspaper Al-Wehda about the link between corruption and electricity shortages in Tartus. He was released following an intervention by the media minister a few days later. His second period of detention was in March 2021 when he was arrested shortly after reporting that a solider guarding the governor's palace had been kidnapped for ransom by the governor's son. He was released in May 2021 under a presidential pardon.
On 19th January 2022, a German court in the city of Frankfurt began hearing evidence in a trial involving allegations of torture and murder by state agents during Syria's decade-long brutal armed conflict. The defendant in the case, Alaa M, is a doctor accused of torturing civilians in hospitals and detention facilities. Although a landmark moment for accountability for atrocities in Syria, the proceedings have been criticised for marginalising affected communities by failing to make information about the trial available in Arabic.
On 15th December 2021, the Frankfurt court decided not to provide the public with translation of the proceedings after the accused waived his right to Arabic interpretation. The court justified its decision not to provide translation, citing financial constraints. However, it has nonetheless translated press releases about the case into English. In addition, the court prohibited visitors from taking notes in the public gallery unless they could demonstrate a "research interest". According to Human Rights Watch, "lack of awareness and understanding of the proceedings and judicial systems prevents Syrians and others from fully understanding justice efforts taking place outside Syria and from being able to contribute to them."
Alaa M's trial opened just days after another German court in Koblenz found a former member of Syria's General Intelligence Directorate, Anwar R, guilty of committing crimes against humanity and sentenced him to life in prison. The lack of translation and marginalisation of survivors and affected communities was also an issue in this trial as non-accredited Arabic language journalists and people from affected communities who spoke Arabic were not given access to translation devices.
The trials of Alaa M and Anwar R were conducted in Germany under the principle of universal jurisdiction, which allows for the investigation and prosecution of some of the most serious crimes under international law, no matter where they were committed and regardless of the nationality of the accused and victims.
The Syrian Center for Media and Freedom of Expression (SCM) welcomed the doctor's trial, noting, "The importance of this lawsuit lies in the fact that it is the first of its kind in which charges are brought against a member of the medical staff, who was supposed to be part of the medical care system yet participated in the execution of crimes against humanity. This lawsuit also highlights the Syrian government's systematic use of sexual violence as a form of torture that is also practiced by medical personnel as well as in detention and investigation centers in Syria, which sets an important precedent in the history of universal jurisdiction cases concerning international crimes committed in Syria and abroad."