Mass anti-war protests, censorship, as population denounces Ukraine invasion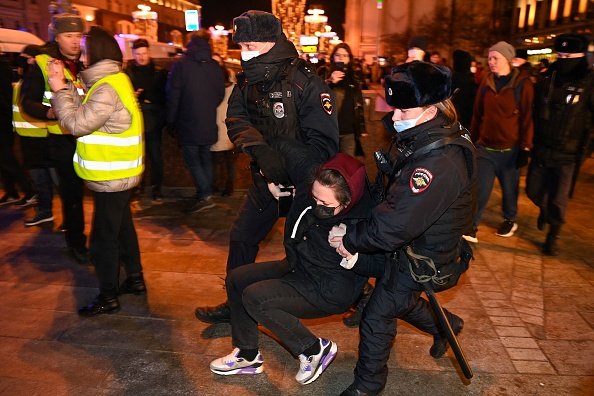 Protests held across the world over Ukraine conflicthttps://t.co/ihAxLZeXcA pic.twitter.com/2zDOFRPpK8

— BBC News (World) (@BBCWorld) February 27, 2022
General Update
In late 2021, the U.S. declared that Russia had built up more than 100,000 troops near Ukraine. Russia denied planning to invade but insisted on receiving written security guarantees and NATO withdrawal at the 1997 borders. The U.S. leadership released classified information about a possible attack from the Russian side in the middle of February.
On 15th February 2022, the State Duma supported the resolution to recognise the so-called separatist republic of Donetsk and Luhansk. The request was sent to Russian President Vladimir Putin. Days later, on 22nd February 2022, Russia's parliament officially allowed the Kremlin to send troops into foreign territory.
On the morning of 24th February 2022, Ukrainians woke up to a military operation launched by Russia, with explosions heard across the country and Ukraine's foreign minister warning a "full-scale invasion" was under way. In the days that followed, Russian forces embarked on a full on offensive in Ukrainian cities, in what Putin said was intended to topple the Ukrainian government.
Meanwhile, as the war began in Ukraine, Russian authorities embarked on a severe crackdown on civic freedoms after authorities embarked on a brutal crackdown on nationwide anti-war protests, threatened media outlets to get them to delete publications about the war in Ukraine, interfered with access to social media and blocked access to media websites - as described in the update below.
Several thousand people, mostly young, poured onto the streets in Moscow holding signs condemning the war unleashed against their brothers and sisters in Ukraine https://t.co/COMWlyWPLB

— The Economist (@TheEconomist) February 26, 2022
Peaceful Assembly
Nationwide protests erupt in solidarity with Ukraine
In a remarkable show of solidarity with Ukraine, and despite the great personal risk involved, thousands of protesters across cities in Russia gathered to denounce the invasion in Ukraine. From 24th February, the first day of the invasion and in the days that followed, people across dozens of Russian cities such as Moscow, St. Petersburg, Krasnodar, Ekaterinburg, Saratov, Nizhny Novgorod and Voronezh took to the streets, carrying hand-written placards with peace signs and anti-war slogans in Russian and Ukrainian. Law enforcement officers however met the protesters with force, as they brutally and arbitrarily arrested, detained and assaulted protesters.
According to OVD-Info, on 24thFebruary, at least 1,977 protesters were detained in 67 cities. By 1st March 2022, a total of 6,481 detentions of protesters had been documented across the country. Reports also emerged of injured protesters being denied medical assistance and access to their lawyers.
In a statement responding to the mass protests, Russia's Investigative Committee warned against organising unsanctioned gatherings and threatened "harsh punishment" for those who organise "mass riots."
Separate protest actions organised in support of the Memorial Human Rights Centre
In other developments, following the initiation of the liquidation process of Memorial Human Rights Centre - one of the most prominent non-profit organisations in Russia, known for promoting civic activism, (see below on Association section) - several activists, artists and citizens from different cities began protesting, both online and offline, against the liquidation of the country's prominent and longstanding NGO.
On 12th December 2021, people from Ekaterinburg held a rally supporting the Memorial. Around 30 people joined the protest action on that day. Separately, Pavel Mikov, Ombudsman for Human Rights in the Perm Territory, expressed his disagreement with the liquidation while writer and playwright Lyudmila Petrushevskaya renounced the title of laureate of the Russian State Prize in protest against the attempt to liquidate the Memorial. The writer received the prize in 2002 from Vladimir Putin.
More protests actions were organised abroad. On 13th December 2021, 50 activists from Amnesty International and PEN Centre gathered in front of the Russian embassy in Berlin.
Online, Petitions in support of the Memorial were launched. One of them was published on the Change.Org website on 12th November 2021 under the title "Hands off the Memorial - let's stop the liquidation of key public organisations by the court!"
Single picketers fined
The Moscow City Court approved the decision on the fines imposed on Alexander Tveryakhin, Georgy Ivanov and Natalia Koval for single-person pickets. All three were found guilty of violating the rules for participation in protest action.
According to OVD-Info, Georgy Ivanov and Natalia Koval were detained on 9th October 2021 at Manezhnaya Square as they held posters in support of Alexei Navalny and against the alleged rigging of the elections for the State Duma. The third activist, Tveryakhin was detained on 20th September 2021.
Participants in various actions are regularly detained on Red Square. According to the federal law on rallies, the procedure for holding public events on Red Square is determined personally by the President.
Russia steps up censorship of media at home, ordering them not to use the word "invasion". IPI condemns all efforts to silence independent reporting on the invasion of Ukraine. https://t.co/8WWz5kYkob

— IPI-The Global Network for Independent Journalism (@globalfreemedia) February 26, 2022
Expression
Censorship takes a front seat as authorities seek to distort information on war in Ukraine
As the Russian invasion in Ukraine escalated, on 24th February 2022, the Russian media regulator Roskomnadzor (RKN) published a warning to media outlets on publishing "unverified" and "false" information. According to the regulator, the outlets were only allowed to publish information from official sources when reporting on what the government calls a "special operation" in Ukraine. On failure to obey this, all "false" information would be instantly blocked, and the outlets fined for disseminating "fake" news.
On the same day, RKN threatened to block Prospekt Mira, an outlet in Krasnoyarsk, Siberia, if it did not delete publications about the shelling of Ukrainian cities, which included a compilation of videos from CNN, Russian State News Agency "RIA Novosti" and from Russian channels on the Telegram messaging app. 
Announced just now in Moscow. Stay tuned for our continued coverage of Russia's invasion of Ukraine and attacks against Ukrainian cities and civilians, following the Kremlin's declaration of war. https://t.co/WyVEi9H0WC pic.twitter.com/PE3WA17mLL

— Meduza in English (@meduza_en) February 26, 2022
Two days later, on 26th February 2022, RKN said it would be opening investigations against several Russian media outlets for allegedly "spreading false information of public interest". This came after the outlets published about the shelling of cities in Ukraine and the deaths of civilians as a result of Russia's aggression in Ukraine. RKN also criticised the outlets' use of words such as 'war', 'invasion' and 'attack' to refer to Russia's brutal invasion.
A statement by the European Federation of Journalists (EFJ) read in part:
"The European Federation of Journalists joins the Russian Journalists' and Media Workers' Union (JMWU) in denouncing a new step in state censorship: RKN not only dictates to journalists what sources they can quote (only official Russian sources), but also what words they can use".
Among the outlets that received threats of retaliation by RKN was "Zhurnalist" after they published a speech by Novaya Gazeta editor-in-chief and Nobel Peace Prize winner Dmitry Muratov in which he calls the war a war. Similarly, journalist Elena Chernenko from the "Kommersant" daily newspaper was excluded from the pool of journalists accredited to the Russian Foreign Ministry after she published an open letter opposing the war, which was signed by more than 200 Russian journalists.
EFJ President Mogens Blicher Bjerregård said:
"It is absolutely horrible that Russian journalists cannot work freely. It clearly shows that truth is the first victim of a war. This is totally contrary to all the commitments signed in the Council of Europe. It is against all international agreements to support free and independent journalism."
Other outlets which were threatened with sanctions were Echo of Moscow, InoSMI, Media Zona, New Times, Dozhd, Svobodnay Pressa, Krym.Realii, Novaya Gazeta, Journalist, and Lenizdat. In response to the threat, Echo of Moscow took down the post in question.
Reacting to these developments, Hugh Williamson, Europe and Central Asia director at Human Rights Watch said:
"For the past decade, Russian authorities have used a web of vague laws and flimsy pretexts to intimidate and harass independent and dissenting voices… Now they are bluntly imposing censorship combined with a false narrative that they demand everyone must parrot."
Still on 26th February, after the RKN warning was issued, the Defence Ministry accused Novaya Gazeta of "promoting fake information." The outlet's deputy editor, Kirill Martynov, was also threatened with criminal prosecution for reporting that Russian forces had killed civilians in Ukraine.
A day after the 26th February warning, Current Time's website was blocked by RKN for containing "false information" about Russian military casualties and prisoners of war. RKN said it would consider restoring access if the offending information was taken down. On 2 March 2022, it was reported that Echo of Moscow and Dozhd TV were also taken off air and access to their websites was blocked.
BREAKING: Russia set to limit access to Facebook because of the platform's 'censorship' of Russian media

— The Spectator Index (@spectatorindex) February 25, 2022
Censorship was also felt online. On 25th February 2021, RKN announced that it would partially restrict access to Facebook in Russia after the company blocked four Russian state media accounts. Earlier, RKN had ordered Facebook to stop independent fact-checking and labelling of content posted on the Facebook accounts.
A similar development was seen on Twitter after authorities restricted access in the country, with some users reporting interruptions.
Journalists harassed at nationwide anti-war protests
Journalists reporting on the anti-war protests were not spared from police brutality. According to reports, at least 50 cases of journalists being obstructed were reported. Across different cities, and despite showing their press cards to the police, journalists were assaulted and detained, with St. Petersburg recording at least 16 journalist detentions. Among those assaulted were journalists Elizaveta Kirpanova of Novaya Gazeta and Vera Ryabitskaya of The Insider, who were pushed to the ground and hit with truncheons while reporting from Moscow and St. Petersburg respectively.
More outlets, journalists added to list of foreign media agents
The Russian Ministry of Justice added several more journalists and media outlets in the register of media performing the functions of a foreign agent. On 8th October 2021, nine journalists, the Bellingcat investigation group, the "Caucasian Knot" and MNews editions were added to this list. The list was later updated on 3rd December 2021 and has reached at least 103 names.
Blogger sentenced for YouTube statements
The court of Chita sentenced blogger Aleksey Zakruzhny, also known as Lekha Kochegar, to two years and two months of probation after he was found guilty of inciting riots and inciting extremism on the Internet because of statements made on YouTube. The court also ruled to confiscate all of his video equipment.
According to the prosecution, Zakruzhny recorded a video in April 2020, denouncing the ban on visiting cemeteries ahead of "Parents' Day" due to the coronavirus pandemic and inciting violence against police officers.
In November 2021, the blogger was added to the list of extremists.
DW's Moscow bureau chief Juri Rescheto says the decision to shut down the Russia office was "a great surprise."

The Russian Foreign Ministry told him to close the bureau by this morning. pic.twitter.com/RmHPhTC3gu

— DW News (@dwnews) February 4, 2022
DW office shut down in retaliatory measures
In early February 2022, Russian authorities withdrew the accreditation of journalists and DW technical staff from Russia. The decision was a mirrored response to the German authorities' decision to ban Russia Today (RT) from broadcasting in Germany.
On 2nd February 2022, the German Media Licensing and Supervision Commission issued an order banning satellite and other broadcasting of Russia Today (RT) in the country, on grounds that the channel did not have permission to broadcast. German security services also classified RT's German service as a propaganda tool used by Russia to achieve foreign policy objectives and influence internal narratives. In response to this, Moscow undertook the retaliatory measures against DW.
While Germany only stopped broadcasting RT on its territory without preventing journalists from doing their job, Russian authorities on the other hand completely withdrew credentials for journalists and DW staff and shut the outlet's studio in Moscow. DW reported that legal steps against the decision would be taken, with the Director General Peter Limbourg noting that this was "a sign that the Russian government is not interested in ensuring press freedom".
Association
More CSOs added to the register of foreign agents
On 29th September 2021, the Ministry of Justice listed the civil society group OVD-Info as one of the organisations designated as a "foreign agent" and accused OVD-info of not registering its operations. The inclusion of OVD-Info on the list of organisations accused of performing the functions of a foreign agent is a direct response to OVD-Info's civil society campaign against legislation used by the authorities to subject civil society groups to smear campaigns and stigmatise them. More than 229 organisations and over 140,000 people across Russia joined the campaign. OVD-Info is an independent media project on human rights and political persecutions that also tracks and monitors protests in Russia. It depends on volunteers and donations to do its work and calls on the Russian authorities to respect the Constitution and other European Conventions on human rights.
Other organisations included on the list on 29th September 2021 include the civil society group Golos that monitors elections, and the media rights body Mediazoma. Organisations listed as foreign agents are required to undergo cumbersome administrative procedures and indicate their status as "foreign agents" in all official correspondence and materials. Media organisations designated "foreign agents" are not allowed to collaborate with advertisers and partners and are unable to do interviews as many would not want to be associated with "foreign agents." The implications are that several associations have been forced to close down while many more now self-censor as representatives of civil society are also subjected to judicial persecution. 
The EU deplores the Russian General Prosecutor demanding liquidation of Memorial and the Memorial Human Rights Centre, an important independent voice in Russian civil society dedicated to HR protection and the history of political repression in Russia. https://t.co/5glh0SFz6E

— Fredrik Ekfeldt (@FEkfeldt) November 13, 2021
Authorities begin liquidation of prominent NGO
In November 2021, the Prosecutor General's Office of the Russian Federation began the liquidation process of the non-governmental organisation Memorial Human Rights Centre. On 11th November 2021, the Prosecutor General's Office of Russia filed a petition at the Supreme Court, seeking the liquidation of the organisation, which had been added to the register of NGOs acting as foreign agents in 2016. According to the petition filed in court, the Ministry of Justice had found repeated violations by the NGO including a failure to declare its foreign agent status in its materials, and that it promoted political activities, including with external funding, even after it was summoned regarding this issue. As a result of ignoring these summonses, Memorial has been administratively sanctioned several times, with authorities imposing fines on both the organisation and its leaders. On 28th December, the court of appeal ruled in favour of the Prosecutor General's petition, paving way for Memorial's liquidation.
Authorities also accused the NGO of failing to declare their receipt of external funding in the materials they produced.
Vladimir Putin orders examination of the law on foreign agents
Since August 2021, the number of media outlets or non-governmental organisations that have been declared foreign agents has increased considerably in the country (49 journalists and 9 NGOs). This phenomenon had several consequences. On the one hand, affected organisations ceased their activities, and on the other hand, the affected organisations joined forces to appeal to authorities, including to the president, to repeal or at least review the law on foreign agents.
As public debate around this issue escalated by the day, in late January 2022, President Vladimir Putin issued a statement inviting several public institutions to assess viable options to change provisions of the law. Specifically, the president asked the presidential Council for Civil Society and Human Rights and the Union of Journalists of Russia to reassess the provisions regulating the activities of media outlets acting as foreign agents and submit recommendations for amendment by 1st May 2022.
Concurrently, an online public petition was added to the Change.org portal to demand the repeal of the law on foreign agents on the basis that it discriminates against certain NGOs and that it is contrary to the Constitution. By 7th February 2022, the petition had been signed by 262,737 people.