Iran cracks down on dissent on first anniversary of Mahsa Amini's death in custody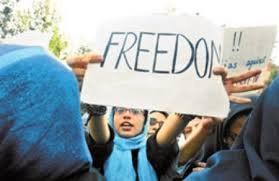 Expression
As previously documented on the Monitor, on 16th September 2022, 22-year-old Kurdish woman Mahsa Amini (also known as Jina Amini) died in custody after being detained by the Iranian morality police for allegedly wearing an "improper" hijab and was transferred by a police van to Vozara detention centre in Tehran. Her death sparked widespread protests across Iran, which have been met with a severe crackdown from the authorities. In the run-up to the first anniversary of her death, human rights organisations have raised concerns about increasing retaliations against dissent by the Iranian authorities.
For example, on 30th August 2023, the Gulf Centre for Human Rights (GCHR) condemned the recent detention of at least 22 activists, the majority of them women. The latest round of detentions began on 30th July 2023. Activists are being held on charges of "spreading propaganda against the state" and "assembly and collusion against national security." They include prominent women's rights activists, lawyers and journalists.
Reports by Human Rights Watch paint a similar picture of rising oppression in the run-up to the first anniversary of Amini's death. For example, in July 2023, judicial authorities reportedly summoned 55 lawyers to Branch 2 of the General and Revolutionary Prosecutor's office in Bukan, in the Kurdistan province. The Bukan prosecutor reportedly filed a complaint against these lawyers for signing a statement announcing their willingness to provide legal assistance to Amini's family.
The Center for Human Rights in Iran (CHRI) expressed particular concern about the defamatory language employed by the Intelligence Ministry to slur activists who have not yet been through any form of legal process. Such statements assert that these activists were "preparing to incite disruptions and insecurity in Gilan as well as in parts of Kurdistan province". Such statements seriously jeopardise their rights to due process.
CHRI further expressed concerns on the dearth of information surrounding the detained individuals over the course of several days, their families' inability to establish phone contact, the absence of the detainees' access to impartial legal representation, and overnight and extended interrogations.
Today in #Iran, state security forces violently attacked peaceful people outside the Tehran Emergency Response Unit's headquarters.

They had gathered to seek information about their detained family members. #Mahsa_Amini #مهسا_امینی pic.twitter.com/iA56ch5F7i

— IranHumanRights.org (@ICHRI) September 17, 2023
Peaceful Assembly
CHRI reported that security forces violently attacked peaceful protesters calling for information about their detained loved ones in Tehran, and at least one person was shot in Saqqez during protests on 16th September 2023. Fardin Jafari remains in a critical condition. Prominent actress Hanieh Tavassoli was arrested for a social media post featuring Mahsa Amini's photo.
On 15th September 2023, courageous women prisoners of conscience staged a sit-in at Evin Prison. They include Narges Mohammadi, Sepideh Qolian, Golrokh Iraee, Azadeh Abedini, Shakila Monfared, Mahboubeh Rezaee, and Vida Rabani.
Mahsa Amini's father, Amjad Amini, was briefly detained on the anniversary of her death after being warned not to protest.
In response to this increase in dissent, on 15th September 2023, the Council of the European Union imposed a tenth package of restrictive measures on four individuals and six entities responsible for serious human rights violations in Iran. They consist of an asset freeze, a ban on travel to the European Union and a prohibition on funds or economic resources being made available to those listed. A ban is also in place on exports to Iran of equipment which might be used for internal repression and of equipment for monitoring telecommunications. Listings include the Deputy to the Commander-in-Chief of the Islamic Revolutionary Guard Corps (IRGC) in Imam Ali Central Security Headquarters and the police commanders of the Mazandaran and Fars Provinces. The Council also decided to list Kachui prison and its director; the prisons of Sanandaj, Zahedan and Isfahan; as well as Tasnim News agency together with the Supreme Council of Cyberspace. The EU's accompanying statement acknowledges that the package follows the High Representative's declaration on behalf of the European Union to mark the anniversary of the killing of Mahsa Amini on 16th September 2022 while in the custody of the Iranian morality police.