Indonesia: Government continues to jail Papuan activists, criminalise dissent and target journalists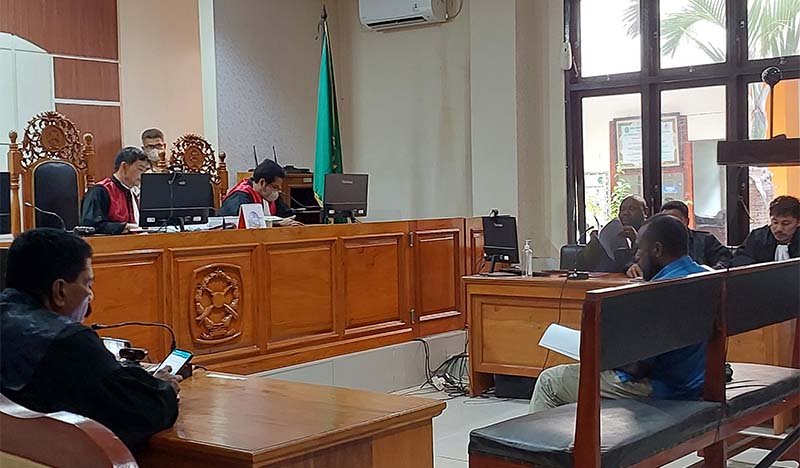 The state of civic space in Indonesia remains rated as 'obstructed' by the CIVICUS Monitor. Ongoing concerns include the arrest, harassment and criminalisation of human rights defenders and journalists as well as physical and digital attacks, the use of the defamation laws to silence online dissent as well as excessive use of force by the police during protests, especially in the Papuan region.
On 27th March 2023, the UN Human Rights Council adopted the Universal Periodic Review outcomes of Indonesia. Among the recommendations it accepted were to adopt legislation and implement comprehensive policies for the protection of human rights defenders, including environmental defenders, activists and journalists; review and modify, in accordance with international standards, those laws that currently impose undue restrictions on civil society and the media and ensure that all attacks, threats and intimidations towards civil society organisations and human rights defenders are investigated promptly, independently, impartially and effectively.
It also committed to ensure a safe and enabling environment for civil society, as well as freedom of expression and media freedom; to enhance the protection and promotion of the right to peaceful assembly and association, especially for the people of Papua and West Papua Provinces, and to uphold, respect and promote its human rights obligations in Papua, including freedom of assembly, speech, expression and the press.
However, it only noted recommendations to repeal laws that unduly restrict freedoms of association and peaceful assembly, including Law No. 17/2013 on Societal Organisations and Law No 9 of 1998 on Freedom of Assembly; immediately and unconditionally release all protesters, human rights defenders and journalists detained for exercising their civil and political rights, including the right to freedom of peaceful assembly; ensure freedom of opinion and expression by de-criminalising libel, blasphemy and defamation; and review and revise laws and regulations that unduly restrict freedom of expression, including Criminal Code articles 218, 219, 304, 309, 310, 311 and the 2008 Law on Electronic Information and Transactions (ITE law) articles 27, 28, 29 in line with Indonesia's international human rights obligations and commitments.
Despite these commitments, attacks on fundamental freedoms continue to be documented. In recent months, Papuan protesters continue to face arbitrary arrest, while activists have been intimidate, criminalised and jailed for their peaceful activism. The authorities have continued to use the ITE law to investigate and prosecute human rights defenders and lawyers, while journalists continue to face restrictions and harassment. Those raising concerns around land and environmental issues have faced intimidation, hacking as well as prison sentences.
Peaceful Assembly
Dozens arrested for protest in solidarity with detained activist
Berita Papua // 13 aktivis KNPB Sentani ditangkap polisi gara-gara membagi selebaran ajakan aksi https://t.co/mVI6OqGhKG pic.twitter.com/zpT8CjW5dj

— JUBI NEWS (@jubidotcom) April 8, 2023
Activists who had launched protests in support of human rights defender Victor Yeimo who is facing trial were arbitrarily arrested on 10th April 2023. According to Amnesty International Indonesia, at least 76 members of the youth movement, the West Papua National Committee (KNPB) and supporters were arrested, of whom 15 were taken to the Abepra police station, 45 were taken to Heram station and 16 to Jayapura.
Human rights defender sentenced to eight months jail
Free Victor Yeimo! pic.twitter.com/djqfZeDer0

— Petisi Rakyat Papua (@PetisiRkytPapua) May 5, 2023
On 5th May 2023, Victor Yeimo was sentenced to eight months imprisonment due to his involvement in anti-racism protests. The Jayapura District Court convicted Yeimo of violating Article 155(1) of the Penal Code related to 'broadcasting or showing letters or pictures that contain expressions of feelings of hostility, hatred, contempt or humiliation against the government'.
The Constitutional Court had, in fact, revoked Article 155 in 2007, which was found to be unconstitutional. Previously, the Public Prosecutor charged Yeimo with Article 106 and 110 concerning treason and Article 160 on sedition.
As previously documented, Papuan human rights defender Victor Yeimo, a pro-independence activist and international spokesperson of the West Papua National Committee (Komite Nasional Papua Barat or KNPB), was arrested on 9th May 2021. Human rights groups believe the charges stemmed from his peaceful involvement in anti-racism protests in 2019 and his participation at a UN Human Rights Council session the same year.
Amnesty International Indonesia Executive Director Usman Hamid said: "The fact that he and many Papuans have been arrested and detained for peacefully expressing their political opinion represents the state's neglect on human rights protection."
Three Papuans convicted for treason for holding religious service
Indonesian court jails three Papuans for treason - UCA News - https://t.co/qj19JcM4yM #GoogleAlerts

— Rosemary (@scotiaforever5) June 14, 2023
On 12th June 2023, the Makassar District Court convicted three Papuans - Hellesvred Bezaliel Soleman Waropen (54); Andreas Sanggenafa (64); and Kostan Karlos Bonay (57) - for committing treason (makar) after holding a prayer gathering in Manokwari in October 2022 to celebrate the 11th anniversary of the Federal Republic of West Papua (NRFPB) - which is deemed a Papua separatist movement. Each of them was handed a two-year prison sentence.
The three had been charged under Article 106 (treason) and 110 (conspiracy to commit treason) of the Penal Code. The Indonesian authorities have used these criminal code provisions to prosecute dozens of peaceful pro-independence political activists over the last decade. According to Amnesty International Indonesia, from 2019 to 2022, at least 90 people in Papua faced criminal charges and prosecution for allegedly violating treason articles under the Penal Code.
According to the human rights group, the three men maintained their innocence, stating the thanksgiving service was an exercise of their rights to freedom of peaceful assembly, freedom of association and expression, guaranteed by the constitution.
TAPOL reported various issues with the trial including that three intelligence officers who testified were not at the scene, while three NRFPB witnesses claimed not to know the defendants,
Three Papuans found guilty of treason for speeches and raising flags in Sorong
Another three Papua political activists were convicted of treason in Makassar, South Sulawesi Province a few days later. On 14th June 2023, judges at the Sorong District Court found Elias Wetipo, Marthen Samonsabra Oiwari and Yoran Pahabol guilty of treason.
The men, who were linked to the West Papua Federal Republic State (NFRPB) - deemed a Papua separatist movement - were sentenced to prison under Articles 106 and 110 of the Criminal Code for delivering peaceful speeches and displaying banners with the banned Morning Star symbol at the airport in Sorong on 13th September 2022. Wetipo and Oiwari were both sentenced to three years. Pahabol received a sentence of two years and six months' imprisonment.
Amnesty International Indonesia said that the convictions for treason highlight the ongoing repression of freedom of expression, opinion and peaceful assembly in Papua. According to Amnesty International, the state frequently uses treason charges to suppress peaceful political views in Papua. The evidence presented by the prosecutor did not include any weapons or dangerous tools, suggesting that the prosecutions are intended to silence pro-independence activists by criminalising them.
Association
Environmental activist Budi Pego jailed again
Budi Pego, seorang petani yang menolak tambang emas di Banyuwangi ditangkap aparat dari Polres & Kejaksaan Negeri Banyuwangi pada 24/3/23.

Penangkapan terhadap Budi tanpa penjelasan, surat penangkapan ditunjukkan dg waktu yg super singkat, tanpa ada kesempatan utk membacanya. pic.twitter.com/NiZaX6RMGv

— JATAM Nasional (@jatamnas) March 25, 2023
On 24th March 2023, environmental activist Heri Budiawan, known as Budi Pego, was jailed for the second time in Banyuwangi, East Java, Indonesia, for "crimes against state security" after the Supreme Court rejected his appeal and decided to increase his punishment from ten months to four years in prison. His case was the first conviction under the article banning a communist ideology since the downfall of former President Soeharto in 1998.
As previously documented, in January 2018, Budi Pego was sentenced to ten months' imprisonment by the Banyuwangi district court for "spreading Communist ideology". He was charged with violating Article 107a - crimes against state security - under the Indonesian Criminal Code.
The incident behind the arrest occurred on 4th March 2017, when Budi Pego and the local community of Sumberagung village, in Banyuwangi, East Java province, organised a peaceful protest against the Tumpang Pitu gold mine in Salakan Mountain. They believe that the mining company was responsible for causing ecological destruction and endangering the safety of five nearby villages. A hammer and sickle symbol was displayed during the protest - a symbol of communism. Budi said he did not know who had painted the logo on the banner.
According to Amnesty International, The East Java High Court upheld the lower court's ruling, prompting both sides to file appeals to the Supreme Court. Budi served his sentence until his release on 1st July 2018. However, on 16th October 2018, his cassation appeal was rejected, and the Supreme Court increased his punishment from ten months to four years imprisonment.
In November and December 2018, Budi received two summonses from the prosecutor's office to serve the remainder of his sentence. However, at that time, Budi had yet to receive the copy of the verdict, which is a prerequisite for prosecutors to execute a court's ruling, in accordance with Indonesia's Criminal Procedural Code (KUHAP). Subsequently, there were no further updates on his incarceration, as authorities did not take any further action.
On 24th March 2023, nearly five years after his release, dozens of officers from the police and prosecutor's office came to Budi's house and arrested him, claiming that they were executing the 2018 Supreme Court's verdict.
Intimidation of local community, civil society and journalists around ASEAN Summit
Cek selengkapnya di @floresadotco https://t.co/L4rDp8djBa

— Ekspedisi Indonesia Baru (@idbaruid) May 9, 2023
In May 2023, human rights groups condemned all forms of repression and intimidation against local communities and civil society around the 42nd ASEAN Summit in Labuan Bajo, East Nusa Tenggara Province (NTT).
According to the Commission for the Disappeared and Victims of Violence (KontraS), four Labuan Bajo residents - Ladislaus Jeharun, Dionisius Parera, Viktor Frumentus and Dominikus Safio - were summoned by the police on 6th May 2023 for alleged 'íncitment'. The four men were part of a local community that were planning to hold a demonstration demanding compensation for their eviction from homes and land for the development of a road near the summit.
At least 51 families, most of whom were farmers, were evicted while 23 houses, 14,050 square metres of yards, 1,790 square meters of rice fields and 1,080 square meters of farmland were confiscated without compensation.
Journalists and civil society activists were also targeted. Activists accused the government of hacking their social media accounts to prevent them from raising the compensation issue near the venue of the summit.
Melky Nahar said the WhatsApp accounts of 12 activists and journalists were hacked. Nahar, the national coordinator of the non-governmental organisation Mining Advocacy Network (JATAM), said he realised the hacking when he turned on his phone. "Then, a notification appeared that my number was no longer registered and there was a request for verification. Some time after that, the accounts of three other staff also experienced the same issue."
Rosis Adir, editor-in-chief of Floresa.co, a local media based in Labuan Bajo, said that one of his journalist's Telegram and WhatsApp accounts were hacked after he filed a report on Labuan Bajo. The journalist also received calls from an army intelligence officer who had previously intimidated him for writing about the Labuan Bajo road project.
Sorong police chief presses legal charges against Papuan lawyer Leonardo Ijie
BREAKING: After more than a year of uncertainty, Leo Ijie (lawyer and human rights defender of @lbhkakiabu) was finally named a suspect. He learnt of this today, when he received a summons from the police to be questioned on 9th June. pic.twitter.com/aa1tmFN2lz

— TAPOL (@Tapol_UK) June 7, 2023
Human rights advocate Leo Ijie is facing charges for undertaking his work as a lawyer and raising concerns about the transfer of his case to another court.
On 30th May 2023, police investigators began processing Ijie as a suspect, charging him under Article 45A (2) in conjunction with Article 28 (2) of the ITE law and/or Article 156 and/or 156a of the Indonesian Criminal Code (KUHP).
On 3rd January 2022, Ijie criticised the Sorong District Attorney's Office and the Sorong District Court for transferring the trial against his clients Maikel Yaam, Amos Ky, Robianus Yaam, Maklom Same, Yakobus Worait, and Agustinus Yaam from Sorong to the Makassar District Court. The transfer was carried out without the knowledge of Ijie and his colleagues.
The Papuan Law Enforcement and Human Rights Coalition called on the Sorong Police Chief to halt the legal process against Ijie. They highlighted that the prosecution was an attempt to criminalise him for his professional work as a lawyer and was inconsistent with Article 16 of Law No. 18/2003 on Advocates that emphasises that advocates should not face civil or criminal prosecution when carrying out their professional duties in good faith.
The Coalition also called upon the National Human Rights Commission of Indonesia (Komnas HAM) to immediately address the attempted criminalisation of Ijie as a human rights advocate.
Police intimidate Papuan woman human rights defender
The Human Rights Monitor reported that police had intimidated a Papuan woman human rights defender, Raga Kogeya, in the Waena Area, Jayapura City on 3 June 2023. Kogeya has been advocating for the rights of internally displaced persons (IDPs) from the Nduga Regency, where the armed conflict between Indonesian security forces and the West Papua National Liberation Army (TPNPB) has been ongoing since December 2018. She has publicly highlighted the humanitarian crisis in Nduga and has been frequently subjected to acts of intimidation, attempted criminalisation, and harassment by members of the Papuan police.
Expression
Ongoing use of internet law to harass and criminalise activists
In March 2023, Amnesty International reported that the Electronic Information and Transactions Law (ITE Law) – a vague and overbroad law – continued to be used in 2022 to prosecute and intimidate human rights defenders, activists, journalists, academics and others for their commentary.
Among other provisions, the law criminalises 'immorality' under Article 27(1), 'defamation' under Article 27(3) and 'hate speech' under Article 27(2) of the law. Widespread criticism of the law saw it revised in 2016. The maximum prison sentence for defamation under the law was cut from six to four years and 75 million rupiah (USD 50,000) in fines. According to research from SAFEnet, at least 393 individuals were criminalised under the law between 2013 and 2021.
Revisions of the law are currently under way again in parliament as seven articles in the ITE law are now regulated under the new Criminal Code (KUHP). Human rights groups have called for the draconian provisions to be repealed and for meaningful consultation on the revisions.
Hearings begin of two human rights defenders facing defamation charges
#Indonesia: @forum_asia, with its 32 member organisations, calls on the govt. to drop all charges against #humanrights defenders Fatia Maulidiyanti and Haris Azhar. The use of criminal defamation laws to silence critical voices must end. https://t.co/lCJ3X85XGE

— FORUM-ASIA (@forum_asia) April 12, 2023
On 3rd April 2023, the hearing of two prominent human rights defenders - Haris Azhar and Fatia Maulidiyanti - for criminal defamation under the ITE law began in the East Jakarta district court.
As previously documented, the case stemmed from a YouTube talk show in August 2021 during which they discussed the findings of an investigative report conducted by several NGOs revealing the alleged connection of the Coordinating Minister for Maritime Affairs and several other authorities with gold mining activities in the Blok Wabu area in the Intan Jaya district of Papua.
According to Human Rights Watch, prosecutors charged the two with defamation under Article 310(1) of the Criminal Code, criminal defamation under article 27(3) of the ITE Law, and spreading false statements which "may cause chaos within society" under article 14(2) of the 1946 False News Law (Law 1/1946), which carry maximum prison terms of 9 months, 4 years, and 10 years respectively.
Azhar, 47, served as the coordinator of Indonesia's Commission for the Disappeared and Victims of Violence (KontraS) between 2010 and 2016. Azhar is also a founder of the Jakarta-based Lokataru human rights group and operates his own YouTube channel on which he has a regular talk show for his 220,000 subscribers. Maulidiyanti, 30, has been the coordinator of KontraS since 2020. She is also a vice president of the Paris-based International Federation for Human Rights (FIDH).
Human Rights Watch said: "Prosecuting human rights activists for commenting on important rights issues sets back civil rights progress in Indonesia by years, if not decades. The authorities should immediately drop the criminal charges against Azhar and Maulidiyanti and turn greater attention to addressing the government's abusive policies in Papua."
In June 2023, the International Commission of Jurists (ICJ) submitted an amicus curiae brief and requested that the courts "give effect to Indonesia's international legal obligations concerning freedom of expression and information in their adjudication of a case".
Groups call for repeal of regulation that enables arbitrary website blocking
Civil society groups called on the government to scrap a regulation that enables arbitrary website blocking — undermining freedom of expression and denying access to information.
On 3rd May 2023, Access Now, Open Net Korea and the Electronic Frontier Foundation filed an amicus curiae submission challenging the validity of Ministerial Regulation 5/2020 (MR5), which empowers the Ministry of Communication and Information Technology (Kominfo) to block websites on grounds that are overbroad, and which do not comply with international human rights law and Indonesia's constitution.
The submission was filed in a suit relating to the Ministry's blocking of at least eight websites, including Yahoo, Steam and PayPal in 2022. The operators had not registered within a six-month stipulated deadline. The stringent registration guidelines would have required them to allow law enforcement access to their data and systems. These blockings caused serious inconvenience to many people relying on them for work and personal use.
The submission argues that MR5's blocking powers undermine international human rights law and Indonesia's constitution in providing the authorities with arbitrary executive powers to overbroadly block sites and online expression and information without narrowly defined necessary and proportionate limitations. Lacking strict guidelines, the law risks violation of free expression.
The amicus brief was submitted to the Jakarta State Administrative Court where the case against MR5 was filed by the Alliance of Independent Journalists Indonesia and the Union of Media and Creative Industries Workers for Democracy.
Restrictions and harassment of journalists
Journalists in Indonesia continue to face restrictions and harassment for their work. In March 2023, two journalists from Tribunnews in southeast Sulawesi province, Risno Mawandi and Rheymeldi Ramadan Wijaya were called up by the police under the ITE law for their reporting on the alleged rape of orphans in Baubau.
On 3rd April 2023, Elias Douw, an indigenous Papuan journalist working for the local media outlets Tabloid Daerah and Wagadei online media, was reportedly prevented by police officers from covering a trial in the District Court in the town of Nabire, Central Papua province related to arson at a market. According to the reports, he showed his press card and identified himself as a journalist. However, police officers blocked the entrance door to the courtroom and seized his mobile phone. The officers returned the phone when he agreed to leave the court.
On 22nd May 2023, police from Mataram confiscated and destroyed a video by journalist Robi Firmansyah from TribunLombok.com while he was covering a demonstration by the National Student League for Democracy (Liga Mahasiswa Nasional untuk Demokrasi or LMND) in the West Nusa Tengarra province.
Five journalists were intimidated while carrying out their work in Kendari, southeast Sulawesi on 30th May. The five - Edo from Edisi Indonesia.com, Muamar from HarianPublik, Naufal Fajrin from Tribunnews Sultra, Utta from Inews and Mail from Media Kendari - were reporting on the escape of prisoners. Their mobile phones were confiscated by the authorities and they were forced to delete their photos and videos.
Indonesia is currently ranked 108 out of 180 countries, according to the Reporters Without Borders (RSF), press freedom index. According to RSF, journalists who investigate cases of local corruption are often subjected to various forms of intimidation by police or soldiers, ranging from arrest to physical violence. This results in a high level of self-censorship. It can also be dangerous for journalists to cover environmental issues when they affect large private interests that are supported by local officials.