Court jails anti-mining activist for "spreading Communist ideology"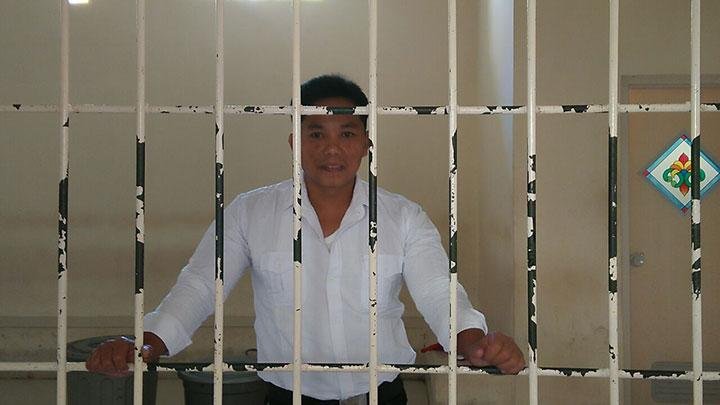 In February 2018, UN High Commissioner for Human Rights Zeid Ra'ad Al Hussein visited Indonesia. In his statement at the end of his trip, he appealed to the country's government to ensure the protection of human rights defenders, in particular those advocating on land and environmental issues. He urged the government not to penalise or prosecute human rights defenders for their exercise of this right to freedom of expression and peaceful assembly. He also raised concerns about increasing numbers of reports of the excessive use of force by security forces, harassment, arbitrary arrests and detentions in Papua and around revisions to the Penal Code.
Peaceful assembly
Activist convicted for "spreading Communist ideology"
On 23rd January 2018, Heri Budiawan (also known as Budi Pego) was sentenced to ten months imprisonment by the Banyuwangi district court for "spreading Communist ideology". He was charged with violating Article 107a - crimes against state security - under the Indonesian Criminal Code.
The incident behind the arrest occurred on 4th March 2017, when Budi Pego and the local community of Sumberagung village, in Banyuwangi, East Java province, organised a peaceful protest against the Tumpang Pitu gold mine in Salakan Mountain. They believe that the mining company is responsible for causing ecological destruction and endangering the safety of five nearby villages.
According to the Asia Human Rights Commission (AHRC), the protesters had been approached by unknown persons and given banners displaying a hammer and sickle (the symbol of the disbanded Indonesian Communist Party), and some pictures were then taken. This evidence was used to arrest Budi Pego on 4th September 2017. An appeal against the verdict has been filed with the East Java High Court. Three others have also been accused of involvement, however, no charges have been brought against them.
The Asian Forum for Human Rights and Development and the Indonesian Legal Aid Foundation, strongly denounced the decision:
"The oppression of Budi Pego and other human rights defenders is clearly an attempt to silence people's participation in development projects and their criticism on issues of public interest. It also violates people's right to freedom of peaceful assembly in Indonesia. Such restrictions are often used as a tool to silence opposition to the Government, mainly against communities that include human rights defenders, notably environmental rights defenders".
Harassment against community in West Sumatera protesting geothermal project
Himpunan Masyarakat Pecinta Alam Gunung Talang ( HIMA PAGTA ) Demo Protes Proyek Panas Bumi https://t.co/zHCMtG53ek Please retweets pic.twitter.com/NX9iTWVNYY

— pasbana.com (@pasbana_com) September 13, 2017
Police in West Sumatera have been harassing community leaders around Talang mountains in West Sumatera province. The community has been protesting plans for a geothermal project by the Hitay Daya Energy company. The company has ignored the local community's concerns about the potential damage to the environment and water sources that would impact the community's livelihood.
On 20th November 2017, company representatives accompanied by armed navy and army personnel entered the community. This angered local community members and during the confrontation, one of the company's vehicles was burnt. According to the community, the police have used the incident to summon the villagers for questioning, even individuals who were not present during the incident. Questions raised by police during the interrogations have focused on their protest against the project. On 7th February 2018, police arrested three community activists for their alleged involvement in the incident. Their trial is currently ongoing.
Expression
West Papuan activist convicted for treason
West Papuan pro-independence activist Yanto Awerkion was sentenced to ten months imprisonment for treason on 14th March 2018. Yanto Awerkion, a member of the West Papua National Committee, was arrested in May 2017 in Timika because of his involvement with a petition calling for West Papuan independence from Indonesia. After 17 court appearances, trial delays and over nine months in jail, the political prisoner has finally been sentenced.
The petition seeks to include West Papua on the agenda of the UN Special Committee on Decolonisation, as well as a vote on independence. It was reportedly signed by over 1.8 million West Papuans, over 70 percent the indigenous population of Indonesia's Papua region. It was submitted to the UN in September 2017.
There is a high level of repression in West Papua by security forces, due to long-standing calls for independence. Hundreds have been detained or imprisoned for their peaceful pro-independence activism. Furthermore, there has been ongoing restrictions on international journalists, human rights organisations and other observers from accessing the region.
BBC journalist questioned for tweets on Papua 
BBC journalist thrown out of Papua 'after tweets offend country's army' https://t.co/6jdHOrRKWM

— The Independent (@Independent) February 4, 2018
On 1st February, Indonesian authorities arrested a BBC correspondent for tweets she made while reporting from Papua. Journalist Rebecca Henschke had travelled to Papua to report on both the measles outbreak, which has killed roughly 100 indigenous Papuan children, and on how logging and deforestation have destroyed the forests.
She was arrested the day after tweeting a photo of supplies on a river dock, writing, "aid coming in for severely malnourished children in Papua – instant noodles, super sweet soft drinks, and biscuits". Another tweet said, "Children in hospital eating chocolate biscuits and that's it". She was questioned for a total of 17 hours before being released.
New law bans criticism of parliamentarians
#Indonesia new MD3 law criminalizes "disrespect" and "criticism" of Parliament: a clear threat to #PressFreedom. https://t.co/TWo7e8XRax

— RSF_Asia-Pacific (@RSF_AsiaPacific) March 20, 2018
A new law known as MD3 can be used to prosecute and jail anyone if they "disrespect" the country's parliamentarians. The law came into effect on 15 March 2018, a month after President Jokowi refused to sign it. The law is worrying because its vague language does not define "disrespect" and sets no limit on the penalties for violations.
Daniel Bastard, the head of RSF's Asia-Pacific desk, stated that:
"Ill-considered and poorly worded, this article makes it impossible for the fourth estate to cover parliamentary issues in an independent manner and represents a grave violation of the country's constitution and the principle of the separation of powers…We call on the constitutional court to lose no time in striking down this article, which poses a real threat to press freedom in Indonesia".
Civil society referred the law to the constitutional court on the day it took effect.
Concerns with revisions to Penal Code 
Civil society has raised concerns over draft revisions to the Penal Code that could stifle the right to freedom of speech and expression.
The latest draft of the code sets out provisions criminalising, insulting or defaming the President and Vice President. Articles 238 and 239 of the draft revisions state that anyone who insults or defames the president or vice president publicly or in a manner that can be viewed, heard or seen by the public, can be sentenced to a maximum of five years in prison. This includes mentioning, broadcasting, displaying or posting photos containing defamatory materials against the two leaders. These provisions had previously been annulled by the Constitutional Court in its 2006 and 2007 judgments
Other problematic provisions concern insulting the government. Article 259 stipulates that anyone insulting or defaming the government, which results in public chaos, will be charged and sentenced to three-years imprisonment. Article 260 stipulates that anyone broadcasting, displaying or disseminating and posting defamatory images or information publicly could be charged and sentenced to three-years imprisonment.
The Asian Human Rights Commission (AHRC) has called for revisions to the bill, declaring that:
"AHRC is concerned that the offending articles have no clear boundaries between insult and defamation on the one hand, and freedom of expression, thought and opinion on the other. It is essential to ensure that the new penal code does not become a political tool to protect the government and criminalize dissenters and political opponents. This will endanger the future of democracy in Indonesia".
Lawmakers are expected to pass the revisions sometime in April 2018.